Prime Minister Narendra Modi inaugurates Vanijya Bhawan, launches NIRYAT portal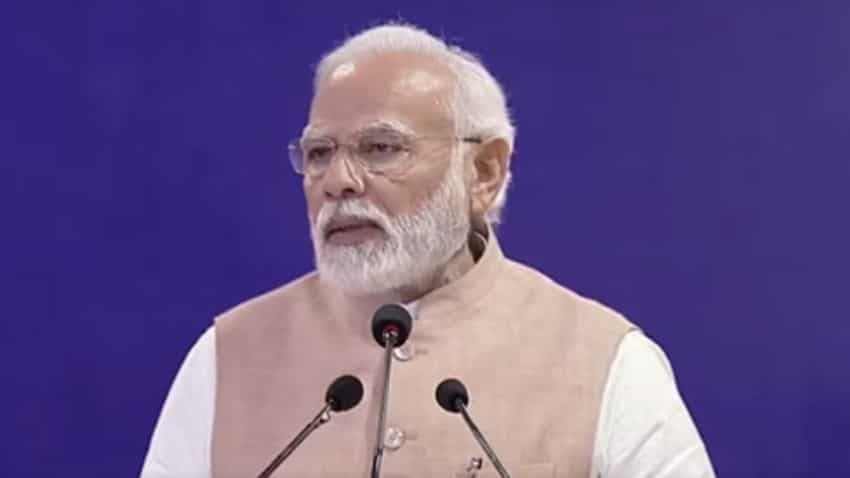 Prime Minister Narendra Modi inaugurated Vanijya Bhawan and launched NIRYAT portal in Delhi on Thursday. Vanijya Bhawan and NIRYAT portal is yet another important step towards citizen centric governance, the PM said. 
He said that the current additions will enhance the existing physical and digital infrastructure being used to serve the citizens of the country. The country has been moving in this respect for the last 8 years, PM Modi said. 
Union Ministers Piyush Goyal, Som Prakash and Anupriya Patel were also present during the event. 
The country has got the gift of a new and modern commercial building as well as an export portal, PM Modi said. 
The new Vanijya Bhawan and NIRYAT portal will bring changes and significant benefits for those associated with trade, commerce and MSME sector, PM Modi said adding that they are representations of Atmanirbhar India.  
See Zee Business Live TV Streaming Below:
PM Modi said that this was also the time to renew the pledge of ease of doing business and through that 'ease of living' too. Ease of access is the link between the two, he said further.  
Ease of access and development for all is a feeling Vanijya Bhawan reflects, he added. 
Despite Global disruption last year, India's exports stood at a total of USD 670 billion (50 lakh crore). Last year, the country had decided to cross the threshold of USD 400 billion i.e. 30 lakh crore merchandize export, despite all challenges. But the country made a new record, exported USD 418 billion (Rs 31 lakh crore). 
"Encouraged by this success of the past years, we have now increased our export targets and have doubled our efforts to achieve them. Collective effort of everyone is very necessary to achieve these new goals", he said, further adding that not only short term but long term targets should be set. 
"Today, every ministry, every department of the government is giving priority to increasing exports with a 'whole of government' approach," PM Modi acknowledged.  
The Prime Minister also requested every department to periodically review the portals and platforms that have been developed in recent times.  
Non-work related loss of life
Article content
NEW YORK, June 25, 2022 (GLOBE NEWSWIRE) — Mercer International Inc. ("Mercer" or the "Company") (Nasdaq: MERC) is deeply saddened to announce that an employee has passed away at its Rosenthal mill in Germany on June 25, 2022. Mercer and local authorities conducted an investigation and so far determined that the tragic loss was not work related. Mercer's emergency procedures were immediately activated, local authorities were notified and industrial safety and occupational health personnel were involved for support.
Article content
"We are saddened about the loss of life of one of our employees and our thoughts are with the individual's family and colleagues," stated Christian Soergel, Managing Director of Mercer Rosenthal. "Given the nature of the incident, we will be respecting the privacy of our employee's family and will continue providing support to them and to all our affected employees."
About Us
Mercer International Inc. is a global forest products company with operations in Germany, USA and Canada with a consolidated annual production capacity of 2.3 million tonnes of pulp, 550 million board feet of lumber, and 140 thousand cubic meters of CLT. To obtain further information on the company, please visit its website at www.mercerint.com.
Article content
The preceding includes forward looking statements which involve known and unknown risks and uncertainties which may cause our actual results in future periods to differ materially from forecasted results. Words such as "expects", "anticipates", "are optimistic that", "projects", "intends", "designed", "will", "believes", "estimates", "may", "could" and variations of such words and similar expressions are intended to identify such forward‐looking statements. Among those factors which could cause actual results to differ materially are the following: the highly cyclical nature of our business, raw material costs, our level of indebtedness, competition, foreign exchange and interest rate fluctuations, our use of derivatives, expenditures for capital projects, environmental regulation and compliance, disruptions to our production, market conditions and other risk factors listed from time to time in our SEC reports.
APPROVED BY:
Jimmy S.H. Lee
Executive Chairman of the Board
(604) 684-1099
Juan Carlos Bueno
President & Chief Executive Officer
(604) 684-1099
Burned and banned: Can the ritual of destroying books kill thoughts or ideas?
"Powerful words cannot be distinguished," says a remark in the video of veteran author Margaret Atwood, who, in collaboration with Penguin Random House, announced an 'unburnable' edition of her most famous work, The Handmaid's Tale. This edition was not just meant for a burning act to signify censorship against dystopian literature conveyed in Atwood's book, but was specially auctioned for $130,000 in New York this month. The amount raised will support PEN America's crucial work to counter the national crisis of censorship.
However, in reality, the author hopes to raise awareness about the proliferating book banning and educational gag orders in American schools nationwide with the video that has already garnered over 5 billion potential views. "Free speech issues are being hotly debated… We hope it raises awareness and leads to reasoned discussion," Atwood said in a statement.
PEN America has been at the forefront of the fight against this wave of censorship in American schools. Its recent report "Banned in the USA," documented 1,586 instances of individual books being banned in 86 school districts in 26 states.
Even at the annual PEN Gala in New York, writer and actress Faith Salie said the unburnable book "was made to withstand not only the fire-breathing censors and blazing bigots, but actual flames, the ones they would like to use to burn down our democracy."
The unburnable printed edition was made in black-and-white-coated aluminum Cinefoils, used in film production to wrap hot lights, which are stable to 660°C/1220°F, textblock hand-sewn with nickel wire, often used in electrical components, which is stable at 1400°C/2,600°F, head and tail bands are woven stainless steel, used in aerospace manufacturing, which are stable up to 1530°C/2790°F.
But book burning and banning has been sort of a ritual in the past. Right from the works of authors like Albert Einstein and Sigmund Freud to American authors such as Ernest Hemingway and Helen Keller, powerful leaders and despots have tried hard to kill, dissuade or ban and destroy many thought-provoking writings.
While the right to dissent does not seem to have lost its credibility, especially with the rise of social media, with desperate crackdown measures, photos and videos going viral, a pertinent question to ask here is, can this sort of activism kill ideas?
Book bans, burnings or educational gag orders are increasingly alarming in this era of free speech, especially when the censors' primary targets have been literary works about racism, gender, and sexual orientation, often written by authors of colour and LGBTQ+ writers, as well as classroom lessons about social inequality, history, and sexuality.
On the other hand, books do have an emotive power and sometimes it can be dangerous, intolerant, oppressive or ugly. There is no doubt that in the past years book burning or banning have followed a pattern. Either they are offensive or violent or inappropriate for the reading public. JK Rowling's Harry Potter series was removed from a school library in Tennessee due to the spells in the books being actual curses and risking humans with evil spirits. Not just Harry Potter books, but there are authors who have drawn flak for unattractive writings or hurting sentiments of the public.
A Farewell To Arms by Ernest Hemingway was a semi-autobiographical novel set during World War I, was banned from Boston newsstands for its sexual, 'vulgar' content and in Italy for its depiction of the army's retreat in the battle of Caporetto. American Psycho by Bret Easton Ellis was censored in Queensland for its extreme scenes of graphic violence. The Diary of a Young Girl by Anne Frank was deeply influential and taken off shelves or reading lists for her maturing anatomy. Animal Farm by George Orwell was banned in the USSR until the 1980s and also banned from schools in the United Arab Emirates in 2002 for its depiction of a talking pig, which was felt to oppose Islamic values. Fifty Shades of Grey by EL James faced censure for its pornographic depiction. The Adventures of Huckleberry Finn by Mark Twain reinforced racial stereotypes. To Kill a Mockingbird by Harper Lee saw temporary bans in the US for racism. Recently, the Russian war on Ukraine scorched remains of paintings, sculptures and books burned as part of the destruction of Ukrainian cultural identity.
Thousands march in Munich to demand G7 action on poverty and climate By Reuters
5/5
© Reuters. Demonstrators hold signs during a protest march, ahead of the G7 leaders summit, which will take place in the Bavarian alpine resort of Elmau Castle, in Munich, Germany, June 25, 2022. REUTERS/Wolfgang Rattay
2/5
BERLIN (Reuters) -Some 4,000 people marched in Munich on Saturday calling on leaders of the Group of Seven industrialized countries to take action to fight poverty, climate change and world hunger and end dependence on Russian fossil fuels.
Leaders of the United States, Germany, France, Britain, Italy, Canada and Japan will meet on Sunday at the start of a three-day summit at Schloss Elmau in the Bavarian mountains, aiming to increase pressure on Russia whose actions in Ukraine have created food and energy shortages across the globe.
Protesters carried banners reading "Stop The War Russia And USA/NATO Hands Off Ukraine" and "Imperialism Starts Here", and demanded the G7 allocate more funds for crisis prevention, civil conflict management and economic development.
"Today, we are at the G7 again because we realised that nothing has improved … it's been going on for so long, that we are destroying ourselves," said Lisa Munz, a protestor wearing a hat topped with a stuffed chicken.
Saturday's protests in sunny Munich, where the leaders' flights landed before they headed to Elmau, were sponsored by more than 15 organizations including WWF Germany, Oxfam Deutschland, Greenpeace and Bread for the World.
Officers in riot gear shoved protesters in a brief physical confrontation and police said several officers were physically attacked and nine people detained during the day, but the demonstration remained largely peaceful overall, a Reuters witness said.
Some 3,000 officers were on duty across the city, Munich police said.
The G7 typically attracts protests by dozens of campaign groups that want to court publicity for their causes and send a message to the Western political elite.
This year, however, protesters may struggle to make their presence visible to the leaders given the especially secluded summit venue, though that could change if protesters attempt to traverse the terrain to get closer to the summit itself, as some have said they plan to do.
"The colourful demonstration is a clear sign of how strong the desire of many people is for a fundamentally different policy in the G7 countries," Oxfam Deutschland said in a statement.
G7 leaders are set to discuss setting up a climate club to better coordinate carbon pricing and other schemes for reducing emissions. Nearly 20,000 police officers have been deployed to ensure security at the summit.