Apple HomePod is back, with the promise of better sound and more intelligence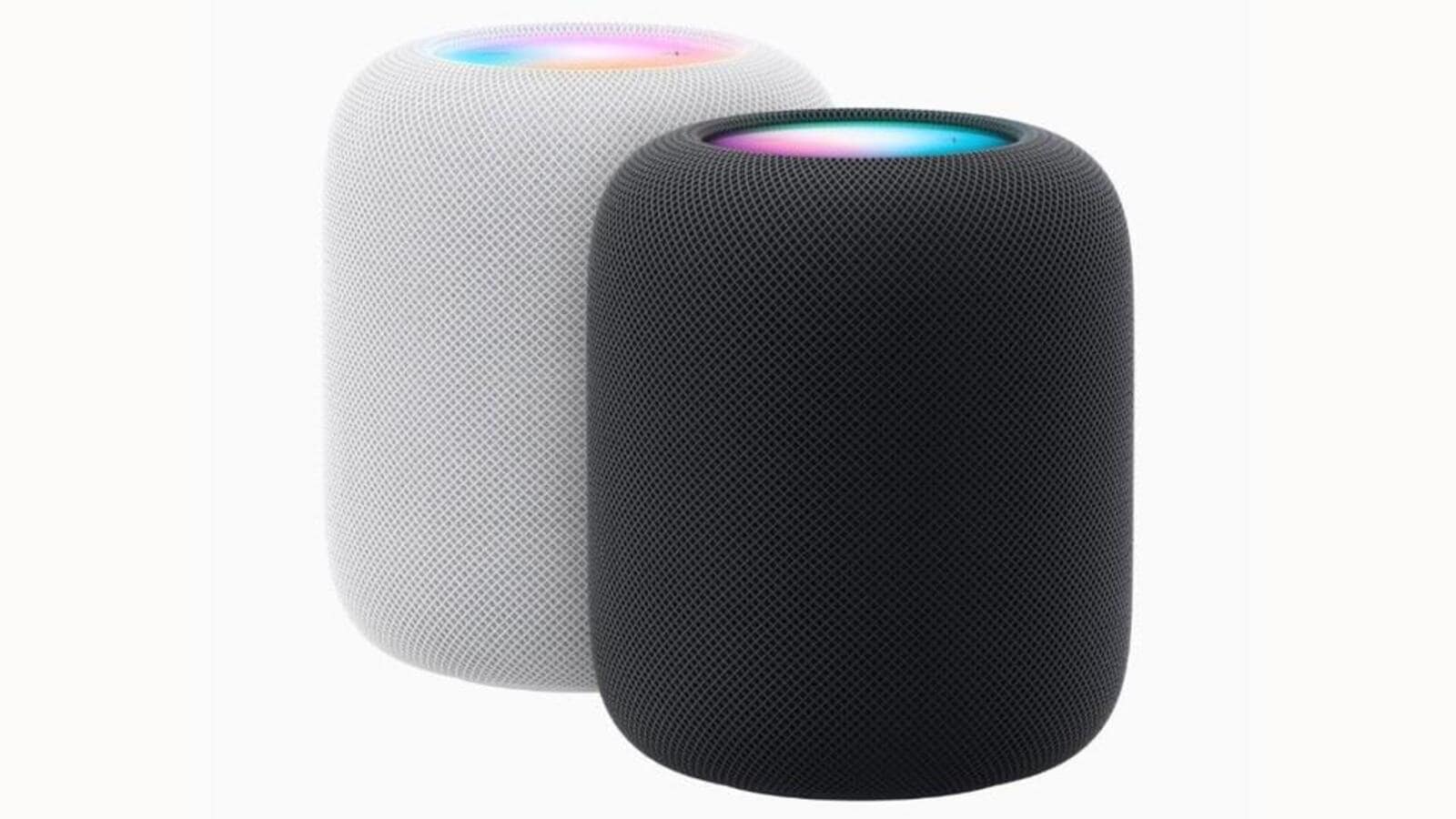 It had been a decidedly long wait. Apple has finally plugged what was a big gap in the product line-up, at least for those who derive full value from their music streaming app subscriptions. The HomePod smart speaker is back, in its second generation, albeit with a slight redesign and a powerful cocktail of audio hardware making up the innards. A lot of the functionality core to the previous generation continues as is, with important additions, to keep this smart speaker in tune with the times.
It is no surprise that the second-generation Apple HomePod will be even more proficient as a smart home hub, with support for the Matter smart home standard. This means the HomePod, and indeed its smaller sized sibling the HomePod Mini, both support the Matter standard for smart home devices. "Hey Siri" continues to be the keyword for any demands you may have.
Also Read: Apple launches first products of 2023, faster MacBook Pros and Mac minis added
The second-generation Apple HomePod will go on sale in some countries from next month, with the India pricing pegged at ₹32,900 with the White and black colours (the latter is called Midnight) available, much like before. In stark contrast with the HomePod Mini, that is all the colour Apple has added to the HomePod's personality, for now. If you want a red or yellow or blue HomePod, you're out of luck. For now.
Leveraging our audio expertise and innovations, the new HomePod delivers rich, deep bass, natural mid-range, and clear, detailed highs," said Greg Joswiak, Apple's senior vice president of Worldwide Marketing, in a statement. The HomePod was originally launched in 2018 but was eventually discontinued in 2021. The HomePod Mini was launched in 2020 and continues to be on sale.
There are subtle design changes, but the mesh fabric and the backlit touch surface are retained, albeit the latter now has a slightly more recessed placement on the top of the speaker. You'll also be able to pair two of these for stereo sound. And if you are setting this up as the default speaker for an Apple TV streaming device, there is the Dolby Atmos extension too.
Inside each HomePod second-generation speaker is 4-inch high excursion woofer and five of what Apple describes as horn-loaded tweeters. Each tweeter has individual neodymium magnet. Much like before, the new HomePod also has a low-frequency calibration microphone which feeds data to advanced computational algorithms that allow the HomePod's sound to be tuned according to the layout of your room and the speaker's placement within it.
"With room sensing technology, HomePod recognises sound reflections from nearby surfaces to determine if it is against a wall or freestanding, and then adapts sound in real time. Precise directional control of its beamforming array of five tweeters separates and beams direct and ambient audio, immersing listeners in crystal-clear vocals and rich instrumentation," says Apple.
Crucial for the complex tuning models and the all-new system sensor is the Apple S7 chip, which has already been in use in the Apple Watch Series 7. This sensor, while we are on the subject, gives the HomePod the ability to monitor the temperature and humidity in a room. This data will be nice to have in isolation, but also provides an important foundation for smart home devices and their subsequent automation – such as when to draw the blinds or for the AC to power on.
The Handoff feature remains an old favorite for yours truly – it is incredibly convenient to simply bring an iPhone close to the HomePod and seamlessly transfer the music playback from the iPhone or AirPods, for instance, to the speaker.
Apple insists that your interactions with the HomePod smart speaker remain private. They say all smart home communications are always end-to-end encrypted, which means they cannot also be accessed by Apple. If you have any smart cameras added to the system, all visuals including camera recordings with HomeKit Secure Video are also completely encrypted. When the Siri voice assistant is used, the audio of the request is not stored by default.
I say thumbs up to MP Materials
RPC Inc: "I want you to hold [onto] it."
Marvell Technology Inc: "You don't want to buy until it reports. After it reports, we're going to take a solid look at it. … If you do own it now, you'll do just fine."
Li Auto Inc: "Listen to [Tesla CEO] Elon Musk on the conference call. He likes the Chinese automakers. Who am I to go against the smartest man in the world?"
Strong earnings from Tesla and United Rentals helped market climb
CNBC's Jim Cramer said that Thursday's rally is thanks to a batch of strong company earnings.
"I've said over and over again that during earnings season, what matters is companies and the CEOs with the smarts to direct them," he said.
Stocks rose on Thursday as investors digested the latest batch of earnings and new gross domestic product data showing the U.S. economy grew by a higher-than-expected 2.9% in the fourth quarter.
Cramer said that contrary to what many might believe, the economic data didn't drive the trading session's rallies.
"That's a classic misdirection play — just totally wrong. It's stale. It doesn't count. We're in earnings season, for heaven's sake," he said, adding, "Stocks did well today because many of them delivered good numbers."
He went over several examples of corporate news and earnings reports that fueled Thursday's gains:
"It's very confusing if you're on permanent negative autopilot because you only pay attention to the [Federal Reserve]. If you watched the individual companies, these moves would be a lot less surprising," Cramer said.
Intel, Visa, Hasbro and more
The Intel Corporation logo is seen at a temporary office during the World Economic Forum 2022 (WEF) in the Alpine resort of Davos, Switzerland May 25, 2022.
Arnd Wiegmann | Reuters
Check out the companies making headlines in after-hours trading.
Intel — Shares of Intel plunged 8.2% after the company reported earnings that missed on the top and bottom lines. The company reported adjusted earnings of 10 cents per share on $14.04 billion in revenue where analysts expected 20 cents per share on revenue of $14.46 billion, per Refinitiv. Intel also gave weak guidance, forecasting a net loss in the first quarter.  
Visa — Visa shares rose 1.5% after the company reported an earnings beat. The digital payments company reported adjusted earnings per share of $2.18 and $7.94 billion in revenue, more than Wall Street's expectations of adjusted earnings of $2.01 per share and $7.70 billion in revenue, per Refinitiv.
Hasbro — Shares slid 7.8% after the toymaker announced it was cutting about 1,000 jobs, or 15% of its workforce. The company also warned of a weak fourth quarter.
KLA Corporation — Shares of KLA Corporation, a semiconductor manufacturer, shed 4.9% even though the company reported earnings that beat analysts' expectations on the top and bottom lines, according to Refinitiv. The company gave a forward guidance that was weaker than expected for its fiscal third quarter, which weighed on shares.