Apple to raise production in India by 25%: Union minister Goyal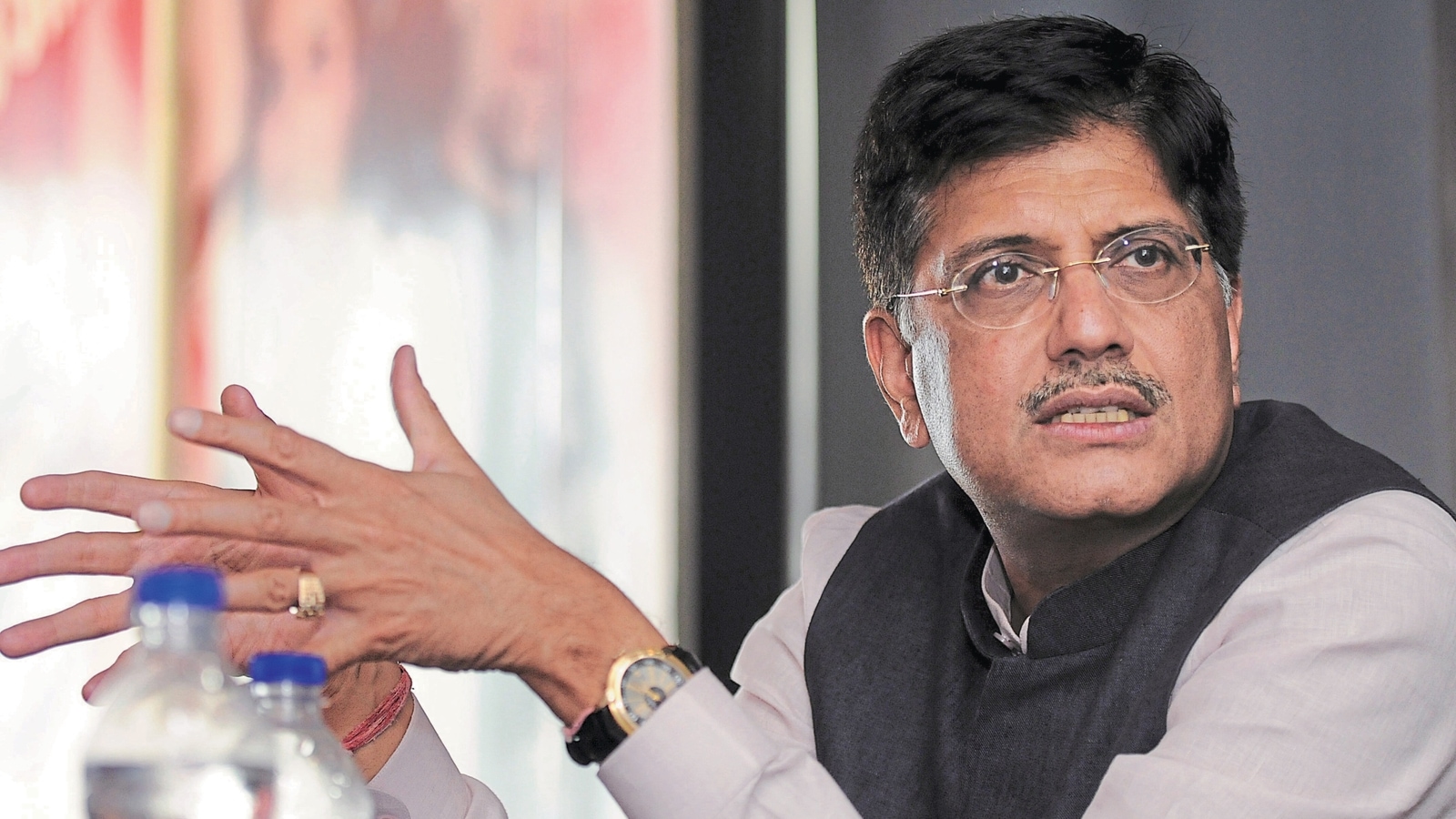 Apple Inc. is looking to boost production in India to about a quarter of its global total, one of the country's top government officials said, as the US tech giant seeks to diversify from its main manufacturing hub in China.
"They are already at about 5-7% of their manufacturing in India," said Piyush Goyal, India's trade and industry minister, at a public event Monday. "If I am not mistaken, they are targeting to go up to 25% of their manufacturing."
Goyal's comments are somewhat more aggressive than what Apple's contract manufacturers have told New Delhi previously. Apple's three key Taiwanese suppliers — Foxconn Technology Group, Pegatron Corp. and Wistron Corp. — applied for and won financial incentives to ramp up Indian smartphone production and exports.
As part of the plan, the companies committed that as much as 20% of iPhone volume will take place in India by end-March 2026, Bloomberg Businessweek reported last month. Apple did not immediately respond to a request for comment.
After years of success with manufacturing in China, Apple has begun to diversify amid rising tensions between the US and China, as well as Communist Party policies that hampered production. Last year, lockdowns at Foxconn's main iPhone plant in Zhengzhou led to worker revolts and forced it to trim output estimates.
Production Jumps
As the Cupertino, California-based company introduced its latest iPhone last year, it substantially shortened the time between the first China-made model and the first India-made version. It is also making more of the iPhone 14s in India than for any previous version.
"They launched the most recent models from India, manufactured in India," Goyal said.
The minister's comments seem to echo a JPMorgan Chase & Co. report cited by local media last year that said Apple will make 25% of all iPhones in India by 2025. In addition to not giving a timeline, Goyal didn't specify whether the higher target would include the assembly of other products in India, such as iPads and MacBook laptops.
Goyal's ministry and India's tech and finance ministries have played a key role in shaping a $6.7 billion production-linked incentive scheme that promises cash to companies that boost local smartphone production. That plan has helped Apple export more than $2.5 billion of iPhones from India from April to December, nearly twice the previous fiscal year's total.
I say thumbs up to MP Materials
RPC Inc: "I want you to hold [onto] it."
Marvell Technology Inc: "You don't want to buy until it reports. After it reports, we're going to take a solid look at it. … If you do own it now, you'll do just fine."
Li Auto Inc: "Listen to [Tesla CEO] Elon Musk on the conference call. He likes the Chinese automakers. Who am I to go against the smartest man in the world?"
Strong earnings from Tesla and United Rentals helped market climb
CNBC's Jim Cramer said that Thursday's rally is thanks to a batch of strong company earnings.
"I've said over and over again that during earnings season, what matters is companies and the CEOs with the smarts to direct them," he said.
Stocks rose on Thursday as investors digested the latest batch of earnings and new gross domestic product data showing the U.S. economy grew by a higher-than-expected 2.9% in the fourth quarter.
Cramer said that contrary to what many might believe, the economic data didn't drive the trading session's rallies.
"That's a classic misdirection play — just totally wrong. It's stale. It doesn't count. We're in earnings season, for heaven's sake," he said, adding, "Stocks did well today because many of them delivered good numbers."
He went over several examples of corporate news and earnings reports that fueled Thursday's gains:
"It's very confusing if you're on permanent negative autopilot because you only pay attention to the [Federal Reserve]. If you watched the individual companies, these moves would be a lot less surprising," Cramer said.
Intel, Visa, Hasbro and more
The Intel Corporation logo is seen at a temporary office during the World Economic Forum 2022 (WEF) in the Alpine resort of Davos, Switzerland May 25, 2022.
Arnd Wiegmann | Reuters
Check out the companies making headlines in after-hours trading.
Intel — Shares of Intel plunged 8.2% after the company reported earnings that missed on the top and bottom lines. The company reported adjusted earnings of 10 cents per share on $14.04 billion in revenue where analysts expected 20 cents per share on revenue of $14.46 billion, per Refinitiv. Intel also gave weak guidance, forecasting a net loss in the first quarter.  
Visa — Visa shares rose 1.5% after the company reported an earnings beat. The digital payments company reported adjusted earnings per share of $2.18 and $7.94 billion in revenue, more than Wall Street's expectations of adjusted earnings of $2.01 per share and $7.70 billion in revenue, per Refinitiv.
Hasbro — Shares slid 7.8% after the toymaker announced it was cutting about 1,000 jobs, or 15% of its workforce. The company also warned of a weak fourth quarter.
KLA Corporation — Shares of KLA Corporation, a semiconductor manufacturer, shed 4.9% even though the company reported earnings that beat analysts' expectations on the top and bottom lines, according to Refinitiv. The company gave a forward guidance that was weaker than expected for its fiscal third quarter, which weighed on shares.