Budget 2023: Here's how you can download the Budget document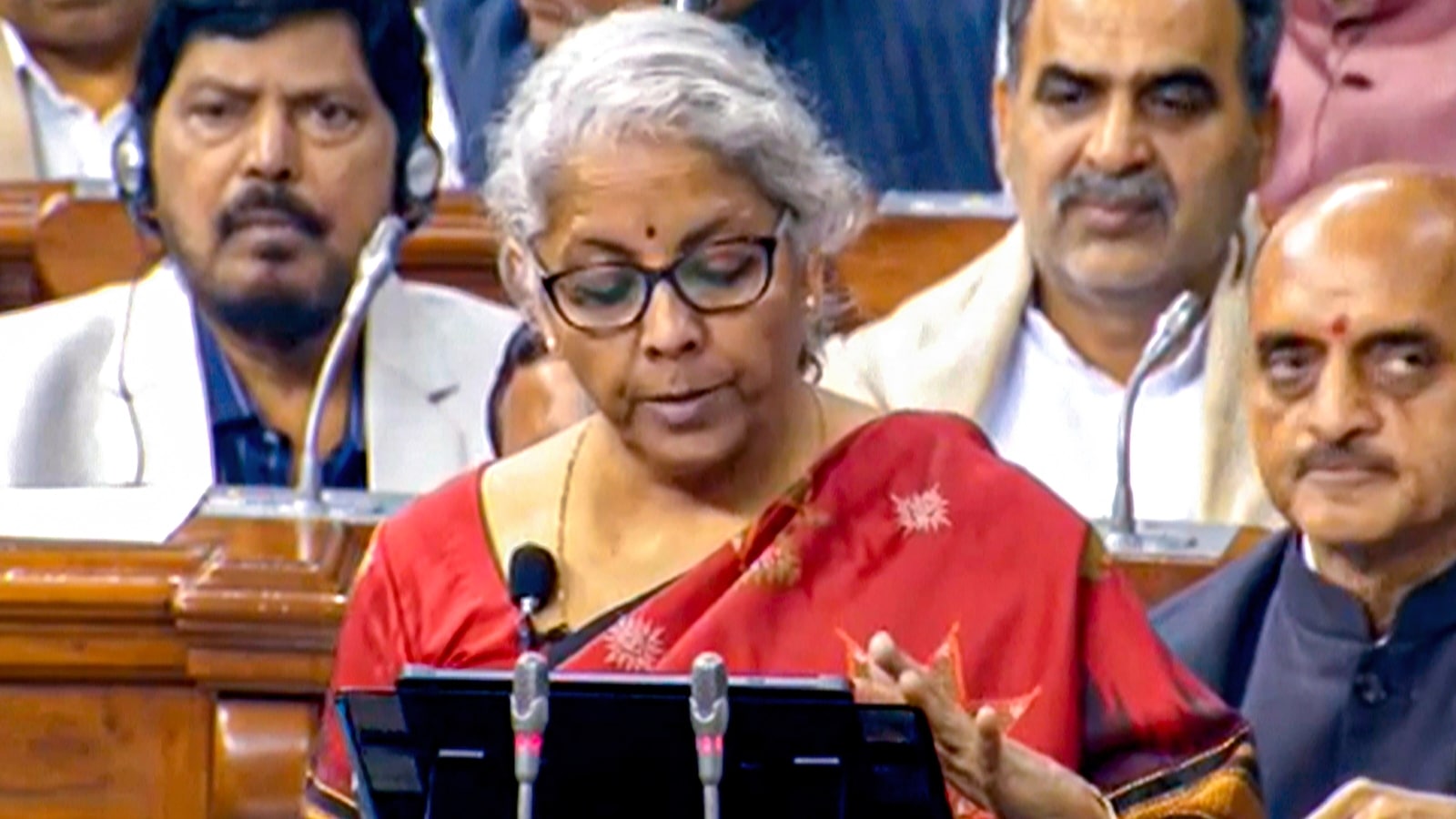 The Union Budget 2023-24 has been presented by Finance Minister Nirmala Sitharaman in the Lok Sabha today. The Budget speech included the upcoming economic initiatives of the Centre for the new financial year. The 2023-24 budget document will be in paperless form.
Read here: Budget 2023: 47.8 crore Jan Dhan accounts opened so far: Finance minister
The Budget 2023-24 is PM Modi government's last full budget before the Lok Sabha elections in 2024. The budget session commenced on January 31 with President Droupadi Murmu's address. The Chief Economic Advisor Dr V Anantha Nageswaran presented the Economic Survey on Tuesday.
Here's how you can access the document:
1. After the budget speech is over, the full text of the speech will be available on indiabudget.gov.in.
2. After opening the website, click on the Budget Speeches tab. Here you can also find previous year's budget speeches.
3. There will be a new tab titled Budget 2023 added to this page.
Read here: PAN common ID for businesses: FM's announcements on ease of doing biz
4. Once the tab is available, click on it and you will be directed to a new page where the download link would be available from where the budget can be downloaded in the PDF form.
5. The budget will also be available for the netizens on the 'Union Budget Mobile App' in English and Hindi.
6. You can also download the Union Budget mobile app from the website indiabudget.gov.in and from Google's play store and iOS' app store.
Valley National bidding for Silicon Valley Bank: Report
Valley National Bancorp is vying to buy Silicon Valley Bank, Bloomberg News reported on Saturday. The regional bank has submitted a bid to the Federal Deposit Insurance Corp (FDIC), the report said, citing people familiar with the matter.
The FDIC which now controls the Silicon Valley Bank assets, when asked for a comment on the report said it is not confirming or commenting on names being reported as potential bidders for SVB. Valley National Bancorp did not immediately respond to a request for comment.
First Citizens BancShares Inc, one of the biggest buyers of failed U.S. lenders, has also submitted a bid for all of Silicon Valley Bank, a source told Reuters earlier this week.
After failing to sell SVB's private banking business alongside Silicon Valley Bank over the last two weeks, the FDIC has asked for separate offers for the bank and its private arm by March 24. It is expected to announce a winner as early as this weekend.
Shawn Fain unseats incumbent Ray Curry
Shawn Fain, candidate for UAW president, is in a run-off election with incumbent Ray Curry for the union's highest-ranking position.
Jim West for UAW Members United
Supporters wave signs during an address at the Time Warner Cable Arena in Charlotte, North Carolina, on September 5, 2012 on the second day of the Democratic National Convention (DNC).
Mladin Antonov | AFP | Getty Images
DETROIT – United Auto Workers members have ousted their president in the union's first direct election, ushering in a new era for the prominent organized labor group ahead of negotiations later this year with the Detroit automakers.
The union's new leader will be Shawn Fain, a member of the "UAW Members United" reform group and local leader for a Stellantis parts plant in Indiana. He came out ahead in a runoff election by hundreds of votes over incumbent Ray Curry, who was appointed president by union leaders in 2021.
Fain, in a statement Saturday, thanked UAW members who voted in the election. He also hailed the election results as a historic change in direction for the embattled union, which he says will take a "more aggressive approach" with its employers.
"This election was not just a race between two candidates, it was a referendum on the direction of the UAW. For too long, the UAW has been controlled by leadership with a top-down, company union philosophy who have been unwilling to confront management, and as a result we've seen nothing but concessions, corruption, and plant closures," Fain said.
Curry, who previously protested the narrow election results, said in a statement that Fain will be sworn in on Sunday and that Curry is "committed to ensuring that this transition is smooth and without disruptions."
"I want to express my deep gratitude to all UAW staff, clerical support, leaders and most of all, our union's active and retired members for the many years of support and solidarity. It has been the honor of my life to serve our great union," Curry said.
More than 141,500 ballots were cast in the runoff election that also included two other board positions, a 33% increase from last year's direct election in which neither of the presidential candidates received 50% or more of the votes.
The election was overseen by a federal monitor, who did not immediately confirm the results. The election results had been delayed several weeks due to a run-off election as well as the close final count.
Shawn Fain, candidate for UAW president, is in a run-off election with incumbent Ray Curry for the union's highest-ranking position.
Jim West for UAW Members United
Fain's election adds to the UAW's largest upheaval in leadership in decades, as a majority of the union' s International Executive Board will be made up of first-time directors who are not part of the "Administration Caucus" that has controlled the union for more than 70 years.
Fain and other members of his leadership slate ran on the promise of "No corruption. No concessions. No tiers." The last being a reference to a tiered pay system implemented by the automakers during recent negotiations that members have asked to be removed.
The shuffle follows a yearslong federal investigation that uncovered systemic corruption involving bribery, embezzlement, and other crimes among the top ranks of the UAW.
Thirteen UAW officials were convicted as part of the probe, including two past presidents. As part of a settlement with the union in late 2020, a federal monitor was appointed to oversee the union and the organization held a direct election where each member has a vote, doing away with a weighted delegate process.
For investors, UAW negotiations with the Detroit automakers are typically a short-term headwind every four years that result in higher costs. But this year's negotiations are anticipated to be among the most contentious and important in recent memory.
Fain has said the union will seek benefit gains for members, advocating for the return of a cost-of-living adjustment, or COLA, as well as raises and job security.
The change in the UAW comes against the backdrop of a broader organized labor movement across the country, a pro-union president and an industry in transition to all-electric vehicles.
This bank is giving interests at 9.01% in just 1000 days
Fincare Small Finance Bank (SFB) increased the interest rate on fixed accounts of less than Rs. 2 crore. Senior citizens can earn at an interest rate of 9.01% on deposits with a term of 1000 days, while the general public can earn interests at 8.41%. The new fixed deposit rates will be implemented on March 24, 2023, bank says, reports Live Mint.
Fixed deposit rates
The bank will pay 3% interest on fixed deposits maturing in 7 to 45 days, while 4.50% interest on savings maturing in 46 to 90 days. Fincare SFB will pay 5.50% interest on savings with terms ranging from 91 to 180 days, and 6.25% interest on deposits with terms ranging from 181 to 364 days.
Deposits maturing in 12 to 499 days now earn 7.50% interest, while those maturing in 500 days earn 7.75%. The bank will pay 7.50% interest on fixed deposits maturing in 501 days to 18 months, while 7.80% interest on savings maturing in 18 months, 1 day to 24 months.
ALSO READ: Earn up to 8.50 percent* p.a. interest on Fixed Deposit with AU Small Finance Bank
Fincare SFB will pay 7.90% on accounts with terms of 24 months, 1 day to 749 days, while the bank has raised the interest rate to 8.11% on deposits with terms of 750 days. Investments expiring in the next 751 days to 30 months will now earn 7.90% interest, while deposits maturing in the next 30 months and a day to 999 days will now earn 8% interest.
On fixed deposits maturing in 1000 days to 18 months, the bank offers an interest rate of 8.41%; on deposits maturing in 1001 days to 36 months, the bank provides an interest rate of 8%. The interest rate on a deposit tenor of 42 months to 59 months has been raised to 7.50%, and an interest rate of 8.25% is offered on a deposit tenor of 36 months 1 day to 42 months. Deposits with terms between 59 and 66 months earn 8% interest, while those with maturities between 66 and 84 months earn 7%.
Fincare SFB will pay an interest rate of 8.41% on fixed savings with maturities ranging from 1000 days to 18 months, and will pay an interest rate of 8% on accounts with maturities ranging from 1001 days to 36 months.
While banks increased their deposit rates to 7.50% on terms ranging from 42 months to 59 months, it gives an interest rate of 8.25% on terms ranging from 36 months 1 day to 42 months. Deposits between 59 and 66 months of maturity will give an interest of 8%, and for 66 and 84 months of maturity depositors will earn interest at a rate of 7%.