How Adani's $58 billion wipeout in 6 days fares vs Bankman-Fried's wealth loss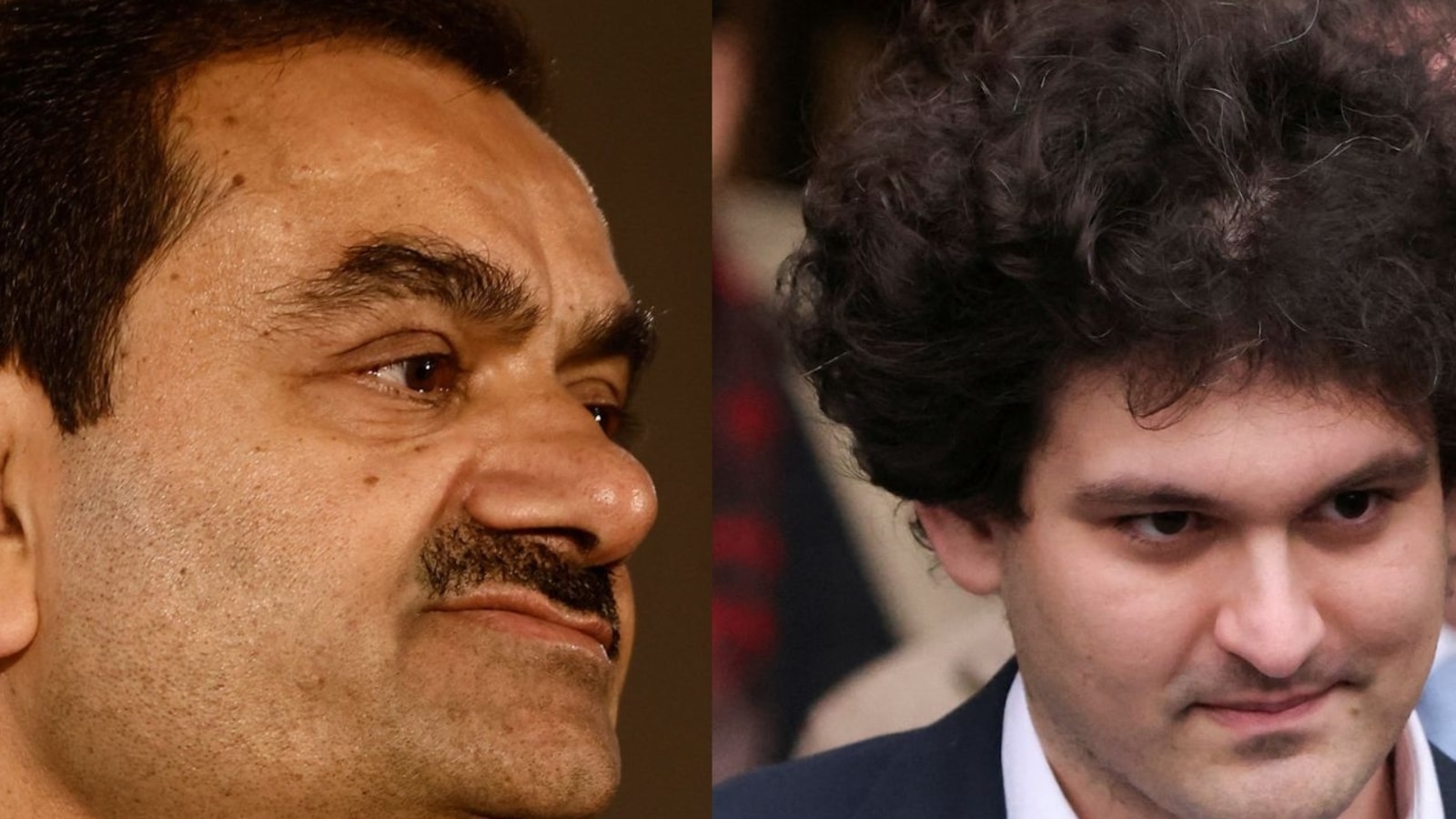 Nearly $58 billion has been wiped out from Gautam Adani's fortune in six days, a steep nosedive that has few parallels in history. According to Bloomberg Billionaires Index, Adani's downfall is over 3 times bigger than 'crypto king' Sam Bankman-Fried's loss of $16 billion in less than a week. The FTX CEO lost all his wealth following the collapse of the crypto exchange.
Surpassing Bill Gates and Warren Buffet, Adani became the world's third richest person by the end of 2022 with a $121 billion worth empire. Under pressure from New York-based shortseller Hindenburg Research's report on Adani group's alleged stock manipulation and accounting fraud scheme, the tycoon is now worth $61.3 billion and has slipped to the 21st spot on the billionaire list.
The severity, scale and speed of Adani's plunge is unlike anything the world has seen before, as per Bloomberg estimates. Even though Elon Musk became the first person in history to lose $200 billion after the sharp fall of Tesla shares in 2022, he has since added $36.5 billion to his wealth.
The shocking decline of the former richest man in Asia, now second-richest after Mukesh Ambani, points towards the astounding way in which Adani's net worth shot up by over $100 billion in three years.
With shares in its flagship Adani Enterprises down about 60%, listed companies under the Adani Group have lost over $100 billion in market value so far since the scathing report. While the Adani Group has repeatedly denied all allegations terming the report "bogus" and threatening action, it was forced to call back what was billed to be India's biggest follow-on share sale (worth $2.5 billion).
Several media reports have raised concerns about State Bank of India (SBI) and Life Insurance Corporation (LIC) of India being at the risk of overexposure amid Adani's stock rout. Amid heightened uncertainties, the Reserve Bank of India on Thursday dismissed concerns about the "exposure" of Indian banks to the Adani conglomerate and said that the banking sector was "resilient and stable".
Saudi Aramco to buy 10% stake in China oil refinery for $3.6 billion
Bloomberg | | Posted by Shobhit Gupta
Saudi Aramco, the world's biggest oil producer, has agreed to buy a 10% stake in a giant oil complex in China for 24.6 billion yuan ($3.6 billion), in a deal that will significantly expand its refining presence in China.
Aramco will also supply 480,000 barrels of crude oil per day to Rongsheng Petrochemical Co's refinery in the eastern province of Zhejiang over a 20-year period, according to a statement from the Chinese company. Aramco will provide a credit of $800 million to Rongsheng for the purchase, that statement said. Aramco Overseas Company, a subsidiary of Aramco, will acquire the shares.
Read here: Elon Musk bought Twitter for $44bn five months ago. He says its value now is…
Rongsheng owns a 51% equity interest in Zhejiang Petroleum and Chemical Co., which in turn owns and operates the largest integrated refining and chemicals complex in China, with a capacity to process 800,000 barrels per day of crude oil and to produce 4.2 million metric tons of ethylene per year.
"This announcement demonstrates Aramco's long-term commitment to China and belief in the fundamentals of the Chinese petrochemicals sector," Mohammed Y. Al Qahtani, Aramco Executive Vice President of Downstream, said in a separate statement.
The deal comes a day after Saudi Aramco and its Chinese partners agreed to build a refining and petrochemical complex in China's northeast, accelerating a development that was paused during the pandemic.
Will RBI increase repo rate in next policy meet? What report says
The Reserve Bank of India (RBI) is expected to pause their interest rate hike and the current 6.5 per cent repo rate could be the terminal rate for now, said SBI Research in its latest Ecowrap report.
The repo rate is the interest rate at which the RBI lends money to all commercial banks.
Also read: No direction on loading or not loading ₹2,000 notes in ATMs: FM Nirmala Sitharaman
The next monetary policy meeting is scheduled for the first week of April 2023.
At the latest Monetary Policy Committee (MPC) of the RBI in early February, it decided to raise the repo rate by 25 basis points to 6.5 per cent to keep inflation expectations anchored, break the persistence of core inflation, and strengthen the medium-term growth prospects.
Raising interest rates is a monetary policy instrument that typically helps suppress demand in the economy, thereby helping the inflation rate decline.
In early 2020 when Covid hit the world, the repo rate was 4 per cent.
"The (RBI's) stance could continue to be withdrawal of accommodation, even as liquidity is now in deficit mode. RBI can always keep the options open in June (monetary) policy," the SBI Research, authored by Group Chief Economic Adviser State Bank of India Soumya Kanti Ghosh, said.
The report asserted that the RBI has enough reasons to pause the repo rate hike in the April meeting.
"There are concerns of a material slowdown in the affordable housing loan market and financial stability concerns taking centre stage. While concerns on sticky core inflation is justified, it may be noted that average core inflation is at 5.8 per cent over the last decade and it is almost unlikely that core inflation could decline materially to 5.5 per cent and below as post-pandemic shifts in expenditure on health and education and the sticky component of transport inflation with fuel prices staying at elevated levels will act as the constraint. By this logic, RBI may then have to go for more rounds of rate hikes," it explained in the report.
Notably, retail inflation in India fell marginally but remained above RBI's 6 per cent upper tolerance band for the second straight month in February 2023, with the Consumer Price Index pegged at 6.44 per cent. In January, the retail inflation was 6.52 per cent.
India's retail inflation was above RBI's 6 per cent target for three consecutive quarters and had managed to fall back to the RBI's comfort zone only in November 2022. Under the flexible inflation targeting framework, the RBI is deemed to have failed in managing price rises if the CPI-based inflation is outside the 2-6 per cent range for three quarters in a row.
On India's inflation, the Ecowrap report forecast March and April to be 5.5-5.6 per cent and 4.7-4.8 per cent.
"Thus, the RBI will have a delicate balancing job of either looking forward to the June meeting with clear signs of inflation trending downwards or looking backwards at the Jan and Feb prints in April policy. Thus, it will be a delicate choice (for RBI)," the report said.
Not just India, US monetary policy committee too is on an interest hike spree in the fight against inflation.
The US monetary policy committee, seeking to achieve maximum employment and inflation at the rate of 2 per cent over the longer run, hiked the key interest rate by 25 basis points to over a 15-year high of 4.75-5.0 per cent at its latest two-day review meet last week. The latest hike was the same size as its previous rate increase in the February meeting and marked its ninth straight rate hike.
The hike comes amid the dilemma faced by its central bank on inflation targeting and on maintaining banking sector stability – the former is way above target and the latter is shaky after the recent collapse of a couple of banks and the contagion effect on others.
Also read: RBI slaps ₹2.27 crore fine on RBL Bank for rule violations
Meanwhile, consumer inflation in the US moderated in February to 6.0 per cent from 6.4 per cent the previous month, but the numbers are still way above the 2 per cent target. It was at 6.5 per cent in December, and 7.1 per cent the month before.
"Fed rate hikes could be smaller in magnitude, and one last in May policy of 25 bps," SBI Research said.
"The challenge is now to decouple from Fed. But the good thing is that a dovish Fed means soft dollar and thus lower depreciation risk for the Indian rupee in the short to medium term," it added.
'We do responsible hiring': Flipkart takes stand against mass layoffs
In a statement that will bring massive relief to Flipkart employees amid the ongoing layoffs in companies across the globe, Flipkart's Chief People Officer (CPO) has said the homegrown e-commerce has 'no intention of making mass layoffs.'
This is because the organisation does not believe in hiring in bulk as doing so often leads to firms laying off staff to lessen the headcount, said Krishna Raghavan in an interview with HT's sister publication Mint.
"We do responsible hiring and there are no mass layoffs happening at Flipkart. We don't hire in thousands and then land up figuring out that we have too many people on board, and resort to extreme measures," remarked Raghavan.
He added that the Walmart-owned company's recent decision of not giving salary hike to senior management did not mean there would be job cuts, as hikes and promotions were given last year.
Flipkart's stand is in complete contrast to that of its prime competitor Amazon, where more than 27,000 employees have already lost jobs since January.
'No delays in onboarding freshers'
Raghavan further said there were 'no delays' in onboarding freshers who, he added, will join in June. "We are very thoughtful and deliberate on how we do workflows planning in general," stated the Chief People Officer.
Wipro, for example, is yet to onboard last year's graduates. The IT major major says it has been forced to delay this due to the 'changing macro environment.'