LIC, SBI savings at risk amid Hindenburg vs Adani? Here's what banks said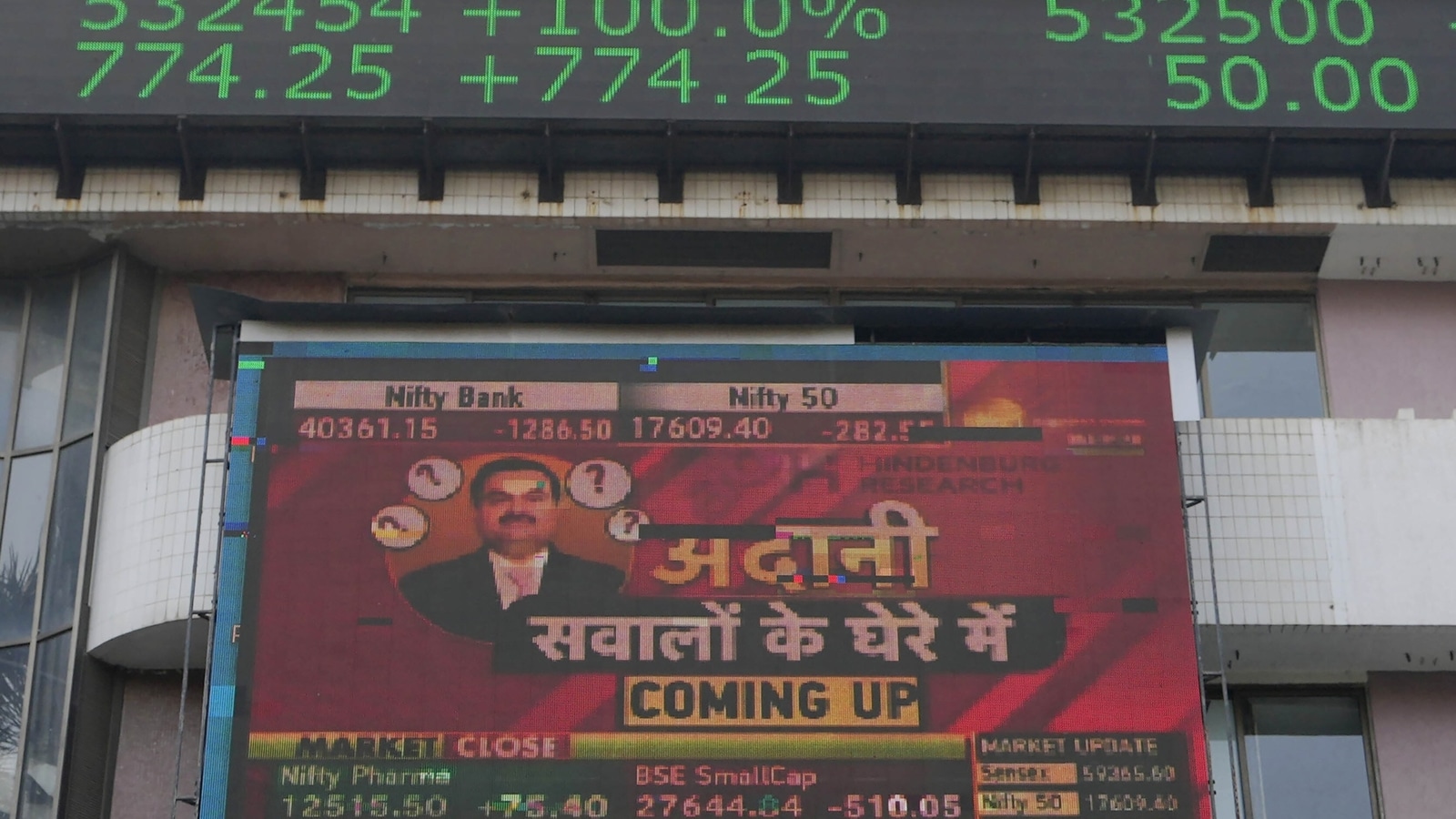 As the shares of Indian billionaire Gautam Adani faced a bloodbath on Friday following a report by a US investment firm claiming it had committed "brazen" corporate fraud, concerns have been raised over its implications for financial stability and savings of crores of Indians in financial institutions such as Life Insurance Corporation (LIC) and State Bank of India (SBI).
The Congress party called for an investigation into the allegations made by Hindenburg Research and said it may have exposed India's financial system to systemic risks "through the liberal investments in the Adani Group made by strategic state entities like LIC, SBI and other public sector banks".
Jairam Ramesh, Congress general secretary in charge of communications, said in a statement that the Hindenburg report demands a response from the Congress party since the Adani Group is "no ordinary conglomerate" and has been "closely identified with Prime Minister Narendra Modi since the time he was Chief Minister of Gujarat."
"Furthermore the high exposure of financial institutions such as the Life Insurance Company of India (LIC) and the State Bank of India (SBI) to the Adani Group has implications for financial stability and for the crores of Indians whose savings are stewarded by these pillars of the financial system (sic)," Ramesh said.
"These institutions have liberally financed the Adani Group even as their private sector counterparts have chosen to avoid investing because of concerns over corporate governance and indebtedness. As much as 8 per cent of LIC's equity assets under management, amounting to a gigantic sum of ₹74,000 crore, is in Adani companies and comprise its second-largest holding," the statement added.
Also Read | For Hindenburg Research, Adani Group is a man-made disaster in the making
CPI(M) leader Sitaram Yechury said if the allegations are proven correct it will "destroy lives of crores of Indians who park lifelong savings in LIC & SBI."
As Friday witnessed a sharp fall in shares of group companies and the lenders that have exposure to it, some of India's leading public sector banks said their exposure to the Adani Group was within the limits prescribed by the Reserve Bank of India. RBI allows for no more than 25% of a bank's available eligible capital base to be exposed to any one group of connected companies.
"There is nothing alarming about our Adani exposure and we don't have any concerns as of now," Dinesh Kumar Khara, chairman of country's largest lender State Bank of India, told Reuters.
Khara said the Adani Group hadn't raised any funding from SBI in the recent past and that the bank would take a "prudent call" on any funding request from them in the near future, reported Reuters.
SBI has reached out to the company for clarification and the board will take any decision on the bank's exposure to the group only after that, reported Reuters quoting an unnamed official.
An official at the state-run Bank of India said the loans to the Adani group were within permissible limits.
"Our exposure to the Adani Group is below the large exposure framework of the Reserve Bank of India," Reuters quoted an unnamed executive at the Bank of India as saying.
"Till last month, the Adani Group's interest payment on loans has been intact."
Bank executives at two other private lenders said that they were not yet in "panic mode" but being watchful, according to the report.
The Adani Group comprises the flagship Adani Enterprises Ltd, as well as Adani Ports and Special Economic Zone Ltd, Adani Power Ltd, Adani Green Energy Ltd and Adani Transmission Ltd.
The ports-to-energy conglomerate said it was exploring legal action against Hindenburg Research calling the report "maliciously mischievous". Hindenburg responded that Adani had ducked the issues its research had raised and instead resorted to "bluster and threats".
"If Adani is serious, it should also file suit in the US," the firm said in a statement. "We have a long list of documents we would demand in a legal discovery process."
(With inputs from Reuters)
Gold and silver prices on March 27: Check rates in your city
The prices of gold and silver in India on Monday experienced a slight decline in comparison to the previous day. According to data by Goodreturns, the rate for 22-carat gold per gram was Rs. 5,471, a decrease from Sunday's Rs. 5,485. Similarly, the prices for 8 and 10 grams of 22-carat gold stood at Rs. 43,768 and Rs. 54,710, respectively, exhibiting a drop of Rs. 112 and Rs. 140.
The rate for 24-carat gold was Rs. 5,969 per gram, with 8 and 10 grams priced at Rs. 47,752 and Rs. 59,690, respectively.
In addition, the price of silver witnessed a marginal decrease with the rate at Rs. 73.30 per gram on Monday, as compared to the previous day's Rs. 73.40, as per the Goodreturns figures. Eight grams of silver cost Rs. 586.40, and 10 grams were priced at Rs. 733. For a kilogram of silver, the cost was Rs. 73,300 as of Monday.
Gold prices in India are dependent on the markets. The prices are determined by a range of factors including volatile policies, slowing economic growth and the strength of the Rupee against US dollar.
2-day EPFO board meeting from today: List of issues likely to be taken up
The Central Board of Trustees (CBT) of the Employees Provident Fund Organisation (EPFO) will convene in New Delhi on Monday for a 2-day meet, during which they are expected to discuss a host of issues, including the interest rate for the financial year (FY) 2023-24.
The current meeting of the CBT, its 233rd, will be held under the leadership of Bhupender Yadav, the Union minister for labour and employment.
At present, EPFO has around 6 crore active members, of whom 72.73 lakh were pensioners in FY22, according to Moneycontrol.
Here are some issues that may be discussed during the meeting:
Interest rate: For FY23, the interest rate is likely to be around 8%. The existing rate is 8.1%, which was proposed in March last year for FY22, and approved by the Union finance ministry in June of that year.
The existing rate is the lowest offered by the body in 4 decades.
Higher pension: The board may hold detailed discussions regarding the higher pension option for subscribers after the Supreme Court order. Following the order, EPFO gave employees time till May 3, to opt for higher pension linked to their salaries.
Also Read: All you need to know about EPF higher pension scheme
Minimum pension: The CBT may consider increasing the monthly pension from ₹1,000 to ₹3,000, which would be in-line with recommendations made by the parliamentary panel on labour.
Ceiling wage: It is likely to be raised from the current ₹15,000 per month to ₹20,000 per month. It was previously revised in 2014, when it was increased from ₹6,000 a month to ₹15,000 a month, for companies with at least 20 employees.
Besides these, board members may also discuss steps to improve EPFO's coverage for its workers, along with increasing investment of incremental deposits in equity instruments, age or risk profile of subscribers notwithstanding.
Elon Musk bought Twitter for $44bn five months ago. He says its value now is…
Elon Musk has put the current value of Twitter at $20 billion, less than half the $44 billion he paid for the social media platform just five months ago, according to an internal email seen by American news media.
The email to employees referred to a new stock compensation program in the San Francisco-based company and the allocation of shares to employees of X Holdings, Twitter's umbrella company since Musk purchased it in late October.
The compensation plan values the platform at $20 billion, slightly more than Snapchat's parent company Snap ($18.2 billion) or Pinterest ($18.7 billion), both of which are publicly traded, unlike Twitter.
Also Read: Elon Musk sent a mail to Twitter employees at 2:30 a.m. He said…
Musk, who is also the chief executive of Tesla Inc. and aerospace group SpaceX, said that Twitter would allow its employees to cash in shares every six months.
A query from AFP emailed to Twitter's communications department generated an automatic response in the form of a poop emoji.
In the internal email, Musk describes the brutal contraction in Twitter's value. He says the platform faced such grave financial difficulties that at one point it was on the verge of bankruptcy.
"Twitter was trending to lose ~$3B/year," Musk said in a message posted Saturday on the platform.
He cited a revenue drop of $1.5 billion a year and a debt-servicing burden of the same amount — leaving it with "only 4 months of money."
Musk, Twitter's majority shareholder, added simply: "Extremely dire situation."
But he then said that "It looks like we will break even" in the second quarter of the year, with advertisers — many of whom fled the platform after the mercurial billionaire bought it — now beginning to return.
Since taking control, Musk has sharply cut the group's payroll from 7,500 employees to fewer than 2,000.
He said in the email that he sees a "clear but difficult path" to a valuation of $250 billion, without specifying how long that might take.
However, in another setback for the company, fragments of Twitter's source code were published on the development platform GitHub, the latter told AFP on Sunday, confirming a report by the New York Times.
GitHub removed the files from its site at Twitter's request, but their brief exposure could allow hackers to identify flaws in Twitter's original software.