BTS' Suga recalls rumours of disbandment: 'The whole situation felt so scary'
BTS member Suga welcomed Big Bang's Taeyang in the new episode of his drinking show, Suchwita. During the conversation, Suga talked about his fellow group member Park Jimin who recently collaborated with Taeyang in their music video, Vibe. He also revealed how he felt when rumours of BTS' disbandment spread after they announced their break. Also read: BTS' Jimin and J-Hope flash heart signs at fans as they head for Paris Fashion Week
Suga aka Min Yoon Gi went on to talk about Jimin and Taeyang's Vibe on the show and said, "Jimin practised really hard. I was really surprised. He was at the practice studio, I would come and watch. He gets muscle cramps easily, but he said that he would practice no matter what." "Jimin works so hard until he gets it right. Even I couldn't keep up with him," added Taeyang. During the discussion, Suga also lauded Jungkook and called him a 'genius. "I am not saying he doesn't work hard but he has a lot of natural talent," said Suga.
Last year, BTS announced their hiatus to focus on solo careers. Their sudden announcement left many wondering if the team had broken up for good. Recalling the time, Suga said in his show, "We look coolest as a team…I really love them so much. Since I'm a part of it, I love BTS as a fan as well. We're brothers. I think it was in June, some content of us just drinking together was aired. People said the team was breaking up and going on hiatus. It wasn't like that at all, we were just going on a break, due to unavoidable reasons. But when people were saying those things, the whole situation felt so scary. Why is the world telling us to take a permanent break? We are still active."
BTS consist of RM, Jin, SUGA, J-hope, Jimin, V and Jung Kook. With members now focusing on solo projects, Jimin will soon release his full solo album after the success of Vibe. Member Jin is currently serving in the South Korean army and others will follow soon, as per their respective timelines. They are estimated to be back as a whole group some times around 2025.
Proof Lisa Marie Presley's Kids Were Always On Her Mind
When it came to parenthood, Lisa Marie Presley never felt all shook up.
Rather, Elvis Presley and Priscilla Presley's only daughter—who died Jan. 12 at age 54—relished in the time spent with her kids: daughter Riley Keough, late son Benjamin Keough and twins Finley and Harper Lockwood.  "I just smother them in love," the singer previously told Healthy Living. "They are my priority. That's what I do. That's what I care most about. I keep them close to me and make sure they are happy and healthy."
"We all kind of hold each other up," she continued. "We are all each other's best friends. I'm theirs but I am also their mother. That's kind of that."
Now, moving forward, as her family continues to honor her legacy, they will always cherish the moments they had together.
"I remember the way you would cuddle me," Riley's husband Ben Smith-Petersen read on her behalf at Lisa Marie's public Graceland memorial Jan. 22.. "I remember you singing me and brother lullabies at night and how you'd lay with us until we fell asleep."
"My sisters and brother are a product of your heart," he continued for Riley. "I hope you finally know how loved you were here."
BTS Yet to Come first reactions: Fans say 'bring tissues, there is a plot twist'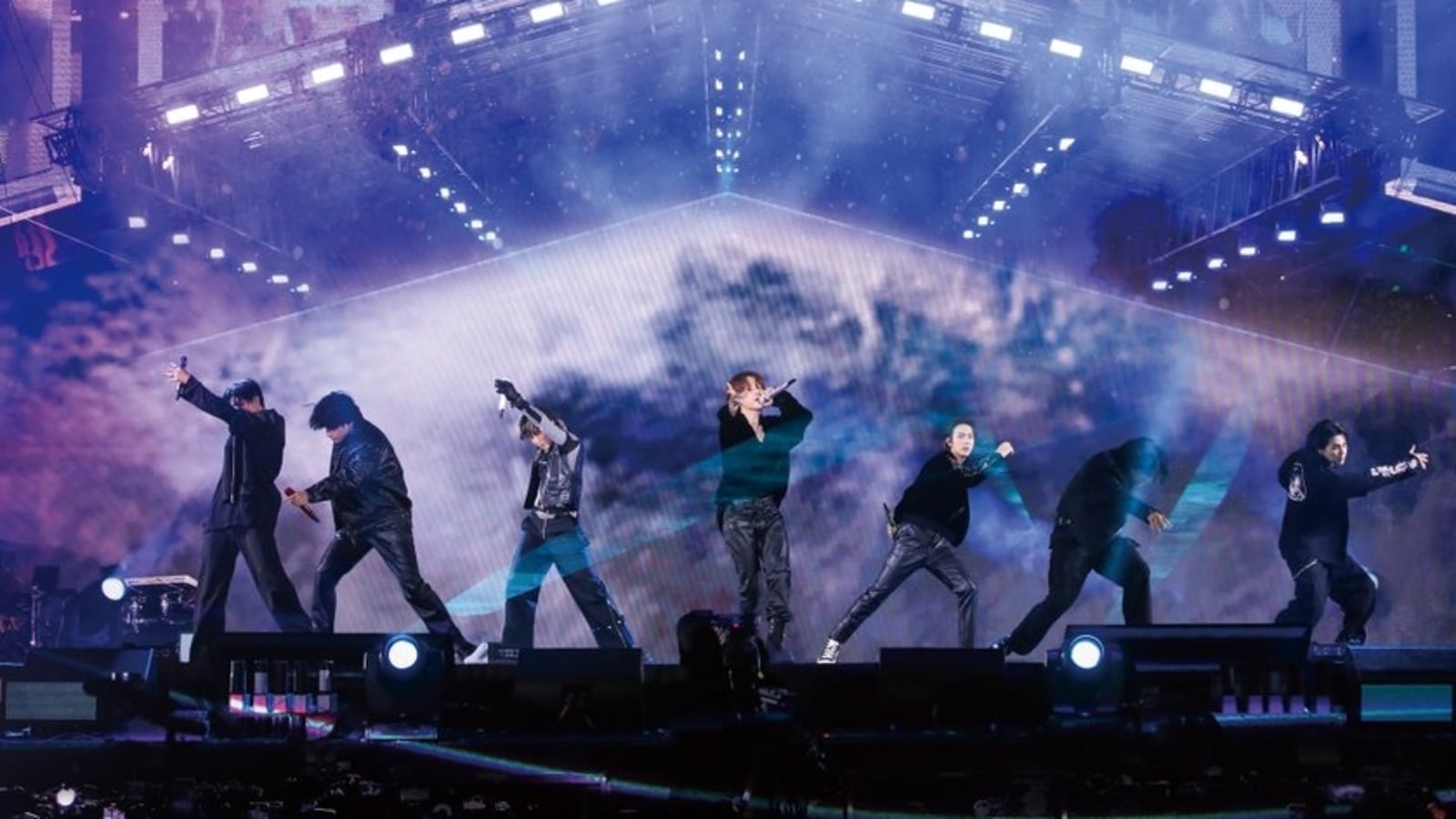 BTS fans have reacted to the group's concert movie, BTS: Yet to Come, which witnessed a theatrical release on Wednesday. After watching Yet to Come, BTS ARMY has asked others to take tissues with them as 'there is a plot twist'. Taking to Twitter, a fan wrote, "So there will be a plot twist on the YTC. Goosebumps and I'm holding my heart. Hugging all the ARMYs, Love you!!" A person tweeted, "Armys who will watch ytc later, tomorrow or on the coming days, please bring tissues.. there's a plot twist." (Also Read | Jin bags first place at military talent show, gets vacation as reward: reports)
BTS fans who didn't watch the film also expressed concern and asked about the 'plot twist'. "Don't know about that plot twist some of you are tweeting about, but for me, a plot twist for a concert we've already watched would be them announcing tour dates, which we all can agree is impossible at the moment, right?" wrote a Twitter user.
"What type of plot twist is there !!! Can't wait to see myself but hopefully no one gonna ruin it before that," said another person. "The whole fandom is getting scared right now what is happening is there a plot twist or not? Just spill the tea right now. Don't create chaos for no reason I get scared of everything now after that festa. It's always, expect the unexpected," read a comment.
Spoiler alert: After many fans asked about the 'plot twist', a few BTS ARMY revealed that it was 'extra focus' on Jin. Fans were left emotional at this since as currently Jin is serving in the South Korean military. A person tweeted, "It's a slow-mo focus on Seokjin as he's speaking before For Youth! There's a video of it but I didn't wanna link in case I spoiled it for anyone."
"For the anxious people, the speeches are edited into a montage so it's even more emotional and ofc there's an extra focus on Jin," read a comment. "I'm sobbing I'm not ready for this nooo Seokjin speech at yet to come concert in Busan," said a Twitter user. On December 13, 2022, Jin formally reported for duty.
Earlier, PVR Pictures announced that BTS: Yet to Come will have a limited release in India from Wednesday. The movie will be screened in cinemas from February 1-4, news agency PTI cited distributor. Fans will witness BTS members–RM, Jin, Suga, J-hope, Jimin, V, and Jungkook on the big screen, as they perform to crowd favourites tracks such as Dynamite, Butter and IDOL among others.
The film will also feature the first concert performance of Run BTS from the group's latest album Proof. The movie will give an immersive sneak peek into the BTS: Yet To Come concert in Busan and feature never-seen-before visuals along with some up-close and personal snippets of the group.
Paul Rudd Reveals the Marvelous Secrets to His Eternal Youth
Paul Rudd isn't clueless when it comes to self-care.
At the age of 53, the Ant-man star has long been a hot topic online as fans marvel over how he doesn't look like he's aged all that much since his 1995 breakout film Clueless. So what's his secret? It turns out the answer is more simple than we thought.
"Sleep," Paul told Men's Health for their March 2023 cover story. "Then diet. Then weights. Then cardio. People ask me, 'Can you send me your meal plan? How many times a week do you work out? Do you drink? Do you eat carbs? Do you have a cheat day?' The most important part of training is sleep."
Paul explained that while many people tweak their schedule to prioritize heading to the gym, he thinks getting a proper good night's rest is what really does the trick.