Farah Khan welcomes brother Sajid Khan, Abdu Rozik with burgers and fries | Bollywood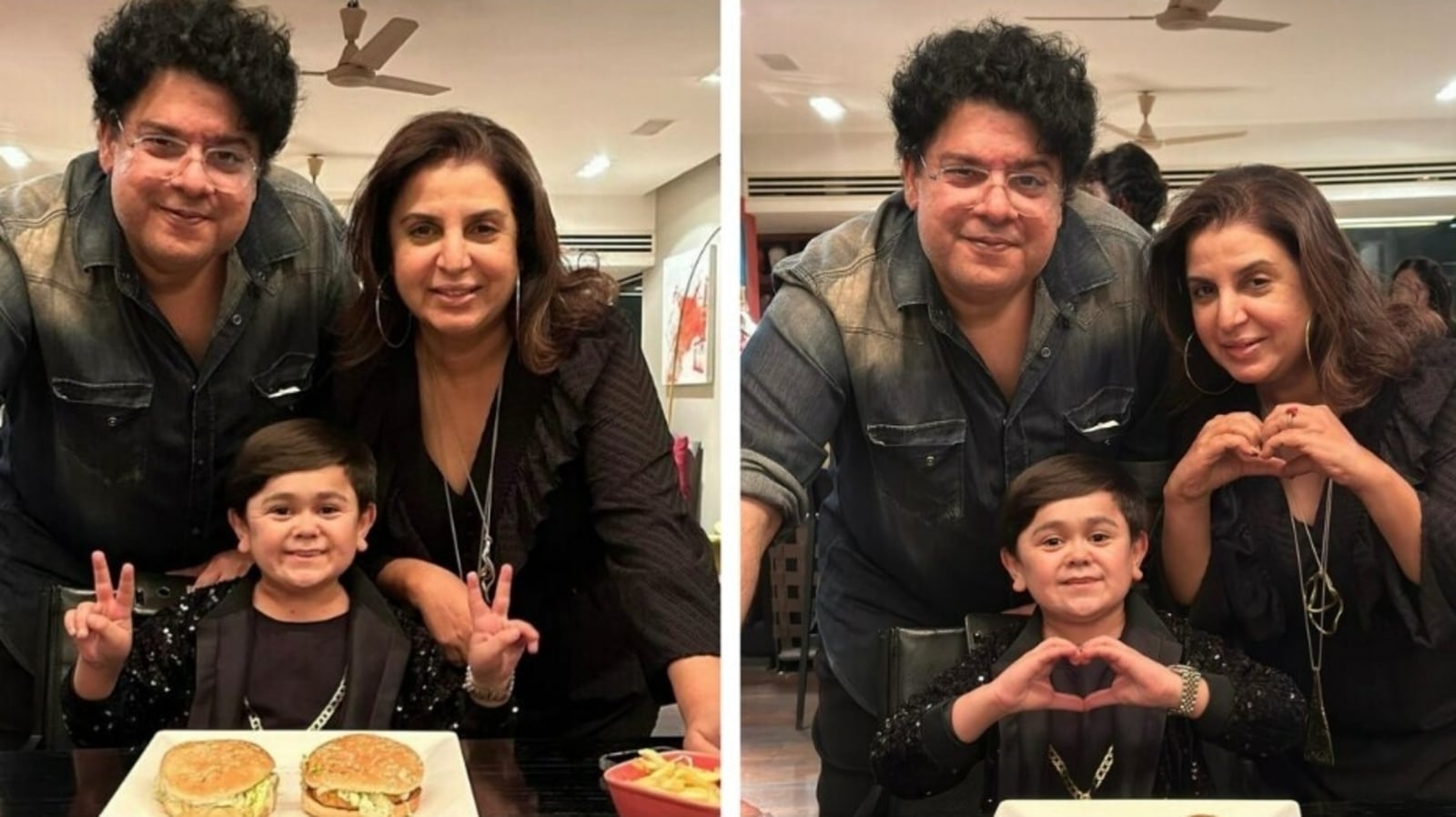 Filmmaker Farah Khan took to Instagram and shared pictures with director-brother Sajid Khan and singer-wrestler Abdu Rozik. Sajid and Abdu took voluntary exits from Bigg Boss 16, one after the other on Saturday and Sunday. Farah posed happily as she enjoyed burger and fries party with Sajid and Abdu. She called themselves 'mandli.' Along with fans, her celebrity friends like Malaika Arora, Bhavana Pandey, Kashmera Shah among other reacted to her post. (Also read: Farah Khan asks Sajid Khan 'kya aap ek purush hai', Bigg Boss 16 fans say: 'She just roasted her brother badly')
Farah shared a series of pictures. In one of them, she sported a black full sleeves top with black pants. Abdu also twinned with her, and wore a black glittery coat with black T-shirt and pair of black pants. Sajid can be seen in denims jacket with pair of black pants. In the pictures, the three posed together as they flashed radiant smiles while looking into the camera, with a table of burgers and a bowl of fries kept in front of them. In another picture, Farah and Abdu made a heart with their hands and looked happy. Farah also posted a cute picture of brother Sajid with Abdu.
Sharing the photos on Instagram, Farah captioned them, "My 2 favourites this season of #Biggboss 16….sometimes its even better to just win hearts (three red heart emojis)." She tagged Abdu and Sajid on the pictures. She used 'mandli', 'family' and 'burgir' as the hashtags on the post. Actors Malaika Arora, Yuvika Chaudhary, fashion designer Seema Kiran Sajdeh, Bhavana Pandey dropped heart emojis. Entrepreneur Anam Mirza wrote, "Favs (red heart emojis)."
Reacting to the pictures, one of Farah's fans wrote, "Best surprise picture, mandali (group) could get." Another fan commented, "Tum logo ne toh aag laga di BB mai (You guys have rocked on Bigg Boss show)." A fan of Abdu and Sajid's wrote, "Show is boring without these two guys." "Both are heart of Bigg Boss 16….", added one. "You won the heart, Sajid bro", wrote another.
Taking to Instagram Stories, Farah captioned one of the pictures with Sajid and Abdu, "My 2 favourites…finally home (finally home)." She wrote, "Long son, short son…sometimes winning hearts is even better" for Sajid's solo photo with Abdu.
In his farewell speech on Bigg Boss 16 on Sunday's episode, Sajid Khan joined his hands and said with tears in his eyes, "Jo jo mere kisi se bhi jhagde ho, haath jorke mafi mangta hu. Lekin aap logo ka bahut support raha (I fold my hands to apologise to all those I fought with. But you people supported me a lot)." He took a voluntarily exit to shoot for his upcoming film, 100 percent. The film stars Riteish Deshmukh, Shehnaaz Gill, Nora Fatehi and John Abraham.
The Biggest Bombshells Pamela Anderson Revealed in New Doc and Memoir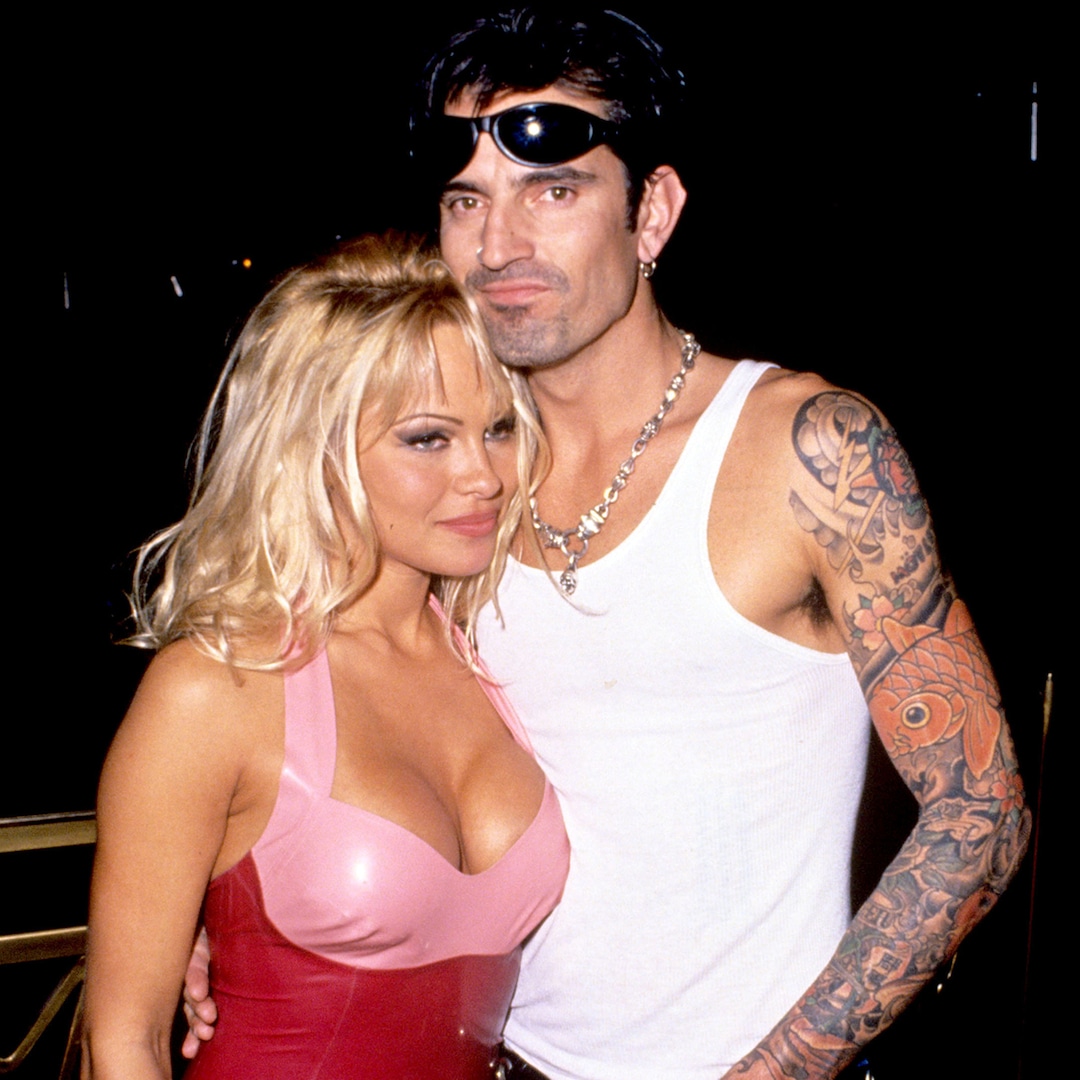 After the release of their private sex tape, the couple's marriage quickly deteriorated and turned volatile, with Anderson detailing the scary incident in 1998 that resulted in Lee being arrested nand charged with spousal and child abuse. (After pleading no contest to spousal battery, Lee was sentenced to six months in jail, ultimately serving four.) 
Anderson says the "terrible night" began when Lee was rocking on the floor, telling her, 'I want my wife back, I want my wife back.' At that point, I didn't know what to do. And I just said, 'I need some f—king help around here. You gotta grow up, it's not about you anymore.'"
Saying she had never spoken to him that way before, Anderson explains what happened next in her memoir. 
"He grabbed the phone away from me, twisting my arm as I was holding Dylan in the other," she writes of her then 7-weeks old son. "My nail tore off, blood dripping down my arm. The kids were so frightened. I picked up Brandon, too, but he slid frantically down my leg and held on to it tight, hyperventilating."
Lee then grabbed Brandon,  then 18 months, and "threw me and Dylan into the wall," Anderson recalls. "I was so scared that he was hurt—he was screaming and he was only seven weeks old. Tommy ran out the door with Brandon…I could barely breathe, trying to catch my breath through the tears. Panicked, I called 911."
After Lee was arrested, Anderson "tried to end the marriage," but the drummer "really fought for us to stay together," she says in the documentary. "I had to bifurcate the divorce because he wouldn't sign the papers. He thought we could get through it. I just took my kids and was like, 'No.' It wasn't a gray area for me. I was like, 'You can't do that.'"
Anderson admits that once Lee was released from jail, the couple did have "secret meetings, breaking the restraining order." Ultimately, their reconciliation "didn't last…neither of us could forgive the other, deep down."
Shah Rukh Khan poses with the Kuch Kuch Hota Hai's Parzaan Dastur | Bollywood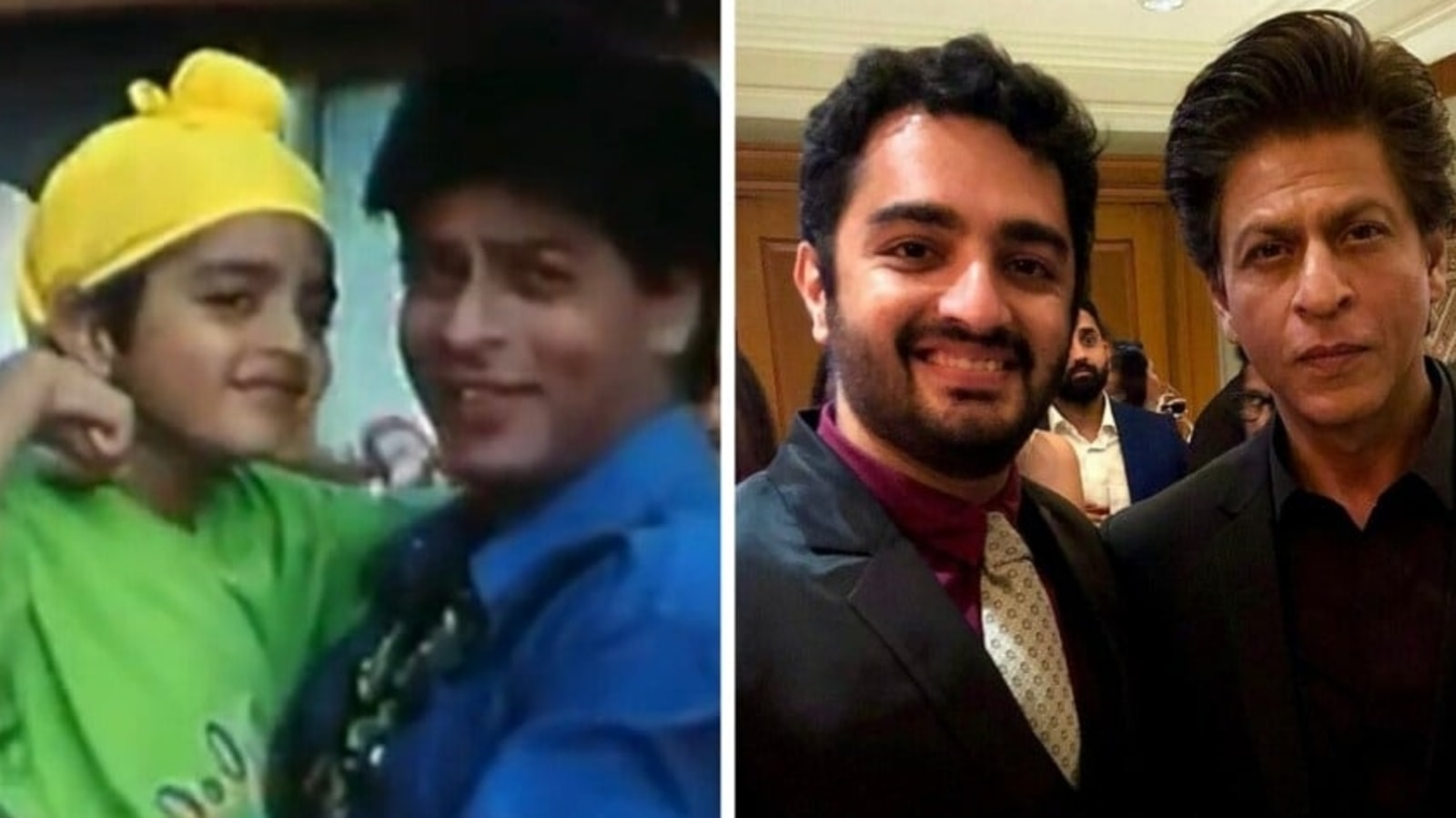 Parzaan Dastur took to Instagram and shared picture with superstar Shah Rukh Khan. He posted an unseen picture with him from an undisclosed event on Tuesday. He was all smiles as he posed with him. Parzaan, played the role of cute little sardar kid from Shah Rukh's hit movie Kuch Kuch Hota Hai, starring Kajol and Rani Mukerji. Many fans rushed to the comment section and dropped sweet messages in the comment section. (Also read: 'When Tiger met Pathaan': Salman Khan poses with Shah Rukh Khan in unseen pic by Meezaan)
Parzaan posted two pictures with Shah Rukh Khan. In one of the pictures, the two twinned in black outfits. Shah Rukh wore a black shirt with black coat while Parzaan wore a maroon shirt with white tie and black coat. Parzaan smiled bright as he posed for the camera. Both of them looked straight into the camera. In another picture, little Parzaan sat on the shoulder of Shah Rukh.
Sharing the photos on Instagram, Parzaan wrote, "When Parzaan met Pathaan (cracker emoji)." He used 'Pathaan' and 'Blockbuster' as the hashtags. Actor Anjali Bharot commented, "Taare gin rahe ho (Are you counting the stars)?" To which, replied, "Not without you! (kiss emojis)." Actors Dipannita Sharma and Rajesh Tailang dropped heart emojis.
Reacting to the post, one of Parzaan's fans commented, "Ah! Y'all should have recreated the pose (laughing emoji)." To which, he said, "He said I would have to lift him up (laughing emoji)." Another fan wrote, "Tussi Jaa rhe ho, Tussi jaaoge kahan (Are you going, Where are you going)?" He replied with laughing emojis. Other fan commented, "What yaar, I feel envious of you now." "Wow, feeling great to see you together, after a very long time", added one. Many fans dropped hearts emojis on the picture.
Parzaan is fondly remembered by people for his line, 'Tussi jaarhe ho, tussi na jaao' which he said to Kajol in Kuch Kuch Hota Hai. The film was directed by Karan Johar, and produced by Yash Johar.
Shah Rukh's latest film Pathaan, hit the theatres on January 25. The film stars Deepika Padukone and John Abraham in prominent roles. Salman Khan also has an extended cameo as Tiger in the film. Shah Rukh also has Dunki and Jawan as his upcoming projects.
Proof Lisa Marie Presley's Kids Were Always On Her Mind
When it came to parenthood, Lisa Marie Presley never felt all shook up.
Rather, Elvis Presley and Priscilla Presley's only daughter—who died Jan. 12 at age 54—relished in the time spent with her kids: daughter Riley Keough, late son Benjamin Keough and twins Finley and Harper Lockwood.  "I just smother them in love," the singer previously told Healthy Living. "They are my priority. That's what I do. That's what I care most about. I keep them close to me and make sure they are happy and healthy."
"We all kind of hold each other up," she continued. "We are all each other's best friends. I'm theirs but I am also their mother. That's kind of that."
Now, moving forward, as her family continues to honor her legacy, they will always cherish the moments they had together.
"I remember the way you would cuddle me," Riley's husband Ben Smith-Petersen read on her behalf at Lisa Marie's public Graceland memorial Jan. 22.. "I remember you singing me and brother lullabies at night and how you'd lay with us until we fell asleep."
"My sisters and brother are a product of your heart," he continued for Riley. "I hope you finally know how loved you were here."