Kajal Aggarwal celebrates son Neil turning 9 months old, pens heartfelt note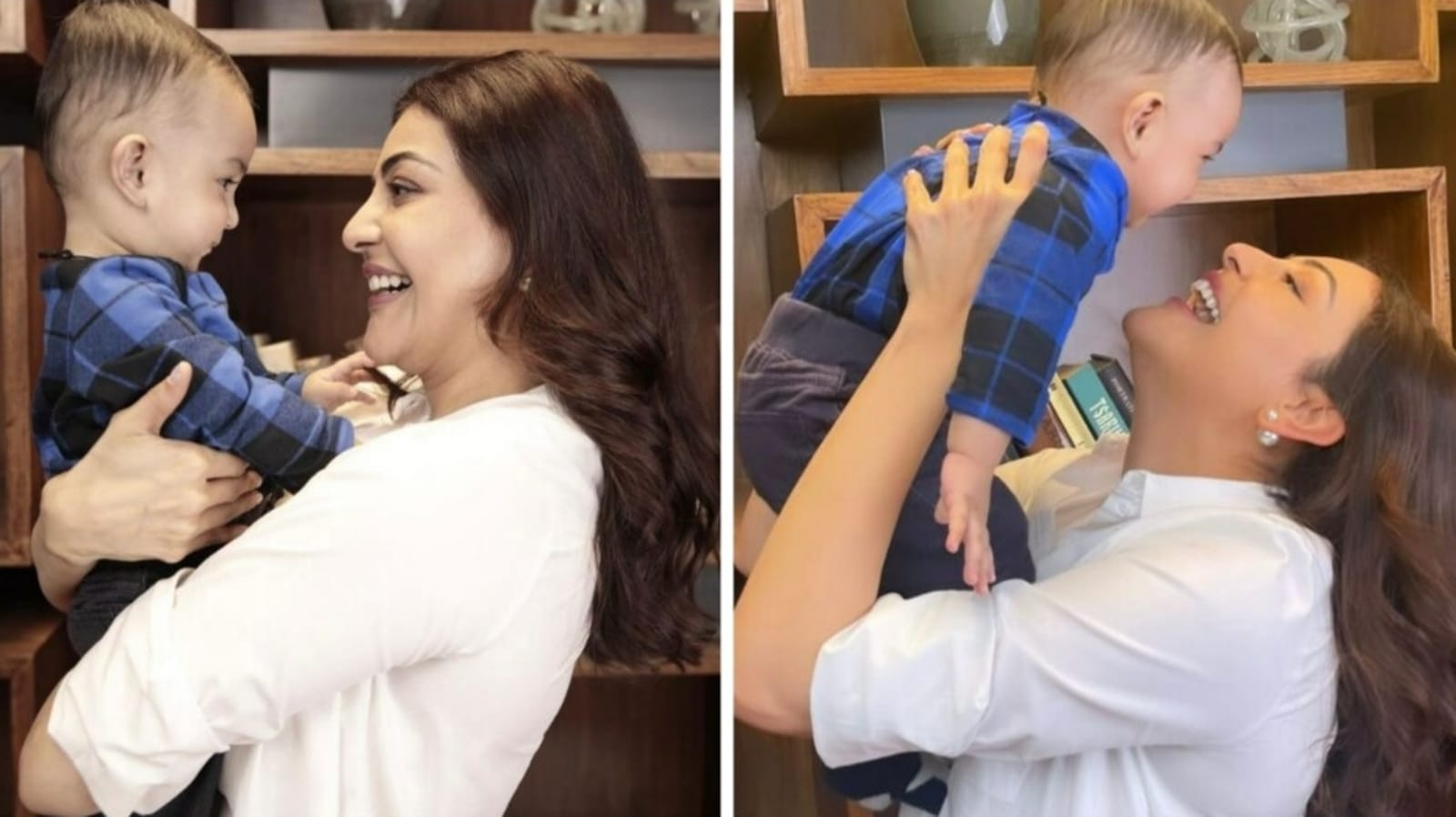 Kajal Aggarwal took to Instagram and shared pictures of herself with son Neil Kitchlu as he turned 9 months old. She posted a series of adorable pictures with Neil as she showered love on him. She also wrote a heartfelt note, and called him 'my darling boy'. Kajal and her husband Gautam Kitchlu welcomed Neil in 2022. Fans loved Kajal's post and dropped sweet messages in the comment section. (Also read: Kajal Aggarwal gives a peek at son Neil's face in new pic as she thanks everyone for 'best birthday ever'. See pic)
In the pictures, Kajal sported a white shirt with blue jeans and had minimal makeup on. Her son, wore a blue flannel shirt with dark pants and black socks. In one of the pictures, Kajal looked straight into Neil's eyes with affection and in another, she held him in her arms.
Taking to Instagram Stories, she shared a cute picture with her son, in which she held up her son and looked at him with love, and wrote, "#My bubble turns 9 months old."
Sharing the pictures on Instagram, Kajal wrote for Neil, "@Neilkitchlu I can't wait to see all the things God will do through you. In the meantime, we stay thankful for the past 9 months, and the years ahead. Happy 3/4th birthday, my darling boy."
Reacting to the post, one of Kajal's fans wrote, "A great actor and a great mother. Love and respect ma'am." Another fan commented, "Aww!! So lovely (smiley face with tears, red heart and evil eye emojis)." Other fan commented, "Awwwee Neil baby, ma'am you are lucky to have such a beautiful son (red heart emoji)." A fan's comment read, "So beautiful and emotional moment for every woman to become a mother." "Beautiful smiles," added one. Many fans dropped heart emojis for little Neil.
Kajal got married to businessman Gautam Kitchlu in 2020. The two were blessed with a baby boy, whom they named Neil, on April 19, 2022. When her son turned four and six months old, she shared heartfelt notes and talked about parenthood on social media handle. She celebrated Neil's six months milestone earlier, and wrote, "I can't believe how fast the past 6 months have gone by or the profound change that has taken place in my life. I've gone from a scared young woman holding a wriggling mass on her chest and wondering how she was going to care for it to now fulfilling mommy duties and learning as I go along. Of course, balancing full time work and ensuring I never compromise on my time, attention, love, nurturing care for you- is extremely challenging."
After embracing motherhood, Kajal has been working on her comeback film, Indian 2 alongside Kamal Haasan and Priya Bhavani Shanka . Besides Indian 2, she has three Tamil films– Karungaapiyam, Ghosty and Uma as her upcoming projects.
ott:10
Jason & Travis Kelce's Mom Picks a Favorite Ahead of Super Bowl
It runs in the family!
When the Kansas City Chiefs and Philadelphia Eagles face off during Super Bowl LVII on Feb. 12, Donna Kelce will be in a unique position. That's because she's the first mother to ever have two sons—Chiefs tight end Travis Kelce and Eagles center Jason Kelce—competing against one another in the big game. And while Donna is proud of both of her boys, she's not afraid to play favorites.  
"Both fanbases are absolutely amazing and give everything they have on gameday," she revealed on Today Feb. 1. "I think that Jason would say that I'm going to root for the baby of the family, which is Travis, and I keep trying to tell him, 'No, you've given me grandchildren.' So, we'll leave it at that."
Donna—who sported a custom Chiefs-Eagles Jersey for the appearance—noted that Travis and Jason have both previously won a Super Bowl, but admitted she's aware there could be some tension during the 2023 holiday season once one inevitably picks up his second. 
"They've already got the first win under their belts, so this is gonna be just pure joy," she shared. "Obviously, there's gonna be somebody that's gonna go home heartbroken, they're not gonna have bragging rights at the Thanksgiving table, but this is gonna be an awesome event and I'm really looking forward to it."
When Abhishek revealed facing sexist comments for Cannes outings with Aishwarya | Bollywood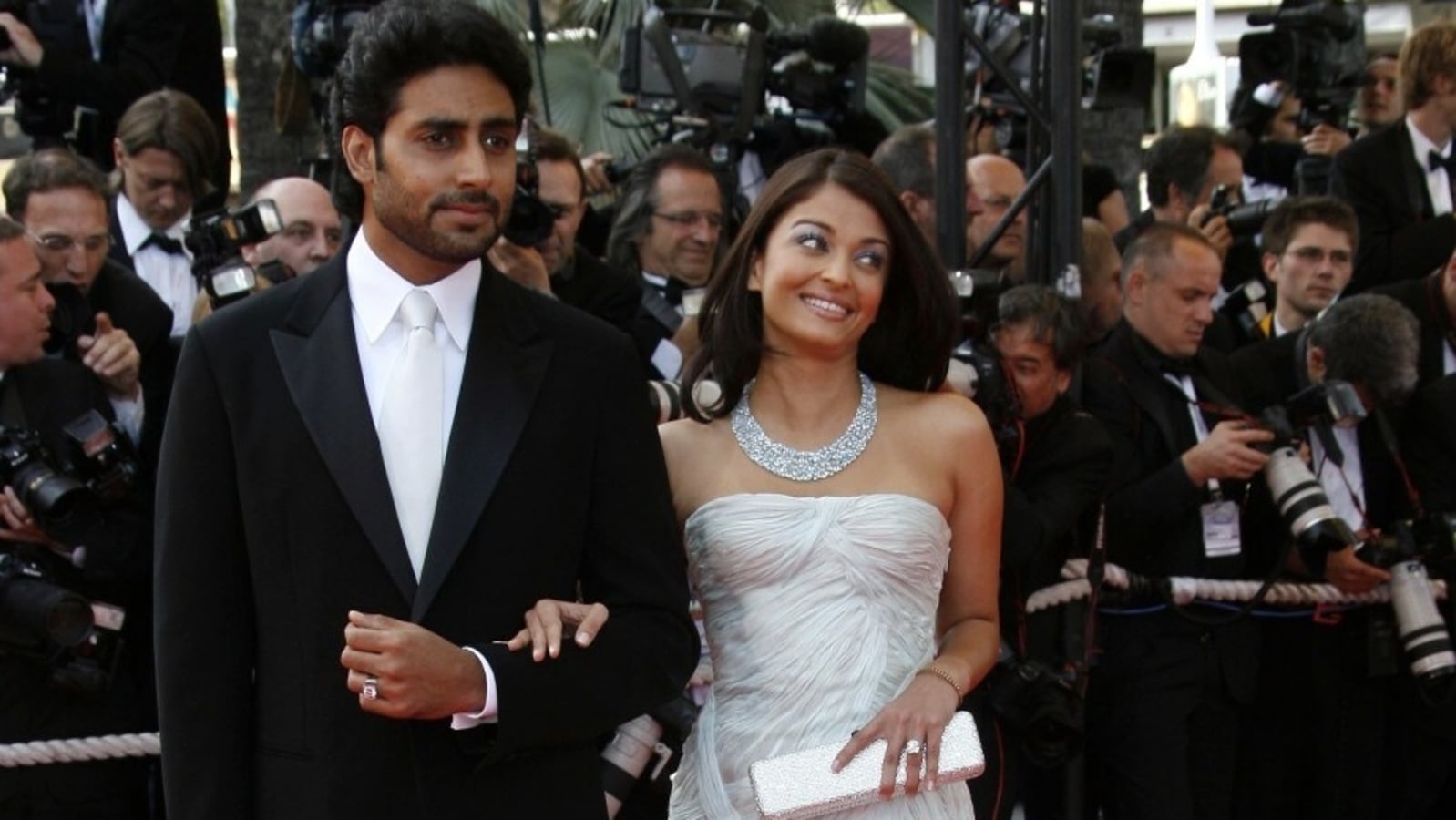 In a 2012 interview, Abhishek Bachchan was asked if he had 'ever put restrictions on wife Aishwarya Rai'. The actor had then said that only a man, who was either 'insecure' or did not 'trust her' would do such a thing. Abhishek had then gone on to speak about how he was often asked about what 'it feels to walk the red carpet with your wife at Cannes', adding he found 'this attitude to be chauvinistic'. Also read: When Aishwarya Rai defended Abhishek Bachchan from 'unfair' question on being overshadowed by his father and wife's fame
Abhishek Bachchan also asked why Aishwarya could 'attend all his events', but he could not accompany his wife to support her. The actor slammed people, who thought that since he was the husband, he should not join his wife at her public appearances that were about her. In 2005, Aishwarya became the first Indian to open the Cannes Film Festival; since then she has been attending the high profile event almost every year, and is sometimes joined by Abhishek. Waking the red carpet for the first time after their April 2007 wedding, Aishwarya and Abhishek made an appearance together at Cannes Film Festival in May, 2007.
Abhishek told Filmfare in 2012, "If a man tries to restrain his wife, then there must be two reasons for it. Firstly, he's insecure. Secondly, he doesn't trust her. I am a secure person and have complete faith in my wife. Then why should I have any problem? And why just wife, if a man tries to restrain his girlfriend, mother or any girl, then either he's insecure or he doesn't trust them. And that's not how I was brought up. My mother has been an actress and she has always been working. I've often been asked how it feels to walk the red carpet with your wife at Cannes. I find this attitude chauvinistic."
The actor further said, "It means that you are the husband so how can you walk with her? Do you ever ask Aishwarya why she walks the red carpet with me at the premieres of my films? She attends all my events, but I cannot accompany her. That's wrong. If my wife supports me, then it's my duty to support her."
Abhishek and Aishwarya Rai are parents to daughter Aaradhya Bachchan, who celebrated her 11th birthday last year. Aishwarya was last seen in Mani Ratnam's magnum opus Ponniyin Selvan: I (2022), while Abhishek was last seen in Breathe: Into The Shadows season 2 (2022).
Pete Davidson Shaves Head
Pete Davidson is a man who has, based on all two seconds of Google image searching I have done on this, has gone through a surprising amount of hairstyles. It's been short! It's been long(er)! It's been blue! It's been bleached!
So, given that Pete Davidson's head is a Rorschach test of the times, I bet you're thinking, "Good god, what is the state of that man's scalp today?" or "I already know he shaved his head, get to it hag."
Yes, Pete took is newly shaved head for a spin at a Knicks game at Madison Square Garden last night.
This may very well be the shortest it's ever been!
There's no way to say this without sounding odd, but at least the shape of his head is perfectly pleasant.
Oh yeah, he also went to this event with M. Night Shyamalan.
Is it for a role? Is it a whim? Who knows — you do you, Pete.