Live updates: The 2021 Emmy Awards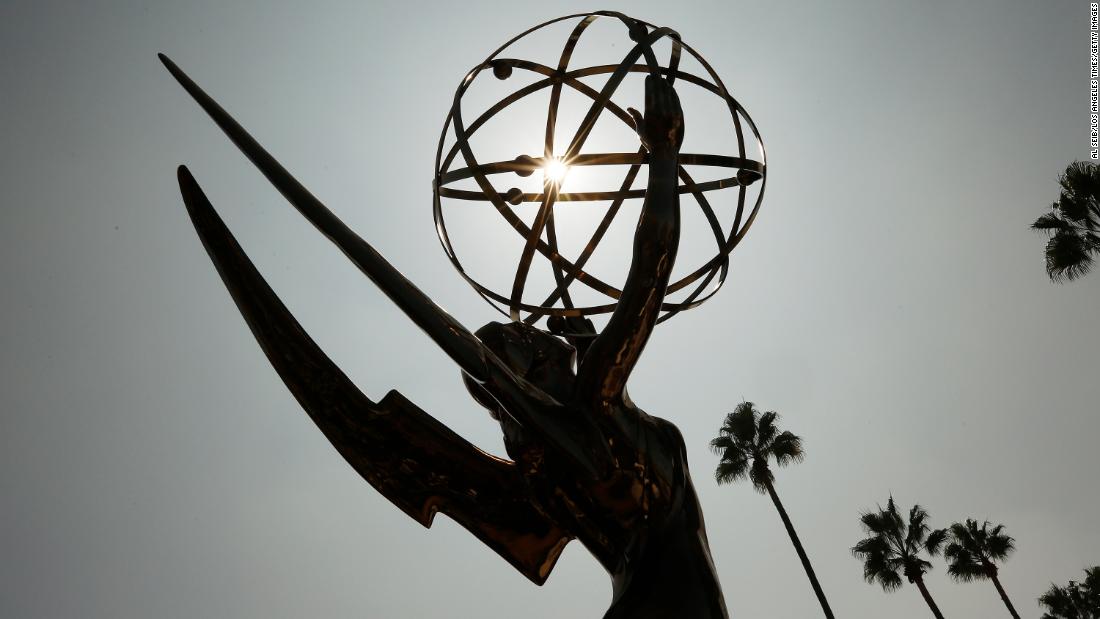 The cast and producers of Apple's "Ted Lasso" scored a major W during July 13's Emmy nominations and broke a record in the process.
With its 20 nominations, "Ted Lasso" became the most nominated freshman comedy in Emmy history, besting the 19 nominations "Glee" earned in 2010 for its first season.
The nods earned by "Ted Lasso" included best comedy, best lead actor (Jason Sudeikis) and a number of accolades for the show's supporting cast.
Hannah Waddingham, Juno Temple, Brendan Hunt, Brett Goldstein, Jeremy Swift and Nick Mohammed all received nominations for their performances. (Yes, there's a four-way "Ted Lasso" race in outstanding supporting actor in a comedy series.)
"Getting nominated for an acting Emmy is as thrilling as it is surprising," said Hunt, who also shares two writing nominations with fellow writers Sudeikis, Joe Kelly and Bill Lawrence. "Not only was this kind of thing never something I was planning or pining for, but also I'm not even the "best supporting actor" on my own show. I am appreciative of, and humbled by, this recognition; but far more appreciative that so many of my castmates have received the same. We're a team, but maybe we're a team with a deep bench."
The show also received two nominations for comedy series editing, one for best casting and three for outstanding directing for a comedy series. One of the directing nominations went to actor and director Zach Braff.
"I'm so honored and happy about this," Braff wrote on Twitter.
"Ted Lasso" returned for its second season on July 23.
Julian McMahon: Meet The 'FBI: Most Wanted' Stars Gorgeous Daughter, Madison Elizabeth
Julian McMahon is best known for his famous roles in 'Charmed' and 'Nip/Tuck', but did you know he's also a proud father? Meet his daughter, Madison!
Who doesn't remember the early to mid 2000s when Julian McMahon dominated television screens across the country for his roles as Cole Turner in Charmed, and Christian Troy in Nip/Tuck? The tall, dark and handsome heartthrob is Australian-American and is the son of former Prime Minister of Australia, Sir William McMahon. Julian got his first big break on NBC soap opera Another World in 1993 when he was cast as Ian Rain. He then went on to play leading roles and eventually marry three times. He is also a proud father of one: a daughter named Madison Elizabeth. Here's everything to know about her!
Who is Madison Elizabeth?
Madison Elizabeth McMahon was born on June 10, 2000. When her parents broke up when Madison was about a year old, she went on to go live with dad. And ever since – she's been a daddy's girl! Madison and her father have a wonderful father-daughter relationship and it certainly shows in her colorful Instagram. Madison constantly cheers on her papa and all of his projects, including Julian's latest role as Jess LaCroix in the CBS crime drama FBI: Most Wanted. "Happy father's day dad. you are my everything always. no light shines brighter than you," Madison said in a touching Father's Day post dedicated to Julian on June 21, 2020.
Are Madison's parents together?
No, Madison's parents are not romantically involved anymore. Her dad Julian was first married to Australian singer and actress Dannii Minogue, sister of pop sensation Kylie Minogue, after meeting on the set of soap opera Home & Away in 1991. They got hitched in 1994 but divorced 18 months later. A few years later in 1999, the FBI: Most Wanted star married Baywatch actress Brooke Burns. The following year, the couple welcomed Madison, though they would end up splitting in 2001. Nevertheless, Julian would go on to find love again with current wife and fellow Australian Kelly Paniagua, an actress and television personality, who he married in 2014.
Where does Madison live?
Not only does Madison have a great relationship with her step mom Kelly, but she seemingly travels around the world with the pair. While the family resides primarily in the United States, which is where her dad has lives since the 1990s, they are very much still an Australian family. "I feel like I'm Australian on the inside and American on the outside or something," Julian has been quoted as saying. "I would never want to leave it behind either. I love Australians, Australianisms, I love my part of being Australian. I love where I grew up and how I grew up and, you know, I wouldn't change it for the world."
Kylie Jenner's 9 Siblings: Everything She's Ever Said About Her Famous Sisters & Brothers
Kylie Jenner is the youngest of ten children born between her parents Caitlyn Jenner and Kris Jenner. Find out more about her siblings and look back on things she's said about them over the years here.
Kylie Jenner, 24, comes from a big family, including nine brothers and sisters who lead successful lives just like she does. Her dad Caitlyn (formerly Bruce) Jenner, 71, has one son, Burt Jenner, 43, and one daughter, Cassandra Marino, 41, from her first marriage to Chrystie Scott, two sons, including Brandon Jenner, 40, and Brody Jenner, 38, from her second marriage to Linda Thompson, and one daughter, Kendall Jenner, 25, in addition to Kylie from her third marriage to Kris Jenner. Meanwhile, Kris also has three daughters, including Kourtney Kardashian, 42, Kim Kardashian, 40, and Khloe Kardashian, 37, as well as son, Rob Kardashian, 34, from her marriage to the late Robert Kardashian.
Find out more about Kylie's siblings from oldest to youngest and things she's said about them below!
Burt Jenner
Burt Jenner is the oldest of Kylie's siblings. He's her half-brother who was born to Caitlyn (then Bruce) and Chrystie in 1978. He was only three when his parents divorced and went on to become a father when he welcomed two children, including sons Bodhi and William, with his girlfriend Valerie Pitalo. It was reported in Aug. 2021 that he was expecting another child.  Burt's professional career has also been successful. He's a businessman who owns the West LA Dogs and works as a professional off-road racing driver.
Although Kylie hasn't spoken very publicly about Burt, they seem to have a good relationship and their sister Kendall was one of the first to excitingly tell the world he was expecting another child in a televised interview.
Kourtney Kardashian
Kourtney Kardashian is the oldest child of Kris and her late husband Rob, making her Kylie's oldest half-sister. She was born in 1979 and has become a reality star and influencer due to her family's fame and their reality show Keeping Up with the Kardashians, which Kylie also appeared on. She has three children, including sons Mason and Reign and daughter Penelope, with her ex Scott Disick, and has become successful with her own creative outlets and brands, including Poosh.
She and Kylie have showed off their close relationship on KUWTK and have been seen together at numerous events and private gatherings. Kourtney has also appeared in Kylie's YouTube videos, including one in which she let her do her makeup while talking about their feelings about different personal things. Kylie has showed off her love for her big sis in various social media posts over the years, including one for her birthday. "Happy Birthday to the oldest and wisest of em all. The Minnie to my Tink," she wrote along with heart emojis in the post.
Cassandra Marino
Cassandra (Jenner) Marino is Kylie's second oldest half-sister. She was born to Caitlyn and Chrystie in 1980. She is the most discreet of Kylie's siblings in the sense that she mostly stays out of the spotlight. She is married to Michael Marino and they share three children, including Isabella, Francesca, and Luke and she sometimes posts pics of her family on social media, like her Facebook page, but also keeps other pages private.
Like her brother Burt, Kylie hasn't spoken publicly about Cassandra very much but there doesn't appear to be any animosity toward her. They have appeared together in family photos over the years and seem happy to be around each other despite not usually hanging out in the limelight.
Kim Kardashian
Kim Kardashian is Kylie's third oldest half-sister and perhaps her most famous sibling. She was born to Kris and Rob in 1980 and stepped into the spotlight through reality television, including KUWTK. She is a successful influencer and businesswoman who has run various brands she created like KKW Beauty cosmetics and SKIMS shapewear. She is a mother-of-four, including daughters North and Chicago, and sons Saint and Psalm, who she shares with ex Kanye West.
Like Kourtney, Kim has appeared with Kylie on KUWTK as well as in other numerous shows and appearances. The younger sister has often spoke about her in public and they indeed have a close bond. She previously called Kim's brands "amazing" and explained they work together to help each other with their businesses, including their makeup. "She'll use mine, I use hers, but how we create our makeup and how we run our businesses is very separate and then we come together if we need advice," she said about Kim in a 2020 interview with About Face.
Brandon Jenner
Brandon Jenner was born to Caitlyn and her second wife Linda. He was born in 1981 and like his siblings, has had a successful reality television career. He starred in the reality show, The Princes of Malibu, with his brother Brody and has appeared in other reality shows like KUWTK and Kourtney and Kim Take Miami. He also started an indie pop music group with his ex-wife Leah Felder called Brandon & Leah. They had a daughter Eva in 2015 before divorcing in 2018. He went on to welcome twins Bo and Sam with his girlfriend Casey in 2020.
It's not clear how close Kylie is with her half-brother Brandon but when she announced her second pregnancy on Instagram in 2021, he responded with, "No way!!!!! Congratulations." It led many fans to believe he hadn't known about the happy news ahead of time like some of her other siblings. Regardless, Kylie and Brandon have appeared together at various family gatherings and there's no reports of anything other than love between them.
Brody Jenner
Brody Jenner is another one of Kylie's half-brothers. He was born to Caitlyn and Linda in 1983 and is Brandon's younger brother. He has also appeared in various reality television series, including The Hills, The Princes of Malibu, and KUWTK. He's also modeled for several different brands.
Brody's relationship with Kylie doesn't appear to be that close and there have been rumors about struggles between him and the Kardashians over the years. He claimed that Kendall and Kylie didn't respond to invites to his wedding in 2018 and admitted he didn't know about Kylie's pregnancy with her daughter Stormi until she announced it publicly shortly after the tot's birth.
Khloe Kardashian
Khloe Kardashian was born to Kris and Rob in 1984 and is Kylie's half-sister. She's also been a cast member on KUWTK and started her own denim company called Good American. She sometimes collaborates with her sisters on various products and is a mother to her daughter True, whom she shares with ex Tristan Thompson. Like her older sisters, she's very close with Kylie and has showed off their bond many times.
One cool connection Kylie has with Khloe is that they were both pregnant at the same time at one point and True was born just two months after Stormi. They have given each other various shout-outs on social media and appear in photos and at events on a regular basis. On Khloe's birthday in 2021, Kylie shared a throwback pic of the two of them and a sweet message.
"my sister, my soulmate, my best friend! i will find you in every lifetime! to know you is to love you. happy birthday to the most special soul!! i'm so blessed to have you by my side. words can't describe how much you mean to me. you deserve the world and more 🌎 🤍," it read.
Rob Kardashian
Rob Kardashian is Kylie's youngest half-brother. He is the only son of Kris and Rob and has been in and out of the spotlight over the years. He's appeared periodically on KUWTK and even had his own reality show with his ex Blac Chyna called Rob & Chyna at one point. He is the father of a daughter Dream, whom he shares with Chyna, and is close with Kylie as well as his other sisters, Kourtney, Kim, Khloe, and Kendall.
Kylie and Rob showed off their sweet bond when they interacted no social media in early 2021. After the former uploaded a gorgeous snapshot of herself, the latter responded with, "Hiiii." She didn't hesitate to reply with a cute waving emoji.
Kendall Jenner
Kendall Jenner is Kylie's sister and the only sibling who shares the same parents. The two sisters are incredibly close and since they're only a couple of years apart, they grew up together. Kendall was born to Caitlyn and Kris in 1995 and went on to become a reality star on KUWTK and a professional model. Whether they're attending impressive events or collaborating on projects together, Kylie and Kendall are together a lot of the time.
Although they're very close and often compared to each other, Kylie has opened up about their differences at various times in the past. In a 2017 episode of her reality show, Life of Kylie, she said that she gets along with Kendall "most of the time" when they're together but also admitted she doesn't think they'd be friends if they weren't sisters, just because of their different personalities. "I don't think we'd be friends if we weren't sisters," she explained before saying they "have different opinions. We do everything differently."
Jennifer Gates Married: Bill Gates' Daughter Weds Equestrian Millionaire Nayel Nassar
October 16, 2021 6:01PM EDT
The Microsoft billionaire's little girl is all grown up and a married woman now! She tied the knot with equestrian Nayel Nassar on Saturday October 16.
Wedding bells are in the air! Jennifer Gates, 25, married her husband Nayel Nassar, 30, on Saturday, October 16 at a ceremony in Salem, New York. Jennifer looked gorgeous in a custom Vera Wang dress as she walked down the aisle by both her dad Bill Gates and mom Melinda, per the Daily Mail, surrounded by her bridesmaids in teal gowns. The couple exchanged vows in front of 300 guests in a Muslim ceremony, the site added, noting that the pair legally married the night prior. Coldplay was also reported to be the evenings' entertainment at a reception, along with Harry Hudson.
The pair's wedding plans were revealed on Wednesday, after the DailyMail reported that the pair were planning the ceremony, which cost about $2 million on the pair's 124 acre horse farm in New York. Shortly after the plans were brought to light photos came out of tents being set up on the $16 million estate. A neighbor said that the extravagant celebration will be something completely new to the community, per The New York Post. "It will be the biggest party our town has ever seen," a neighbor told The Post.
Jennifer is the eldest child of Bill Gates' three kids with his ex-wife Melinda. The pair also have a 22-year-old son Rory John and  a 19-year-old daughter Phoebe Adele. Jennifer and Nayel have been together since January 2017. Both accomplished equestrians and horse-lovers, they couldn't make a better pair! Nayel won his millions as a star equestrian. They're both also Stanford University alums. The couple have gushed over each other on social media. Nayel popped the question in January 2020, and he celebrated Jennifer saying "Yes," with an Instagram post. I'm feeling like the luckiest (and happiest) man in the world right about now," he wrote. "Jenn, you are everything I could have possibly imagined..and so much more. I can't wait to keep growing together through this journey called life, and I simply can't imagine mine without you anymore."
Jennifer celebrated their engagement with a sweet Instagram of her own. "Nayel Nassar, you are one of a kind. Absolutely swept me off my feet this past weekend, surprising me in the most meaningful location over one of our many shared passions," she wrote in a caption.