Navya Naveli Nanda wins trophy for podcast What The Hell Navya, shares pics | Bollywood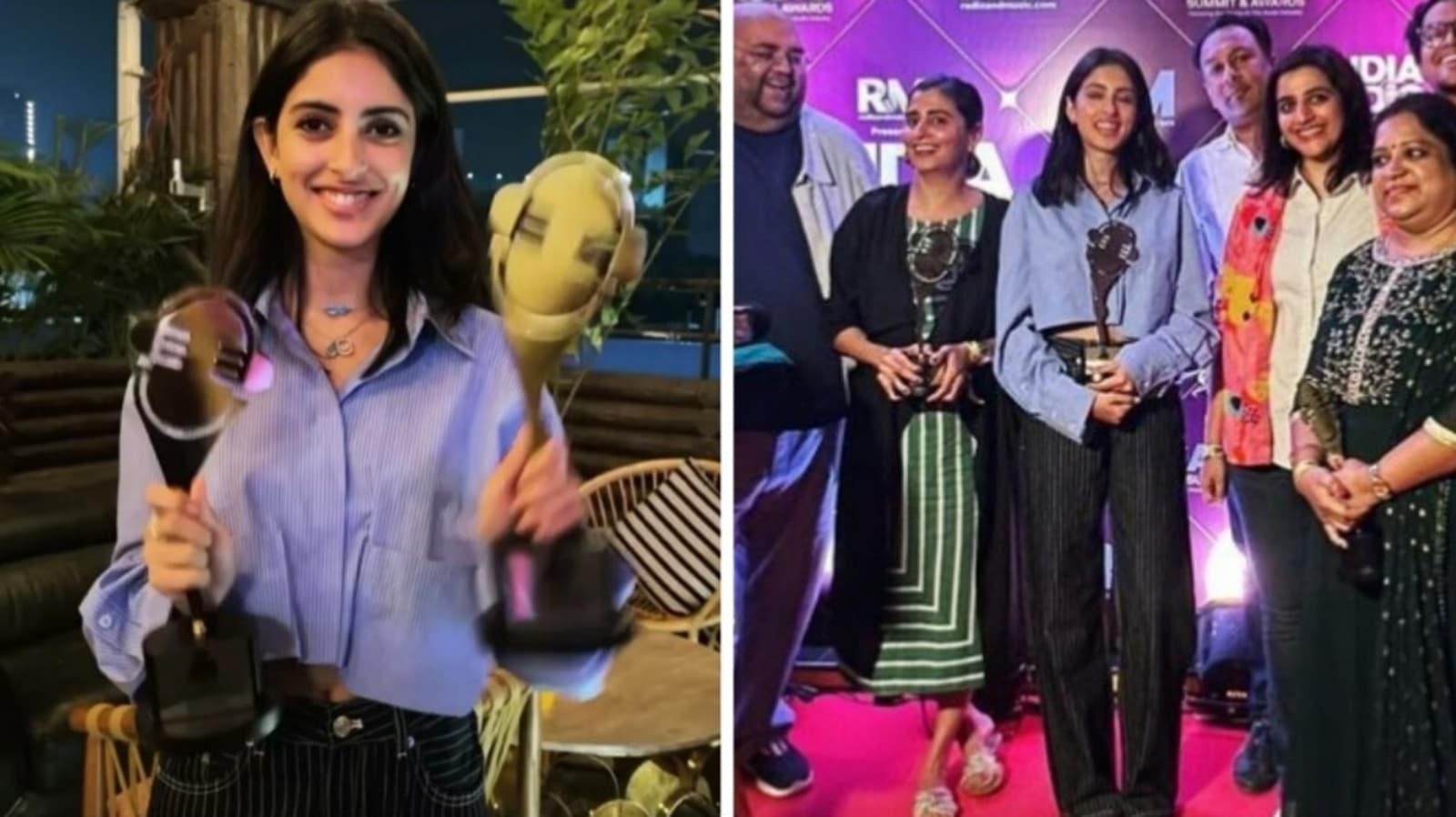 The granddaughter of veteran actor Amitabh Bachchan, Navya Naveli Nanda took to Instagram and shared pictures and videos from India Audio Summit and Awards 2023. She bagged awards for her podcast What The Hell Navya. She was extremely happy as she showed off her shining trophies. She started her podcast on her Youtube channel from September 2022. Along with her fans, best friends Suhana Khan, Ananya Pandey, mother Shweta Bachchan, and uncle Abhishek Bachchan reacted and dropped congratulatory messages on her post. (Also read: What The Hell Navya trailer: Jaya Bachchan promises 'funny story,' Navya Nanda mimics Shweta Bachchan. Watch)
For the event, Navya sported a crop formal shirt with pair of pants. She kept her hair untied, and completed her look with black shoes. She posted a boomerang video while moving her trophies up and down out of happiness. In one picture, she stood with a group of people. She held her trophy and smiled while posing for the camera. She also shared a video with co-founder of IVM Podcasts, Kavita Rajwade. The two showed off their trophies and smiled.
Sharing the pictures and videos on Instagram, Navya wrote, "Thank you for all the love you have given to What The Hell Navya! (red heart and mic emojis). India Audio Awards with the best team @ivmpodcasts." Her best friend and Shah Rukh Khan's daughter Suhana Khan commented, "Yyayyy (star and red heart emojis)." Navya's mother Shweta Bachchan wrote, "Yaayyyyyyy woooo hooo baby girl", and uncle Abhishek Bachchan commented, "Well done, Maggie (clapping and high5 emojis)." Actors Ananya Panday and Aadar Jain dropped heart emojis. Actors Dia Mirza wrote, "Woooohoo (tiger and red heart emojis)" and Sonali Bendre commented, "Yayyyy (red heart emojis)."
Reacting to Navya's achievement, one of her fans wrote, "You deserve it. Beautiful show." Another fan commented, "Way to go Navya!! (red heart emojis)." Other fan wrote, "I really hope you come out with more episodes!! I loved listening to it on my morning walks." "Congratulations! many more to come, stay blessed always", added one. "I did listen to the podcasts-raw, unfiltered and insightful. Loved it", wrote another.
Taking to Instagram, Shweta shared her daughter Navya's picture with trophy, and wrote, "Bravooooo!! What The Hell Navya, for the win (red heart emoji)." She tagged Navya and IVMpodcast.
In Navya's podcast, What The Hell Navya, she along with grandmother Jaya Bachchan and mom Shweta spoke about issues women face in society. They also got candid in their conversations. The episodes can be found on Navya's YouTube Channel. The podcast was created by IVM Podcasts and empowered by Bumble India.
Camila Mendes Reveals Why Her New Relationship Is Unlike Any Other
Camila Mendes has found the perfect date.
The Riverdale star recently confirmed that she's been in a relationship for "a few months" now, though she did not explicitly name her special someone.
"I am still in the honeymoon, but it's one of those situations where I feel like, and I'm really trying to temper myself here," she told the Going Mental podcast in a Jan. 26 episode. "I don't wanna like speak above and beyond, but I feel like I've known him my whole life, and that's something I actually have never felt before."
Camila described the romance as "new-new as of like June," which comes around the time the Do Revenge star posted a TikTok clarifying her relationship status as single.
In November, however, Camila sparked romance rumors when she posted a poolside Instagram photo of her and an unidentified man sharing a kiss. She captioned the Nov. 8 slideshow, "life update."
Percy Jackson Has Found Its Poseidon—And It's Not Logan Lerman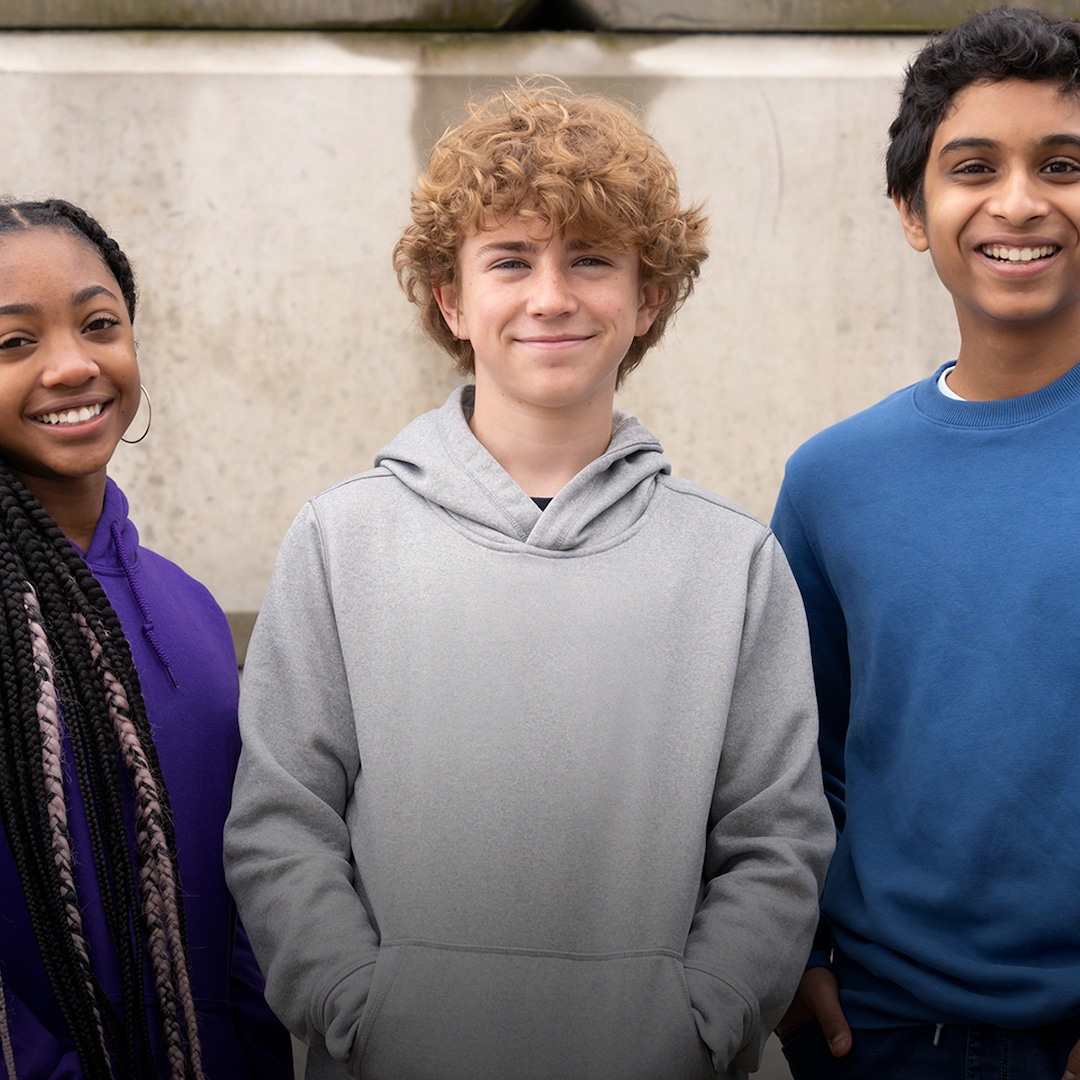 There are officially a couple of Gods amongst these men. 
The Wire's Lance Reddick and Black Sails' Toby Stephens have joined the upcoming Disney+ series Percy Jackson and the Olympians as Zeus and Poseidon, respectively, according to Variety. 
Described as the "all-powerful god of the sky and leader of Mount Olympus" according to the outlet, Zeus is also characterized as "tempestuous and mistrustful. He's promised to wage a war if his stolen thunderbolt is not returned."
We'd probably suggest slipping that thunderbolt back under Zeus' door.
Not only is Poseidon the god of the sea, he's also Percy's father. "Although seemingly absent in Percy's life," his descriptions reads, "many of Poseidon's qualities live in Percy; stubbornness, impulsiveness and loyalty. Though he has stayed away throughout Percy's life, his deep feelings for his son (and Percy's mother, Sally) are evident."
The Adam Project star Walker Scobell will play 12-year-old modern demigod Percy in the series, which also stars Leah Sava Jeffries and Aryan Simhadri as Percy's friends Annabeth and Grover, respectively. 
Britney Spears's Fans Called The Police After She Deleted Her Instagram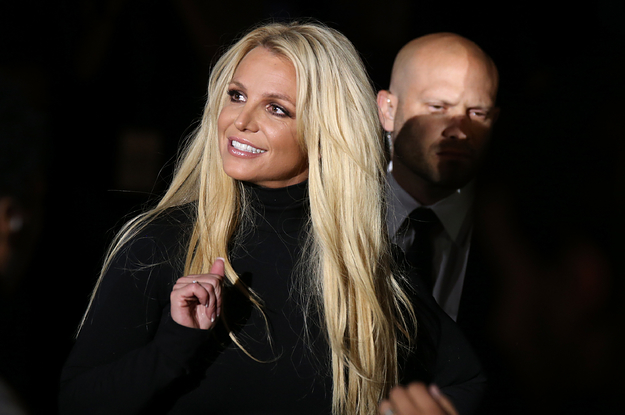 Britney Spears apparently didn't appreciate fans calling the police to check on her this week, and a source familiar with the matter told BuzzFeed News that it's fairly often that fans are calling for wellness checks.
"It is true that some fans reached out as a result of her taking a break from IG for a bit, which is not unusual and is done from time to time, and it was overzealous and the police confirmed there was no issue," the source said.
TMZ reported Wednesday that the Ventura County sheriff's office received calls Tuesday night about Spears deleting her Instagram account within the past 12 hours and that it was fans' concerns that prompted officers to check on the singer.
On Thursday, Spears addressed the police visit in a Twitter post. She said these instances of the police being alerted were "some prank phone calls" and that officers realized they were erroneous when they visited her and saw she was not in any danger. Spears noted the police did not enter her home and left immediately.
"I love and adore my fans but this time things went a little too far and my privacy was invaded," Spears wrote on Twitter. 
"This felt like I was being gaslit and bullied once the incident made it to the news and being portrayed once again in a poor and unfair light by the media," she added.