Neetu shares Ranbir Kapoor's childhood pic with Rishi Kapoor on anniversary | Bollywood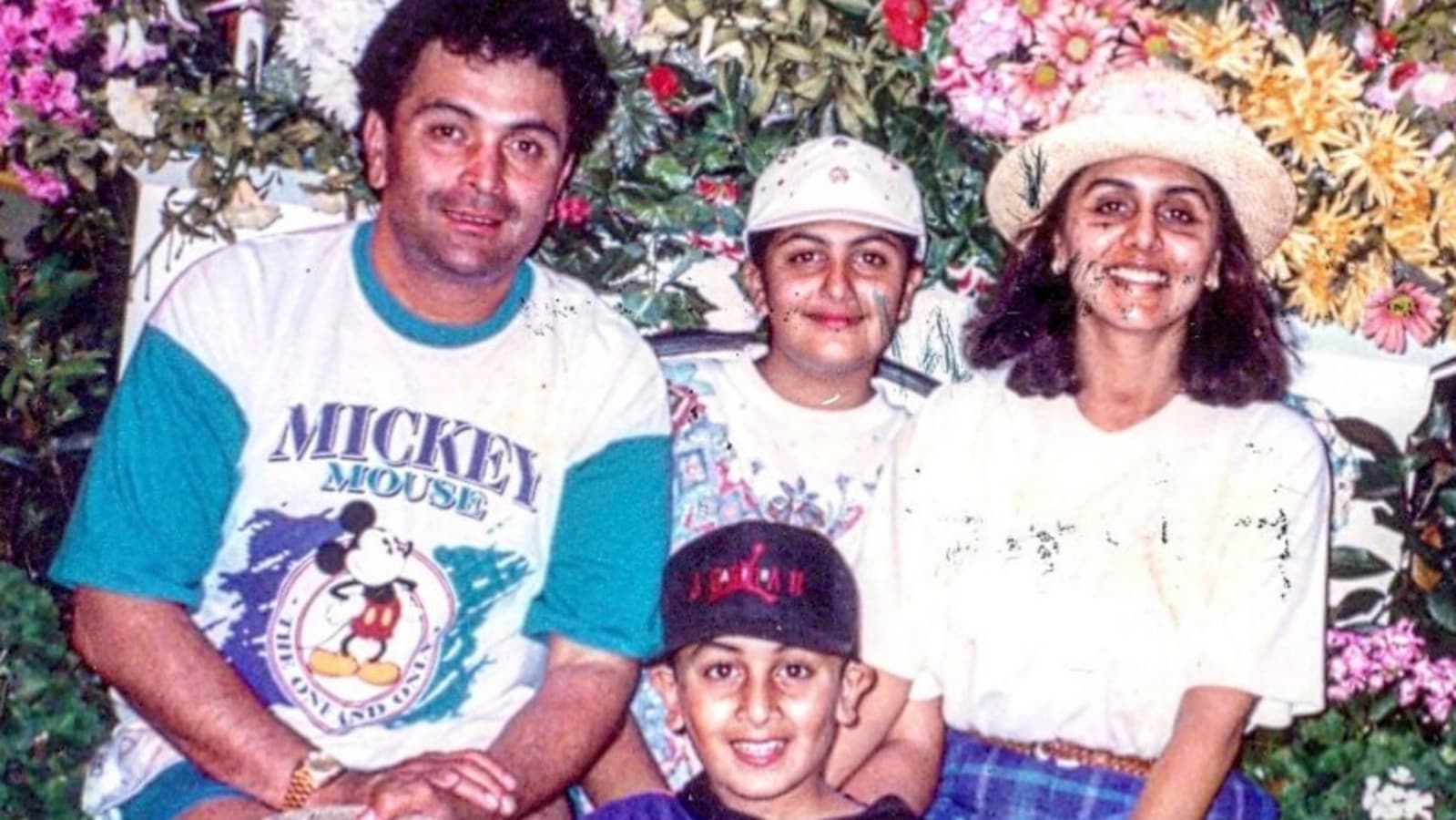 Neetu Kapoor and Rishi Kapoor would have celebrated their 43rd wedding anniversary on January 22. To mark the occasion, Neetu shared an old family photo with their children Ranbir Kapoor and Riddhima Kapoor Sahni. Rishi Kapoor died on April 30, 2020, due to a prolonged illness. On Sunday, as Neetu remembered her late husband, she posted a photo from Ranbir and Riddhima's childhood, and wrote in the caption, "Time flies… only memories…" Also read: When Ritu Nanda brought brother Rishi Kapoor and Neetu Kapoor together with a surprise engagement
In the throwback photo Neetu posted on Instagram to mark her and Rishi's wedding anniversary, the veteran actor wore a pair of blue shorts with a white T-shirt and a hat. Ranbir Kapoor and Riddhima were seen wearing caps and casual clothes in the family picture from their childhood. The late Rishi Kapoor wore a graphic T-shirt with Mickey Mouse on it. The family-of-four posed with fresh pink and white flowers in the background, presumingly taken during a holiday. Riddhima dropped a series of heart emojis on the photo. Many fans remembered Rishi as they commented on Neetu's post and wished the couple on their wedding anniversary.
Rishi Kapoor and Neetu married on January 22, 1980. While Riddhima, the couple's first child was born in September 1980, Ranbir was born two years later. Rishi and Neetu's first film together was the 1974 movie Zehreela Insaan. Neetu Kapoor was only 16, when she co-starred with 22 year-old Rishi Kapoor in the film. Since then, the couple had starred together in films like Do Dooni Char, Besharam, Kabhi Kabhie, Rafoo Chakkar and Amar Akbar Anthony.
On April 30, 2020, Rishi Kapoor died during the Covid-19 lockdown in Mumbai after battling Leukaemia for two years. Prior to his death, he was in New York for his treatment with Neetu and family. Two years later, his son, actor Ranbir Kapoor married Alia Bhatt on April 14, 2022. The couple welcomed daughter Raha Kapoor in November 2022. Rishi and Neetu's daughter Riddhima Kapoor Sahni is married to Delhi-based businessman Bharat Sahni and the couple has a daughter named Samara Sahni.
BTS Yet to Come first reactions: Fans say 'bring tissues, there is a plot twist'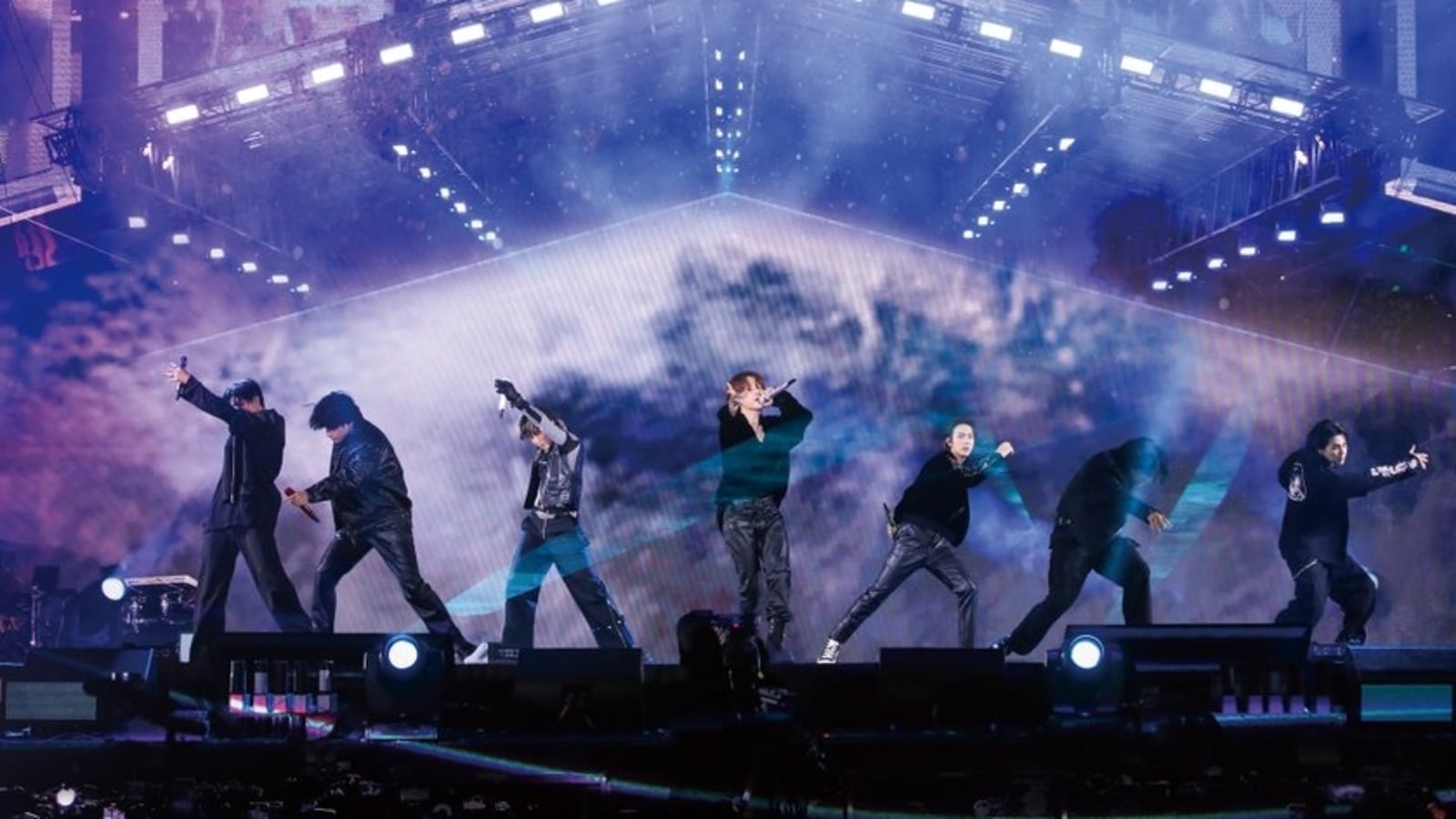 BTS fans have reacted to the group's concert movie, BTS: Yet to Come, which witnessed a theatrical release on Wednesday. After watching Yet to Come, BTS ARMY has asked others to take tissues with them as 'there is a plot twist'. Taking to Twitter, a fan wrote, "So there will be a plot twist on the YTC. Goosebumps and I'm holding my heart. Hugging all the ARMYs, Love you!!" A person tweeted, "Armys who will watch ytc later, tomorrow or on the coming days, please bring tissues.. there's a plot twist." (Also Read | Jin bags first place at military talent show, gets vacation as reward: reports)
BTS fans who didn't watch the film also expressed concern and asked about the 'plot twist'. "Don't know about that plot twist some of you are tweeting about, but for me, a plot twist for a concert we've already watched would be them announcing tour dates, which we all can agree is impossible at the moment, right?" wrote a Twitter user.
"What type of plot twist is there !!! Can't wait to see myself but hopefully no one gonna ruin it before that," said another person. "The whole fandom is getting scared right now what is happening is there a plot twist or not? Just spill the tea right now. Don't create chaos for no reason I get scared of everything now after that festa. It's always, expect the unexpected," read a comment.
Spoiler alert: After many fans asked about the 'plot twist', a few BTS ARMY revealed that it was 'extra focus' on Jin. Fans were left emotional at this since as currently Jin is serving in the South Korean military. A person tweeted, "It's a slow-mo focus on Seokjin as he's speaking before For Youth! There's a video of it but I didn't wanna link in case I spoiled it for anyone."
"For the anxious people, the speeches are edited into a montage so it's even more emotional and ofc there's an extra focus on Jin," read a comment. "I'm sobbing I'm not ready for this nooo Seokjin speech at yet to come concert in Busan," said a Twitter user. On December 13, 2022, Jin formally reported for duty.
Earlier, PVR Pictures announced that BTS: Yet to Come will have a limited release in India from Wednesday. The movie will be screened in cinemas from February 1-4, news agency PTI cited distributor. Fans will witness BTS members–RM, Jin, Suga, J-hope, Jimin, V, and Jungkook on the big screen, as they perform to crowd favourites tracks such as Dynamite, Butter and IDOL among others.
The film will also feature the first concert performance of Run BTS from the group's latest album Proof. The movie will give an immersive sneak peek into the BTS: Yet To Come concert in Busan and feature never-seen-before visuals along with some up-close and personal snippets of the group.
Paul Rudd Reveals the Marvelous Secrets to His Eternal Youth
Paul Rudd isn't clueless when it comes to self-care.
At the age of 53, the Ant-man star has long been a hot topic online as fans marvel over how he doesn't look like he's aged all that much since his 1995 breakout film Clueless. So what's his secret? It turns out the answer is more simple than we thought.
"Sleep," Paul told Men's Health for their March 2023 cover story. "Then diet. Then weights. Then cardio. People ask me, 'Can you send me your meal plan? How many times a week do you work out? Do you drink? Do you eat carbs? Do you have a cheat day?' The most important part of training is sleep."
Paul explained that while many people tweak their schedule to prioritize heading to the gym, he thinks getting a proper good night's rest is what really does the trick.
Vijay, Trisha come together for pooja ahead of Thalapathy 67 shoot, fans react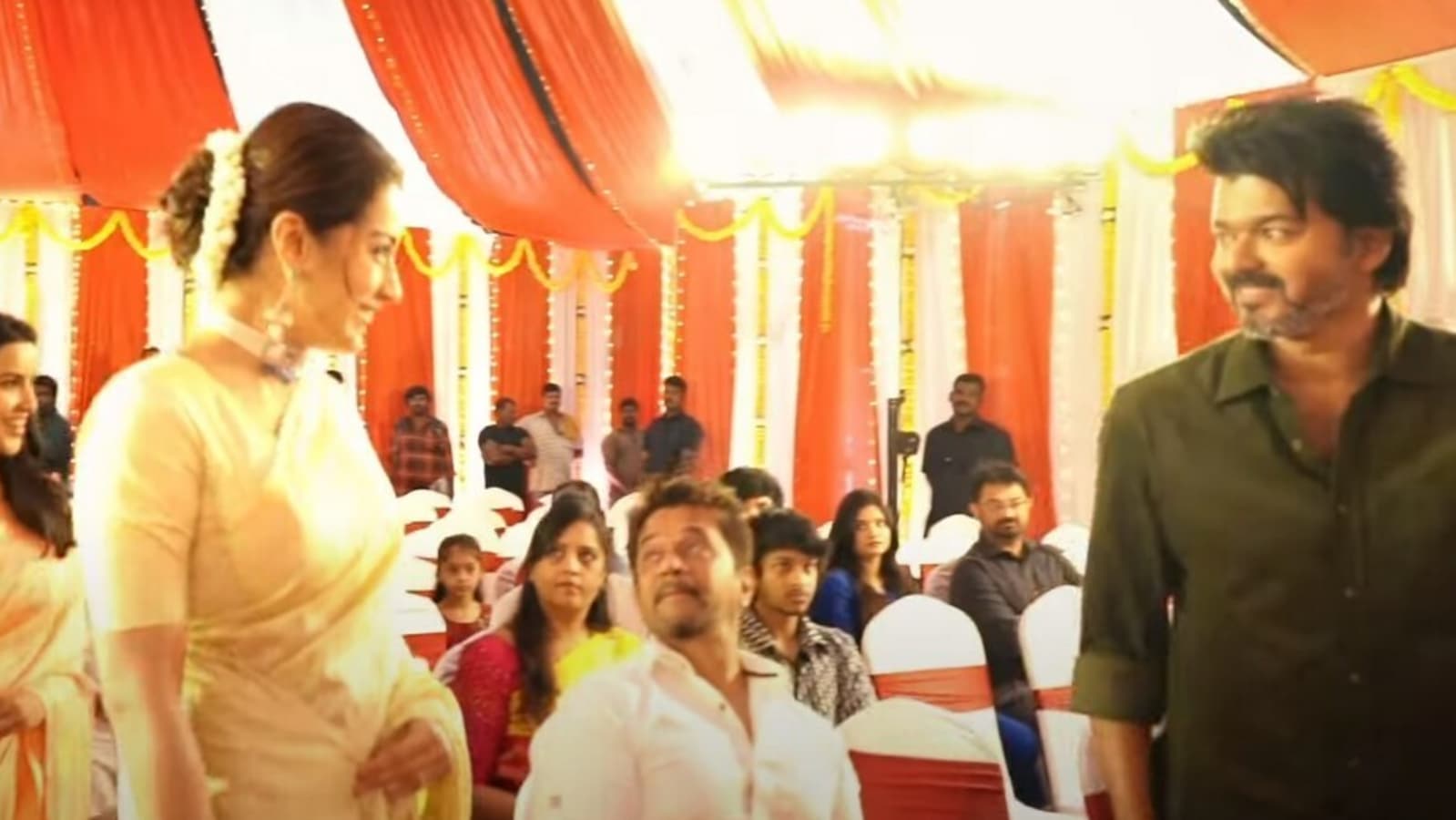 After actor Vijay's upcoming Tamil film Thalapathy 67 was officially announced, the makers held a pooja ahead of the film shoot. Recently, they shared the final list of cast members of the film. The first schedule of the movie will take place in Kashmir. Also read: Thalapathy 67: Fans spot Trisha Krishnan, Sathyaraj on list of those flying to Kashmir for shoot
Thalapathy 67 is the tentative name of the film. It is directed by Lokesh Kanagaraj and marks his reunion with Vijay after Master. The film's team released a new video where Trisha Krishnan and Vijay appeared together after a long time. The two collaborated previously in films like Ghilli and Thirupaachi.
For the pooja ceremony, Trisha wore a beige colour saree while Vijay opted for a dark olive green shirt with denim pants. Besides them, actors Arjun Sarja, Mansoor Ali Khan, and Priya Anand who are a part of Thalapathy 67 were also a part of the event.
Reacting to the video, fans were left excited to see Trisha and Vijay together in a film after a long time. One of them commented, "Can't wait to see Thalapathy and Trisha pair up again on screen. It's been 14 years of wait." "It's happy to see Thalapathy Vijay and Trisha together once again," added another one. Someone also said, "My heart is racing because Vijay and Trisha just looked at each other."
Recently, the film's team left for their first schedule in Kashmir. Fans got to learn about the team's travel and even dug out the entire passenger list to learn the names of actors and crew members who will be part of film. It included Trisha, Sathyaraj and Priya. Their photos from Chennai airport also surfaced on social media.
Thalapathy 67 is going to be a gangster film, as per director Lokesh. He recently revealed that the film won't be a part of his cinematic universe, called LCU – Lokesh Cinematic Universe. After rumours of the same, Lokesh clarified at the trailer launch event of the recently released Tamil film, Laththi. He said, "I can't talk about the project now. But I can say that it won't be part of the universe. It'll be a gangster film but I can only share more information about the project after the release of Varisu." It's going to be one of the biggest releases in the Tamil film industry.
ott:10