Rakhi Sawant says Salman Khan called Adil after their wedding reports surfaced | Bollywood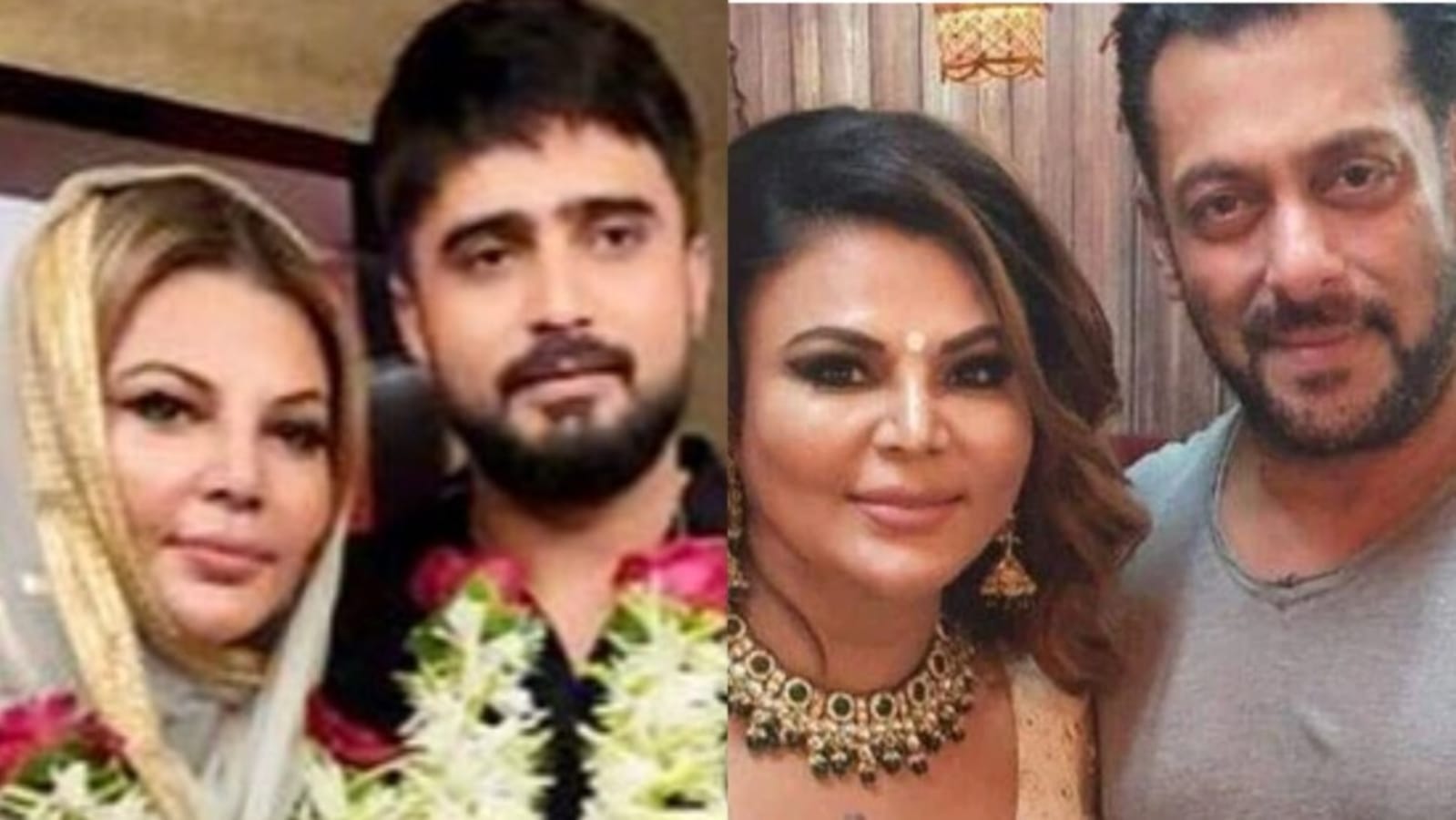 Actor Rakhi Sawant has said that her 'brother' and actor Salman Khan called her husband-businessman Adil Khan Durrani and saved her marriage. On Monday, Rakhi and her Adil spoke to the paparazzi. During the conversation, Adil said that he had a 'situation' and needed time to announce his marriage to Rakhi Sawant. A video of the couple was shared on Instagram. (Also Read | Rakhi Sawant's husband Adil Khan Durrani finally confirms wedding)
Talking to the paparazzi, Rakhi said, "Bhai (Salman) inko bohut pyaar karte hai. Bhai se mile bhi hai. Definitely bhai ka phone toh aaya hi hai inko. Aap jaante hi hai karwaya hi hai (My brother loves him a lot. He has met my brother also. Definitely he got a call from my brother. You know it was done)."
She added, "Bhai ke hote huye yeh mana kar sakte hai kya behan ko shaadi ka? Bhai ka phone ayega tabhi toh ho sakta hai na kuch (With brother around do you think he can deny marriage of Salman's sister? Something could have happened only after my brother's call)."
When the paparazzi asked Adil about Salman, he said, "He is very nice, he is humble. He told me a few things. I told okay. Aesa kuch nahi hai (There's nothing like that)." Rakhi added, "Mera bhai Salman ne mera ghar basa diya (My brother Salman helped me settle down)." Reacting to the video, a person commented, "@beingsalmankhan such a gentleman." Another fan wrote, "Salman (red heart emoji)."
Earlier, Adil officially confirmed his marriage to Rakhi. Taking to Instagram on Monday, Adil shared a picture. He captioned the post, "So here's an announcement finally, I never said I am not married to you Rakhi. Just had to handle few things so had to be quiet, happy married life to us Rakhi (pappudi)." Rakhi commented, "Thanks jaan lots of love."
Recently, Rakhi took to her Instagram to post that she got married to Adil in 2022. She also shared a photograph of their marriage certificate which shows that the wedding took place on May 29, last year. Since Rakhi broke the news of her wedding on social media, several reports surfaced claiming that Adil has denied getting married to Rakhi.
Rakhi Sawant was previously married to Ritesh Raj. The two even appeared together in Salman Khan-hosted reality show Bigg Boss 15. Rakhi parted ways with her boyfriend Abhishek Awasthi a few years ago.
Priyanka Chopra reveals hidden meaning behind her, Nick Jonas' matching tattoos | Bollywood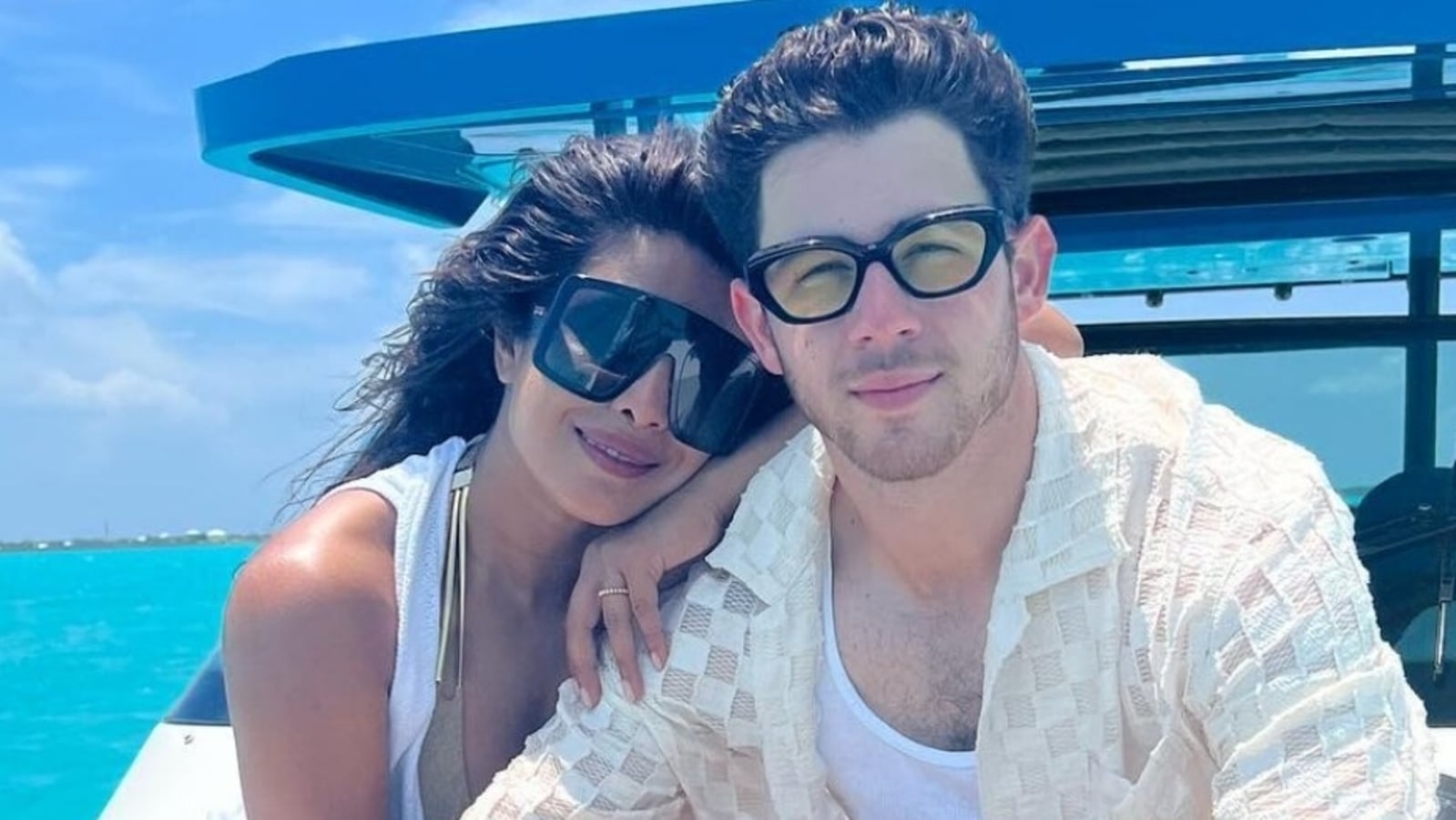 Priyanka Chopra and Nick Jonas got engaged in July 2018, and married in a grand wedding in Rajasthan in December 2018. In January 2022, the couple welcomed their first child, a baby girl named Malti Marie Chopra jonas, via surrogacy. In a new interview, Priyanka revealed that she and Nick Jonas have matching tattoos. Priyanka also shared the sweet meaning behind their tattoos. Also read: Priyanka Chopra enjoys special day at the beach with daughter Malti; shares sun-kissed pic
Priyanka Chopra spoke about how their tattoos' design was inspired by Nick's proposal to her. The actor also spoke about her other tattoos – which include one on the side of her wrist that features 'Daddy's lil girl' written in her late father's handwriting, three paw prints for her pet dogs, and a map of the world on her arm.
Speaking to British Vogue, Priyanka said, "I have a check and a box behind my ears. My husband has them on his arms. When he proposed, he asked me that I checked all his boxes and would I check another one?" Further speaking about her other tattoo – a map of the world on her arm – Priyanka said, "When I put my arm down, India's right next to my heart."
Priyanka had appeared on the cover of British Vogue's February issue, in which Malti Marie Chopra Jonas had joined her mom for one of the photos featured in the magazine. Their sweet photo showed Priyanka and Malti both in red as they posed in front of a red backdrop. In the same interview, Priyanka had addressed the criticism she and her husband have faced for choosing surrogacy. She went on to reflect on being accused by some of 'outsourcing' her pregnancy, so she could focus on her career.
Earlier this month, Priyanka and Nick had hosted a celebration at their Los Angeles home to mark Malti's first birthday. Last week, Priyanka had shared photos from her and Nick Jonas' family trip with Malti to Malibu, California. In one of the photos, Priyanka and the actor-singer smiled together as they posed in front of the ocean, while the actor held her daughter, whose face was covered by a white heart emoji.
Athiya gets hug from KL Rahul, looks stunning wearing saree in pre-wedding pics | Bollywood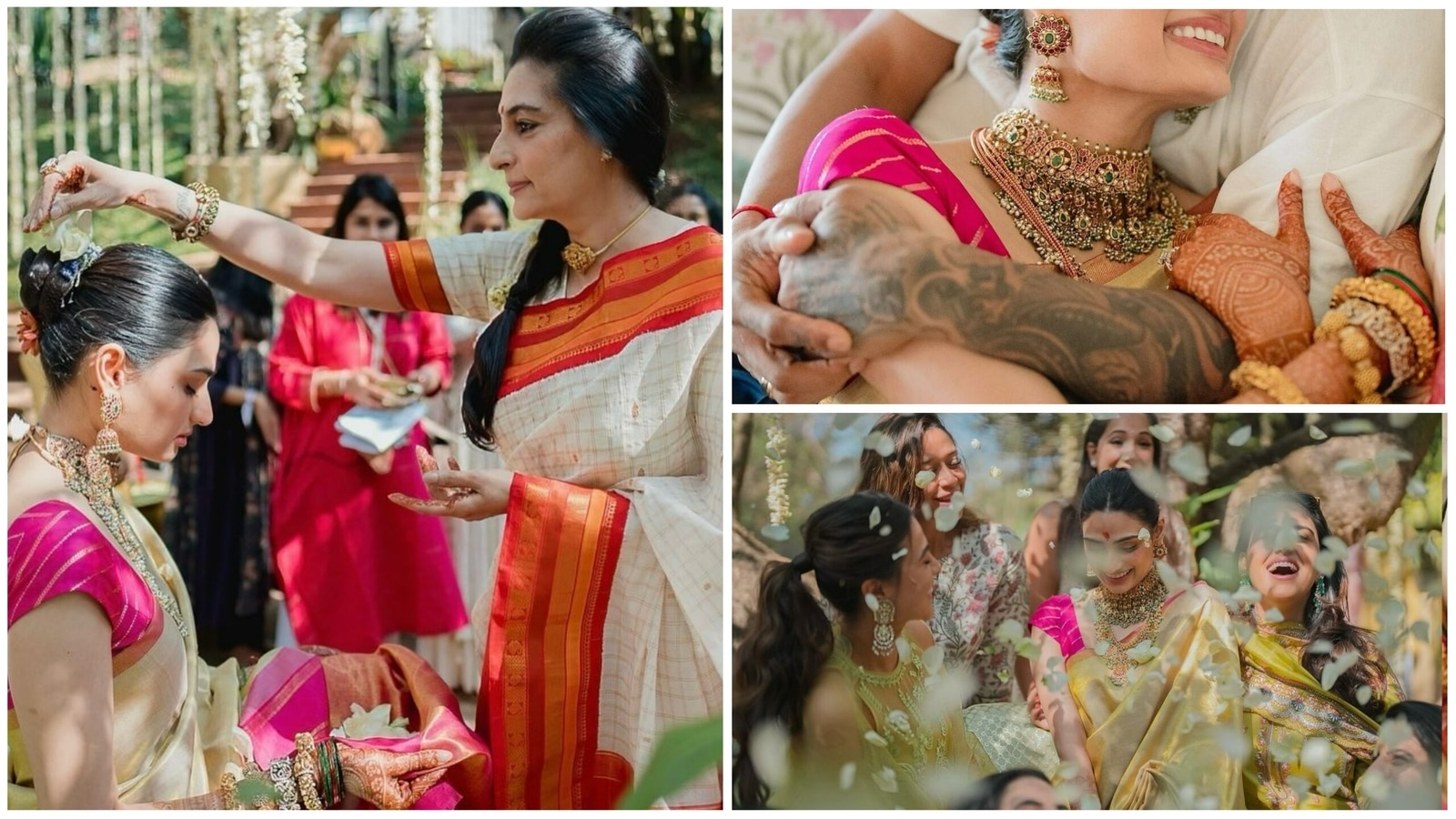 Athiya Shetty has shared a few pictures from one of her pre-wedding ceremonies, which mostly had women in attendance. A picture, however, also shows KL Rahul giving Athiya a hug, though his face is not visible. Athiya and cricketer KL Rahul married in a private ceremony at her father Suniel Shetty's Khandala farmhouse on January 23 with just a few close friends and family members in attendance. Also read: Athiya Shetty, KL Rahul's haldi ceremony had a gorgeous marigold themed-decor. See pics
The new pictures show Athiya dressed in a shiny beige saree and pink blouse with traditional gold and polki jewellery. She has hair neatly tied in a bun. The first picture shows her smiling, while being surrounded by her girl gang. The second picture shows a pre-wedding ceremony in progress as her mom Mana Shetty performs a puja and showers the bride with flower petals. She is seen in a simple white and red saree. Athiya has her saree's pallu stretched in front of her and has a few flowers in it. The third picture shows Athiya holding a few betel leaves and betel nuts in her hand, as part of wedding rituals.
A picture also shows Athiya in the centre with several women holding a puja thali together in front of her. The last picture shows KL Rahul holding Athiya in a tight embrace. While Athiya is seen smiling while holding him, his face is not seen but his hand with tattoos is visible in the picture.
Athiya's fans and friends were in love with the latest pictures. Actor Ileana D'Cruz wrote in the comments section, "Ahhhh pretty girl," with heart emoticons. Actor Tiger Shroff's sister Krishna Shroff, who attended the wedding, wrote, "Most beautiful there ever was." Trishala Dutt, daughter of actor Sanjay Dutt, also dropped heart emoticons in her reaction to the post. A fan wrote, "So much simplicity and beauty in these pictures!" Another said, "Love this look!!" Many called her look "beautiful" in the comments section.
Neither Athiya and KL Rahul nor Suniel Shetty confirmed their wedding date till the D-day. The couple posed for the paparazzi only after the wedding ceremony was over. Announcing the wedding on Instagram, they wrote in a joint post, "In your light, I learn how to love…" Today, with our most loved ones, we got married in the home that's given us immense joy and serenity. With a heart full of gratitude and love, we seek your blessings on this journey of togetherness."
Vir Das recalls meeting Shah Rukh at Mannat years ago: 'He asked if my name…' | Bollywood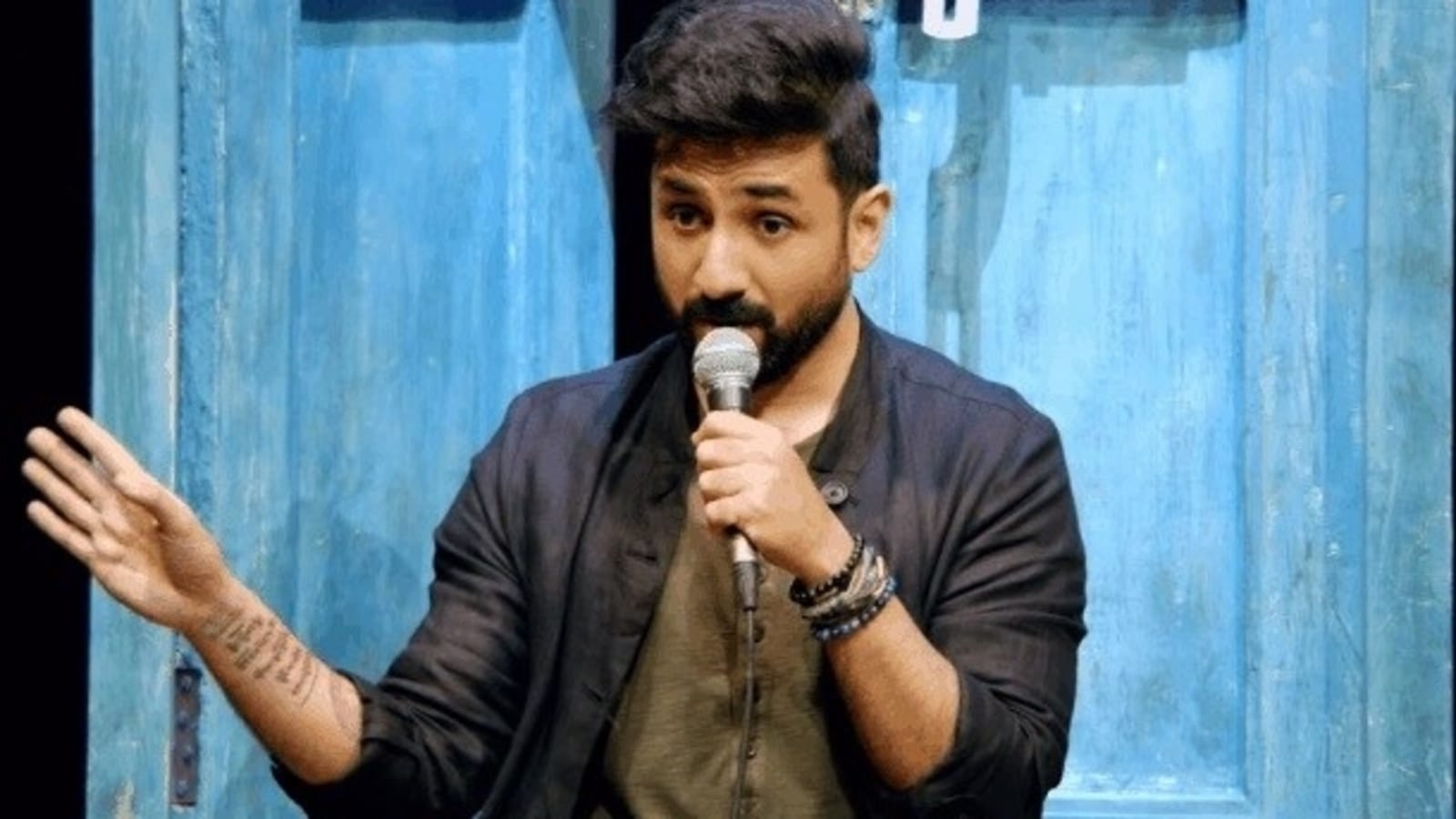 Vir Das has revealed the turn of events when he visited Shah Rukh Khan's house Mannat. The comedian said Shah Rukh and him talked about jokes and had an hour-long chat over 'what's funny'. Shah Rukh is currently making waves for the blockbuster opening of his latest release, Pathaan. Also read: Shah Rukh Khan surprises fans outside Mannat, greets them with his signature pose; fans hail 'last of the stars'. Watch
In a new interview, comedian Vir Das shared his experience of visiting Mannat at the age of 25-26 and what all happened after he actually got to meet Shah Rukh inside his house. Vir Das is a comedian and actor, who does stand-up shows across the world.
Talking about his visit to Mannat, Vir Das told Humans of Bombay, "Someone went in and told Shah Rukh 'Vir Das se koi aaya hai (someone has come from Vir Das). So then you walk in and it's the study and everything. He's like, 'is your name Vir Das, or you have come from Vir Das? Which one are you?' I said, 'I have come from Vir Das'. And then we sat down and we were talking about jokes and some joke was written and I was like, 'sir, I don't think that's funny'. He was like, 'okay, okay young blood. You don't think that's funny, come on, tell me what do you think is funny?'"
"And for the rest of the evening, he heard me out. A man at that level is willing to learn from me at 25," he added.
Vir Das returned to Netflix with his new stand-up special 'Landing' in December last year. The hour-long programme, also directed by him, was all about travelling the world, carrying one's country with them, and the notion of home. His last stand-up special 'Vir Das: For India' was nominated for a 2021 International Emmy in the best comedy category.
Shah Rukh was recently seen in the action film Pathaan, also starring Deepika Padukone and John Abraham. The film recorded the highest opening for a Bollywood film and continues to break and make records at the worldwide box office.