Saba Azad sings Sab Farzi as Shahid Kapoor's prints perfect fake currency notes | Web Series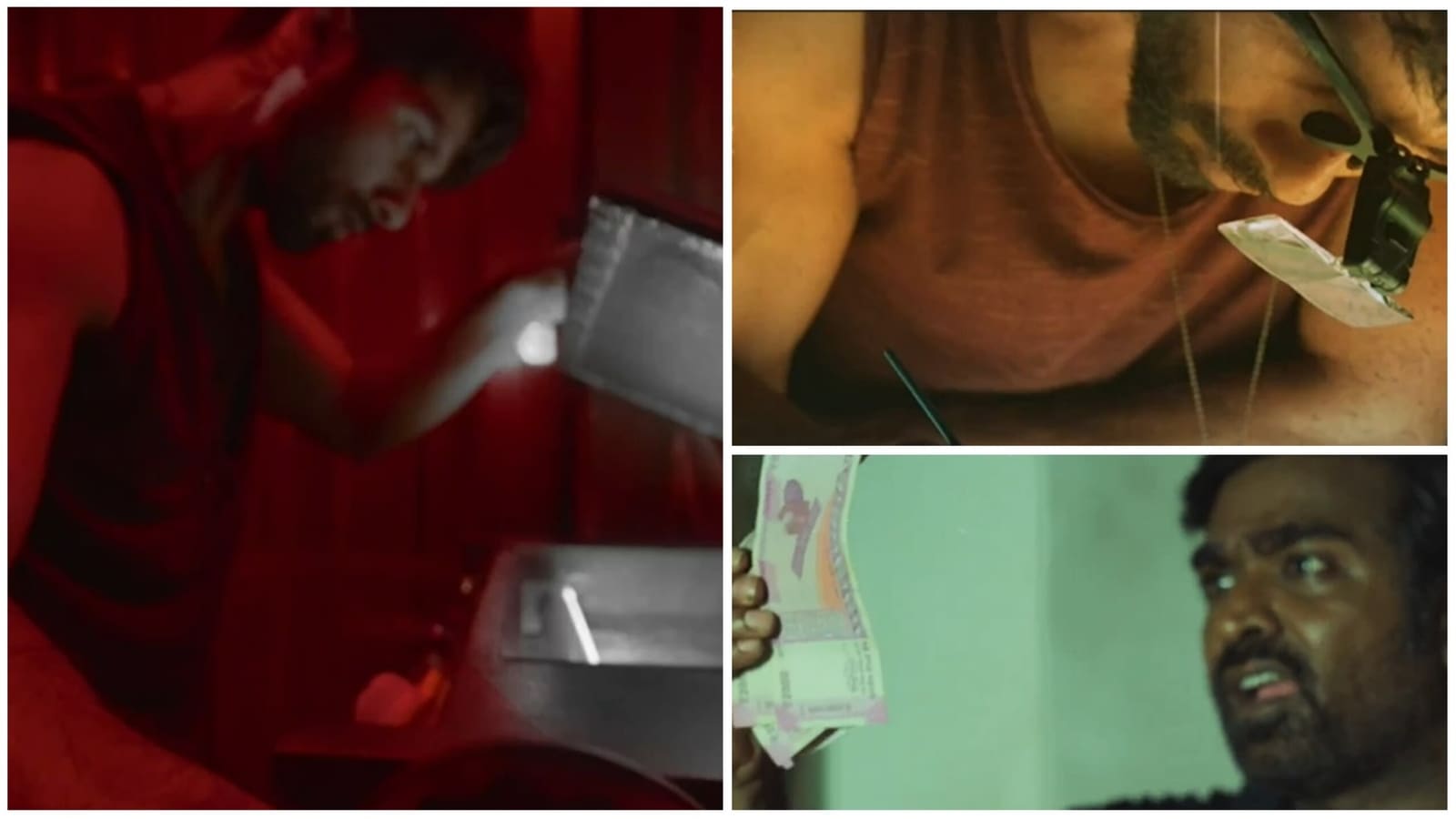 The title song from Shahid Kapoor's upcoming series Farzi in which he plays a con artist is out now. Titled Sab Farzi, the fast-paced foot-tapping song has been sung by Saba Azad. It has been composed by music composer duo Sachin-Jigar and penned by Priya Saraiya. Also read: Fans hail 'con artist' Shahid Kapoor for his performance in new Farzi promo, say 'rukega nahi'. Watch
Amazon Prime Video shared the song on social media with the caption, "My art isn't limited to a canvas." It shows Shahid Kapoor drawing, colouring, printing and drying the fake currency notes made by him. Other glimpses from the show hint at how others look shocked on seeing those currency notes being too similar to real currency notes.
The lyrics go: "Red blue green, hain bandar teen, sabki jebe bhardge,
Ye cool uncool, hai sab fizul, toh jeena vasool karde
Ek do teen chaar, hai yahi sab chakkar mere yaar
Yaar pyaar pyaar paisa sab Farzi."
Created by Raj Nidimoru and Krishna DK (Raj and DK), the eight-episode series is described as a fast-paced and edgy crime thriller, revolving around a clever underdog street artist's pursuit to con the system that favours the rich. Vijay Sethupathi plays a cop in the show which also has KK Menon, Regina Cassandra, Raashi Khanna, Amol Palekar and Bhuvan Arora in pivotal roles.
Shahid is making his OTT debut with the show. Talking about it, the actor told PTI in an interview, "It is the best start of the year that I could have asked for. I was very happy to hear when we decided to launch the show on February 10 as it is my birthday month and it is great. There are a lot of firsts."
On choosing Farzi as his first show, Shahid wrote, "They called me for a film and I said 'That's ok but what are you doing in show format?' They were like, 'Are you serious? Do you want to do a show?', I said, 'I would love to collaborate with you guys'. They had an idea which they had narrated to me eight years ago as a movie. And at that time DK had said it is too big in terms of length to fit into a story and the best thing that happened to Farzi is it didn't become a movie. I don't think we would have been able to do justice to it."
"We have a first season, which is equal to two-and-half movies. If people like it, we will make another two-and-half movies," the actor added. The show will be streaming on Amazon Prime Video on February 10.
Shark Tank's Namita Thapar slams pitch on dieting: 'Log ye gimmicky cheezein…'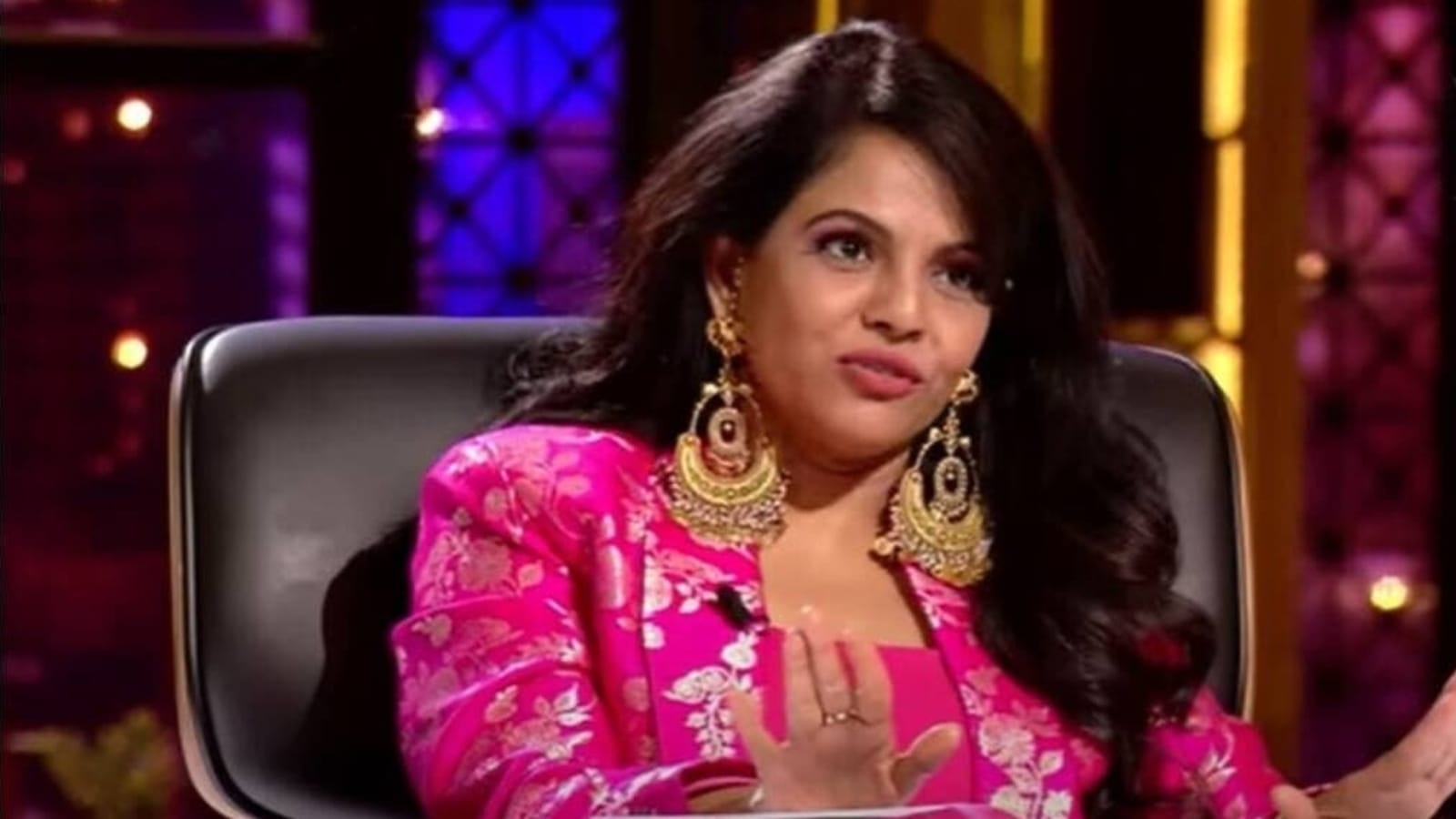 Shark Tank India judge Namita Thapar criticised an idea shared on the show in the latest promo that was posted by Sony Entertainment Television. While listening to the pitch about a diet and nutrition company, the executive director of Emcure Pharmaceuticals, said she is unable to agree to the business idea on a fundamental level. This is not the first time Namita has spoken strongly about issues pertaining to weight loss and dieting. In an earlier episode Namita had shared that she too faced body shaming herself and was even teased as 'moti (fat)' in her early days. Also read: Netizens disagree as Shark Tank's Namita Thapar claims 'educated househelp' posted hateful comment from her phone
In the Shark Tank India season 2 promo released on Thursday, Namita said to an entrepreneur pitching her business idea, "Ye jo apne word use kiya hain na 'restart', isi mein problem hein. Ye jo aap bata rahi he na usse mein fundamentally agree nahi kar rahi hoon, ki no exercise… humare saath aate he, restart karte he… Let's spread the message ki weight loss ek lifestyle change se hota he… aur hum diabetes capital, blood pressure capital ban rahe hain because log ye sab gimmicky cheezein kar rahe hain aur apne health ke saath mess kar rahe hain. Toh mujhe ye sab sunke thoda sa, I am sorry but gussa jaise aa jata hain. I think we need to stop misguiding the country (The word you just used 'restart', is my main problem. Whatever you are saying here I am unable to agree on a fundamental level, that no exercise, we restart etc… Weight loss happens due to change in lifestyle, and if we are becoming diabetes capital and blood pressure capital as a country then it is because we are doing these gimmicky things and playing with our health. So after listening to this I feel a little angry, I am so sorry to say)."
While Namita spoke, the other two sharks Peyush Bansal and Anupam Mittal looked at her and seemed to agree with her statement. Some users appreciated Namita's opinions on the show. One commented, "Hat's off.'" Last year, Namita had revealed, while speaking to author Chetan Bhagat on his talk show on YouTube, that she used to feel 'very ugly' as a kid because of her weight and acne.
Shark Tank India Season 2 is hosted by Rahul Dua, and has Anupam Mittal (founder-CEO of Shaadi.com), Aman Gupta (co-founder-CMO of boAt), Namita Thapar (executive director of Emcure Pharmaceuticals), Vineeta Singh (co-founder-CEO of SUGAR Cosmetics), Peyush Bansal (founder-CEO of Lenskart.com) and Amit Jain (co-founder-CEO of CarDekho Group and InsuranceDekho.com) as the sharks.
Supriya Sule lauds 'superstar' Shah Rukh, questions leaders slamming Pathaan | Bollywood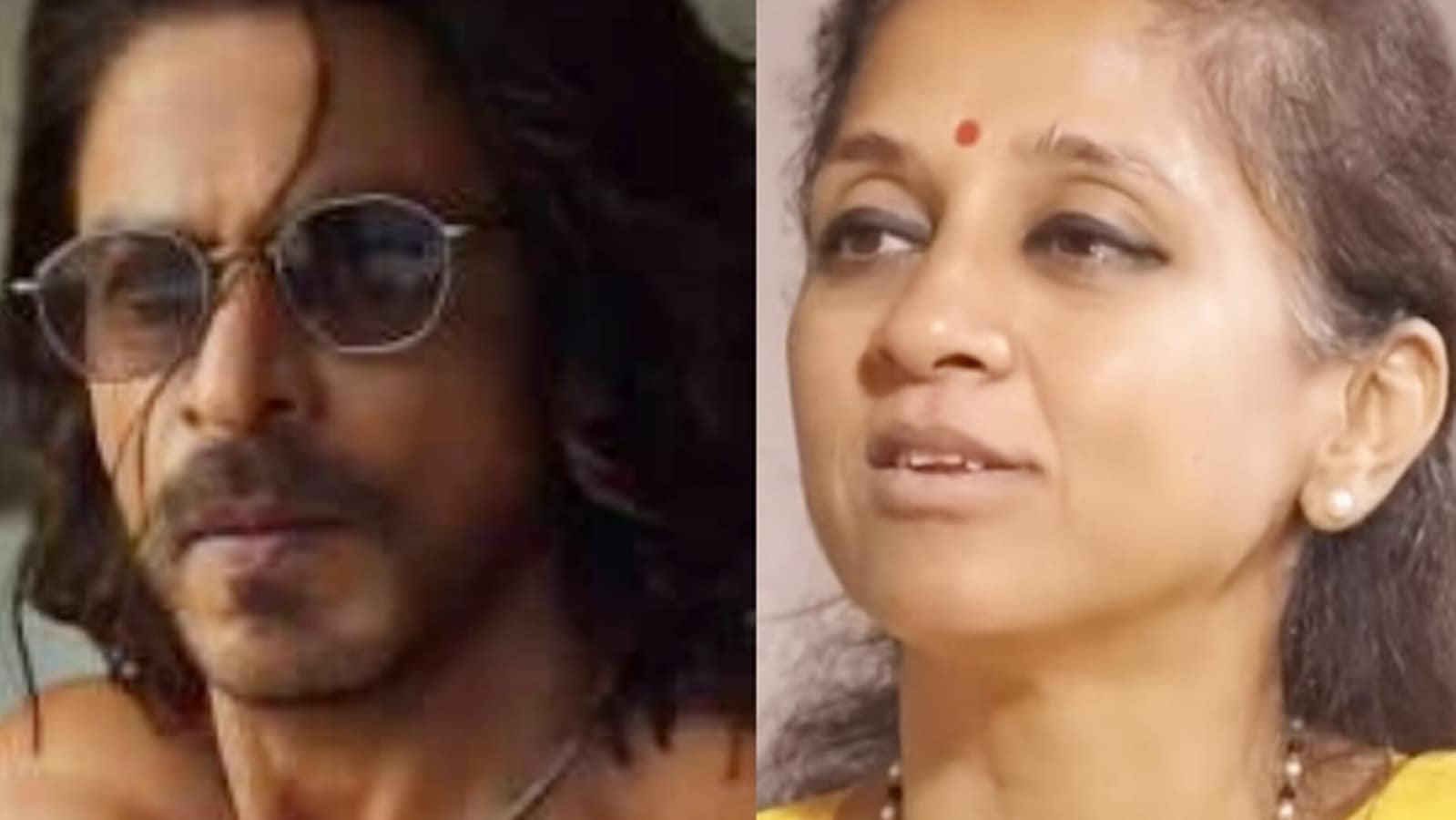 Supriya Sule, Nationalist Congress Party (NCP) leader, who is currently a Member of Parliament, spoke about Shah Rukh Khan and his film Pathaan in a recent interview. She also spoke about Madhya Pradesh home minister Narottam Mishra, who had earlier demanded a ban on Pathaan. Supriya said Shah Rukh Khan and Deepika Padukone were 'looking fabulous' in Pathaan. The politician added that 'most people were jealous of Shah Rukh Khan'. Also read: After Pathaan's box office success, Kangana Ranaut warns Bollywood to 'stay away from politics'
In December 2022, after the Pathaan song Besharam Rang was released, Narottam Mishra had threatened to ban the movie in Madhya Pradesh. He had objected to Deepika Padukone wearing an orange swimsuit in the song. In following weeks, many other political leaders and organisations voiced objections against Pathaan, which alongside Shah Rukh and Deepika, also features John Abraham. The film was released on January 25, and has broken multiple box office records ever since.
When asked to mimic Shah Rukh Khan, Supriya said in an interview with Unfiltered By Samdish on YouTube, "How would I know? Shah Rukh Khan… please, he is the superstar of India. Right now I am just envious of how good he is looking in that movie (Pathaan). Him and Deepika are looking (gestures feeling breathless)… They are looking fabulous! I think most people are jealous of Shah Rukh Khan…" Supriya then responded to being asked if she would defend the comments made about Pathaan by politicians such as Narottam Mishra, "Not at all, I will not defend. I will pick (up) the phone and ask 'bhaiya aap ko kya ho gaya hai (brother, what's wrong with you)?'"
Supriya further said, "But the problem is that why are we even discussing such things. (Late union minister and BJP leader) Arun Jaitley used to say 'aap dikhana band kar dijiye, log bolna band kar denge (if you stop broadcasting, people will stop saying things)'. Sometimes I think Arun ji is right. It is actually irrelevant, and it become so sad because a lot of other colleagues' videos started coming out. This is not why we are here for politics. I am not defending either or…"
Directed by Siddharth Anand, the film also features Dimple Kapadia and Ashutosh Rana. As per trade analysts and film exhibitors, Pathaan's domestic net collection will easily cross ₹225 crore over the first extended weekend and ₹300 crore in a week. As per the Yash Raj Films, the production banner, Pathaan grossed ₹200 crore worldwide in two days of its release.
Kareena Kapoor and Saif Ali Khan's son Jeh looks adorable in unseen pic | Bollywood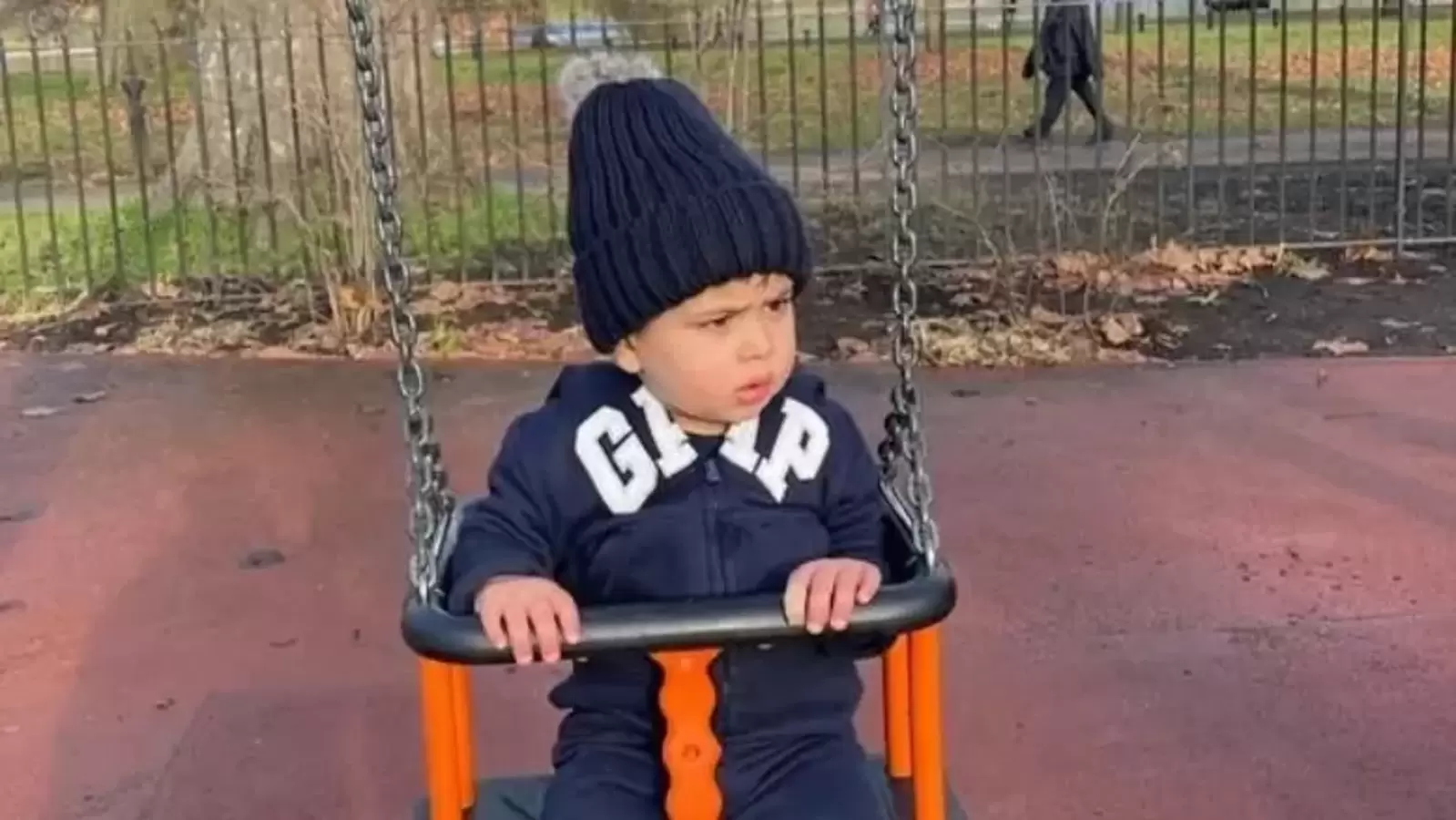 Actor Saif Ali Khan's sister Saba Ali Khan often shares photos of her nephews Taimur Ali Khan and Jehangir Ali Khan. On Friday, she took to Instagram to post an unseen picture of Jehangir, also called Jeh. In the undated photo from one of Jeh's recent Europe trips with mom Kareena Kapoor and family, the toddler was seen on a swing in a park, all bundled up in cute winter clothes. Saba also shared an old photo of Jeh's elder brother Taimur, and wrote a sweet caption for the siblings. Also read: Kareena Kapoor and Saif Ali Khan pose with Jeh on an airplane in unseen pics, Saba calls nephew 'everyone's dumpling'
Saba Ali Khan, who is a jewellery designer shared cute pictures of her nephews Taimur Ali Khan and Jeh, and wrote in her caption, "Can you tell me what the age gap between my munchkins is? (No cheating) twinning at the same age!" In the photo Jeh looked intensely at something in the distance. He wore a black woollen cap with a black jacket and matching black boots. In the throwback photo she posted along with Jeh's picture, Taimur looked into the camera and posed as he climbed a tree. He was seen wearing a white hoodie with blue pants.
Many Instagram users reacted to Taimur and Jeh's pictures. One commented on Saba's post, "My cuties." Responding to her caption, where she had asked people to guess Jeh and Taimur's age in the photos, a person wrote, "Two years." Many others dropped heart emojis and left comments like 'adorable' and 'sweet' on the photos.
Recently, Saba had shared a couple of pictures of Jeh in which the toddler was seen on an airplane with his parents Saif Ali Khan and Kareena Kapoor. Sharing Jeh's photographs on Instagram, Saba had written in her caption, "Daddy's darling, mama's munchkin.? Which one do you (thinking face emoji)? He's everyone's dumpling that's for sure!!!" In both photos, Jeh was seated on his parents' lap inside an aircraft.
Jehangir Ali Khan will be turning two on February 21. His elder brother Taimur turned six in December last year. The brothers spent their Christmas holidays in the UK with parents Saif and Kareena Kapoor. The family had then brought in the new year in Gstaad, Switzerland. Kareena had shared pictures of their skiing trip and New Year's Eve celebrations on Instagram.