Srijit Mukherji on remakes: 'It is someone else's intellectual property' | Web Series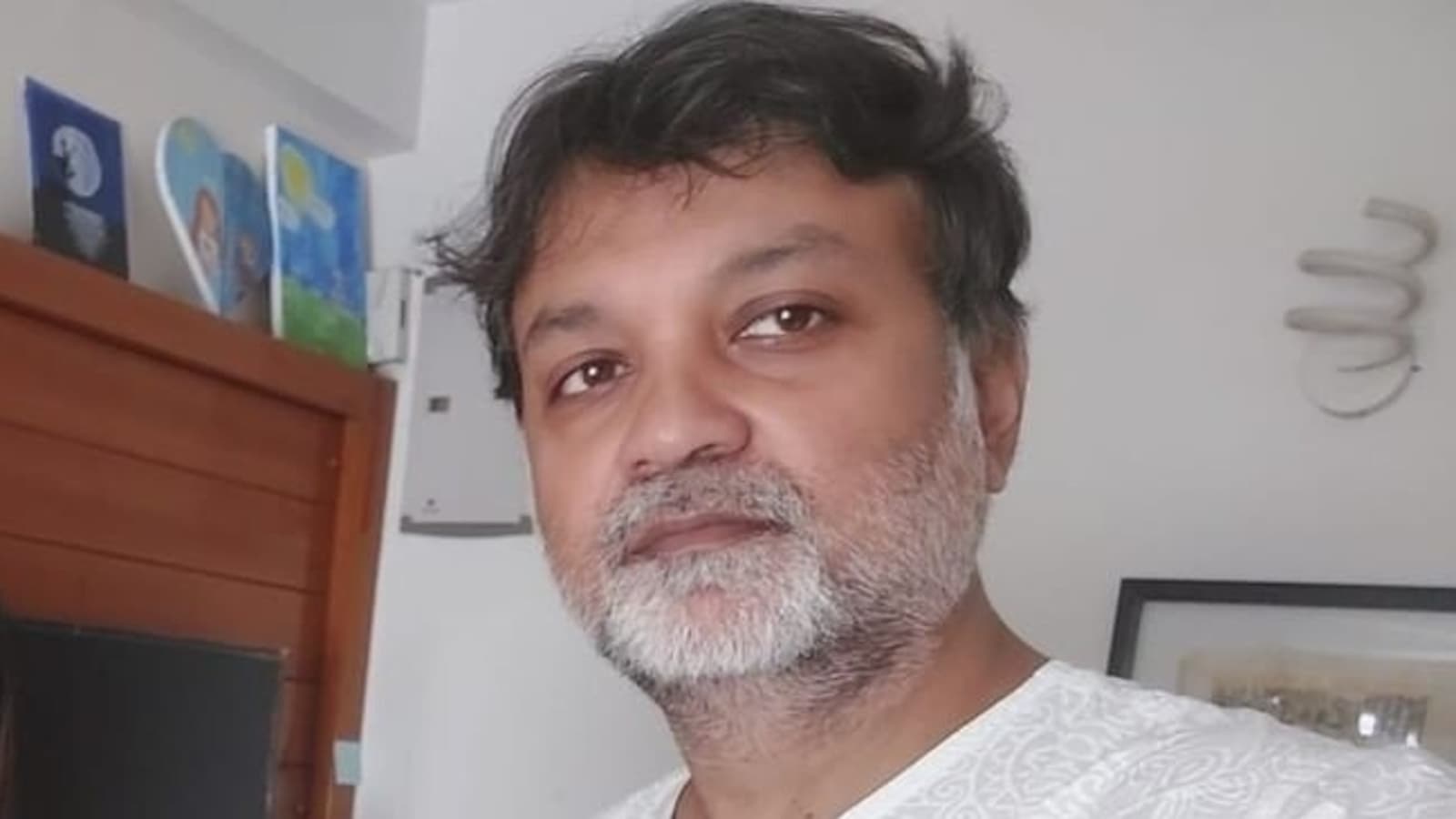 Srijit Mukherji, the noted filmmaker behind films like Begum Jaan and the more recent Shabaash Mithu, is back with a new Hindi web series, Jaanbaaz Hindustan Ke. The director has made sure it stands out of the flood of such patriotic shows from the genre with its mostly female cast and pan-India landscape. The show led by Regina Cassandra releases on ZEE5 on Republic Day. The filmmaker has never been open to making remakes and says he would rather do an original no matter the medium, scale or language of the film or show. Also read: Yash says people in the north would make fun of South cinema earlier: They were like 'yeh kya action hai, udd raha hai'
In an interview with Hindustan Times, Srijit, who predominantly works in Bengali cinema, has also spoken in detail about why Bangla films fail to match up to films from the South in churning crores at the box office. Excerpts:
How is Jaanbaaz Hindustan Ke different from the many web series from this genre?
This is the question I asked myself before I took on the series. I also needed to motivate myself as its quite a saturated scenario in this genre. Luckily, our story was very different. Such stories are usually located in one particular region like up north or in the heartland in UP. But our story is truly a pan-Indian story which starts in Shillong and Guwahati and travels the country to Jaipur and Jaisalmer and reaches Kochi and Alleppey. Such shows are usually frontlined by men but here we have females in lead roles. The townscape is also very pluralistic and diverse, in terms of accent and dialect. The ensemble is also designed like that – Regina Cassandra and Gayathri Shanker from the South, Barun Sobti, Mita Vashisht and Sumeet Vyas are from north and Chandan Roy is from the east.
Why Regina Cassandra was chosen for the lead role of an IPS officer?
What I really like about her is her athleticism. She has the gate of an athlete; she is extremely fit with broad shoulders. She has done lot of action sequences before as well. In this series, she has done her own stunts, which is great, because I really wanted to avoid using body doubles. I wanted both the antagonist and the protagonist to do their own stunts and they did it like true professionals.
Your stories revolve around strong women protagonists. Who is the inspiration behind them?
My mother, she has brought me up singlehandedly. She was a single mother in the early 80s when it was not acceptable, fashionable or feasible. She is a role model for me.
Begum Jaan and Ray's Bahrupiya are some of your best works in Hindi. When are you planning to return with a Hindi film next?
Shabaash Mithu and Sherdil: The Pilibhit Saga didn't do well at the box office but they did very well on OTT. My emphasis is to tell stories on my own terms, which appeal to me and I would have watched them as a member of the audience. It's a theatrical release or a direct-to-digital release, I am fine with both. Even if it's a short film, I am fine with it. I also don't do remakes, something I am strict about since I started some 10 years ago. I have refused 10-12 remakes in last 2 years. Lot of them were big banner and big budget films and series — series which are Indian adaptation of international formats. I want to do things which either have a literary text as a source or they are originals. I can be branded as someone who is picky, but luckily, I have two languages to opt for. I can do things in Bangla as well as in Hindi, though there are offers from other languages as well.
Are too many remakes a major reason behind why films are not working in theatres these days?
No, I don't think so. Its just a creative call. For the audience, it doesn't matter. You have a Dobaaraa which possibly doesn't work but you also have a Drishyam which worked. Both are remakes. You can't set a thumbnail. A film has to be good, populist, to be liked by the people.
I rather do something original in whatever scale I can. For me, remaking is someone else's intellectual property which I might be just living off, and I don't like that.
Taapsee Pannu has led several films on her shoulders in short period of time. The movie couldn't get the expected buzz.
Not really, last year, so many films didn't work commercially of which I have no explanation whatsoever. Forget Shabaash Mithu, why would a a film like 83 not work at the box office! I enjoyed 83 to the hilt. Talk of An Action Hero, Badhaai Do, excellent films. Women's cricket is still in its formative stage in terms of following. I sincerely feel post covid, there is absolutely no method in the madness of what the audience likes and doesn't like. I am happy Shabaash Mithu and Sherdill got a lot of love on the OTT. That was a silver lining for me.
You have worked extensively in Bengali film industry. Why do you think Bangla films do not become crore-making machines like those in Tamil and Telugu?
The crore-making films from South thrive on larger-than-life stories which requires a lot of infrastructure, it's a very VFX-heavy genre. It requires a very, very rich, prosperous industry in terms of its economics. You have thousands of cinema halls in South. Cinema is like a religion. They are self-sufficient. This pan India thing is just a bonus. The South films are made not keeping in mind the Hindi audience or any other. They can make 100s of crores just in the South itself. That kind of financial health is something that is not there in Bengali cinema. It's an impoverished industry. The budgets are just 5 or 10 percent of Hindi or South films. The kind of spectacle cinema that makes crores and crores is missing. Sairat in Marathi however made a lot of money despite being made on a shoestring budget. It's a supply side bottleneck. We once had around 700 cinema halls, now it has come down to less than a 100. All that has really hurt the financial health of the industry.
Charu Asopa says she attended relative's wedding with Rajeev Sen due to his dad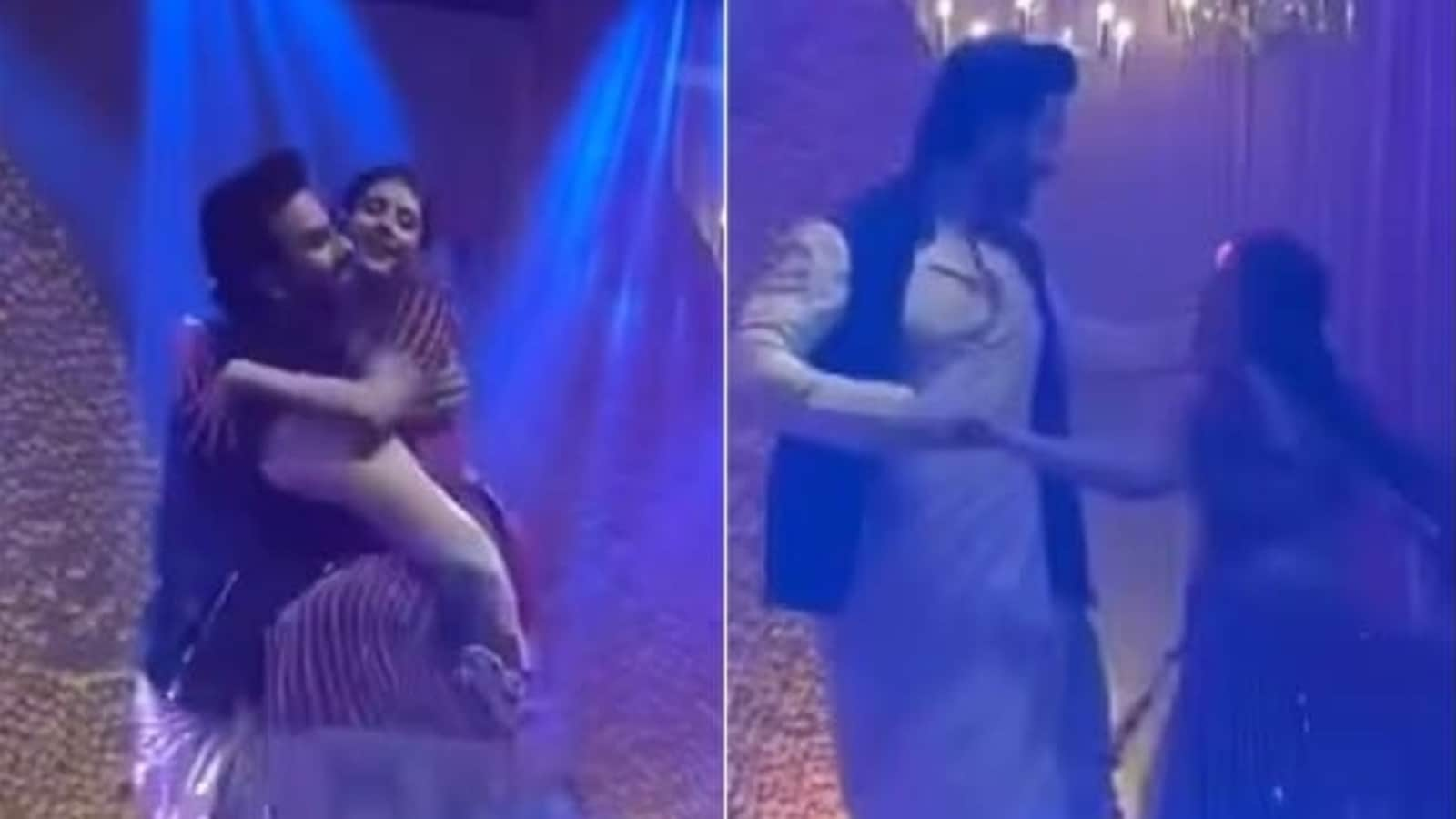 Charu Asopa has said that she attended a wedding in the family of estranged husband Rajeev Sen because his father had told her that he'd feel good if Ziana was a part of the celebration. She also said that their divorce is very much happening, and they should be officially divorced by June. (Also read: Charu Asopa says things between Rajeev Sen and her are cordial now)
Charu and Rajeev were recently seen at a relative's wedding in Kolkata which also had Sushmita Sen in attendance. They were also seen dancing to Pehla Pehla Pyar (Hum Aapke Hain Koun) at the party. Charu uploaded a video on her YouTube channel that showed her dancing happily with Rajeev. Ever since, many internet users have wondered about their marriage and alleged separation as they keep fighting, and getting back together again.
Talking about the responses to their marriage, Charu told ETimes, "A lot of people say 'inka drama phir shuru ho gaya hai, logon ko bewakoof bana rahe hain (they are back at their drama trying to make the public complete fools).' But I know what I have to do. Baba (Rajeev's father) ne itne pyaar se bola ki achha lagega agar Ziana bhi aayegi toh (he said with such love that he'd feel good if Ziana would participate in the wedding) that I had to fulfil his wish and attend the wedding."
Charu also said that she did the stage performance upon request from the groom's mom, who wanted her to dance with Rajeev. "My father-in-law is a gem of a person. I will always be in touch with him. Woh Ziana aur meri family toh hamesha hi rahegi," Charu said, adding that the decision of separation has not been revoked. "We are through with the counselling and are on a six-month cooling-off period till June. I am glad that we have become cordial. He is trying his best."
After issuing statements about each other last year, and accusing each other of cheating, Charu and Rajeev announced separation. Soon, they reunited briefly but later announced separation once again.
Priyanka Chopra reveals hidden meaning behind her, Nick Jonas' matching tattoos | Bollywood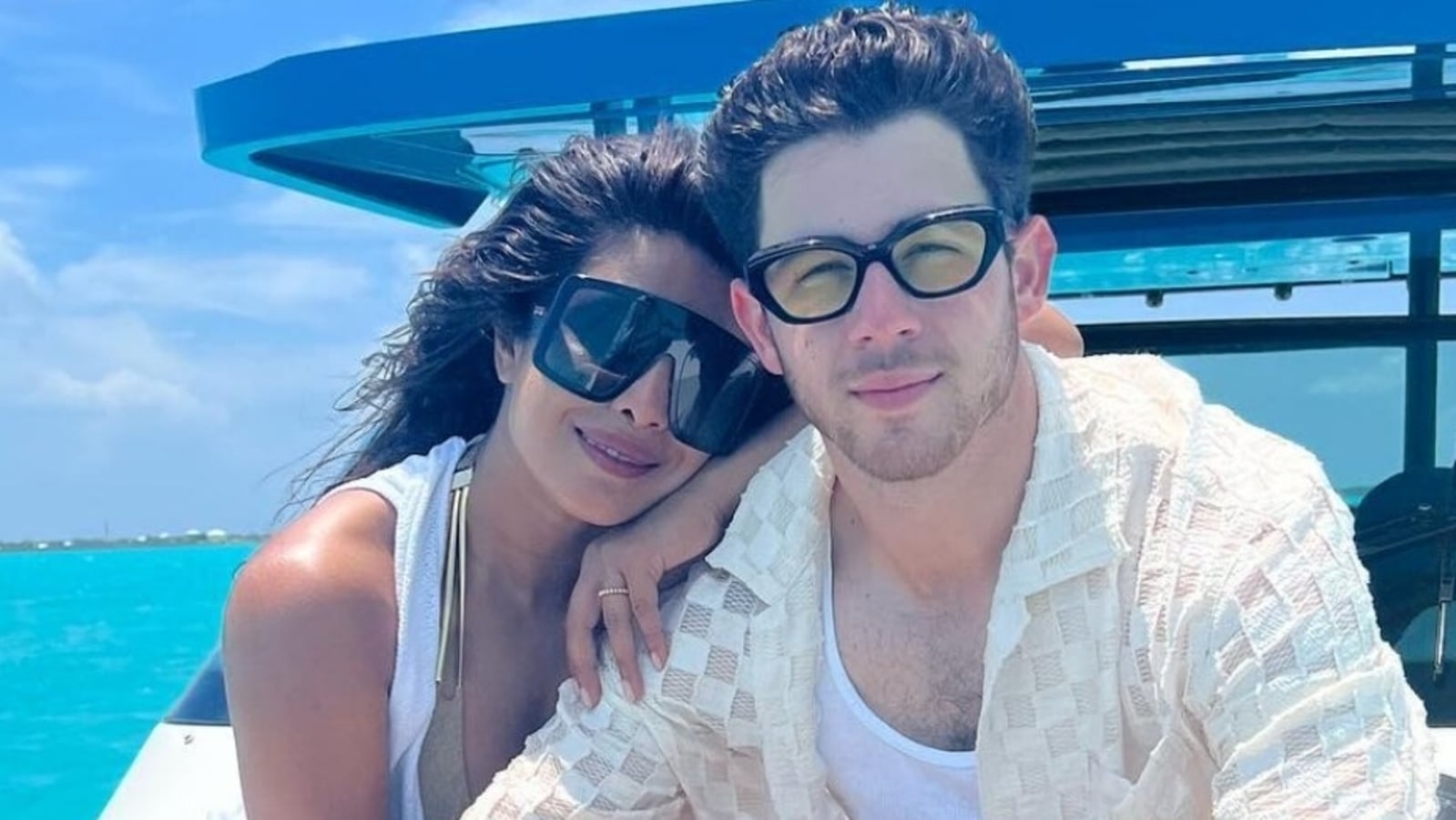 Priyanka Chopra and Nick Jonas got engaged in July 2018, and married in a grand wedding in Rajasthan in December 2018. In January 2022, the couple welcomed their first child, a baby girl named Malti Marie Chopra jonas, via surrogacy. In a new interview, Priyanka revealed that she and Nick Jonas have matching tattoos. Priyanka also shared the sweet meaning behind their tattoos. Also read: Priyanka Chopra enjoys special day at the beach with daughter Malti; shares sun-kissed pic
Priyanka Chopra spoke about how their tattoos' design was inspired by Nick's proposal to her. The actor also spoke about her other tattoos – which include one on the side of her wrist that features 'Daddy's lil girl' written in her late father's handwriting, three paw prints for her pet dogs, and a map of the world on her arm.
Speaking to British Vogue, Priyanka said, "I have a check and a box behind my ears. My husband has them on his arms. When he proposed, he asked me that I checked all his boxes and would I check another one?" Further speaking about her other tattoo – a map of the world on her arm – Priyanka said, "When I put my arm down, India's right next to my heart."
Priyanka had appeared on the cover of British Vogue's February issue, in which Malti Marie Chopra Jonas had joined her mom for one of the photos featured in the magazine. Their sweet photo showed Priyanka and Malti both in red as they posed in front of a red backdrop. In the same interview, Priyanka had addressed the criticism she and her husband have faced for choosing surrogacy. She went on to reflect on being accused by some of 'outsourcing' her pregnancy, so she could focus on her career.
Earlier this month, Priyanka and Nick had hosted a celebration at their Los Angeles home to mark Malti's first birthday. Last week, Priyanka had shared photos from her and Nick Jonas' family trip with Malti to Malibu, California. In one of the photos, Priyanka and the actor-singer smiled together as they posed in front of the ocean, while the actor held her daughter, whose face was covered by a white heart emoji.
Athiya gets hug from KL Rahul, looks stunning wearing saree in pre-wedding pics | Bollywood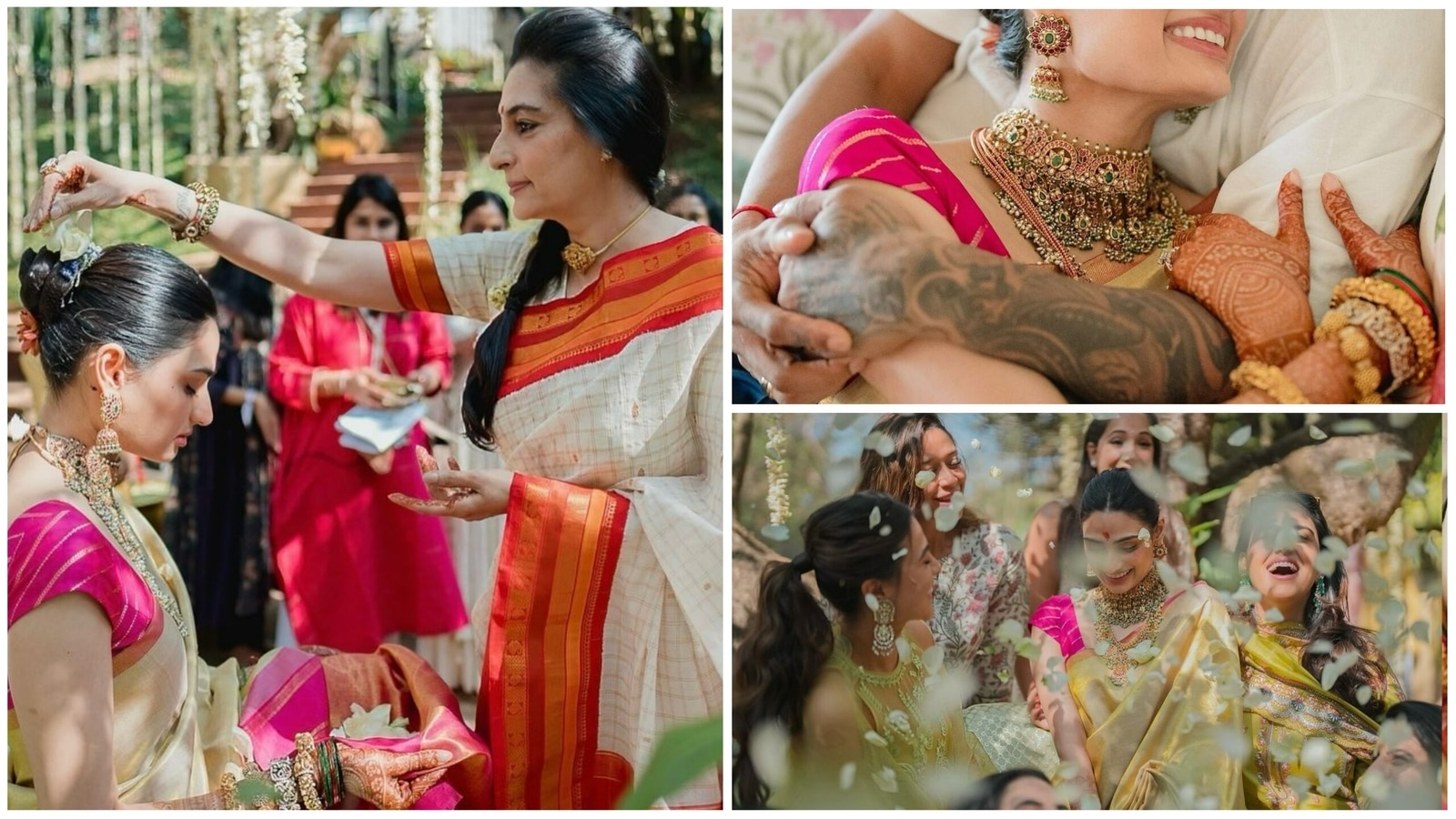 Athiya Shetty has shared a few pictures from one of her pre-wedding ceremonies, which mostly had women in attendance. A picture, however, also shows KL Rahul giving Athiya a hug, though his face is not visible. Athiya and cricketer KL Rahul married in a private ceremony at her father Suniel Shetty's Khandala farmhouse on January 23 with just a few close friends and family members in attendance. Also read: Athiya Shetty, KL Rahul's haldi ceremony had a gorgeous marigold themed-decor. See pics
The new pictures show Athiya dressed in a shiny beige saree and pink blouse with traditional gold and polki jewellery. She has hair neatly tied in a bun. The first picture shows her smiling, while being surrounded by her girl gang. The second picture shows a pre-wedding ceremony in progress as her mom Mana Shetty performs a puja and showers the bride with flower petals. She is seen in a simple white and red saree. Athiya has her saree's pallu stretched in front of her and has a few flowers in it. The third picture shows Athiya holding a few betel leaves and betel nuts in her hand, as part of wedding rituals.
A picture also shows Athiya in the centre with several women holding a puja thali together in front of her. The last picture shows KL Rahul holding Athiya in a tight embrace. While Athiya is seen smiling while holding him, his face is not seen but his hand with tattoos is visible in the picture.
Athiya's fans and friends were in love with the latest pictures. Actor Ileana D'Cruz wrote in the comments section, "Ahhhh pretty girl," with heart emoticons. Actor Tiger Shroff's sister Krishna Shroff, who attended the wedding, wrote, "Most beautiful there ever was." Trishala Dutt, daughter of actor Sanjay Dutt, also dropped heart emoticons in her reaction to the post. A fan wrote, "So much simplicity and beauty in these pictures!" Another said, "Love this look!!" Many called her look "beautiful" in the comments section.
Neither Athiya and KL Rahul nor Suniel Shetty confirmed their wedding date till the D-day. The couple posed for the paparazzi only after the wedding ceremony was over. Announcing the wedding on Instagram, they wrote in a joint post, "In your light, I learn how to love…" Today, with our most loved ones, we got married in the home that's given us immense joy and serenity. With a heart full of gratitude and love, we seek your blessings on this journey of togetherness."