Suniel Shetty tells paparazzi Athiya, KL Rahul will pose for pics after wedding | Bollywood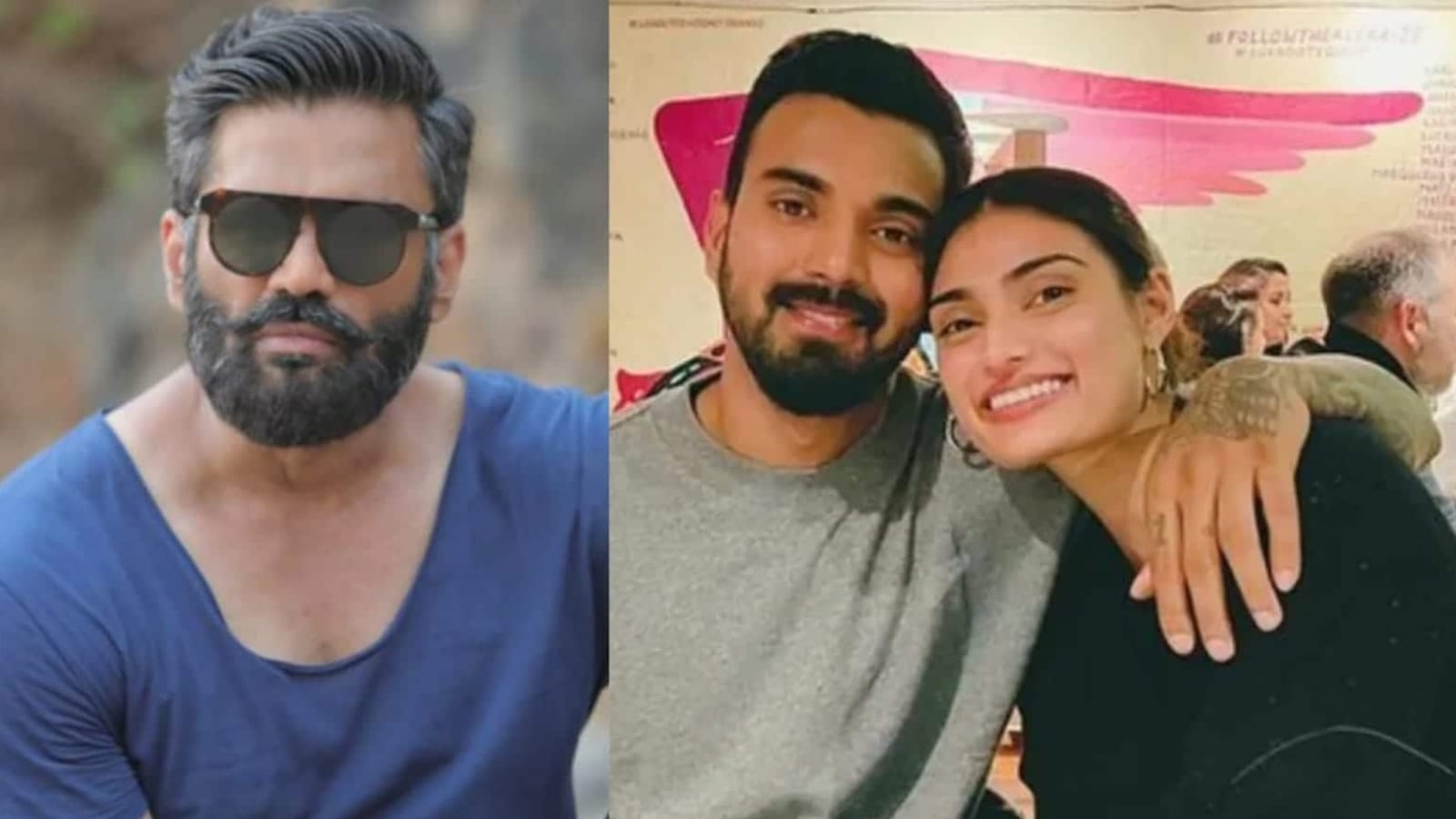 As the wedding preparations were in full swing at Suniel Shetty's Khandala farmhouse, the actor was busy overseeing last minute details ahead of his daughter, actor Athiya Shetty's wedding to cricketer KL Rahul. The actor assured the waiting paparazzi gathered outside his home that the couple will pose for pictures afterwards for the photographers. This past week, the farmhouse has been decorated to welcome the wedding guests and host the couple's nuptials. (Also read: Athiya Shetty-KL Rahul wedding: Decorations begin at Suniel Shetty's Khandala house, ceremonies expected to start today)
In a video seen on a paparazzo account, the actor can be seen getting out of his car and walking up to the media. He says, "Aa rahe hain hum log. Kal unko leke aata hoon, bachchon ko (We are coming tomorrow. I'll bring the kids tomorrow).' Placing a hand to his chest, he add, "Apne jis tareke se pyaar dikhya uske liye bohut bohut… (The way you have all shown love towards them, thank you a lot)" The assembled paparazzi congratulate him on the nuptials and he thanks them again for their support.
The actor also directs a member of his team to make sure to take care of them. Later, in the video, speaking in Marathi, he assures the waiting paparazzi that while no one will come today for pictures, they will come after the wedding. He tells them that he, his wife Mana Shetty, daughter Athiya Shetty and Rahul, will make an appearance specially for the photographers.
Earlier this week, sources had confirmed to Hindustan Times that Athiya and KL Rahul would get married on January 23. The wedding festivities were due to be kicked off this weekend with a ladies' night on January 21 and a sangeet function on January 23, in which Suniel, Mana and their son, actor Ahan Shetty would perform.
The wedding ceremony, being held on Monday, is reported to be 'an extremely close-knit family affair'. Only close friends and family will be invited with few from the industry attending.
Athiya and Rahul have been dating for a few years now; the actor has also travelled with Team India on their matches. While they have never officially admitted to dating one another, they have been spotted together on family outings and other prominent events. The couple recently brought in the new year together at a party in Dubai. Athiya had shared pics from the bash on her Instagram Stories.
Vijay, Trisha come together for pooja ahead of Thalapathy 67 shoot, fans react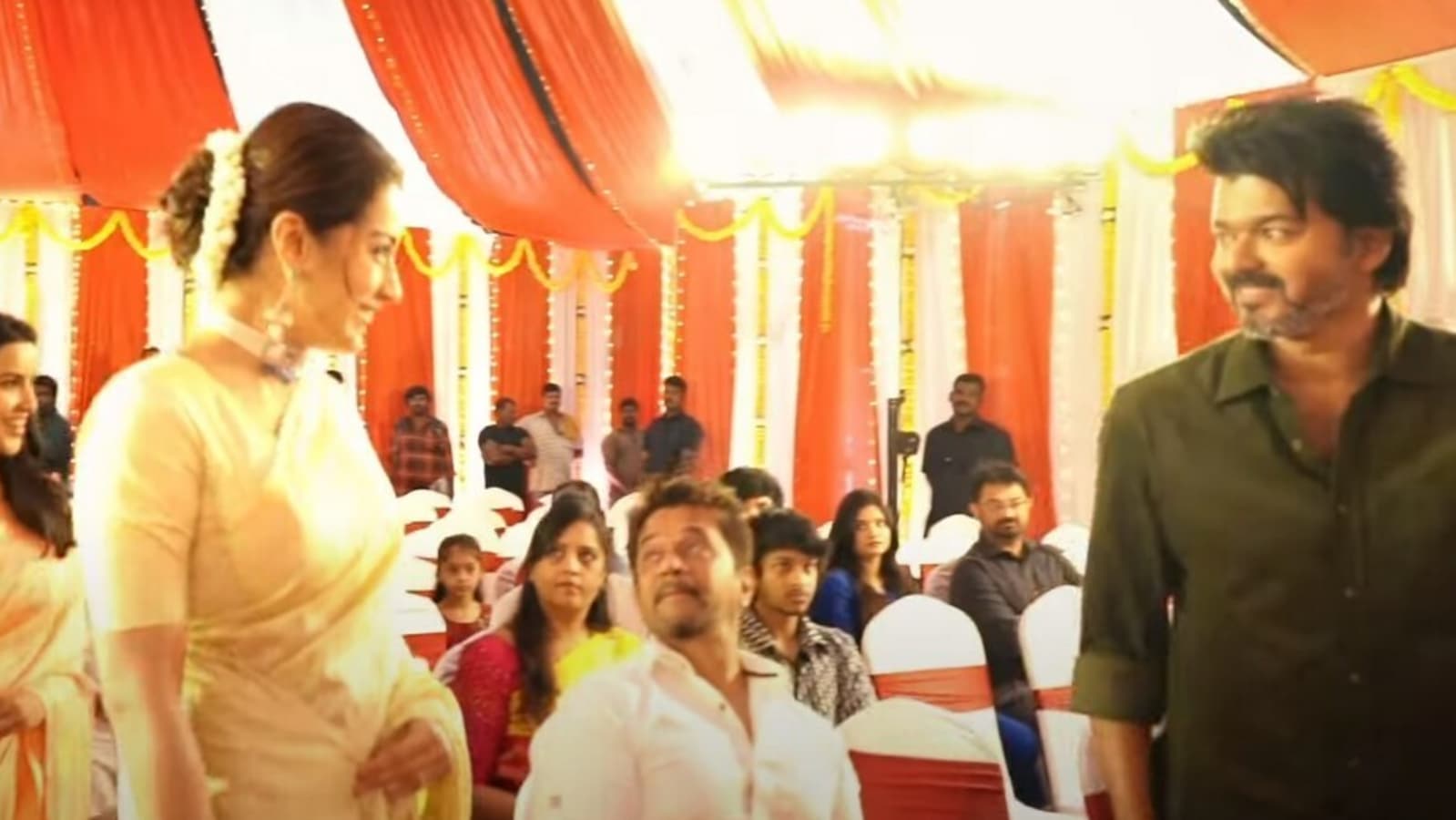 After actor Vijay's upcoming Tamil film Thalapathy 67 was officially announced, the makers held a pooja ahead of the film shoot. Recently, they shared the final list of cast members of the film. The first schedule of the movie will take place in Kashmir. Also read: Thalapathy 67: Fans spot Trisha Krishnan, Sathyaraj on list of those flying to Kashmir for shoot
Thalapathy 67 is the tentative name of the film. It is directed by Lokesh Kanagaraj and marks his reunion with Vijay after Master. The film's team released a new video where Trisha Krishnan and Vijay appeared together after a long time. The two collaborated previously in films like Ghilli and Thirupaachi.
For the pooja ceremony, Trisha wore a beige colour saree while Vijay opted for a dark olive green shirt with denim pants. Besides them, actors Arjun Sarja, Mansoor Ali Khan, and Priya Anand who are a part of Thalapathy 67 were also a part of the event.
Reacting to the video, fans were left excited to see Trisha and Vijay together in a film after a long time. One of them commented, "Can't wait to see Thalapathy and Trisha pair up again on screen. It's been 14 years of wait." "It's happy to see Thalapathy Vijay and Trisha together once again," added another one. Someone also said, "My heart is racing because Vijay and Trisha just looked at each other."
Recently, the film's team left for their first schedule in Kashmir. Fans got to learn about the team's travel and even dug out the entire passenger list to learn the names of actors and crew members who will be part of film. It included Trisha, Sathyaraj and Priya. Their photos from Chennai airport also surfaced on social media.
Thalapathy 67 is going to be a gangster film, as per director Lokesh. He recently revealed that the film won't be a part of his cinematic universe, called LCU – Lokesh Cinematic Universe. After rumours of the same, Lokesh clarified at the trailer launch event of the recently released Tamil film, Laththi. He said, "I can't talk about the project now. But I can say that it won't be part of the universe. It'll be a gangster film but I can only share more information about the project after the release of Varisu." It's going to be one of the biggest releases in the Tamil film industry.
ott:10
Mila Kunis Called Out Ashton Kutcher After His Marriage To Demi Moore
In the mid-2000s, Demi Moore and Ashton Kutcher were one of Hollywood's most talked about couples.
The pair went public with their relationship in 2003, and tied the knot in 2005 when Demi was 42 and Ashton was 27, and their 15 year age gap was the focus of much public chatter.
Despite experiencing a heartbreaking pregnancy loss in 2006, Ashton and Demi enjoyed a happy marriage, with the Punk'd star developing close bonds with Demi's three daughters with ex, Bruce Willis.
However, things ultimately came tumbling down in 2010 when the couple were first dogged by rumors that Ashton had cheated. They put up a united front at first, but wound up announcing their split in November 2011.
Though the claims of Ashton's infidelity were widely circulated, it wasn't until 2019 that Demi opened up about the demise of their relationship in detail, writing in her memoir that he cheated twice — once with a 21-year-old he met during a family outing to a bowling alley.
The Ghost star claimed that Ashton tried to justify his actions by saying that the boundaries of their marriage had been blurred by the fact that they'd had threesomes together in the past.
So, just two months after he and Demi announced their divorce, Ashton had already reconnected with his longtime friend and former That 70s Show costar, Mila Kunis, with the two sharing an offscreen kiss for the first time at a party at his house in January 2012.
Mila and Ashton have both maintained on separate occasions that their romantic relationship started as a purely casual fling, given that they were both newly single at the time.
Of course, Ashton and Mila are now very happily married and share two children, Wyatt and Dimitri, aged 8 and 6. However, in a brand new interview, Ashton is looking back at how he and Mila tackled the issue of his and Demi's rocky marriage in the early days of their romance.
Speaking to Esquire, Ashton looked back at the pain of his divorce from Demi, particularly the shame he felt after his cheating scandal broke.
"Nothing makes you feel like a failure like divorce," he said. "Divorce feels like a wholesale fucking failure. You failed at marriage."
He recalled instances at industry events where he'd heard people talking about the rumors of his infidelities, calling the experience "humiliating and embarrassing."
Reflecting on the demise of their marriage and the part he played in the downfall, Ashton said simply: "You own the shit you did wrong, and you go forward."
Being that his behavior was the talk of the town, Ashton's close friends seemingly weren't exempt from hearing about his private escapades — including Mila.
Moving on to talk about how they went from old pals to lovers after his split from Demi, Ashton admitted that his behavior was something Mila addressed head on.
"You were an asshole," he recalled her saying to him, prompting some self reflection on his part.
"Yeah, you were an asshole for a good two years," she apparently added.
And while it may have hurt to be confronted with such brutal honesty by one of his longest standing friends, Mila's frankness wound up serving Ashton for the best.
"The thing about Mila that made our relationship accelerate was that I had always admired her," he said, looking back on their fast moving romance. "Her talents, her skills, her gifts. But I knew that she didn't need me. And she knew that I didn't need her."
He also added that one of the most important aspects of their relationship was that they were able to accept each other's faults.
In the past, Mila has opened up about the "fucked up" way she ended her nine year relationship with Macaulay Culkin, which she admitted led to a "horrible, horrible, horrible breakup."
She's never explicitly talked about infidelity, but told Dax Shepard in 2018: "I fucked up. I was an asshole in my 20s and I'll be the first to admit it. And that's kind of something that took me a long time to come out and be like, 'Yeah, you know what? I was a dick,' and accept it. And I own it now."
Perhaps alluding to this common ground from their past relationships, Ashton said he and Mila were able to connect so quickly because they "already knew all of each other's dirt."
Elsewhere in the wide-ranging interview, Ashton also gave a rare comment about Demi's tell all memoir, which was released in 2019 and was packed with details about their tumultuous marriage.
Evidently reluctant to delve much further into his thoughts on the book, Ashton said he was "fucking pissed" about the release of his ex's memoir, admitting that his frustrations centered mainly around his family's privacy.
"I'd finally gotten to a place where the press had really laid off me and Mila, and my life and my family. And then the next day, [the paparazzi] are at my kids' school," he said, adding definitively, "I don't want to open anything up in that realm."
AP Dhillon poses for a picture with Arjun Kapoor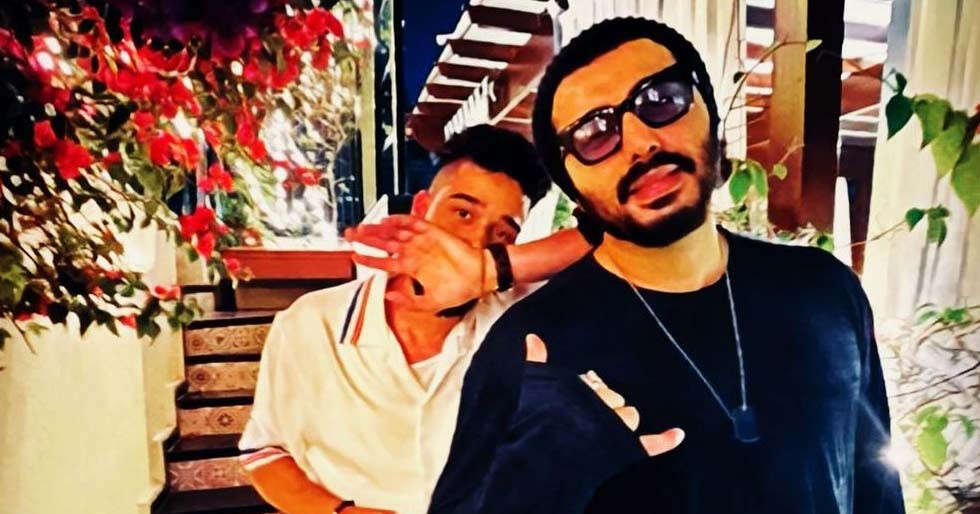 Last night, Kareena Kapoor Khan and Saif Ali Khan hosted a lavish party at their Mumbai home. During the starry occasion, Kareena also toasted the birthday of her close friend Amrita Arora. Stars like Malaika Arora and Arjun Kapoor, Amrita Arora, Farhan Akhtar and Shibani Dandekar, Karisma Kapoor, and a few other celebs were on the guest list. The gathering was nothing short of a star-studded affair.
The night's best moment, though, was when musician AP Dhillon joined them. The singer is a huge favourite of Arjun Kapoor, who recently shared a photo of them together with the caption, "Brothers in Arms!!! (Finally we got a picture together) #brownmunde".
Arjun and Dhillon posed together for the picture. Dhillon looked stylish and smart in white, while Arjun looked super-cool in all-black.
Kareena Kapoor previously revealed a glimpse of the birthday party. She captioned a photo of AP Dhillon, Malaika Arora, and Amrita with the caption "AP Dhillon in the house." Additionally, she warned producer Ritesh Sidhwani not to photobomb and tagged him.
if( typeof skinningExist !== 'undefined' && skinningExist == true){
document.getElementById('socialsticky').style.display="none";
}
window.fbAsyncInit = function() {
FB.init({
appId : '301265226619562',
session : ", // don't refetch the session when PHP already has it
status : true, // check login status
cookie : true, // enable cookies to allow the server to access the session
xfbml : true, // parse XFBML
oauth: true
});
};
(function(d, s, id) {
var js, fjs = d.getElementsByTagName(s)[0];
if (d.getElementById(id)) return;
js = d.createElement(s); js.id = id;
js.src = "
fjs.parentNode.insertBefore(js, fjs);
}(document, 'script', 'facebook-jssdk'));