'Teen Mom: Young & Pregnant': Kayla Sessler Gets A Surprise Phone Call From Stephan's Mom
Kayla Sessler was caught off guard during the Sept. 14 episode of 'Teen Mom: Young & Pregnant', when she received an unexpected phone call.
Kayla Sessler dealt with more drama involving her ex, Stephan Alexander, during the Sept. 14 episode of Teen Mom: Young & Pregnant. After Stephan unexpectedly sent their son, Izaiah a birthday gift last week, his mom decided to take things one step further by reaching out to Kayla in hopes of reuniting the father and son duo. But to be honest, Kayla said she'd rather leave Stephan in her past and wishes he'd stop contacting her. However, Kayla's boyfriend Luke felt she owed it to Stephan's mom to hear her out. So Kayla agreed to meet with Annette, but it was more for closure than anything else. And while we didn't see their meetup happen yet, we did see Kayla arriving at the cafe, where she and Annette will get into the major brawl that was teased before the current season premiered.
Meanwhile, a call from Amour's dad in prison triggered Kiaya Elliott to consider finally making amends with X'zayveon's mom, Carla. She was hesitant at first, but since it'll be a while before Amour's dad gets our of prison, Kiaya felt she had no other choice but to meet up with Carla and hash things out so Carla can have somewhat of a relationship with Amour for the time being.
On an all-new episode of Teen Mom: #YoungandPregnant, @kiayamtv finds out that X'Zayveon may not be released soon. Now, she's left to pick up the pieces for baby Amour. 🥺💘 Tune in tomorrow at 9/8c on @MTV. pic.twitter.com/hZwY251LV8

— Teen Mom (@TeenMom) September 13, 2021
Later, Madisen Beith proved to Christian once and for all that they're through when she packed up all of his belongings in a garbage bag, filled the bag with glitter, and threw it into his driveway before driving off and daring his family to call the cops on her. So mature, right?
As for Rachel — well, she's been so annoyed by her mom lately that she came up with the idea to move in with her sister Malorie. Her mom told her it was the "dumbest" thing she's ever wanted to do, but Rachel disagreed. So she started apartment hunting and literally found a two-bedroom place for her and Malorie for $525 per month. But instead of taking the place, Rachel and Malorie thought it'd be too expensive for them (yes, really) so they talked about coloring their hair instead.
On tonight's episode of #YoungandPregnant, Rachel talks to her mom about possibly moving in with her sister Malorie, and it doesn't really go well. 👀😳 Tune in tonight after #TeenMomOG on @MTV! pic.twitter.com/kyfC20GMIi

— Teen Mom (@TeenMom) September 14, 2021
Finally, Brianna Jaramillo made sure that her mom knows she's an adult even if she doesn't act like one.
Want more drama? New episodes of Teen Mom: Young & Pregnant air Tuesdays at 9pm on MTV.
Photos: Emmys red carpet 2021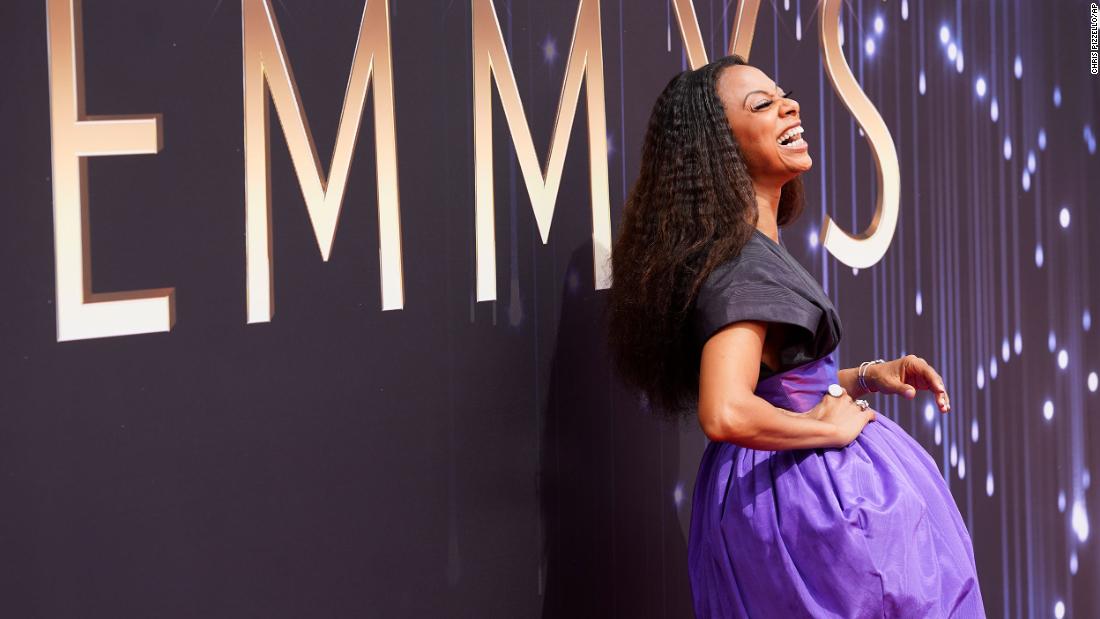 Updated 6:42 PM ET, Sun September 19, 2021
Celebrities are showing off their red-carpet fashion before Sunday night's Emmy Awards in Los Angeles.
Cedric the Entertainer is hosting the event, which recognizes the best in television programming.
"The Crown" and "The Mandalorian" have the most nominations this year (24 each). "Ted Lasso" is right behind them with 20 nominations. Other shows with multiple nominations include "WandaVision," "The Handmaid's Tale" and "Saturday Night Live."
Fleetwood Mac's Lindsey Buckingham, 71, Says Ex Stevie Nicks, 73, May Not Be 'Over' Him
Fleetwood Mac star Lindsey Buckingham has claimed his ex Stevie Nicks might not be 'completely over' him, 45 years after they broke up.
Fleetwood Mac guitarist Lindsey Buckingham, 71, suggested his ex-girlfriend and former bandmate Stevie Nicks, 73, might still have a soft spot for him. The musician previously claimed he was fired from the group after Stevie gave the band an ultimatum when he asked to delay a tour to promote his solo music. Now, he has said his ex of four years might not be "over" him. "There were a number of years where I wasn't over her. It is possible that she has never been completely over me either," he told The Times newspaper.
"The way we had to get through Rumours is part of the legacy and heroics of the whole thing," Lindsey added, referencing their 1976 split amid promotion for their album Rumours. The break up came four years after they got together, but things hit the rocks after the release of what would become one of the best-selling albums of all time.
"We didn't have time to heal or move on in the traditional sense. I think — and she was the one who moved away from me back then — that we both had to compartmentalize our feelings," he explained. "That is not a healthy thing to do because those little compartments can remain sealed up for years until things start seeping out when you don't realize."
Lindsey continued, "I met the love of my life late and that gave me a whole other take on the world. Stevie did not have children. She went down a different route and has placed more importance on her professional life. How that played out in the last three, four, five years … It's hard for me to know what her mentality is towards me, but I know what mine is to her because I've been married for 21 years and I have three children and it's the best thing that ever happened to me."
Stevie recently spoke out about her ex's depiction of her in the media, emphasizing that she never had him fired. "His version of events is factually inaccurate and while I've never spoken publicly on the matter, certainly it feels the time has come to shine a light on the truth. To be exceedingly clear, I did not have him fired, I did not ask for him to be fired, I did not demand he be fired."
She added, "Frankly, I fired myself. I proactively removed myself from the band and a situation I considered to be toxic to my wellbeing. I was done. If the band went on without me, so be it. And after many lengthy group discussions, Fleetwood Mac, a band whose legacy is rooted in evolution and change, found a new path forward with two hugely talented new members."
Travis Barker Bonds With Daughter Alabama, 15, On Shopping Date After NYC Trip With Kourtney Kardashian
Travis Barker and his daughter Alabama were spotted doing a little shopping together while wearing casual outfits, including graphic shirts, days after he had an eventful time in the Big Apple.
Travis Barker, 45, recently spent some quality time with his daughter Alabama, 15, after making headlines for a fun trip in New York City with Kourtney Kardashian, 42. The doting dad was photographed walking behind the teen as she carried a shopping bag during a shopping trip that had him appearing relaxed. She wore a graphic black T-shirt, gray cropped leggings, and slip-on sandals during the outing while her dad wore a white graphic T-shirt that had the sleeves ripped off, ripped eggshell-colored jeans, and black sneakers.
Alabama also made sure to stay safe by wearing a white face mask as her blonde locks were down and Travis added sunglasses to his look. It's not clear what area the father and daughter were shopping in, but they walked by onlookers on the sidewalk after leaving the stores.
Travis' outing with Alabama comes less than a week after he showed off his love with girlfriend Kourtney at the MTV Video Music Awards. The lovebirds showed up to the event and posed for pics while kissing on the red carpet, making a lasting impression. They both looked stylish in black outfits, including a black blazer and pants with spikes for Travis, and a black leather off-the-shoulder dress that tied in the front for Kourtney.
Before their NYC trip, Travis and Kourtney were seen having a great time at Halloween Horror Nights at Universal Studios in Orlando, FL with Alabama as well as Kourtney's 11-year-old son Mason Disick, and Travis' son Landon Barker, 17. "To say they were having a romantic date night would be quite the understatement," an eyewitness EXCLUSIVELY told HollywoodLife about the outing at the time.
Travis and Kourtney went public with their romance earlier this year and since then, they've been very open about sharing PDA. From loving social media posts to hand-holding dates, there's been no doubt that their relationship is strong.