Vijay, Trisha come together for pooja ahead of Thalapathy 67 shoot, fans react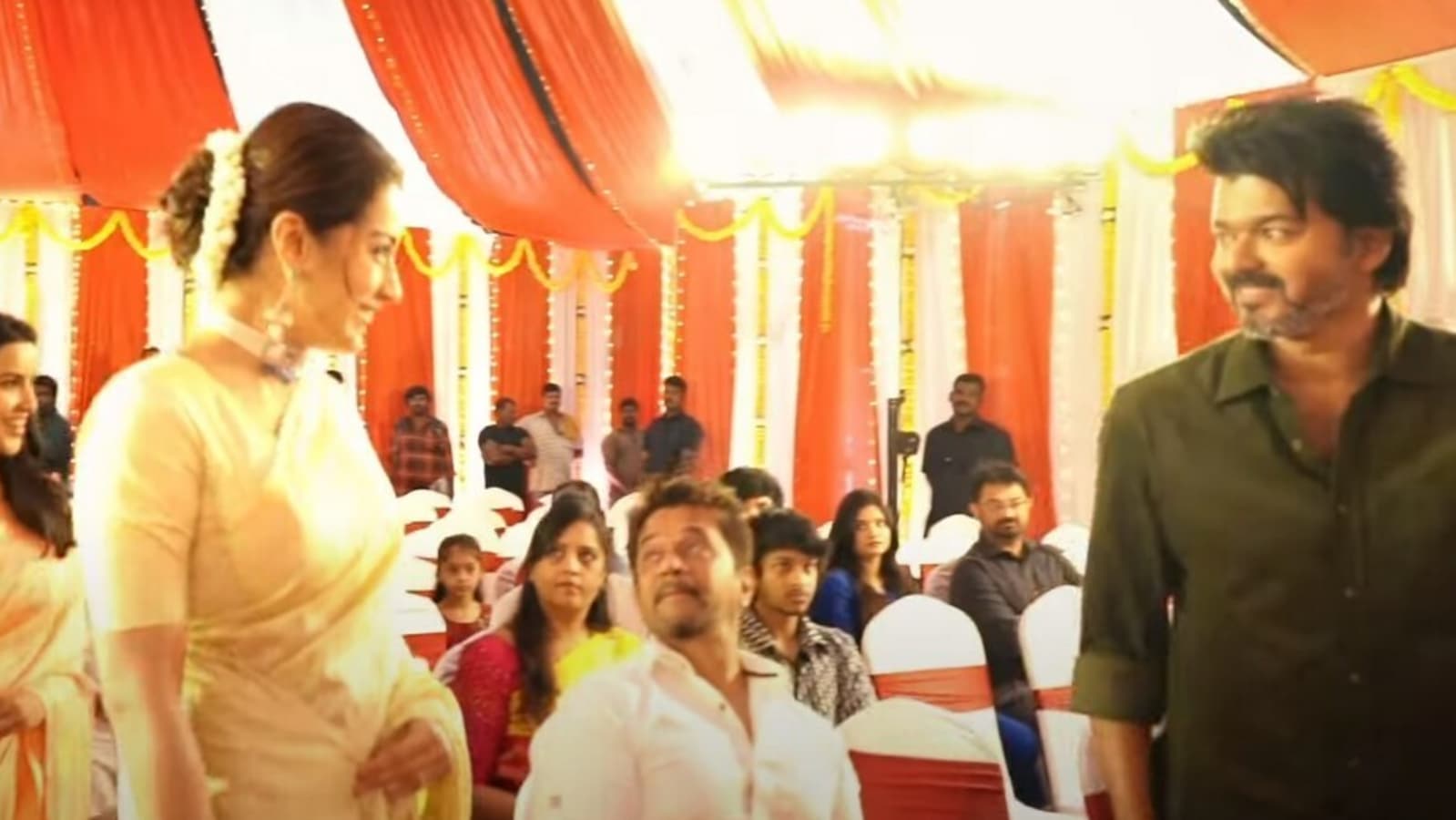 After actor Vijay's upcoming Tamil film Thalapathy 67 was officially announced, the makers held a pooja ahead of the film shoot. Recently, they shared the final list of cast members of the film. The first schedule of the movie will take place in Kashmir. Also read: Thalapathy 67: Fans spot Trisha Krishnan, Sathyaraj on list of those flying to Kashmir for shoot
Thalapathy 67 is the tentative name of the film. It is directed by Lokesh Kanagaraj and marks his reunion with Vijay after Master. The film's team released a new video where Trisha Krishnan and Vijay appeared together after a long time. The two collaborated previously in films like Ghilli and Thirupaachi.
For the pooja ceremony, Trisha wore a beige colour saree while Vijay opted for a dark olive green shirt with denim pants. Besides them, actors Arjun Sarja, Mansoor Ali Khan, and Priya Anand who are a part of Thalapathy 67 were also a part of the event.
Reacting to the video, fans were left excited to see Trisha and Vijay together in a film after a long time. One of them commented, "Can't wait to see Thalapathy and Trisha pair up again on screen. It's been 14 years of wait." "It's happy to see Thalapathy Vijay and Trisha together once again," added another one. Someone also said, "My heart is racing because Vijay and Trisha just looked at each other."
Recently, the film's team left for their first schedule in Kashmir. Fans got to learn about the team's travel and even dug out the entire passenger list to learn the names of actors and crew members who will be part of film. It included Trisha, Sathyaraj and Priya. Their photos from Chennai airport also surfaced on social media.
Thalapathy 67 is going to be a gangster film, as per director Lokesh. He recently revealed that the film won't be a part of his cinematic universe, called LCU – Lokesh Cinematic Universe. After rumours of the same, Lokesh clarified at the trailer launch event of the recently released Tamil film, Laththi. He said, "I can't talk about the project now. But I can say that it won't be part of the universe. It'll be a gangster film but I can only share more information about the project after the release of Varisu." It's going to be one of the biggest releases in the Tamil film industry.
ott:10
Everything Ted Lasso's Cast and Crew Have Said About the Finale
"In the wake of Nate's contentious departure from Richmond, Roy Kent steps up as assistant coach, alongside Beard," the streamer detailed in its season three synopsis. "Meanwhile, while Ted deals with pressures at work, he continues to wrestle with his own personal issues back home, Rebecca is focused on defeating Rupert and Keeley navigates being the boss of her own PR agency."
So, will the May 31 season finale really be the last we see of AFC Richmond? Or will the series head into extra time?
Keep on reading to learn everything we know about Ted Lasso's future, below…
Sonali Kulkarni apologises after calling Indian women lazy | Bollywood
Actor Sonali Kulkarni issued a statement on social media after receiving criticism for her remark about Indian women. She recently called Indian Women 'lazy' which wasn't taken lightly by a section of social media users. Reacting to them, Sonali apologised and addressed both criticism and support in the matter. Also read: Sonali Kulkarni's 'women are lazy' comment draws flak online
Sonali wrote, "Dear all, I'm overwhelmed with the feedback I'm receiving. I would like to thank all of you, especially the entire press and media for the extremely mature conduct of connecting with me. Being a woman myself, my intention was not to hurt other women. In fact, I have extensively expressed myself time and again in support of us and what is it being a woman. I'm grateful to all of you for reaching out to me personally to appreciate or to criticize. Hope we will be able to have more open exchange of thoughts."
"In my capacity I am trying to think, support and share warmth not only with women, but with the entire mankind. It will be only strengthening if we women with our vulnerabilities and wisdom shine through as fair and able beings. If we are inclusive and empathetic, we will be able to create a healthier, happier place to be," she continued.
She also added, "Having said that, if unknowningly, I may have caused pain, I want to apologize from the bottom of my heart. I do not thrive upon headlines neither do I want to be the center of sensational situations. I'm a diehard optimist and I strongly believe that life indeed is beautiful. Thanks for your patience and support. I have learned a lot from this incident."
In a recent press meeting, Sonali Kulkarni said, "In India, we, at times, forget that a lot of women are just lazy. They want a boyfriend/husband, who earns well, owns a house, and his performance at work guarantees regular increments. But, in the middle of this, women forget to make a stand for themselves. Women don't know what will they do. I urge everyone to encourage women and make them self-dependent. So that they are capable enough to share the household expenses with their partners."
Sonali's video has now gone viral on social media. She was criticised by Urofi Javed and Sona Mohapatra among others. Sonali was last seen in the 2021 series Whistleblowers on SonyLiv.
Paris Hilton breaks silence on her 'inappropriate relationship' with teacher | Hollywood
Paris Hilton has recently released her book 'Paris: The Memoir,' which revealed many personal and previously undisclosed details about her life. While the book has been well-received, Paris has admitted that it wasn't easy for her parents to read it. During an appearance, she shared that she was anxious for her mom Kathy Hilton and dad Richard Hilton to read 'so much of the book.' In the book, she shared her inappropriate relationship with an eighth grade teacher, relationship with Jason Shaw and infamous sex tape incident with then boyfriend Rick Salomon. (Also read: Khloe Kardashian breaks silence on being 'obsessed with weight' amid split from Lamar Odom: 'Didn't know what to do')
In a recent interview with Andy Cohen on Watch What Happens Live, Paris admitted that she was apprehensive about her parents reading her newly released memoir, Paris: The Memoir, which chronicles her life, struggles, and triumphs. In her memoir, she revealed that she became pregnant with Jason Shaw's child, but chose to pursue an abortion. In explaining her decision, she wrote, "There was no happy little family at stake. That was not going to happen. Trying to continue that pregnancy with the physical and emotional issues I was dealing with at the time would have been a train wreck for everyone involved. At that moment in my life, I was in no way capable of being a mother. Denying that would have jeopardized the family I hoped to have in the future at a time when I was healthy and healed."
She recounted not only her relationship with Jason during the early days of The Simple Life, but also detailed her younger years. In one particularly disturbing chapter, Hilton revealed an inappropriate relationship she had with her eighth-grade teacher at a Catholic school.
According to Hilton, the teacher frequently inquired whether her parents were home, and on one occasion, when they were not, he came over to her house. Paris recalled, "I saw a late-model SUV idling at the top of the driveway. I climbed into the passenger seat. Teacher pulled me into his arms and kissed me."
She also shared her newfound happiness in her relationship with her husband, Carter Reum. She expresseed her love and admiration for him, and their joy was multiplied when they welcomed their son Phoenix Barron via surrogate in February.
She also took to Instagram and shared a long note about her new book, Paris: The memoir and wrote, "Paris: The Memoir is out NOW! I chose to narrate my own audiobook. While it was honestly so hard to write this book and then relive everything again by speaking every word out loud for my audiobook, I'm glad I did it. I hope hearing my story, in my own words, and straight from me encourages you all to tell your stories and embrace your highs and lows and your true selves. Our multitudes and complexities are beautiful. #ThisIsWhoIAm. You can check out my audiobook and learn more about sharing your own story at the link in my memoir."
Paris rose to fame in the early 2000s with her appearances on reality TV shows like The Simple Life and her party-girl persona. Since then, she has built a successful career as an entrepreneur, launching multiple fashion and beauty lines, fragrances, and even a DJ career.