Vivek Agnihotri reacts as Rahul Gandhi talks about 'flying' during Bharat Jodo | Bollywood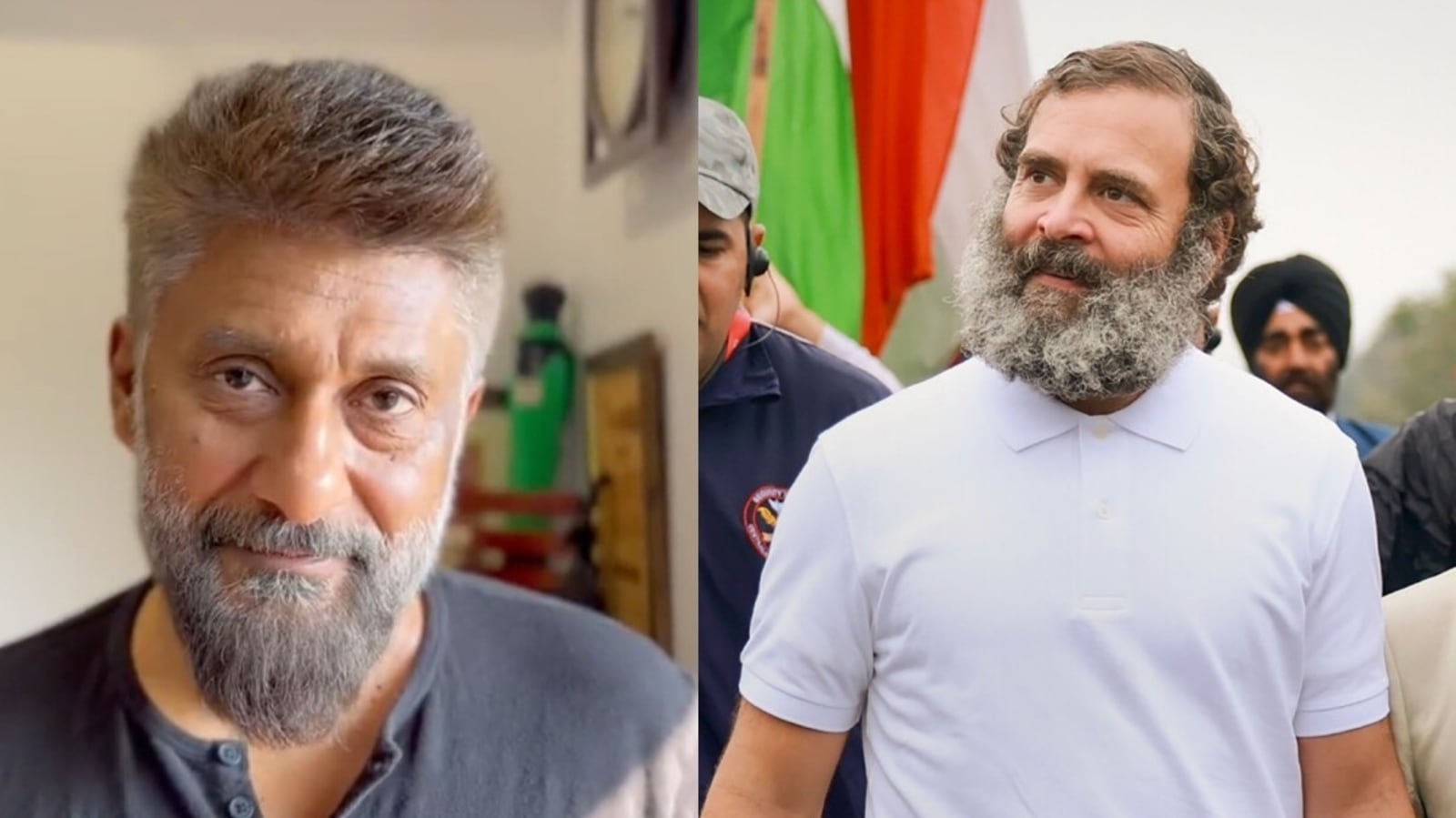 Vivek Agnihotri took to Twitter to react to a clip from Rahul Gandhi's new interview. The filmmaker joked that his 'Sunday was made' after hearing the politician's statement about 'flying' and his mindset of a pilot, while he was on his Bharat Jodo Yatra. Vivek seemed to hint that the Congress leader had no idea of what he was saying. The comments on the filmmaker's tweet indicated that many agreed with him. (Also read: Vivek Agnihotri reacts to Anurag Kashyap's comment on PM Modi's advice to BJP workers on films: 'Audience is 'mob' now?')
Sharing a clip from Rahul Gandhi's recent interview on Twitter, Vivek wrote, "My Sunday is made. I am flying already. Are you?" The filmmaker reacted to Rahul's comments about flying and joked about his explanation.
The video was from an interview with Siddharth Aalambayan, where he asked Rahul about being a pilot. Siddharth confessed that he wanted to be a pilot, and then Rahul explained that he learnt flying from his father, late Prime Minister Rajiv Gandhi. He shared, "Flying is partially about flying an aeroplane. But it's much more about an approach and an attitude."Rahul also added, "My father told me one line. He said, 'Always fly the plane, never let the plane fly you.'" He spoke seeing things with a larger perspective as a result of his training as a pilot.
Some of the comments on Vivek's tweet shared the filmmaker's views. One Twitter user responded to Rahul's statement that the pilot had to be ahead of the plane, writing, "If this is what pilots do I am scared! Next time I take a flight I would like to first ensure that the Pilot is firmly seated in the cockpit and is not ahead of the plane."
Another user shared, "Are you flying the plane or is the plane flying you….make sure please (laughing face with tears emojis)." Yet another joked, "I am flying on Cloud 9 (wink face emoji)." There were also a few Rahul defenders. One user stated, "I can understand that it is difficult to understand simple English and logic when u have a mindset of hating someone."
Rahul is currently walking through Jammu and Kashmir on his Bharat Jodo Yatra, which began on September 7, 2022. Several Indian celebrities like Kamal Haasan, Amol Palekar, Pooja Bhatt, and Swara Bhasker have walked alongside the Congress leader on the march across the country to reportedly raise awareness on the country's main political issues.
Vivek is filming his next feature The Vaccine War starring Anupam Kher, Nana Patekar, Pallavi Joshi and Sapthami Gowda. The filmmaker's wife Pallavi recently had an accident on set where a car ran over her foot.
Aamir Ali talks about dating rumours with Shamita Shetty: 'We are very close…'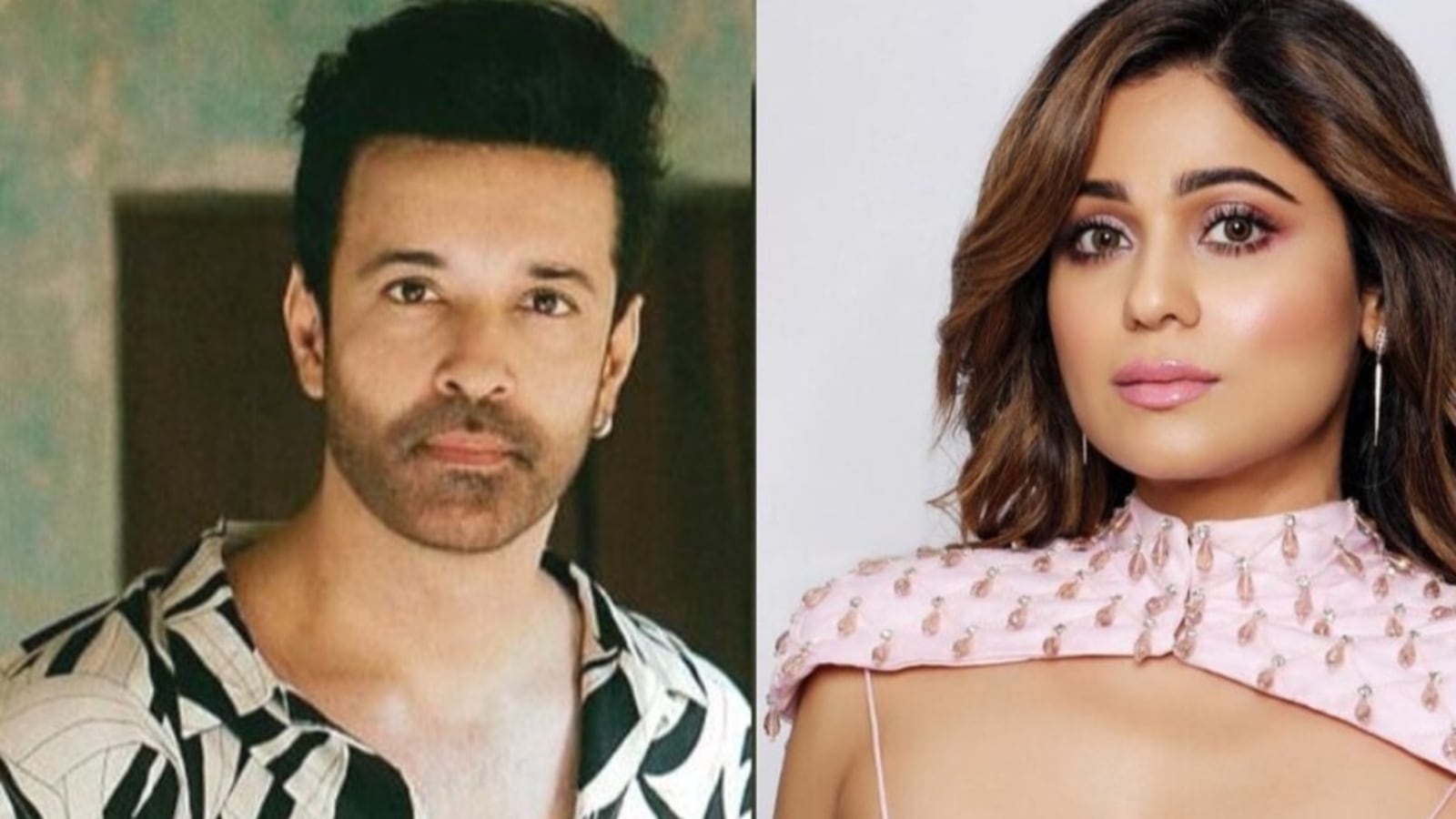 Actor Aamir Ali broke his silence on dating rumours with Shamita Shetty. Taking to Twitter, Aamir posted a video indirectly speaking about Shamita. Aamir talked about how he 'escorted her to her car' as a friend. He also drew a comparison with actor Shah Rukh Khan. (Also Read | Shamita Shetty breaks silence on dating rumours with Aamir Ali, shares note on Instagram)
Recently, a paparazzo posted a video on Instagram of Shamita Shetty and Aamir's night out. While she posed for the photographers stationed outside a restaurant, Aamir ran away from behind her. A few minutes later, he came and gave Shamita a hug. The duo posed for pictures near a car. Aamir gave her a kiss as she sat inside a car, and left after saying goodbyes.
In the video, Aamir said, "Hi! I don't know what to say. My mom has always taught me to be a gentleman. If someone comes home, I generally drop them at the door, whoever that is. A friend of mine was there and I escorted her to her car. I was just being a friend and it became something else. Guys, we are single. I am single, she is single. We are just very very close friends and that's about it. That's about it."
Aamir added, "Ek cheeze khaali. Shah Rukh Khan sir bhi, main suna hun, jab mehmaan aate hai toh darwaaze tak chorne jaate hai. Toh woh theek hai, maine karliya toh, just saying (One more thing. I have heard that when a guest comes over to meet Shah Rukh Khan even he escorts them to the door. That is fine, but when I did, just saying)." He captioned the video, "Just saying…"
Reacting to the video, a fan wrote, "So much love to you, so sorry if we made you feel awkward, wasn't anyone's intention. we just really loved you guys' bond. your friendship is so cute." Another person said, "Aaamirrrr. you're so cute. We love you for being so kind and protective with shamzie. we know you two are just friends and adore your friendship."
On Tuesday, Shamita reacted to her dating rumours with Aamir. She wrote on Instagram Stories, "I'm baffled by society and its convenient prudish mindset all across. Why is every action and every person subjected to scrutiny or snap judgement with no reality check? There are possibilities beyond the narrow-minded assumptions of the NETIZENS, it's high time we open our minds to it! Single n happy .. let's focus on more important issues in this country."
Shamita dated Raqesh Bapat last year after they met on Bigg Boss OTT. They however broke up in July 2022. Later, Raqesh and Shamita also appeared together for a music video titled Tere Vich Rab Disda.
Aamir was earlier married to actor Sanjeeda Sheikh. They tied the knot in March 2012 and got a divorce in 2021. They are parents to a daughter, Ayra Ali.
Holly Madison Wasn't Scared Of Getting Pregnant By Hugh Hefner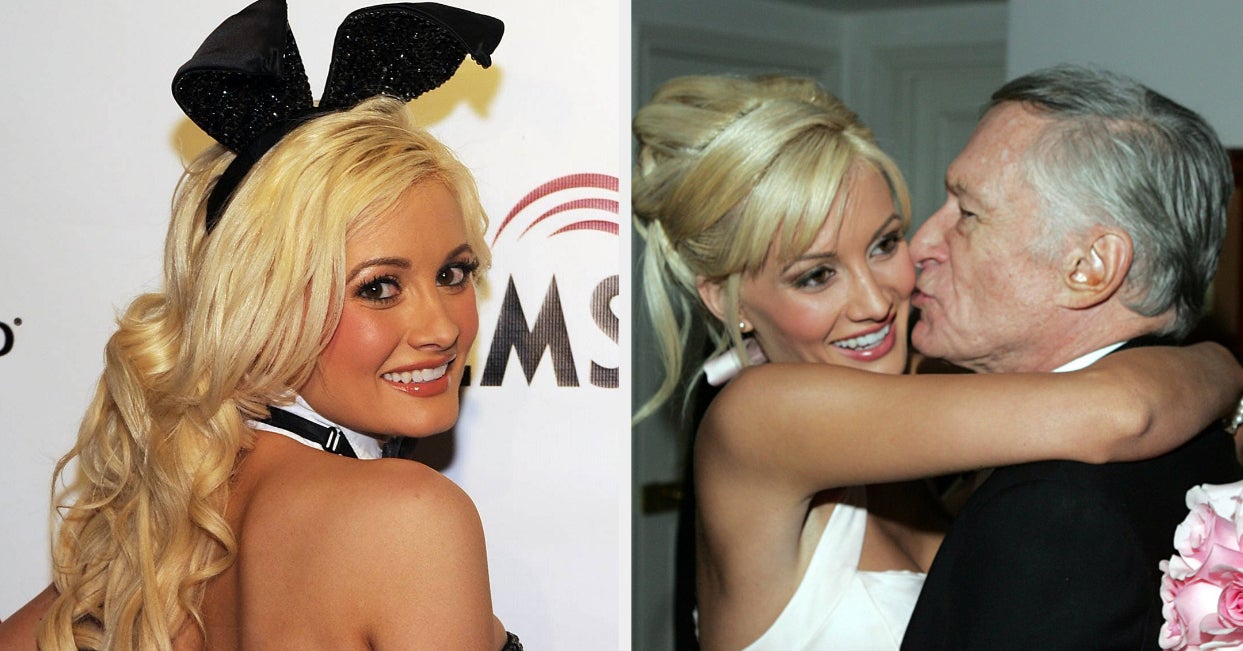 In recent years, Holly Madison has grown increasingly vocal about her experiences in Hugh Hefner's Playboy mansion.
From being ordered to get on top of Hefner while under the influence, to having baby oil used as lube against her will, Madison has publicly denounced the Playboy mogul numerous times — particularly since the release of her and fellow ex-Playmate Bridget Marquardt's wide-ranging podcast, Girls Next Level, last year.
For a quick bit of background, Madison was just 21 when she moved into the notorious mansion with Hefner, then-75, and she was branded as the mogul's "main girlfriend" during many of her years there.
Hefner, who died in 2017 at 91, notoriously engaged in multiple sexual relationships with the young women at the mansion, most of which have attracted widespread scrutiny in recent years.
Last August, Madison and Marquardt recalled the disturbing times that they, along with other women, were pressured into having unprotected sex with Hefner for the first time after a drunken night out.
Explaining that she'd initially planned on watching without getting involved, Marquardt said on the Juicy Scoop podcast. "I was still just gonna watch and then [one of the other Playmates] was like, 'Aren't you gonna go?' It was like, 'You need to go.' And I was like, I would rather not. And she's like, 'Well, then you probably won't be invited back.'"
"So then I was like, OK. And I'd seen what everybody else was doing, so I knew that this was, like, a 10-second thing. I mean, definitely no more than a minute," she went on.
Madison echoed, "My memory is cloudy. I've kind of blocked it… Everybody's just trying to get it done as quickly as possible."
Now, Madison and Marquardt have opened up further about their sexual experiences with Hefner, discussing the subject of birth control — or lack thereof — on the latest episode of Girls Next Level.
The topic was brought up as part of a wide-ranging Q&A, during which the pair were asked, "Were all the girls on birth control? How did y'all prevent pregnancy?"
Perhaps surprisingly, Madison explained that the women didn't feel "for a second" that they were going to get pregnant while sleeping with Hefner, and didn't use birth control as a result.
"I don't know who was and wasn't on birth control — I wasn't — but I just don't think anyone ever felt for a second that they were gonna get pregnant from Hef," she said.
Going on to explain the reasoning behind this, Madison said she didn't want to be "gross and graphic" before noting that Hefner "never finished in anybody."
"Not to be gross and graphic, but here we are. He never finished in anybody," she said.
"And when I say that, I don't mean a last minute pull out," she continued. "I mean, he would do whatever on our bedroom nights and then the last part of it would just be him jacking off watching porn. Like, it wasn't even near anybody."
"So, I just don't think any of us ever thought for a second that we were in danger of getting pregnant by him," she said.
Madison went on to further defend her and the ex-Playmates' choice to stay off birth control by noting that Hefner "knew what he was doing."
"If you look at his history and all the people he's been with, he's only ever had kids when he was married and it was planned," she said. "So, he knew what he was doing in that respect."
"I just don't think anybody was concerned," she added.
Marquardt then chimed in, noting that while she was on birth control pills, it had nothing to do with her fear of getting pregnant by Hefner.
"I was on birth control pills, but it wasn't 'cause I feared I was gonna get pregnant. It was just something I'd already been on and it was hormone-related and that kind of stuff," she said.
Anil Kapoor reminisces about his association with the Filmfare Awards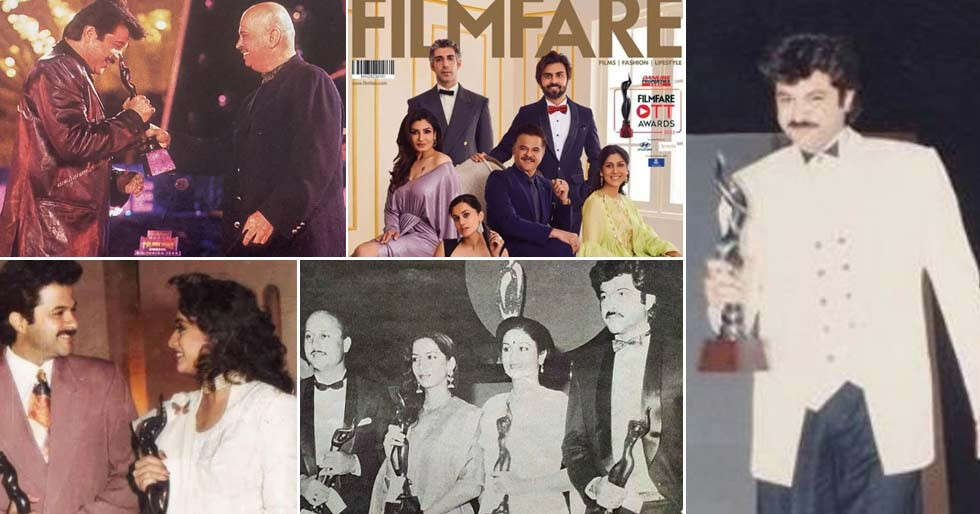 Thar, a revenge thriller with a Western flair, won over audiences with its plot and excellent acting. In Thar, which was released last year, father-son acting team Anil and Harsh Varrdhan Kapoor excelled. According to the reviews, Anil Kapoor gave a strong performance.
Anil Kapoor won the Best Supporting Actor award at the Danube Properties Filmfare OTT Awards 2022 for his performance. Today, Anil posted a throwback to all the times he has won a Filmfare award to commemorate the January Issue of the magazine which features him as the cover star, along with Raveena Tandon, Jim Sarbh, Taapsee Pannu, Jitendra Kumar and Sakshi Tanwar.

He shared a slew of memorable pictures with the Black Lady and penned a heartfelt note. "In the 4 decades that I've been around, tides have changed, talent has changed, tastes have changed and audiences certainly have changed…The one thing that hasn't changed is the virtue of hard work, persistence and conviction, and they are rewards enough.. But a few awards don't hurt," he wrote.
Check out the pictures below:
if( typeof skinningExist !== 'undefined' && skinningExist == true){
document.getElementById('socialsticky').style.display="none";
}
window.fbAsyncInit = function() {
FB.init({
appId : '301265226619562',
session : ", // don't refetch the session when PHP already has it
status : true, // check login status
cookie : true, // enable cookies to allow the server to access the session
xfbml : true, // parse XFBML
oauth: true
});
};
(function(d, s, id) {
var js, fjs = d.getElementsByTagName(s)[0];
if (d.getElementById(id)) return;
js = d.createElement(s); js.id = id;
js.src = "
fjs.parentNode.insertBefore(js, fjs);
}(document, 'script', 'facebook-jssdk'));