5 Procurement Trends To Keep on Your Radar for 2023
Opinions expressed by Entrepreneur contributors are their own.
The world faces a paradox as the economic cycle moves into a recession. Statistically, we're seeing a very high employment rate, yet there's a shortage of skills and labor. In the U.K., these issues are particularly prevalent due to Brexit, as it's curbed the influx of skilled laborers into the country. As a result, economic growth is stifled, compounding the problem of inflation and the rising cost of living. A transition to 2023's economy will consistently fulfill these intricately connected components.
The lasting impact of inflation
The combination of inflation and a shortage of skilled labor led to a profound economic shock with sharp increases in the cost of utilities, fuel and food. Fortunately, price hikes have begun to settle. For instance, while the cost of shipping a container from China reached a peak of $20,000 during the pandemic, it's returned to a comfortable $3,000.
When consumers hear news of these price corrections, it's reasonable for them to assume a reduction in the cost of goods will soon follow. Unfortunately, as procurement experts know all too well, moves have already set the dominoes in motion. Businesses were still tasked with transporting goods when prices were at an all-time high, meaning the supply chain and the economy continue to feel the impact; however, this is expected to dissipate toward the end of 2023.
Related: 5 Ways of Effectively Navigating Supply Chain Disruptions
Investing in certainty
Historically, we've seen periods of rigorous negotiation before. The trouble is, it's not simply an issue of cost this time. We face shortages of critical supplies — like the semiconductors needed by car manufacturers to build vehicles — which changes the game entirely.
Unlike in years past, entering the new year with a focus on procuring items for the lowest cost isn't going to be an effective strategy. Supply chain issues and logistical costs compound budgeting issues for procurers.
After all, a low price means nothing if your purchase orders aren't consistently fulfilled — instead, the people who thoughtfully balance price with surety and security will come out on top.
Related: 5 Reasons Procurement Should Be In Consideration For Your Startup
Reprioritizing sustainability
Back in 2019, there was a significant push to prioritize sustainability in the supply chain. From making environmentally-conscious decisions to incorporating social access and inclusion goals, companies took tremendous strides to uphold critical Environmental, Social and Governance (ESG) commitments. Unfortunately, necessity placed many sustainability themes on the back burner during the height of the pandemic.
When Covid-19 emerged, business owners made great sacrifices, including specific goals like ESG commitments. Even now, many businesses grapple with the challenges of an unstable economy, but we can't continue to treat sustainability as an option.
A recent study shows that today's customers care more about a brand's social consciousness than the cost of a product or service. The findings clearly illustrate a multi-generational willingness to spend more for sustainable products.
Furthermore, this generation of shoppers favors brands that represent their values, making ESG efforts imperative for today's businesses.
Organizations must find ways to respond meaningfully to these macro themes, despite all else that is happening. While it might not seem like a pressing issue to some, committing to ESG is an investment worth making in the coming year.
Leveraging and automating
When it comes to efficiency and production, the skills shortage will continue to impact our economies in various ways. However, it's up to businesses to find ways to ease the burden, which will likely entail the adoption of additional technology. Companies will continue to automate tasks, but at an accelerated rate, allowing them to shift the human labor they do have into areas where their time and talent are better leveraged.
We already see these changes at scale. For instance, at the airport, you no longer have multiple personnel standing around to check long lines of passengers and passports; now, there's a designated location to scan them yourself.
Meanwhile, administrators moved those employees to other critical areas of operation that couldn't automate. Likewise, more grocery stores are adopting self-checkout so workers can shift from registers to stock rooms. Across industries, this shift is already in motion.
Related: Using Tech to Build Supply Chain Resilience in a Changing World
Retraining and developing
As more businesses reallocate the human labor available, we also see more significant investment in that workforce. For instance, if a company has a reliable team hired for one job and is now needed to do another, it will require training to develop the necessary skills to perform well in its new role.
It's expected that more businesses will retrain their existing workforces in the coming year, which may have a small impact on the current skills shortage. However, European countries with shrinking populations will not solve the labor shortage with corporate training sessions alone.
Year-end takeaways
For business owners who are tired and frustrated after two trying years, 2023 holds more opportunities than dangers. In this market, you need to be on the offensive and plan for making "no-regrets" decisions that will push your company forward.
Ensure you anchor 2023 in an ambitious agenda phase to manage any potential downsizing risk. If you can do that, your team can indeed come out on top.
5 Steps to Expand Your Vision and Start Living Your Dreams
Opinions expressed by Entrepreneur contributors are their own.
Have you ever settled for less than what you wanted, avoided risks and played it safe? Maybe you had big dreams and ambitions but later convinced yourself that they were too unrealistic or you couldn't achieve them.
It's normal to feel this way, but settling for less than what you genuinely want can lead to a life of regret and unfulfillment. Pursuing something you're passionate about can be gratifying and fulfilling, even if you don't ultimately achieve your goal.
Learn to Build a ChatGPT Bot for Only $30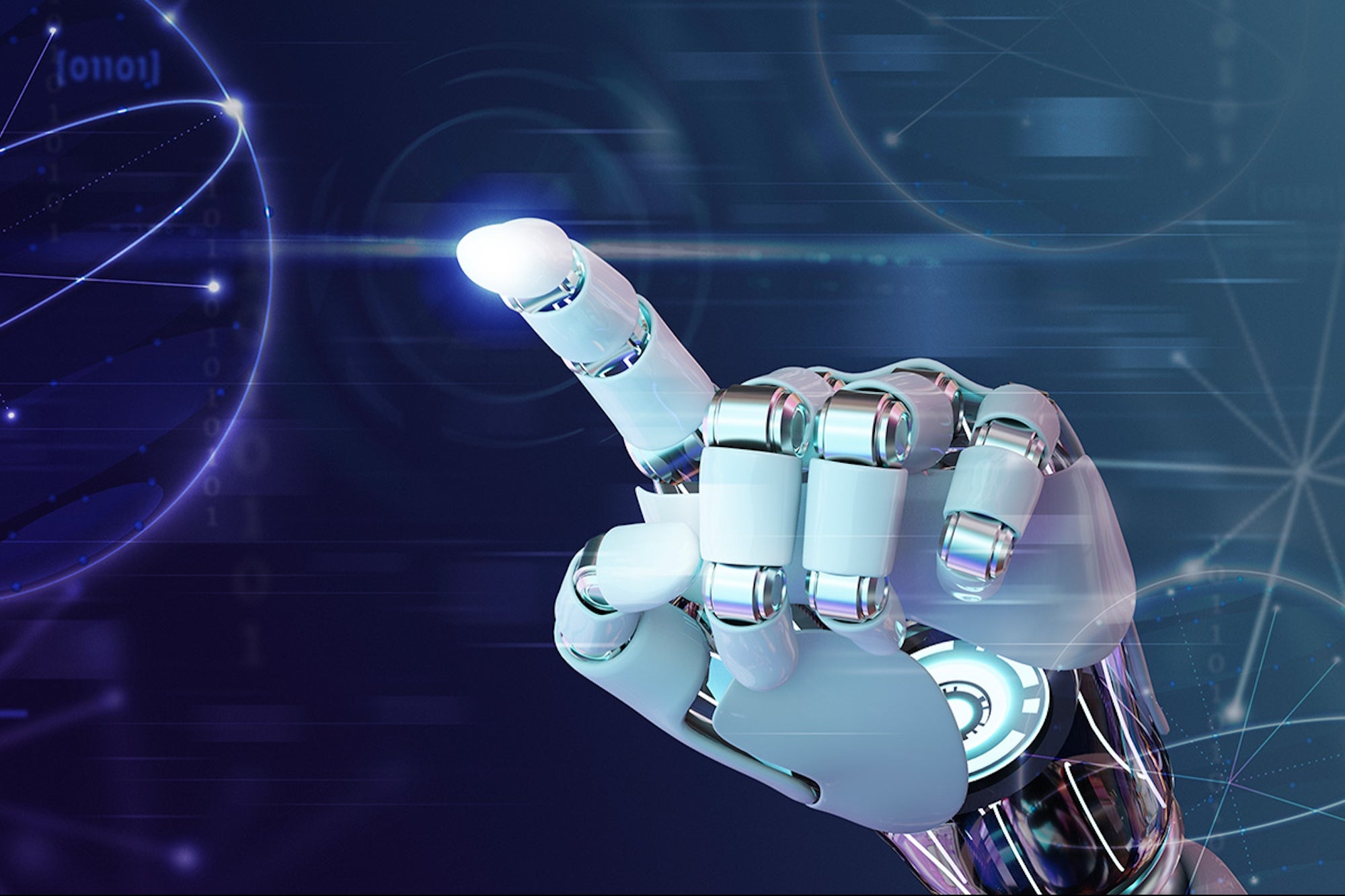 Disclosure: Our goal is to feature products and services that we think you'll find interesting and useful. If you purchase them, Entrepreneur may get a small share of the revenue from the sale from our commerce partners.
ChatGPT has already been called the smartest AI chatbot released, and it only took five days for the chatbot to accrue a million visitors. AI might be poised to change everything, but you could also learn how to use it for your own business.
The 2023 Ultimate AI ChatGPT and Python Programming Bundle shows you how to build your own ChatGPT AI bot, learn to code, and more. If you want to see what AI can do for your business, grab this course bundle for only $29.97 during our Spring Digital Blowout.
ChatGPT can help you write in a variety of coding languages. Python 3 is used to write code for machine learning and AI, and you can start learning the basics in Python 3: From ZERO to GUI Programming.
Once you have some expertise with Python, start learning to use Python Tkinter, a tool that you can use to program your own ChatGPT bot. Hugo Ferro teaches Python Tkinter from Beginner to Winner, a one-hour course that can help you explore the best practices for coding and learn about event-driven programming.
When you're ready to create your own ChatGPT AI bot, there are two final courses to take to show you how it's done. One will walk you through creating multiple Tkinter projects, while the other shows you how to correct your code. You may not be a master of Python yet, but you also might not have to be: open your OpenAI account and ask ChatGPT to correct your code for you.
Enhance your skills and learn how to build an AI chatbot that does what you want with the AI ChatGPT and Python bundle on sale for $29.97 (Reg. $2,786) through April 3 at 11:59 pm PT.
Prices subject to change.
If You Have a Business, You Have Passwords to Manage
Disclosure: Our goal is to feature products and services that we think you'll find interesting and useful. If you purchase them, Entrepreneur may get a small share of the revenue from the sale from our commerce partners.
Working your way up to starting your own business is challenging, so it makes sense that many early startups are lean in terms of size and resources. While an IT team might be limited, the need for security and reliability remains as important as ever.
Enter Dashlane. Dashlane helps streamline data security for companies of all sizes. It's a password management platform that is trusted by over 20,000 companies — and for good reason: Dashlane keeps users' data private and safe with best-in-class security.
Dashlane encrypts all customer data with AES-256 encryption—the first open-cipher approved by the NSA to be made accessible to the public that protects information at a "Top Secret" level. Dashlane also uses ARGON2, cutting-edge cryptography features, and automatic user-vault updates to keep your data as safe as possible.
When you set your team up with Dashlane, you'll save time and energy with easy deployment, end-to-end protection, and compatibility with G Suite, Microsoft, and several other identity providers. You'll also get proactive breach notifications for everyone in your organization, and you can ensure maximum protection through effortless 2FA enforcement.
There are many examples of how your Dashlane membership will save you and your business time. With Dashlane, you can access and manage all of your passwords in one place. You can share unlimited passwords without actually revealing them, and you can access accounts easily with seamless autofill features. A user can also store financial, medical, and personal information in their Dashlane vault.
With its never-been-breached record, Dashlane maintains impressive average ratings of 4.5/5 stars on Trustpilot from over 4,000 reviews and 4.5/5 stars on the Google Play store from more than 175,000 reviews. It was also named App of the Day on the App Store.
For more specific success stories, head to Dashlane's website and learn how it helped organizations like Mercy Medical, which reported that it sped up access to its systems by 60 percent after signing up while improving both cybersecurity posture and HIPAA compliance. You also might enjoy the excellent case study chronicling how Dashlane helped RevGenius reduce its offboarding risks.
Looking to try Dashlane for your business? Start a free trial today.