Lauren Sánchez Is Heading to Space on a Girls Trip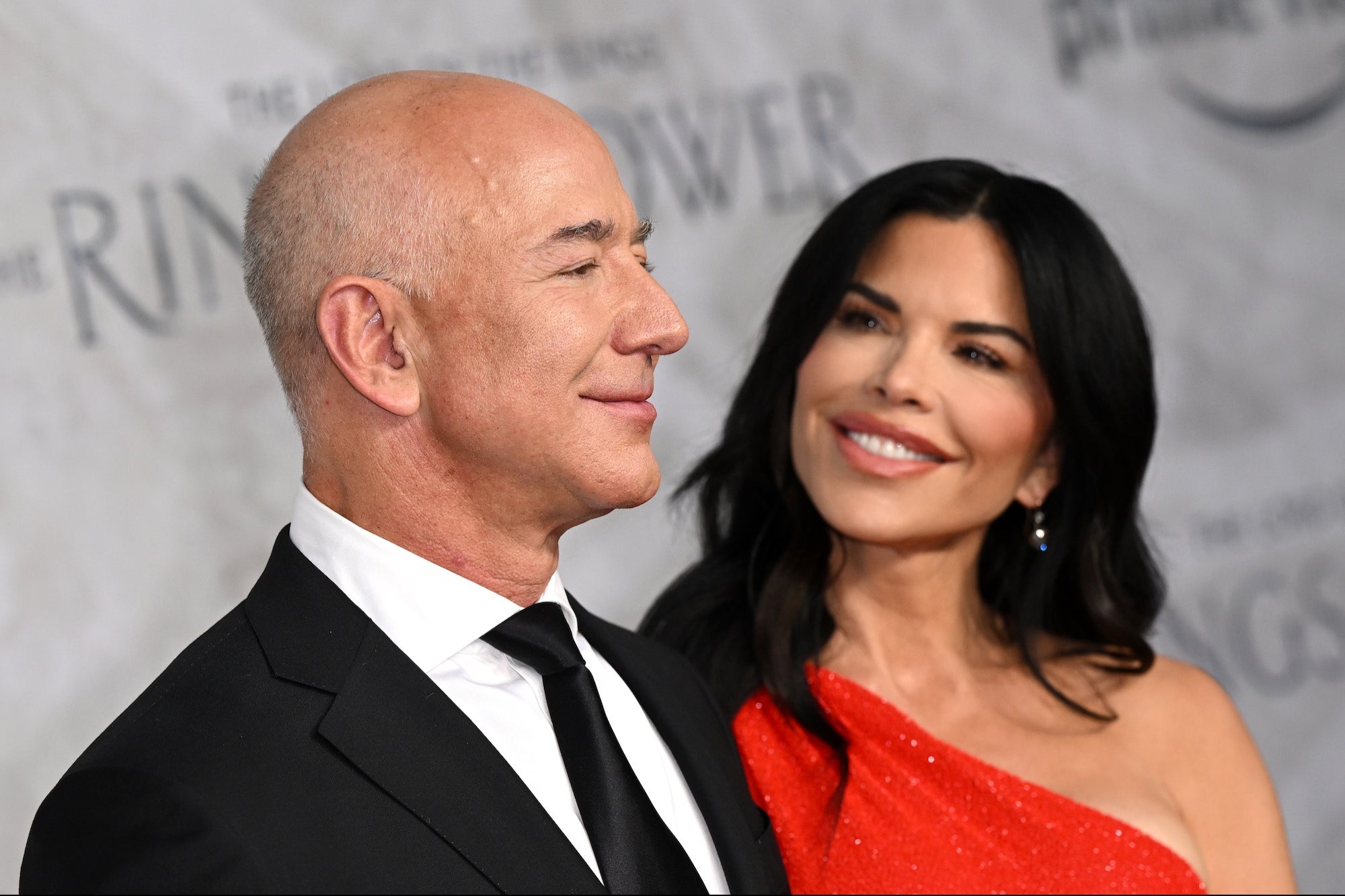 Sorry, Jeff — this one is for the girls.
Jeff Bezos' girlfriend, Lauren Sánchez, said in a new interview with the Wall Street Journal that she planned to take an all-female trip to space with the Amazon founder's space manufacturing company, Blue Origin.
Five women will join her on the journey.
"It's going to be women who are making a difference in the world and who are impactful and have a message to send," she told the outlet.
The mission is set for early 2024, and the passengers' names will be announced at a later date.
The WSJ's report was Sánchez's first solo interview, the outlet noted, since her relationship with Bezos went public in 2019, shortly after his divorce announcement from now ex-wife, MacKenzie Scott.
The interview also talks about Sánchez's relationship with Bezos and the business advice he's given her (keeping meetings under an hour, speaking last as a boss).
Sánchez is a former broadcast journalist and a helicopter pilot who founded her own filming company Black Ops Aviation, per Insider.
"Right now, I'm immersing myself in philanthropy and strategic giving," she told the outlet. She also has a new production company, Adventure & Fellowship.
Bezos and Sánchez also work together on picking the winner for the Bezos Award for Courage & Civility, which was awarded to Dolly Parton in 2022, giving her $100 million to dole out to charities as she pleased.
But don't expect Bezos to crash the girls' trip. "He'll be cheering us all on from the sidelines," Sánchez said, adding that Bezos is "excited to make this happen with all of these women… He's very encouraging and excited, and he's thrilled we're putting this group together."
Sánchez's nonprofit work includes This Is About Humanity, which helps give supplies to kids separated from their parents at the U.S.-Mexico border, supporting the Bezos Earth Fund, which fights climate change, and working with the Bezos Academy, a system of free Montessori schools.
Bezos told CNN in an exclusive that aired in mid-November that, like many other billionaires have pledged to do, he would give away most of his money.
Ex-wife Scott, meanwhile, has donated over $14 billion since 2019, much of it coming from the settlement with Bezos.
Bezos has always planned on giving his money away, Sánchez told the outlet.
"Jeff has always told me since I've known him that he's going to give the majority of his money to philanthropy," she said.
Here's how small businesses can get funds with a Gold Loan
Starting a new business or growing an existing one can be expensive. There are bills and salaries to pay, equipment to fix and buy, and cashflow to manage. A gold loan can be a great way for small businesses to manage their expenses.
With loan amounts of up to Rs. 2 crore on offer, gold loans come with a fast approval process and flexible repayment options. This makes it easier for people to get money quickly and keep working without stopping, which helps them grow and get more done.
Keep reading to know how taking a gold loan can help small businesses grow.
As the loan is taken against physical gold jewellery, the gold loan interest rates are relatively lower than the unsecured loans. Reputed lenders like Bajaj Finserv also offer an online gold loan EMI calculator. The calculator helps consumers to determine the loan amount depending on the weight and purity of their gold jewellery. Before agreeing to a loan, they can determine the total interest that will be charged and the amount that they can afford to pay back each month.
What makes gold loans a smart choice for borrowers?
Less paperwork: Applying for a loan against gold is one of the easiest to get funds instantly. It only needs KYC documents to prove who you are and where you live. This gets rid of the long, complicated paperwork.
No credit score: If you have no credit history or a low credit score, it might be hard for you to get money through other types of loans. But you do not need credit or a certain CIBIL Score to get a loan against gold. Someone who needs money only needs to have 22 karat gold at his disposal.
Part-release facility: By making equal payments before the end of the loan term, you can "part-release" some of the gold jewellery you pledged as collateral.
Multiple repayment schedules: Many repayment options are available for you to plan your repayment. You can choose to pay the interest monthly, bimonthly, quarterly, semi-annually, or annually at your discretion.
No part-prepayment fee: Most lenders offer competitive rates on gold loans and allow prepayment of any amount, in full or in part, without any penalty.
If you need a gold loan to pay for planned or unplanned expenses, you can look at the one offered by Bajaj Finserv. Get the best value with loan amounts ranging from Rs. 5,000 to Rs. 2 crore and benefits such as free insurance, part-release facility, and more.
Visit the Bajaj Finserv website for more details,
Disclaimer: This article is a paid publication and does not have journalistic/editorial involvement of Hindustan Times. Hindustan Times does not endorse/subscribe to the content(s) of the article/advertisement and/or view(s) expressed herein. Hindustan Times shall not in any manner, be responsible and/or liable in any manner whatsoever for all that is stated in the article and/or also with regard to the view(s), opinion(s), announcement(s), declaration(s), affirmation(s) etc., stated/featured in the same. This information does not constitute a financial advice.
Master The Art Of Showing Confidence At Work: 5 Actionable Tips
Confidence is an often misunderstood trait. Loud, showy and extroverted behaviour can look like self-assurance, but that's not always reality. Sometimes quiet can be confidence, as can humility and unpretentiousness, or owning basic possessions. Without those widely-accepted indicators of confidence in place, you might not realise you have any at all. But confidence is necessary to get where you want to be. It's required to empower a team, stay motivated to work and make those audacious requests.
Yota Trom is a coach on a mission to help leaders in technology connect with their inner confidence. As a coach and the founder of Together in Tech, a London tech meetup that turned into a global network of 6,000 people who build their businesses while supporting each other, Trom has seen first-hand the patterns of self-doubt and imposter syndrome that many leaders experience. Trom started her own career as a software engineer, moving up into senior roles at Amazon and Yahoo before securing her masters in Positive Psychology and Coaching Psychology. She is also a visiting lecturer at University College London (UCL) on the topic of Humanistic Leadership and Management.
By helping her clients realize their potential and understand their self-imposed limitations, Trom has seen them become more confident in their abilities and better able to build on their strengths, leading to more success in their chosen fields. This success has come in the form of huge pay rises, game-changing promotions and complete career pivots. Here's how to make this happen for yourself.
1. Understand what confidence is
Trom believes that confidence is a skill that can be developed. She suggests that people should first identify the areas where they already feel strong and confident, of which, "everyone has at least one area." Once identified, they can spot patterns and build their confidence in other areas.
To do this, think of three areas of your life that you feel good about and know you are doing well. "Confidence is the feeling of recognising that you are good at something," Trom said. So dig into the reasons you feel that way about those things. Perhaps you have developed the skills, you have been doing them for a sustained period of time, or you feel you have a natural talent. However small, unpack your existing confidence in those specific areas.
Next think of "three things that you are less good at, that you think might need improving," and apply the same lens. Why do you feel unconfident about these things? Knowing that you have a track record because you successfully completed those things in the first list, "take that confidence through to the second list, and think about them in the same way." Feelings of confidence in one field can be translated into another once you know how they came to be. Now the gap between where you are where you need to be is clearer, you can work to fill it.
2. Find your inner calm
"Identifying your strengths and maximizing them comes more naturally to some than others," said Trom, "but the most confident people are also the most authentic." They know who they are and they know how they show up, and this is consistent across their week.
Cultivating this consistency and connection starts with self-awareness and leads to creating a plan of action. For the awareness step, Trom advises that you, "close your eyes and try to connect to your centre." Find a sense of calm inside your physical body, maybe by anchoring on your breath. See if you can describe how you feel when you do this, perhaps, "aware, open, peaceful, calm, receptive, clear." Labelling how you feel when you are fully in the present moment means you can get back to this moment when you are next in a challenging situation.
"Your centre is where your confidence exists," said Trom. Being able to revisit this place will help you find that sense of inner confidence that can go awry with stress. Think of the words you came up with and recite them as mantras. Use the words to reconnect with your inner stability and peace.
3. Upgrade your self-talk
Build and demonstrate inner confidence by being conscious of the words you use to describe yourself. Trom encourages her clients to "use empowering words and tell themselves stories that are kind and loving," instead of focusing on their weaknesses.
Think about a recent setback or rejection you dealt with. Notice how you talk to yourself when you feel like you haven't done your best or have missed the mark. "How were you thinking about yourself and your role in what was going on, as you were processing the information?" asked Trom. Do you berate and belittle yourself? Many of us do.
Now, "imagine someone you deeply care about describing how they felt after hearing an adverse reaction to their work or request." Visualize them explaining how rubbish they felt and wishing they had done something different, blaming themselves for not doing enough. "What would you think about them and what would you say to them? Compare the difference in how you treat and reassure them to how you speak to yourself." Trom knows that you were probably kinder and more generous to them. Next time apply the same compassion to your own situation.
4. Work on your assertiveness
The next step to displaying confidence at work is to practice assertiveness so you can speak up for your values and needs. This means knowing what you want and communicating clearly to others "in an assertive yet kind way, without being confrontational."
To get good at this, revisit your centre. Next time you notice someone's defensiveness in response to your request, or you feel uneasy about asking for what you want, ask yourself questions. "What is really bothering me? What do I need? What would make me feel good here?" she said. Ask, "how can I frame this in a way that makes it clear that it's not coming out of anger? How can I communicate more respectfully?"
Trom's advice is to apply empathy to the other person. One of Trom's clients was recently frustrated that taking notes in meetings seemed to always fall to her. Instead of simply venting her frustrations, assuming malice or letting resentment build, Trom advised her client to "suggest that this task was intentionally rotated around participants and create the process for future meetings to ensure everyone got the chance to take the notes. Rather than focusing on the problem and frustration in the role of a victim, channel the energy into the solution and communicate in an assertive way.
5. Reward yourself
Finally, look back and reward yourself for your accomplishments to date. It's so easy to go through our work making incremental progress without stopping to reflect on how far we have come. Celebrations don't have to be grandiose, even a congratulatory journal entry or pre-dinner acknowledgement of the win might be enough.
"We tend to focus on what's coming next: the next goal, the next achievement, and we rarely take the time to look back into what we have achieved so far." But doing so can spark confidence. Trom suggested to diarise acknowledging successes, for example at the end of a hard training period or work sprint. This way, as you are persevering you know there will be a period of reflection coming. It doesn't feel like you'll be labouring away forever. Use the reflection period to notice the strengths you brought forward.
"The most powerful emotion we can harness is love, and loving yourself leads to having the confidence to show up exactly as you are and motivates you to continue striving for success." This starts by acknowledging and celebrating your wins, however small they are, and rewarding yourself accordingly.
Master the art of showing confidence at work
Master the art of showing confidence at work by understanding confidence and what it looks like when it is present, then connecting to your inner sense of calm to find this feeling more often. Upgrade how you talk to yourself when things don't go to plan, practice delivering your words assertively and reward yourself for the wins. The confidence you seek exists within you, now it's time to bring it out.
This school endeavours to unfold scientific and robotic potential of children
Holy Child Public School, Faridabad is an uproar name in the education galaxy, bearing a deep legacy of nearly five decades. Empowered by the team of Ex defence officers and pioneered by Late Captain R K Bhatia and madam Shobha Bhatia in the year 1976 the school has been marching ahead since then with gaiety and vigour. HCPS Sector 29 and Sector 75 have been bragging with academic and non-academic achievements in almost every sphere. The school has produced many district level toppers on regular basis in classes X and XII.
Every year a slew of awards makes their way to the HCPS doorway likeawards and recognition for India's Best School, state-levelgymnastics and tabletennis,most Innovativeschool, state-levelabacus and many more. The school has produced outstanding resultsat district,state andzonallevels in all the games like Volleyball, Table Tennis, Lawn Tennis, Yoga, Athletics and Skating.
The school has a distinguished army band that has brought laurels to school at state, zonal and national levels year after year. HCPS not only focuses on the intellectual development of futuregenerations but also takes care of the emotional, physio-cultural and behavioural development. The HCPIans have always been gathering applauds and laurels for going through NEET, IIIT, NDA and other competitive exams successfully.
The students have regularly won district andstate-level competitions and also qualified forthe national level in the domains of music and dance.
Recently HCPians participated in MUN in which students learnt about diplomacy, international relations and the United Nations.
The highly skilled faculty has been trained with all the 21st-century measures, making students holistic individuals. The infrastructure is not only mesmerising and flooring but also speaks volumes about the alluring methodologies that go inside making our learners inquisitive.
The school in its endeavours to unfold the scientific and robotic potential of the children provides them with contemporary and scientific infrastructure.
Disclaimer: This article is a paid publication and does not have journalistic/editorial involvement of Hindustan Times. Hindustan Times does not endorse/subscribe to the content(s) of the article/advertisement and/or view(s) expressed herein. Hindustan Times shall not in any manner, be responsible and/or liable in any manner whatsoever for all that is stated in the article and/or also with regard to the view(s), opinion(s), announcement(s), declaration(s), affirmation(s) etc., stated/featured in the same.