Meet the World's Richest Dog in Netflix's 'Gunther's Millions'
From millions in real estate to jet-setting around the globe, the world's richest dog is rolling in the dough.
Gunther VI is a German Shepard with a net worth of $400 million. It sounds too good to be true, but Gunther is the heir to his grandfather Gunther III's fortune, also a German Shepard, who was owned by mysterious German countess Karlotta Leibenstein. Before the countess died in 1992, she left her $80 million estate in the paws of the pooch — she didn't have a living heir after her son's tragic death.
Although we know German Shepards are among the smartest breeds, it's unlikely a dog can be trained in finance. So the countess left Gunther's fortune in the hands of Italian pharmaceutical heir Maurizio Mian — a friend of the countess' late son.
Now, 30 years later, Mian has built a lucrative and lavish empire for Gunther's descendants, including a $7.5 million Miami mansion he purchased from Madonna on Gunther's behalf, which was then sold for a profit at $29 million.
Under Mian's care, Gunther's original $80 million inheritance has grown to a whopping $400 million, but not without cost.
Netflix is set to unpack the unbelievable tale and the questionable handling of Gunther's assets in a new four-part investigative docuseries, Gunther's Millions, premiering on February 1.
Keep scrolling for more details about Gunther and the new documentary.
Who is Maurizio Mian?
Before Gunther's bloodline fell into the hands of Mauizio Mian, the Italian entrepreneur was known as the heir to the successful pharmaceutical company Istituto Gentili, which was instrumental in developing a treatment for osteoporosis, according to the Daily Beast.
After going to medical school, Mian became a university professor before assuming the position of Gunther's handler. Under Mian's care, the Gunther Trust was established and now owns several businesses and corporations, including The Burgundians, an entertainment group comprised of rotating aspiring models who sing and dance for the lucky dog.
However, The Burgundians fell apart after Mian allegedly conducted "science experiments" to study happiness, according to the outlet. He went on to buy several sports teams including the Pisa Sporting Club and formed another music group, The Magnificent 5, with the purpose of procreating and birthing ideal humans, according to the outlet.
Related: Who Is Kai the Hatchet-Wielding Hitchhiker? Netflix Unpacks How the Viral Meme Sensation Went From Internet Fame to Convicted Murderer
Is the tale of Gunther's millions real?
Based on a glance at Maurizio Mian's suspicious resume, the entrepreneur's credibility is questionable. As it turns out, the story behind Gunther's riches is a farce that Mian created to avoid Italian tax laws, according to the Daily Beast.
Furthermore, Fox Business notes that there is no evidence that a countess ever existed, and other reports claim that there might be more than one Gunther among us.
Additional reports also show that Mian tended to inflate and change his stories to the press over the years.
Although Gunther's past might be made up, Gunther IV is very much real and currently lives in Italy.
"He has a very nice life and is very well taken care of," Emily Dumay, executive producer of Gunther's Millions, told Fox. "Throughout the years, there were multiple Gunthers. Obviously, Gunther does not necessarily travel or do all the activities — that's something the caretakers do," she added. "So, sometimes they will have stand-ins. They will have a stand-in if they feel it's not appropriate to bring Gunther due to safety reasons. They're also very protective of him."
RELATED: What Did Bernie Madoff Do? Everything to Know About the Disgraced Financier Ahead of Netflix's 'Madoff: The Monster of Wall'
How does Gunther spend his money?
While it's not exactly clear how Gunther amassed his great fortune, or how he swipes his credit cards with his paws, he definitely isn't roughing it.
The hound has an entire staff that waits on his needs, including a private chef who presents him with gold-flake-covered steaks, and both a legal and public relations team, per Forbes. He is also protected by a security team and often visits a high-end groomer, Fox Business found.
Additionally, the film's executive producer told Fox that Gunther's handlers are always looking to expand his empire, and they are currently discussing "a digital collection" that will allow fans to digitally interact with the pooch.
Furthermore, Gunther is said to own multiple mansions and villas, and he prefers to fly private over commercial flights.
5 Steps to Expand Your Vision and Start Living Your Dreams
Opinions expressed by Entrepreneur contributors are their own.
Have you ever settled for less than what you wanted, avoided risks and played it safe? Maybe you had big dreams and ambitions but later convinced yourself that they were too unrealistic or you couldn't achieve them.
It's normal to feel this way, but settling for less than what you genuinely want can lead to a life of regret and unfulfillment. Pursuing something you're passionate about can be gratifying and fulfilling, even if you don't ultimately achieve your goal.
Learn to Build a ChatGPT Bot for Only $30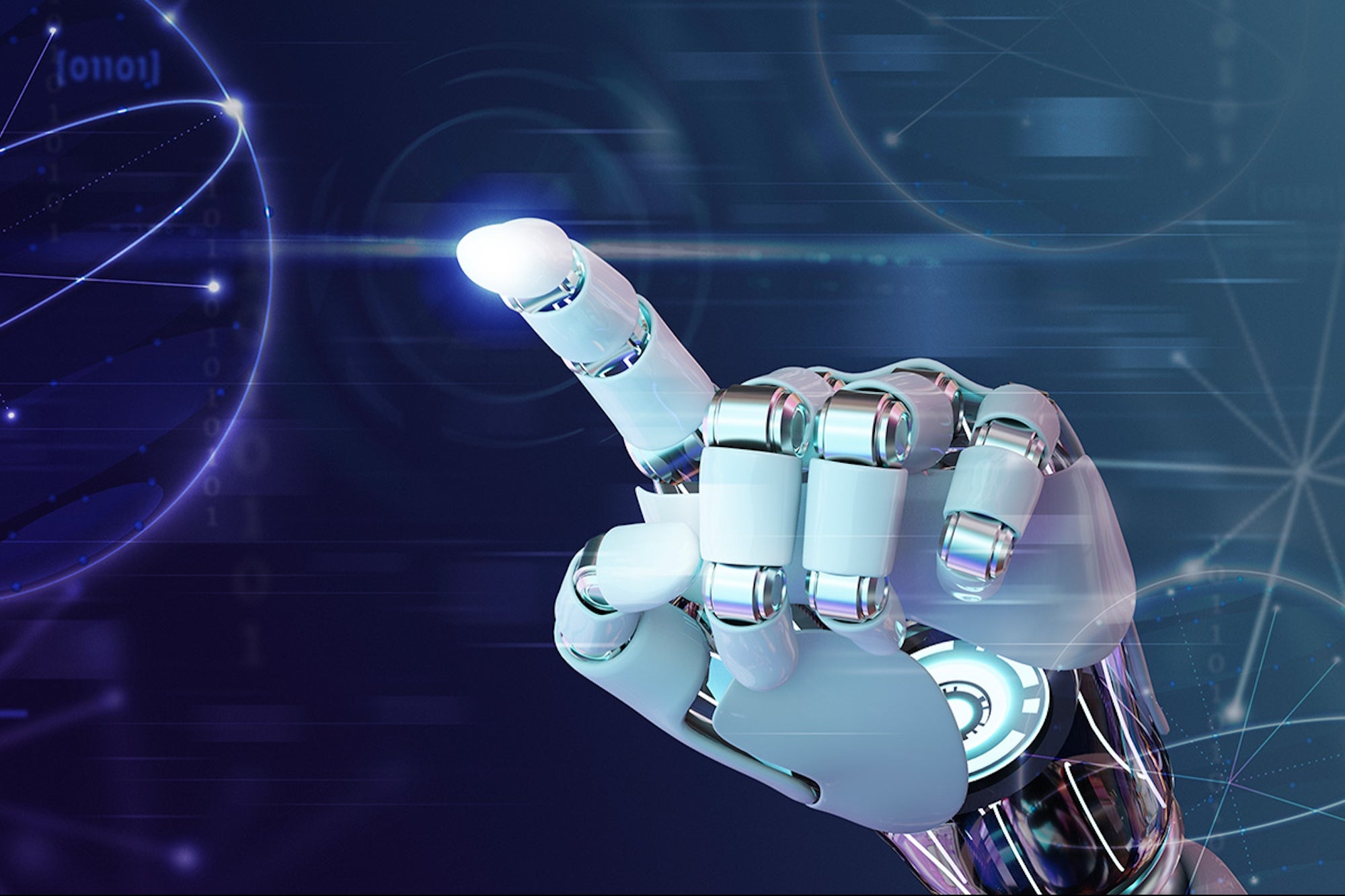 Disclosure: Our goal is to feature products and services that we think you'll find interesting and useful. If you purchase them, Entrepreneur may get a small share of the revenue from the sale from our commerce partners.
ChatGPT has already been called the smartest AI chatbot released, and it only took five days for the chatbot to accrue a million visitors. AI might be poised to change everything, but you could also learn how to use it for your own business.
The 2023 Ultimate AI ChatGPT and Python Programming Bundle shows you how to build your own ChatGPT AI bot, learn to code, and more. If you want to see what AI can do for your business, grab this course bundle for only $29.97 during our Spring Digital Blowout.
ChatGPT can help you write in a variety of coding languages. Python 3 is used to write code for machine learning and AI, and you can start learning the basics in Python 3: From ZERO to GUI Programming.
Once you have some expertise with Python, start learning to use Python Tkinter, a tool that you can use to program your own ChatGPT bot. Hugo Ferro teaches Python Tkinter from Beginner to Winner, a one-hour course that can help you explore the best practices for coding and learn about event-driven programming.
When you're ready to create your own ChatGPT AI bot, there are two final courses to take to show you how it's done. One will walk you through creating multiple Tkinter projects, while the other shows you how to correct your code. You may not be a master of Python yet, but you also might not have to be: open your OpenAI account and ask ChatGPT to correct your code for you.
Enhance your skills and learn how to build an AI chatbot that does what you want with the AI ChatGPT and Python bundle on sale for $29.97 (Reg. $2,786) through April 3 at 11:59 pm PT.
Prices subject to change.
If You Have a Business, You Have Passwords to Manage
Disclosure: Our goal is to feature products and services that we think you'll find interesting and useful. If you purchase them, Entrepreneur may get a small share of the revenue from the sale from our commerce partners.
Working your way up to starting your own business is challenging, so it makes sense that many early startups are lean in terms of size and resources. While an IT team might be limited, the need for security and reliability remains as important as ever.
Enter Dashlane. Dashlane helps streamline data security for companies of all sizes. It's a password management platform that is trusted by over 20,000 companies — and for good reason: Dashlane keeps users' data private and safe with best-in-class security.
Dashlane encrypts all customer data with AES-256 encryption—the first open-cipher approved by the NSA to be made accessible to the public that protects information at a "Top Secret" level. Dashlane also uses ARGON2, cutting-edge cryptography features, and automatic user-vault updates to keep your data as safe as possible.
When you set your team up with Dashlane, you'll save time and energy with easy deployment, end-to-end protection, and compatibility with G Suite, Microsoft, and several other identity providers. You'll also get proactive breach notifications for everyone in your organization, and you can ensure maximum protection through effortless 2FA enforcement.
There are many examples of how your Dashlane membership will save you and your business time. With Dashlane, you can access and manage all of your passwords in one place. You can share unlimited passwords without actually revealing them, and you can access accounts easily with seamless autofill features. A user can also store financial, medical, and personal information in their Dashlane vault.
With its never-been-breached record, Dashlane maintains impressive average ratings of 4.5/5 stars on Trustpilot from over 4,000 reviews and 4.5/5 stars on the Google Play store from more than 175,000 reviews. It was also named App of the Day on the App Store.
For more specific success stories, head to Dashlane's website and learn how it helped organizations like Mercy Medical, which reported that it sped up access to its systems by 60 percent after signing up while improving both cybersecurity posture and HIPAA compliance. You also might enjoy the excellent case study chronicling how Dashlane helped RevGenius reduce its offboarding risks.
Looking to try Dashlane for your business? Start a free trial today.