Rackonnect: A name synonymous to Indian Racket sports focused on Badminton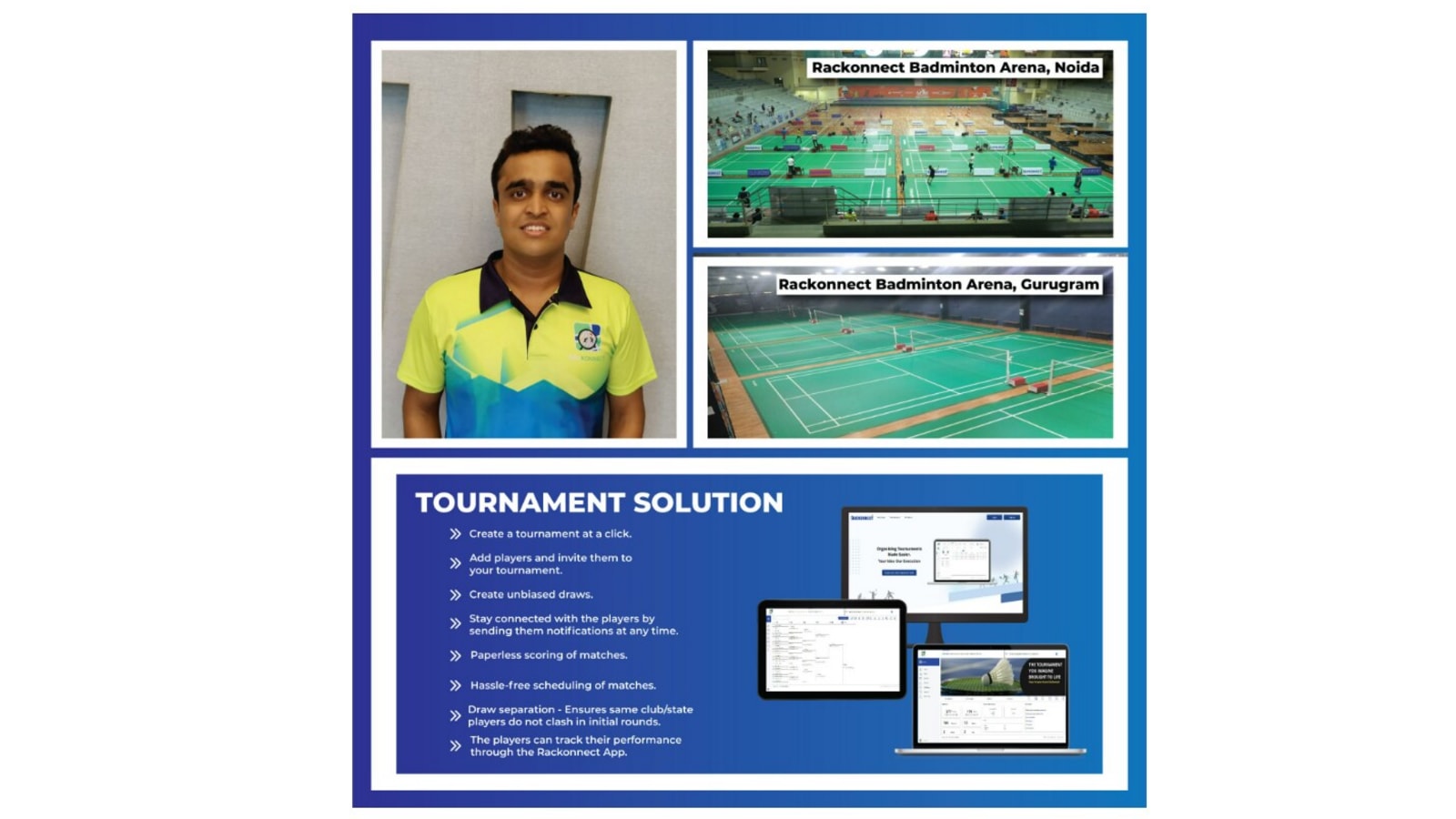 Bringing popularity to a fast growing sport globally.
Creating the latest state of the art Badminton Arenas in NCR region of Delhi.
Specialized coaching, training and competitive opportunities for upcoming players.
Providing affordable and advanced equipment for playing badminton.
Tech based software to manage tournaments and rank players based on performance.
Racket sports refer to any sport that involves the use of a racket. Some of the sports that come under this category are badminton, tennis, squash, table tennis and pickleball among others. While many Indian sportspersons have achieved great things in this sport category, there was a dearth of a strong system that would help players, who are interested in racket sports, to get the kind of opportunities they deserve.
To bridge this gap, Dhruv M. Bagla founded Rackonnect which has emerged as India's first one-stop destination for all those who play racket sports. The mission of Rackonnect is to put together an elaborate sports community that would inspire and motivate racket sports fanatics to create a name for themselves in this space, while helping improve mental and physical fitness.
Talking about the vision behind Rackonnect, founder Dhruv M. Bagla says, "As we all know, India is a cricket-crazy nation. That is a great thing as very few countries have the kind of clout India has in this space. However, promoting other sports is equally important. We have designed Rackonnect as a hyperlocal sports-tech platform that aims to create a powerful impact on India's racket sports community which is quite big. Our goal is to make racket sports accessible to everyone regardless of their age, gender and economic background."
Rackonnect has been strengthening the racket sports ecosystem through infrastructure development and distribution of equipment. By combining sports and technology, the company is focussing on empowering grassroot-level players and helping them achieve their goals and ambitions. While the vision of the company is to raise awareness of racket sports and make racket sports available to all, its strategy is to provide a competitive platform through tournaments to scout and nurture promising players.
Elaborating on this, Dhruv says, "One of our USPs is the Rackonnect Tournament Solution. The kind of facilities we are providing players, coaches and others is the kind no other company or individual has offered in India till date. We organize tournaments without making the stakeholders go through hectic paperwork. Tech being the backbone of the company, has enabled users to do all their tasks online which they would otherwise do on paper, thereby simplifying the task of managing an event, thereby making events more competitive. We spent hours making algorithms that would automate things such as draw seeding and separation, automated match scheduling, real time updates, and many more. We are implementing methods and proposals that would make everything that happens in the racket sports space more transparent and organized."
At the moment, Rackonnect has five badminton arenas located in Delhi/NCR. Its badminton arena at Noida Indoor Stadium is a sight to behold. It features 10 BWF-approved wooden cum synthetic courts, a sitting capacity of 5,000 people, free parking, healthy cafe and shower facility. Having ventured into the infrastructure space in June 2021, rackonnect is confident of a fast-paced expansion journey wherein by 2025 they plan to have 50 state of the art facilities in North India. "The vision of making North India the biggest hub for badminton may seem far sighted, but the support and encouragement we have got in a short span will definitely make this vision come true," adds Dhruv.
Apart from offering event bookings for corporate, institutions and international accredited tournaments, Rackonnect assures you of wider reach, increased efficiency, reduced time and cost and helps players build their tournament portfolio. For offering racket sports coaching, the company has joined hands with Padukone Sports Management which is helmed by badminton legend Prakash Padukone. In the near future, Rackonnect plans to come up with several unique initiatives that would propel the growth of the racket sports community forward.
Apart from focusing on several initiatives for the enhancement of racket sports, Rackonnect has also introduced a social initiative by the name of Racket for All to encourage prospective racket sports enthusiasts who are unable to pursue the sport due to social and economic restrictions. Rackonnect organizes regular workshops, tournaments, equipment donation drives to ensure exposure for these athletes.
Lastly, Dhruv Bagla added, "This year is going to be a big one for the entire Rackonnect team due to several expansion plans and Rackonnect strives to support the growth of professional players and wants to be a part of the journey for glory".
Disclaimer: This article is a paid publication and does not have journalistic/editorial involvement of Hindustan Times. Hindustan Times does not endorse/subscribe to the content(s) of the article/advertisement and/or view(s) expressed herein. Hindustan Times shall not in any manner, be responsible and/or liable in any manner whatsoever for all that is stated in the article and/or also with regard to the view(s), opinion(s), announcement(s), declaration(s), affirmation(s) etc., stated/featured in the same.
Your Company's Responsible Guide to Staying Profitable in a Recession
Opinions expressed by Entrepreneur contributors are their own.
The recent trend of easy money and exorbitant valuations has skidded to a halt amid recent economic volatility. Understandably, many companies rode that wave as long as they could, but in doing so many prioritized growth over sustainability and sound leadership. Layoffs continue to ripple through the tech ecosystem, so employees both in this sector and elsewhere are feeling the consequences.
Having to let go of staff members is all but unavoidable in a company's lifecycle, but there is always more that can be done to keep businesses afloat while preserving morale. Strategies can include responsible budgetary decision-making, thoughtful and prudent responses to external pressures and transparent dialogue with employees, to name a few. Such actions can help companies remain healthy, productive and profitable, even as they navigate challenging waters.
This is What You Need in Your 5-Year Marketing Plan
Opinions expressed by Entrepreneur contributors are their own.
We've all heard the interview question, "Where do you see yourself in five years?" Marketers routinely take that question and apply it to their marketing strategies. They figure out what they want to achieve and then develop actionable steps to get there. Keep in mind, these plans aren't designed to be all-encompassing. They serve as a guidebook for different scenarios while getting the team thinking about what they'd like to accomplish long-term.
Your five-year plan is a way to build an overarching metric for how you're doing — or how you plan to do over the next half-decade. There are many things to consider when building your plan — here are a few to look at carefully:
The 3 key buckets
A successful five-year marketing plan should fixate on three main questions:
What assumptions can you make about the next five years within your company?
What goals do you want to achieve?
What are the metrics you'll use to measure those goals?
Assumptions are what you think won't change in the business over the next five years. For example, you might assume that you will continue using particular vendors or that packaging costs will remain stable. From there, you can determine your goals — like boosting sales by 50% or converting 10,000 new customers. The metrics that measure your progress might be units sold or your company's market share. It's essential to include both readily-accessible metrics — such as website views — and brand metrics that might be a bit harder to come by, such as the associations your customers have made with your products or company.
Importantly, there's no "right" or "wrong" when it comes to answering these questions. Every business has its own vision, resources and position, which all influence its marketing strategy. The aim is to develop a plan that will produce the most desirable outcome for you, rather than worrying about what other businesses have the capacity to do.
Related: Use These 5 Steps to Create a Marketing Plan
Narrowing your focus
Just like consumer preferences, marketing tactics are constantly shifting. Social media demonstrates this well. Because social media platforms have skyrocketed over the past two decades, marketers no longer rely solely on traditional platforms such as print or television ads. And even within social media, things aren't constant. TikTok has become one of the fastest-growing platforms, quickly overtaking Facebook.
With so many options, your marketing plan must keep a narrow focus. For some companies, TikTok doesn't matter. They can't yet measure the return they're getting from the platform, so this isn't exactly a feasible opportunity. Don't be tempted to try everything or be everywhere. It's a matter of isolating what you practically can use to give you the insights that will help you.
Two questions will help focus your strategy:
How do your goals compare to last year?
What are you striving for (e.g., enhancing the brand vs. increasing brand awareness)?
How you answer those questions will help you identify where and how to focus your efforts so you don't get lost in a bunch of small, irrelevant tactics.
Using your budget
Most people think of budgets as being stable or hard data — but almost all companies work with unknowns. In reality, the best they can do is come up with an educated guess that seems to make sense – a ballpark range. Because nobody can plan with certainty for every scenario — and because it's so easy to become overwhelmed with an infinite range of outcomes — it's advisable to lean on a few key financial assumptions and build a strategy around those.
Once you have a budget figure to work with, create high and low projections for everything you want to do. Let's say the aim is to get to 50% brand awareness. What would your plan look like if you exceeded that and got to 75%? Alternatively, what would you do if awareness went down to 25%? Creating these high and low projections will let you design a more flexible approach and avoid being caught too off guard.
As you come up with your main scenarios and high-low projections, think about the key internal drivers you'll need to address next year. Consider the risks, and assess whether you'll have the data, technology and skills to develop and maintain what you expect to put forward. Keep in mind that it's more important to pivot when issues come up than to predict what's going to happen accurately.
Related: 4 Tips for Developing a Marketing Plan That Will Actually Grow Your Business
Paint flexibly within your broad strokes
A five-year marketing plan paints a broad, long-term picture of how you'll communicate with your audience while giving details about your projected products or services. It includes assumptions and factors that aren't necessarily static, so you have to approach it with a grain of salt and be ready to shift gears if the plan doesn't work.
Even so, if you stick to three key buckets (assumptions, goals and metrics), keep your tactical focus narrow and incorporate multiple projections in your budget, you should end up with a strategy that blends the data and flexibility needed to strive in a changing world. Because annual marketing plans need to connect to your long-term marketing vision, let the annual marketing meetings serve as check-in points to keep your longer-term marketing plan relevant and viable.
Lauren Sánchez Is Heading to Space on a Girls Trip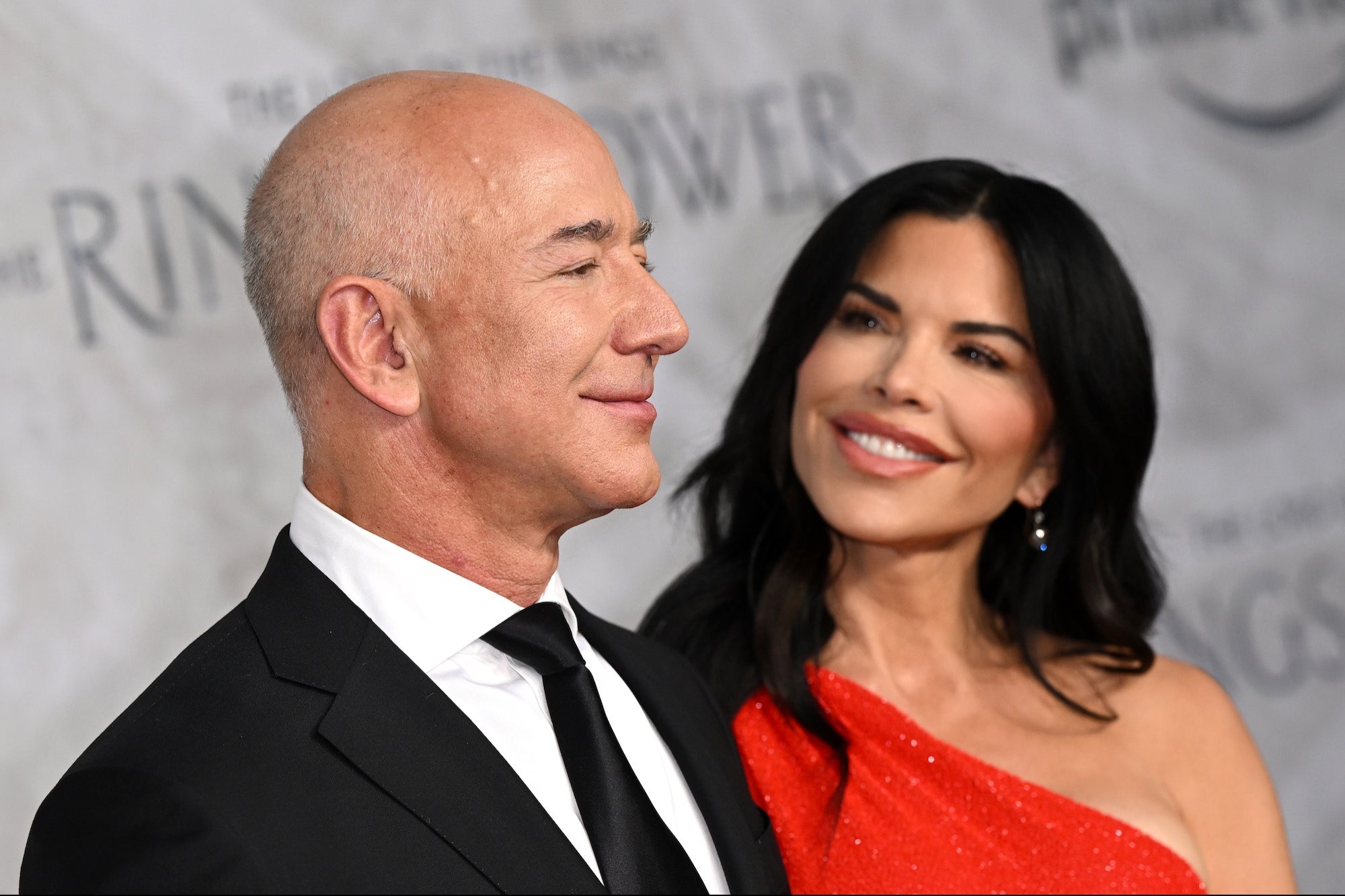 Sorry, Jeff — this one is for the girls.
Jeff Bezos' girlfriend, Lauren Sánchez, said in a new interview with the Wall Street Journal that she planned to take an all-female trip to space with the Amazon founder's space manufacturing company, Blue Origin.
Five women will join her on the journey.
"It's going to be women who are making a difference in the world and who are impactful and have a message to send," she told the outlet.
The mission is set for early 2024, and the passengers' names will be announced at a later date.
The WSJ's report was Sánchez's first solo interview, the outlet noted, since her relationship with Bezos went public in 2019, shortly after his divorce announcement from now ex-wife, MacKenzie Scott.
The interview also talks about Sánchez's relationship with Bezos and the business advice he's given her (keeping meetings under an hour, speaking last as a boss).
Sánchez is a former broadcast journalist and a helicopter pilot who founded her own filming company Black Ops Aviation, per Insider.
"Right now, I'm immersing myself in philanthropy and strategic giving," she told the outlet. She also has a new production company, Adventure & Fellowship.
Bezos and Sánchez also work together on picking the winner for the Bezos Award for Courage & Civility, which was awarded to Dolly Parton in 2022, giving her $100 million to dole out to charities as she pleased.
But don't expect Bezos to crash the girls' trip. "He'll be cheering us all on from the sidelines," Sánchez said, adding that Bezos is "excited to make this happen with all of these women… He's very encouraging and excited, and he's thrilled we're putting this group together."
Sánchez's nonprofit work includes This Is About Humanity, which helps give supplies to kids separated from their parents at the U.S.-Mexico border, supporting the Bezos Earth Fund, which fights climate change, and working with the Bezos Academy, a system of free Montessori schools.
Bezos told CNN in an exclusive that aired in mid-November that, like many other billionaires have pledged to do, he would give away most of his money.
Ex-wife Scott, meanwhile, has donated over $14 billion since 2019, much of it coming from the settlement with Bezos.
Bezos has always planned on giving his money away, Sánchez told the outlet.
"Jeff has always told me since I've known him that he's going to give the majority of his money to philanthropy," she said.