Gov. Tate Reeves Crumbles As Jake Tapper Confronts Him With Mississippi's US Leading COVID Death Rate
Gov. Tate Reeves (R-MS) didn't have an answer as CNN's Jake Tapper confronted him over and over again about his state's COVID death rate.
Video:
Gov. Tate Reeves (R-MS) says he is not going to change anything as Jake Tapper presses him on Mississippi having the highest COVID death rate in the US. (Reeves is the same governor who sold the upside of COVID as people get to go to heaven.) pic.twitter.com/19kOn24ran

— Sarah Reese Jones (@PoliticusSarah) September 19, 2021
TAPPER Are you going to change anything?
(CROSSTALK)
REEVES: That's just not true. That is not a fact.
TAPPER: I understand. I understand. But you're — you're…
REEVES That is just not true.
And so what you're going to see…
TAPPER: Mr. Governor, my point is this.
REEVES: What you're going to see, Jake, is the…
TAPPER: You compare yourself to Israel. Israel has something like the…
REEVES: … Delta variant is going to continue to move around the country.
TAPPER: Yes.
REEVES And you're going to see fatalities rise in other states.
And so here's what we need to focus on, Jake, OK? Let's focus on this.
TAPPER: But my question is, what are you going to do to change…
REEVES The best way in which America…
TAPPER: What are you going to do to change this?
REEVES The best way that Americans — the best way — the best thing for Americans to do to protect themselves from the virus — and, again, we believe in personal responsibility.
Individual Americans and individual Mississippians…
TAPPER: So, you're not going to change anything?
The Republican Policy Is To Kill People With COVID
Tate Reeves is the same governor who sold the upside of dying from COVID as getting to go to heaven, so it is not a shock that he would have no interest in enacting policies that would save lives.
Doing nothing and killing people with COVID is the Republican policy. Republicans are still following the lead of Donald Trump, who did nothing during the pandemic except making false promises that COVID would be going away.
Republicans aren't going to lift a finger to stop Americans from needlessly dying.
The interview with Gov. Reeves illustrates why President Biden had no other choice but to impose a vaccine mandate where he has the power and authority to do so.
Mr. Easley is the managing editor. He is also a White House Press Pool and a Congressional correspondent for PoliticusUSA. Jason has a Bachelor's Degree in Political Science. His graduate work focused on public policy, with a specialization in social reform movements.
Awards and  Professional Memberships
Member of the Society of Professional Journalists and The American Political Science Association
Penn Badgley Flexes New Dance Moves
"It feels good," the actor Penn Badgley said on a recent Friday morning, in an echoing studio at the Mark Morris Dance Center in Brooklyn. "I'm clumsy as hell. But it feels good."
Mr. Badgley, 34, who played lonely boy Dan on the original "Gossip Girl" and now stars on the Netflix thriller "You," hadn't visited a gym in two years. He hadn't taken a dance class in far longer.
But at a fashion shoot a month before, he had found himself moving in tandem with the photographer and missing dance acutely. So he reached out to André Zachery, his gyrotonics instructor and the artistic director of Renegade Performance Group, a contemporary dance company in Brooklyn. Mr. Zachery was willing to put him through his paces.
In the yawning dance studio, mirrors lined one wall. Ice-white tube lights glared overhead. Mr. Badgley had dressed for class in a villain-black T-shirt and shorts. A luxurious dad beard and a corona of mink-brown hair framed his face.
They began with a warm-up: stretches, lunges, isolations of the neck, shoulders, chest and hips. Roy Ayers's "Everybody Loves the Sunshine" set the groove; Mr. Badgley, his brooding face etched into a frown, inhaled and exhaled in time, rolling his spine down and up.
Mr. Zachery integrated the stretches into a simple routine, and Mr. Badgley lumbering and somewhat stiff, like a bear who hadn't fully shaken off hibernation, danced his way through the initial eight count, then repeated the steps again.
"All right, not bad," Mr. Zachery said encouragingly. "You want to go a little faster?"
Mr. Badgley paused to tie his hair back with a blue-and-white bandanna. He asked to take it slow again. "As much as I love to move and I love to dance, it's not a language that I speak regularly at all," he said. "So even just getting into this feels great. But it also feels very clumsy."
Mr. Zachery reassured him, gently countering Mr. Badgley's perfectionism. "Be imperfect with this," he said.
As Mr. Zachery prepared the next combination, the track switched to Donny Hathaway's "The Ghetto," and Mr. Badgley's face stern face split into a smile. "This is one of my kid's favorite songs," Mr. Badgley said. "He loves classic soul."
Last summer, Mr. Badgley and his wife, Domino Kirke, welcomed a son. (They also share custody of Ms. Kirke's son from an earlier relationship.) On "You," Mr. Badgley plays Joe, the sociopath next door. Joe has also had a son with his wife, Love (Victoria Pedretti), who has a body count of her very own.
In the third season, which premieres on Oct. 15, Joe muses about his new life in a Bay Area suburb. "Me, a boy and his mom, who is usually great, but occasionally murders people with her bare hands," Joe says. "What could go wrong?" A lot, it turns out.
Mr. Badgley has some experience playing characters with dark motives. The final episodes of "Gossip Girl" revealed that Dan, the Deuxmoi of his day, had surveilled his friends and lovers, uploading their secrets to the pre-Instagram internet.
Making the show was, as Mr. Badgley described it, "an existential endurance test." As a 20-something, he struggled with the glitzy ethos of the series. Fans' failure to differentiate between him and Dan nagged at him, too. "I wouldn't recommend fame to anybody," he said. "It just doesn't make anything better or help it make more sense. It doesn't help you as a person."
When "Gossip Girl" ended in 2012, he spent half of a decade shooting indie movies and touring with his band, MOTHXR. He wasn't sure he wanted to return to mainstream TV and he had further doubts about Joe, a character who imprisons, tortures and kills women (and the occasional interfering man), all in the name of true love. Boy gets girl? Absolutely.
Still, he thought that "You" had something to say about the tropes of romantic love and the queasy nexus of desire, power and abuse. Many viewers responded a lot more swoonily and for a while Mr. Badgley took time to razz fans asking to be kidnapped. ("No thx," he replied.) Now he tries to focus on the work itself, which he likens to a dance, "a torturous and ugly dance."
Back in the studio, Mr. Badgley was trying to dance more beautifully. He can become overwhelmed by his own thoughts, he said, so Mr. Zachery introduced a guided meditation, occupying Mr. Badgley's mind so that his body could move more freely.
As Robert Glasper's cover of "Smells Like Teen Spirit" played, he had Mr. Badgley imagine himself at the beach, his body buoyed by the waves. They also played a game of avant-garde Twister, in which had Mr. Badgley had to keep either both hands and one foot on the floor, or both feet and one hand.
"Yo, man," Mr. Zachery said approvingly. "You're actually more in your body than you think."
Finally, at a suggestion from Mr. Badgley, he switched the music to "Promises," a mellow album from Floating Points, Pharoah Sanders and the London Symphony Orchestra. The two men began to move across the floor together, limbs slowly cartwheeling as they improvised. Politely, Mr. Badgley asked to turn the music up.
"Now we're dancing," he said, back arched, head tipped back, arms like wings. "It feels so good."
Beyond Chucky: Frightening Alternatives for Halloween TV
The approach of Halloween brings an influx of horror to television and streaming, and this year the offerings have a classic appeal: reboots of "Chucky" on Syfy and USA, "Day of the Dead" on Syfy and of "I Know What You Did Last Summer" on Amazon Prime Video. But if the familiar delights of those franchises — and the campiness or melodrama that come with them — don't appeal to you, here are a few recent or coming series that are scary with a difference.
This is the third horror mini-series Mike Flanagan has created for Netflix, following "The Haunting of Hill House" (based on the Shirley Jackson novel) and "The Haunting of Bly Manor" (based on Henry James's "The Turn of the Screw"). "Midnight Mass" has the same emphasis on chilly, foreboding atmosphere as the earlier shows, but it seems to benefit from not being tied to a specific literary source. (There's a general aura of Stephen King.) Especially in its early episodes, it feels looser and quirkier and more human.
A lot of the credit for that goes to the stars, Zach Gilford and Hamish Linklater. Gilford plays a native of a small, isolated coastal island who returns home after a stretch in jail for killing someone while driving drunk; Linklater plays a cleric who arrives at the same time, as a temporary replacement for the island's aging priest.
Gilford perfectly captures the prodigal son's hangdog guilt and resentment — it's a far better performance than the show needs — and Linklater, with his gift for boyish pomposity, is entertaining as the well-intentioned priest who brings ruin to the island. Flanagan's mix of Christian and vampiric lore and imagery is clever, though the later episodes are a little heavy on sermonizing and philosophical exposition. Patience is rewarded with a long cleansing by blood and fire.
The streaming service Topic will premiere this French mini-series in the extreme-crime-thriller category, which makes up a relatively high percentage of northern European TV, on Oct. 28. A reckless police officer (Maïwenn) disappears while on a stakeout in the tunnels beneath Paris, and her mother (Nathalie Baye), a retired detective, sets out to find her in a story involving dirty cops, dark-web thrill seekers, mass graves and chases through very cramped spaces. It is not for the claustrophobic.
As grim and tense as the show sometimes is, though, the really frightening thing about it is Baye, a superstar of French film (10 Cesar nominations, four victories), who appears to be having a blast as Catherine, the domineering, foul-mouthed, relentless ex-cop. An onscreen avatar of capability and insouciance since the early 1970s, Baye looks perfectly at home wielding a tattoo pen against a reluctant suspect or tasering her daughter's ex-lover just because she feels like it. Baye also takes the trouble, not common in this genre, to give a fully developed performance, as the case's startling revelations give Catherine perspective on her faults as a mother and as a police colleague. As a bonus, the show reunites Baye with Sergi López, her co-star in "A Pornographic Affair" (1999); their grumpy exes in "Nox" could be the same characters two decades later.
USA's psychological crime drama stops just short of the supernatural, but it specializes in dread and weird vibes. Harry Ambrose, the broken-down cop played for four seasons now by Bill Pullman, is ridden by guilt, shame and feelings of inadequacy — he's the real sinner of the title, at least in his own mind — so naturally, he stumbles onto season-long cases involving secret societies or cults or Nietzschean psycho killers. We know he'll solve them, because he's a dogged and gifted detective. But on any given day, it's no sure thing that he'll be able to drag himself out of bed.
In the new season that began this week, the unlikely romance Harry found in Season 3 has blossomed, which is great news because his partner, the painter Sonya Barzel, is played by the wonderful Jessica Hecht. Her ability to convey both astringency and warmth, sometimes in the same line, puts a new light on Pullman's Harry, who can sometimes seem like a collection of tics and grimaces and awkward silences — now we see him through Sonya's eyes, and if she can put up with it, so can we. The season opens with the new couple on vacation on a picturesque New England island where Harry, who's now retired, stumbles almost immediately into the middle of a missing-persons case that may involve racial animosities in the fishing fleet and grunting, naked moon worshipers.
This anthology of animated ghost stories is a Japanese analogue to comics-inspired American series like "Creepshow." Its ninth season was recently added by the anime streaming service Crunchyroll, but catching up would not be onerous: Episodes are four minutes long.
The rough, slightly rudimentary two-dimensional animation — like paper cutouts set in motion — pays homage to the kamishibai style of street storytelling and entertainment, which employs illustrated wooden boards. Stories are based on the usual assortment of Japanese folk tales and urban legends; the most recent batch includes cautionary tales about the dangers of visiting your new husband's unusually tall family or being born in the (nonexistent) Year of the Cat.
Biden leans more on Obama with White House under pressure from multiple crises
President Biden appears to be leaning more on his former boss as the White House comes under increased pressure to improve the nation's economy and outlook on the future of the Democratic Party.
Former President Obama will attend the United Nations COP26 climate summit in Glasgow, Scotland, early next month to highlight the "important progress" made with climate change since the Paris Agreement took effect. Meanwhile, President Biden and his Cabinet participate in the World Leader Summit in Glasgow on Nov. 1 and 2 at the beginning of the 26th Conference of the Parties to the UN Framework Convention on Climate Change. 
It is unclear whether Obama will participate in any meetings or events with Biden and his Cabinet officials. Earlier this year, the White House said Biden and Obama spoke "regularly" about a "range of issues" as well as personal matters but did not disclose the frequency of those conversations.
Obama will also campaign with Virginia gubernatorial candidate former Gov. Terry McAuliffe in the state capital city of Richmond a week from Saturday, on Oct. 23. 
PSAKI, DOJ IN DAMAGE CONTROL MODE AFTER BIDEN DEFENDERS SAYS SUBPOENA DEFIERS SHOULD BE PROSECUTED
An average of the latest polls in the race indicates that McAuliffe – who's running for his old job – holds a slight, single-digit edge over Republican nominee Glenn Youngkin in a state that Biden won by 10 points in last year's election and where Republicans haven't won a statewide contest in a dozen years. 
While Obama is the biggest name to join McAuliffe in the coming days ahead of Virginia's Nov. 2 election, the former governor will also campaign with First Lady Jill Biden on Friday in Richmond.
BIDEN PAYS TRIBUTE TO FALLEN POLICE OFFICERS, TELLS FAMILIES THAT 'YOUR LOSS IS AMERICA'S LOSS'
McAuliffe's lead over Youngkin, a first-time candidate and former CEO of a large private equity firm, started shrinking over the summer amid the sinking of Biden's approval ratings.
Obama also recently defended Biden's $3.5 trillion spending bill in a September 27 interview with ABC's "Good Morning America."
"You're talking about us stepping up and spending money on providing childcare tax credits — making those permanent to help families, who for a long time, have needed help," Obama told the outlet. "You're looking at making our infrastructure function more efficiently … you're talking about rebuilding a lot of buildings, roads, bridges, ports so that they are fortified against climate change. And also, that we start investing in the kinds of energy efficiency that's going to be required to battle climate change."
CLICK HERE TO SEE THE LATEST FOX NEWS POLLING RESULTS
It is unclear whether the duo's upcoming overlap is part of a broader campaign to win more support for Biden and the Democratic Party ahead of the 2022 midterm elections. The White House did not immediately respond to an inquiry from Fox News.
The president's approval rating stood at just 38%, with disapproval at 53%, in a Quinnipiac University survey released on October 6 — down from a 42%-50% approval/disapproval rating in a September Quinnipiac survey.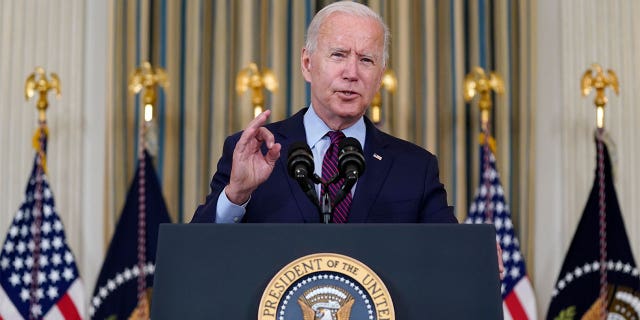 #EMPTYSHELVESJOE TRENDS ON TWITTER AMID BIDEN'S SUPPLY CHAIN CRISIS
Biden's approval rating hovered in the low-to-mid-50s during his first six months in the White House. But the president's numbers started sagging in August, in the wake of Biden's much-criticized handling of the turbulent U.S. exit from Afghanistan, and following a surge in COVID-19 cases this summer among mainly unvaccinated people due to the spread of the highly infectious delta variant, as the nation continues to combat the coronavirus, the worst pandemic to strike the globe in a century.
The plunge in the president's approval was also compounded by the latest surge of migrants trying to cross into the U.S. along the southern border with Mexico.
CLICK HERE TO GET THE FOX NEWS APP
The president stands at 45% approval and 49% disapproval in an average of all the most recent polls compiled by Real Clear Politics.
Fox News' Brooke Singman contributed to this report.