Opinion | The Biggest Threat to America Is America Itself
"America is back" became President Biden's refrain on his European trip this month, and in a narrow sense it is.
We no longer have a White House aide desperately searching for a fire alarm to interrupt a president as he humiliates our country at an international news conference, as happened in 2018. And a Pew Research Center survey found that 75 percent of those polled in a dozen countries expressed "confidence in the U.S. president to do the right thing," compared with 17 percent a year ago.
Yet in a larger sense, America is not back. In terms of our well-being at home and competitiveness abroad, the blunt truth is that America is lagging. In some respects, we are sliding toward mediocrity.
Greeks have higher high school graduation rates. Chileans live longer. Fifteen-year-olds in Russia, Poland, Latvia and many other countries are better at math than their American counterparts — perhaps a metric for where nations will stand in a generation or two.
As for reading, one-fifth of American 15-year-olds can't read at the level expected of a 10-year-old. How are those millions of Americans going to compete in a globalized economy? As I see it, the greatest threat to America's future is less a surging China or a rogue Russia than it is our underperformance at home.
We Americans repeat the mantra that "we're No. 1" even though the latest Social Progress Index, a measure of health, safety and well-being around the world, ranked the United States No. 28. Even worse, the United States was one of only three countries, out of 163, that went backward in well-being over the last decade.
Another assessment this month, the I.M.D. World Competitiveness Ranking 2021, put the United States No. 10 out of 64 economies. A similar forward-looking study from the World Bank ranks the United States No. 35 out of 174 countries.
So it's great that we again have a president respected by the world. But we are not "back," and we must face the reality that our greatest vulnerability is not what other countries do to us but what we have done to ourselves. The United States cannot achieve its potential when so many Americans are falling short of theirs.
"America's chronic failure to turn its economic strength into social progress is a huge drag on American influence," said Michael Green, chief executive of the group that publishes the Social Progress Index. "Europeans may envy America's corporate dynamism but can comfort themselves that they are doing a much better job on a host of social outcomes, from education to health to the environment.
"Rivals like China may see the fraying of America's social fabric as a sign of strategic weakness," he added. "Emerging economies, whose citizens are starting to enjoy quality of life ever closer to that of Americans, may be less willing to take lectures from the U.S. government."
Biden's proposals for a refundable child credit, for national pre-K, for affordable child care and for greater internet access would help address America's strategic weaknesses. They would do more to strengthen our country than the $1.2 trillion plan pursued by American officials to modernize our nuclear arsenal. Our greatest threats today are ones we can't nuke.
America still has enormous strengths. Its military budget is bigger than the military budgets of the next 10 countries put together. American universities are superb, and the dynamism of United States corporations is reflected in the way people worldwide use their iPhones to post on their Facebook pages about Taylor Swift songs.
But they also comment, aghast, about the Capitol insurrection and attempts by Republicans to impede voting. American democracy was never quite as shimmering a model for the world as we liked to think, but it is certainly tarnished now.
Likewise, the "American dream" of upward mobility (which drew my refugee father to these shores in 1952) is increasingly chimerical. "The American dream is evidently more likely to be found on the other side of the Atlantic, indeed most notably in Denmark," a Stanford study concluded.
"These things hold us back as an economy and as a country," Jerome Powell, the chair of the Federal Reserve, said Tuesday.
More broadly, the United States has lost its lead in education overall and in investments in children. The World Bank Human Capital Project estimates that today's American children will achieve only 70 percent of their potential productivity. That hurts them; it also hurts our nation.
We can't control whether China builds more aircraft carriers. We can't deter every Russian hacker.
But to truly bring America back, we should worry less about what others do and more about what we do to ourselves.
Emmy Awards 2021 Live Updates: Cedric the Entertainer to Host
Sept. 19, 2021, 6:00 p.m. ET
Sept. 19, 2021, 6:00 p.m. ET
Vanessa Friedman
Chief fashion critic
The Emmys red carpet is about to start, but I have to say, after the pageantry of the Met red carpet, the kookiness of the VMAs and the glamour of the Venice Film Festival, it's hard to imagine there are any dresses left. Is this Emmys going to be anticlimactic? Or are actors like Anya Taylor-Joy — who is a face of Dior — Billy Porter, Gillian Anderson and Emma Corrin going to try to top what's come before? What do you think, Jess?
Sept. 19, 2021, 6:04 p.m. ET
Sept. 19, 2021, 6:04 p.m. ET
Jessica Testa
Styles reporter
Hi Vanessa! I'm usually in favor of red-carpet weirdness, but I don't think I can handle any more swords, robot babies, or horse heads as accessories (all of which made appearances at the Met on Monday). So yes, right now the Emmys red carpet is seeming pretty low stakes. But I bet there will be a few surprises. I think we're long past the days of Jason Sudeikis wearing a tie-dye hoodie while Zooming from a living room (into the Golden Globes, to be fair). There will be some glitz. There must be some glitz! I see Dolly Parton was already named an Emmy winner for her Netflix Christmas special. Maybe the "Bridgerton" cast will come in costume.
Sept. 19, 2021, 6:10 p.m. ET
Sept. 19, 2021, 6:10 p.m. ET
Vanessa Friedman
Chief fashion critic
That would be something to see. One thing that seems clear, though, is that all those predictions about people wanting to go all out with color and sparkles and feathers and express themselves post-isolation is definitely coming true on the red carpet.
It appears that Apple's streaming service, not quite two years old, is on the verge of getting its first major Emmys win, thanks to an aphorism-spouting, fish-out-of-water soccer coach.
The feel-good Apple TV+ comedy "Ted Lasso" is the favorite in the comedy category. Nominated for its rookie season, which had its premiere in August 2020, the show already won best cast in a comedy last weekend. The winner of that award has gone on to win best comedy six years in a row. "Ted Lasso" also cleaned up at the Television Critics Association Awards earlier this month, winning best new series, best comedy and best overall show.
Jason Sudeikis, the former "Saturday Night Live" stalwart, is poised to win multiple Emmys, including for best writing and best actor in a comedy series. Those would be his first Emmy wins.
A long shot competitor for best comedy is the HBO Max series "Hacks," starring Jean Smart, who is also likely to win her fourth acting Emmy, for her role as a Joan Rivers-like stand-up comic.
When it comes to comedy this year, the broadcast and cable networks are on the outside looking in: They earned only one nomination in the category, from ABC's "black-ish," its lowest combined total in the history of the Emmys.
At long last, it should be the year that a streaming platform is triumphant at the Emmys.
The tech companies upended the entertainment industry years ago, but they've had mixed results breaking through with members of the Television Academy, who vote on the winners. That will likely come to an end on Sunday when the envelopes are unsealed at the 73rd Emmy Awards.
"The Crown," the lush Netflix drama chronicling the British royal family, is the heavy favorite to win one of the night's biggest awards — best drama — on the strength of its fourth season, which took viewers into the 1980s as it portrayed the relationship of Prince Charles and Princess Diana.
"The Crown" already picked up four Emmys in the first batch of awards handed out during last weekend's Creative Arts Emmy Awards, which recognizes achievements in technical categories.
Netflix built a considerable lead over its television and streaming rivals at the Creative Arts Emmys, all but guaranteeing that it will win more awards than any other studio, streaming platform or TV network.
A best drama win for "The Crown" would also be a significant first for Netflix. The streaming service has never won a top series award, despite a whopping 30 nominations in best drama, comedy and limited series from 2013 to 2020. Only one streaming service, Hulu, has won best drama, an award that went to "The Handmaid's Tale" four years ago.
It would be a fitting win in a ceremony that is recognizing the best shows aired or streamed amid the pandemic. During the stay-at-home months last year and early this year, people increasingly turned away from cable and embraced streaming video entertainment, accelerating a trend that was already underway.
While "The Crown" is the favorite, keep an eye out for spoilers in the best drama race. "The Mandalorian," the Star Wars action adventure show on Disney+, picked up seven technical awards last weekend, and Television Academy voters love themselves some popular, action-packed entertainment, as evinced by the success of "Game of Thrones," which won best drama a record-tying four times.
A show with an outside shot is "Bridgerton," the popular Netflix bodice-ripper from the super producer Shonda Rhimes. FX's "Pose," nominated for its final, emotional season, has the best chance at an upset of any of the cable or network series nominated.
Year after year, the Emmy Awards have sought a master of ceremonies who can reverse its declining trends in viewership and bring audiences back to this annual broadcast honoring the television industry. Maybe what the show needs is an all-around entertainer.
So for this Sunday, the Emmys have enlisted Cedric the Entertainer, the veteran stand-up and star of the CBS comedy "The Neighborhood," to host the show, bucking a recent tradition of drawing from the talent pool of late-night TV.
Cedric, 57, knows he has his work cut out for him: It's not easy for people to get invested in the Emmys while the pandemic continues and when there is little overlap between the fan bases for nominated shows like "Ted Lasso," "The Crown" and "The Handmaid's Tale."
But he is hoping that this year's Emmys — which, unlike last year's largely virtual event, will have an in-person ceremony at the Event Deck at L.A. Live, in Los Angeles — will encourage viewers to come back by fostering a spirit of inclusivity.
As Cedric said in a video interview last month, "I want to bring a familiarity that comes with my brand of stand-up. I'm somebody you know. I'm your cousin or your uncle, and we're here to celebrate each other."
"I'm there to do every job that a host is supposed to do," he continued. "I may go and kick it with people. You may see me do a food-pass tray — have some crudités, my friend. Please, go in my closet, wear one of my jackets, you're fine."
There's sure to be both drama and comedy at the 73rd annual Primetime Emmy Awards, which will be mostly an in-person edition of the show. Hosted by Cedric the Entertainer, the comedian and star of CBS's "The Neighborhood," the awards will be handed out Sunday night in Los Angeles before a limited audience, and will honor the pandemic-era television programs that got us through lockdown.
What time do the festivities start?
The ceremony begins at 8 p.m. Eastern, 5 p.m. Pacific. On television, CBS is the official broadcaster. If you have a cable login, you can watch online via cbs.com, or if you're a CBS subscriber, via the CBS app.
The show will also air live and on demand on the streaming service Paramount+, which is one of the cheapest options for streaming the Emmys. Paramount+ offers a one-week free trial or is available starting at $5 per month. Other livestreaming services that also offer access to the channel include Hulu + Live TV, YouTube TV or FuboTV. All require subscriptions that start at $65 per month, though many are offering free trials.
Is there a red carpet?
This year's attendees will still have the chance to sashay down a red carpet, albeit a limited one with only about a dozen media outlets. The cable channel E! will have preshow entertainment and then red carpet coverage beginning at 4:30 p.m. Eastern. Livestreams from the red carpet will be available on the websites of People and Entertainment Weekly starting at 7 p.m.
Who will be presenting?
Among the approximately 50 stars scheduled to hand out statuettes are Annaleigh Ashford, Awkwafina, Stephen Colbert, Misty Copeland, Michael Douglas, Ava DuVernay, and Taraji P. Henson, Gayle King, Daniel Levy, Eugene Levy, LL Cool J, Annie Murphy, Catherine O'Hara, Dolly Parton, Jada Pinkett-Smith, Patrick Stewart and Catherine Zeta-Jones. Reggie Watts, the band leader on "The Late Late Show With James Corden," will serve as D.J. for the evening, and the R&B artist Leon Bridges and Jon Batiste of "The Late Show With Stephen Colbert" will perform a special "In Memoriam" song written by Bridges.
Bennie Pete, Bandleader Who Kept the Beat After Katrina, Dies at 45
Biden's beach trip while Americans stuck in Afghanistan 'an embarrassment,' Cotton says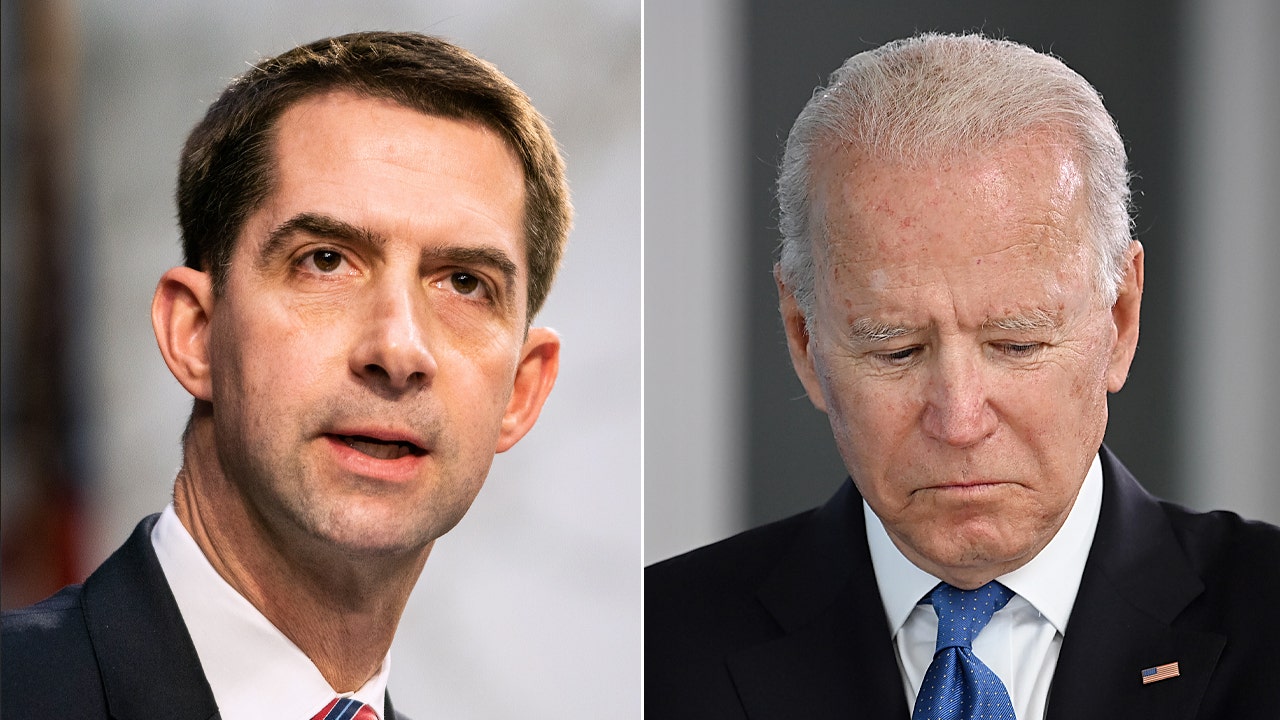 EXCLUSIVE: Senator Tom Cotton, R-Ark., laid into President Biden for spending his weekend at the beach while Americans are still stranded in Afghanistan.
Cotton campaigned in Iowa this weekend on behalf of Republicans in the Hawkeye State, where he sat down with Fox News for an exclusive interview that touched on Afghanistan, the border crisis, the 2024 election and more. 
The president's weekend trip to Rehoboth Beach, Delaware is "adding embarrassment" to "humiliation," Cotton said.  
HANNITY: BIDEN NEEDS TO END REHOBOTH BEACH VACATION AMID CRISES: 'GET OFF HIS A– AND GET TO WORK'
"I think it's an embarrassment. Simply adding embarrassment to the humiliation of Joe Biden's reckless abandonment of Americans in Afghanistan," the Republican senator said.
"He made a decision to get our troops out of Afghanistan by September 11, which he thought was a politically symbolic date," Cotton continued. "But it was a tactically disastrous date right in the middle of the fighting season as the Taliban had geared up to fight again."
BIDEN BREAKS PROMISE TO 'STAY' IN AFGHANISTAN UNTIL EVERY AMERICAN EVACUATED
"And the symbolism turned out to be the Taliban flag flying over what once was the American embassy," the senator added.
Cotton also charged Biden with "adding insult to that injury by breaking his word" to the Americans who are currently "stranded" in Afghanistan after the military left before evacuating them.
CLICK HERE TO GET THE FOX NEWS APP
"To say nothing of all the green card holders and their families, and Afghans who served alongside our troops, and who were vetted and approved to immigrate to America – who were left behind in Afghanistan, as well – while he also brought, apparently, thousands of Afghans who had no discernible connection to America or no right to immigrate here under our laws," Cotton said.
The White House declined to comment on the senator's criticism of the administration's deadly Afghanistan withdrawal that saw 13 American service members killed in a Kabul suicide bombing last month.
Houston Keene is a reporter for Fox News Digital. You can find him on Twitter at @HoustonKeene.