Australian Open: Novak Djokovic spurred on by past events after reaching semi-finals in Melbourne | Tennis News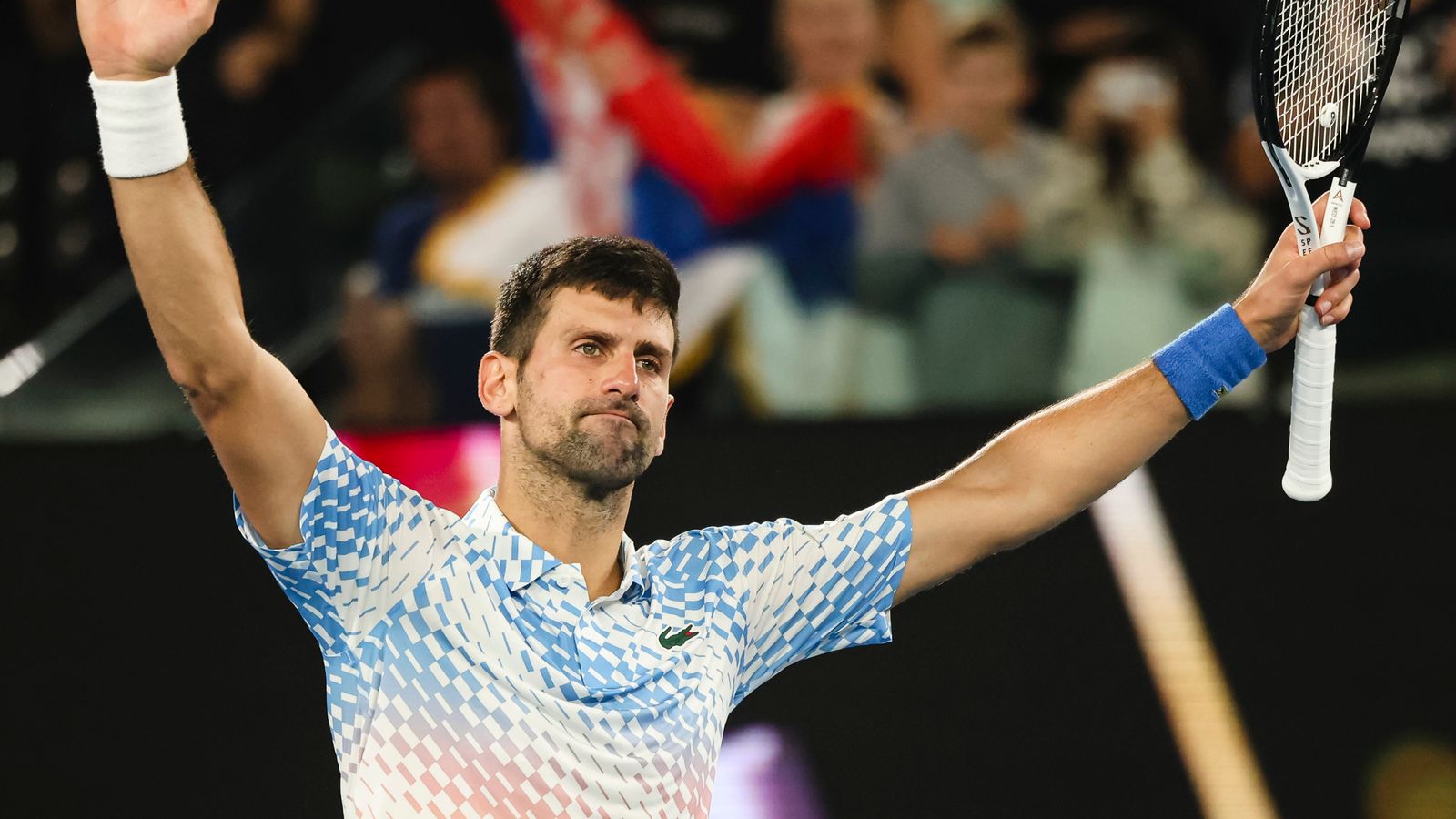 Novak Djokovic admitted his travails in Australia are giving him extra fuel as he chases a 10th title at Melbourne Park.
The Serbian was again in superb form, painting the lines consistently in a 6-1 6-2 6-4 victory over fifth seed Andrey Rublev on Rod Laver Arena to set up a semi-final with unseeded American Tommy Paul.
Djokovic, who has never lost at the Australian Open once he has reached the last four, is trying to make up for lost time after last year's vaccination furore and deportation, while this year he has been battling a left hamstring problem.
"I don't think that I lack determination," said Djokovic, who tied the record of former coach Andre Agassi with a 26th consecutive victory in Melbourne.
"I always try to give my best, particularly in Grand Slams, because at this stage of my career those are the tournaments that count the most, of course.
"But you could say that there is something extra this year, yeah. You could say because [of] the injury, what happened last year, I just wanted to really do well.
"So far, I have a perfect score in Australian hard courts, in Adelaide and here. I've been playing better and better. I couldn't ask for a better situation to be in at the moment."
The fifth seed at times did again appear bothered by his hamstring but it did not affect his ability to hare around the court, repelling everything big-hitting Russian Rublev threw at him.
He was more affected by a heckler who called out "Come on Andrey, send him home" during the first set, drawing loud boos from the largely pro-Djokovic crowd and prompting the Serbian to complain to British umpire James Keothavong.
It is the third time this tournament Djokovic has been targeted by fans, and he said: "If it keeps happening, it keeps happening. There's not much I can do about it. Just a few individuals. I can't judge the whole crowd because of the few individuals.
"If somebody steps over the line and starts making comments that are not related to support of the other player, he just wants to provoke and insult, then stepping over the line is something that I react to. Maybe not first time, second time, but after that, yes, then I ask the chair umpire to react.
"After that, I heard him, but he was supporting Rublev. He was not making any bad comments until the end of the match, so I didn't have any complaints."
It was Rublev's turn to appeal to Keothavong in the second set when he felt Djokovic should have received a time violation but the Russian, bidding to reach his first Slam semi-final at the seventh attempt, was mostly frustrated by the man down the other end of the court.
Earlier, Paul got the better of fellow American Ben Shelton to reach his first Grand Slam semi-final. The run of 20-year-old Shelton, in just his second grand slam and on his first trip outside the USA, has been one of the stories of the tournament but Paul used his greater experience to secure a 7-6 (6) 6-3 5-7 6-4 victory.
Paul, who will break into the top 20 for the first time after the tournament, becomes the first American man to reach the semi-finals here since Andy Roddick in 2009.
The American was cheered on by his mother, who hopped on a plane after his fourth-round win and arrived in Melbourne on Wednesday morning.
"It was awesome," Paul said. "I was actually, when I first heard, pretty nervous because we've had a good thing going here and I didn't really want to change anything.
"After a little bit of thinking, I was like, 'Yeah, I'm in the quarter-finals of a Slam'. She's sacrificed a ton to get me here.
"She deserves to be here and deserves to see me win big matches'. I was really excited to see her and have her here."
Tom Brady retirement beach sand up for auction on eBay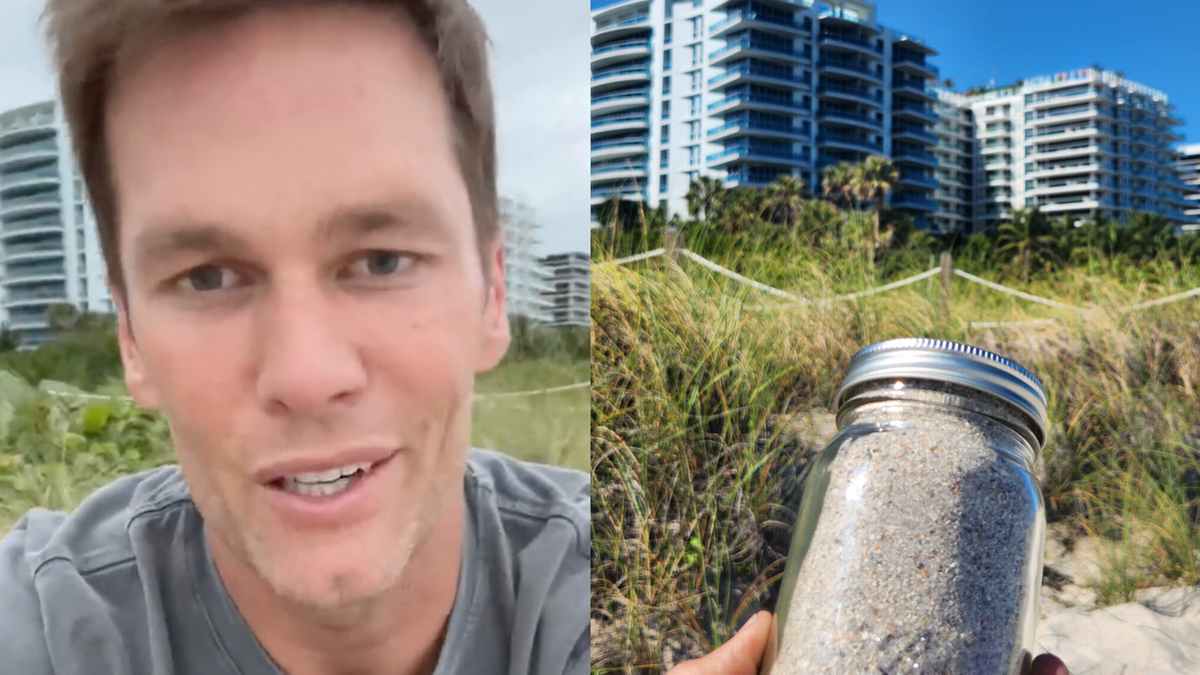 Somebody is willing to pay six figures for a Mason jar filled with sand where Tom Brady supposedly sat while filming his retirement video?
Once upon a time, Jack, a struggling farm boy in the English countryside, was asked to sell his prized family cow so that his household may have enough money to eat for the rest of the week. Instead of selling the cow, he trades the cow for some magic beans. Have you heard this story? Probably. While everyone made fun of Jack for making a trade more one-sided than the DeAndre Hopkins deal back in 2020, Jack proved his intuition correct when the beans sprouted a magical beanstalk that grew to the heavens. Yes, he was a fantastic hero for making such a remarkable trade. Now, imagine the beans never sprouted. How stupid would he look? Probably not as dumb as whoever spends $100,000 — or more — on the sand where Tom Brady announced his retirement.
The 23-year NFL vet, seven-time Super Bowl champ, and three-time MVP recently announced his retirement from a beach in Florida. Quickly, investigators tried to decipher where that beach was. Turns out it was a public beach in Surfside near Miami, where he was once rumored to play. Regardless, this realization led several people to do what they do best, try to make a quick buck, but no one succeeded quite as well as eBay user gadgetgs.
Gadgetgs quickly found the exact spot where Brady filmed his retirement video and filled a jar with as much sand as he could. He posted a picture of the jar as well as a New York Times newspaper from Feb. 1 to prove that the sand was obtained recently. As you can see from the tweet above, people have bid nearly $100,000 on these little pebbles where Brady once stood. That's absolutely ridiculous.
G/O Media may get a commission
It's a camera. For your car.
The Ring Car Cam's dual-facing HD cameras capture activity in and around your car in HD detail.
Will the sand sell for six figures?
Even crazier is that the bid has gone up since. It currently sits at $99,900. Whoever makes the next ridiculous bid will be marching into six-figure territory. That's more than two years' worth of an average American's salary…being spent on sand.
You know what the saddest part about all this is though? Any remnant of Brady's feet being on that sand is likely long gone. It's already come out that Brady filmed that video at least a day before posting it, but probably longer. Sources close to Brady told ESPN and NFL Network that he filmed the video "a while ago." The Boston Globe also reported that Brady had told his parents he would retire more than a week before the video was posted to social media.
With the shifting tides and constant wind on the shore, odds are that any Brady particles that may have crawled into the sand as Brady shuffled his feet along the coarse surface are likely long gone. If whoever buys this jar was hoping to find some of Brady's DNA and clone his own three-time MVP, they're most likely shit out of luck.
Surely, more people are going to try to cash in on this fad. Already, we've seen multiple TikToks about people finding the same spot and grabbing some pebbles of their own to sell on the internet.
What's next though? Grass from the exact spot in Raymond James Stadium where Tom Brady threw his final touchdown? That would be the next logical step, and if that does come to fruition, perhaps being a groundskeeper in Tampa Bay can finally net you a six-figure salary. So, I'm just gonna hop on over to Indeed real quick and see if there are any listings.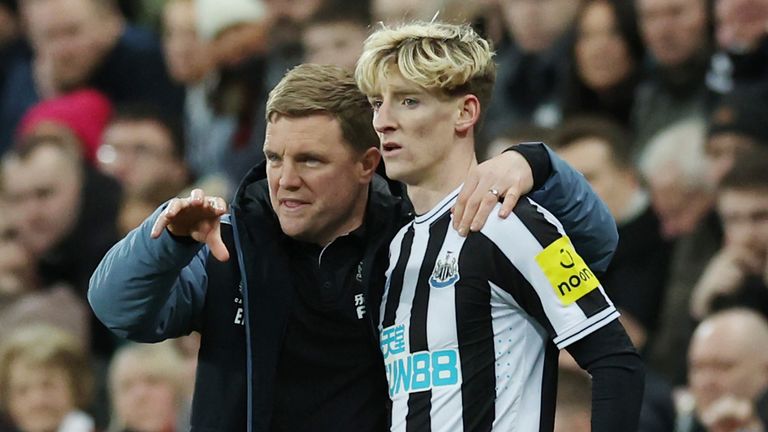 Newcastle were brought back down to earth following their Carabao Cup heroics in midweek as West Ham held them to a deserved 1-1 draw at St James' Park.
The Magpies have made huge strides under Eddie Howe this season – with their Wembley date against Manchester United in the Carabao Cup final at the end of the month clear evidence of their progress – but their form in the Premier League has been patchy of late.
Newcastle did make a stunning start to the contest, with Joe Willock's strike inside the first minute ruled out by VAR, before Callum Wilson successfully opened the scoring just two minutes later.
But West Ham more than matched their hosts and equalised before half-time through Lucas Paqueta, who became the first player to score against Newcastle in the Premier League since November 6 and handed them their fourth draw in their last five games in the competition.
Gordon debut fails to inspire goal-shy Magpies
Newcastle remain in a strong position to return to the Champions League group stage for the first time since 2002/03 – with fifth-placed Tottenham four points behind them – but they have now drawn as many Premier League games as they have won this season (10).
Even more concerning is the number of goals the Magpies are currently scoring in the league – just two in their last five games – and they were unable to find their form in the final third after Paqueta ended their remarkable run of clean sheets.
The match started in incredible fashion, with Willock drilling the ball past Lukasz Fabianski within seconds of kick-off, but VAR ruled the strike out after the ball was shown to have just gone out of play moments earlier.
But Newcastle shook off that blow to score again just 11 seconds after the restart, with Sean Longstaff threading an excellent ball through to Wilson, who was handed far too much space by West Ham's three-man defence before slotting past Fabianski.
But West Ham's goalkeeper was largely untroubled for the remaining 87 minutes, and the visitors hit back when Paqueta latched onto Declan Rice's corner and turned the ball past Nick Pope, who missed the chance to become the first English 'keeper to record seven consecutive Premier League clean sheets.
Team news
Newcastle made just one change, with Saint-Maximin making his first Premier League start since August in place of the suspended Guimaraes
Gordon started on the bench following his £45m move from Everton to Newcastle
West Ham made five changes from their FA Cup win on Monday, with Fabianski, Coufal, Rice, Paqueta and Benrahma coming into the side
Nayef Aguerd missed a great chance to earn West Ham the lead just before half-time, and the home fans – perhaps still coming down from Tuesday's celebrations – were noticeably subdued.
Anthony Gordon's debut from the bench following his £45m move from Everton livened up the Newcastle fans and Allan Saint-Maximin – making his first Premier League start since August – and Wilson went close.
But ultimately West Ham were able to comfortably hold onto a draw that keeps them one point above the relegation zone and extends their unbeaten run to three matches in all competitions.
What's next?
Newcastle are back on Sky Sports when Eddie Howe returns to former side Bournemouth next Saturday; kick-off 5.30pm. They're also live on Sky Sports when Liverpool visit St James' Park on Saturday February 18; kick-off 5.30pm.

Saturday 11th February 5:00pm


Kick off 5:30pm

West Ham face back-to-back London derbies and welcome Chelsea to the London Stadium on Saturday February 11 in the lunchtime game; kick-off 12.30pm. They then visit Tottenham live on Sky Sports on Sunday, February 19; kick-off 4.30pm.
NFL, NBA, NHL, etc. athletes who retired more than once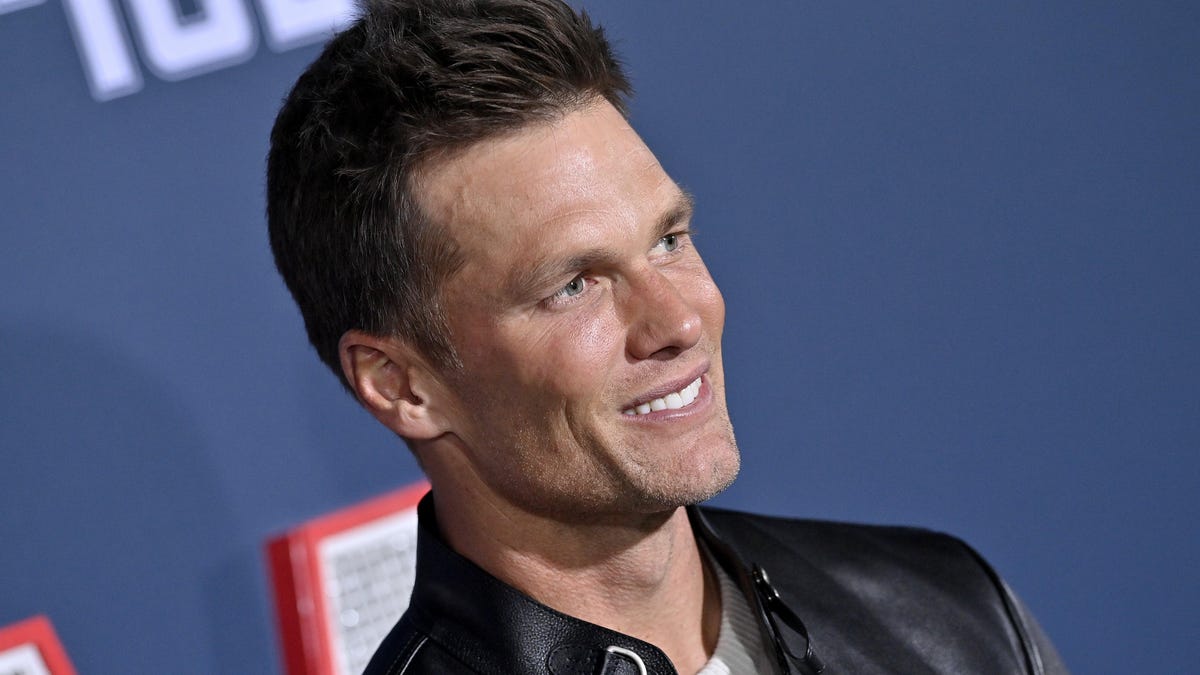 For the second straight Feb. 1, Tom Brady retired from the National Football League. His first retirement lasted all of 40 days, coming back to the Tampa Bay Buccaneers minutes after the NCAA Tournament field was chosen on Selection Sunday. He's now retired "for good" and the entire sports world knows there's no substance behind those pair of words. You'll know Brady is officially done with football when two straight regular seasons take place without him putting on a helmet.
Brady is far from the only athlete to have retired from professional sports on multiple occasions. Something about another large paycheck, or thinking there's enough gas in the tank to hang with your peers, draws big-name athletes from the golf course and their homes and back into our lives. Alongside Brady, here's a list of athletes who said their final goodbyes to spots multiple times.