Broncos rewatch: Teddy's 10 terrific 3rd and 4th down plays that beat the Giants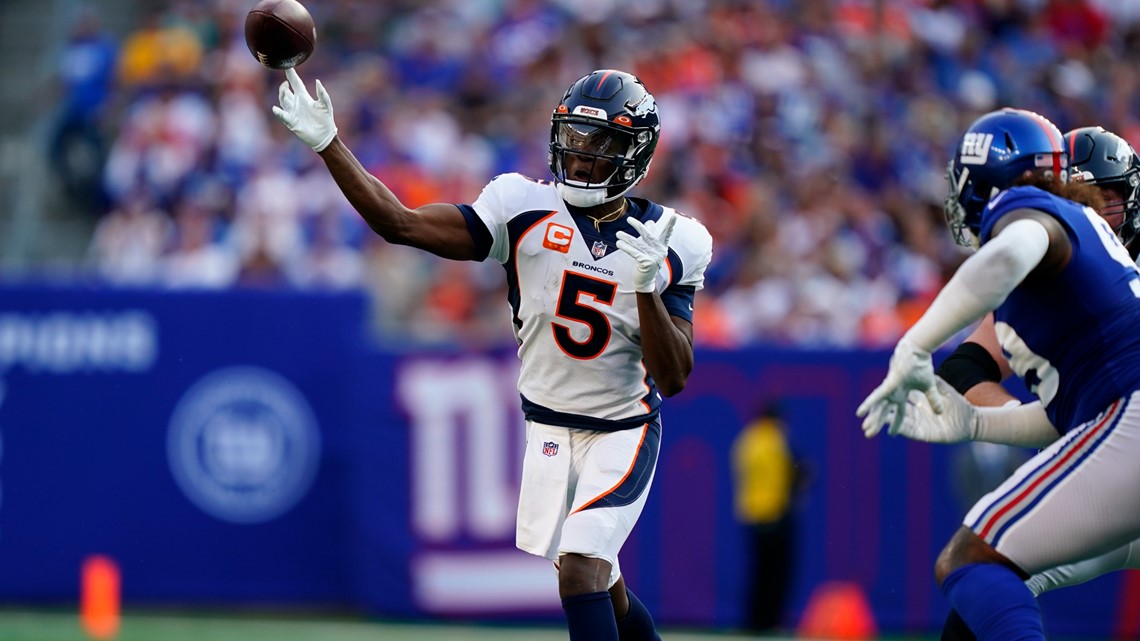 Bridgewater's escapability and composure were on display when the pressure was greatest.
ENGLEWOOD, Colo. — You can see things from the press box that you can't when you're watching the Broncos play on TV.
And there are things you pick up from watching on TV that you might have missed while sitting in a press box.
I personally witnessed the Broncos' 27-13 win over the New York Giants on Sunday from MetLife Stadium. But after re-watching the game Monday on TV in the comforts of my own living room, the Broncos didn't dominate as much as I initially thought. The difference was Broncos quarterback Teddy Bridgewater picked up 10 – count 'em, 10 – third and fourth down conversions. Four were 7 yards or longer.
> Video above: Teddy Bridgewater talks about season-opening win over Giants
Without Vic Fangio's fourth-down gambles, without Bridgewater's composure, it's a different game.
Here on Broncos Rewatch is a recap of Bridgewater's biggest plays.
*2:10 remaining, 4th and 7 at Giants 37. Probably the most difficult in terms of down and distance. Bridgewater had just thrown a third-and-7, deep out incompletion to Jerry Jeudy that wasn't close. The Giants' towel-waving crowd was going berserk. Yet, Fangio thought converting a 4th and 7 presented better odds than a 55-yard Brandon McManus field goal. If the game is played in the thin air of Empower Field at Mile High, Fangio may go with the field goal. On the road, good call.
Bridgewater had time off the play-action and calmly connected with Tim Patrick for 15 yards on a pitch-and-catch across the middle. Great call. The Broncos would move the ball to 5 before settling for a short Brandon McManus field goal. Broncos up, 3-0.
*5:22 remaining, 3rd and 9 at Giants 37. Broncos are down, 7-3. Bridgewater hits Jeudy open in the left flat for 11 yards and then was thrown down well after he was out of bounds by Giants cornerback Darnay Holmes for 15 more yards. The Broncos were in business at Giants 13, first down. Two plays later, though, Albert O fumbles.
*4:05 remaining. This is when Denver D came up with perhaps its most clutch series of the game. The Giants took over at their own 4, but they couldn't get out of the hole. They wound up with a three-and-out punt from their 7. Former Bronco Riley Dixon boomed it 61 yards, but underrated returner Diontae Spencer brought it back 11 yards to the Broncos' 43. With 2:25 remaining, Broncos were able to score a touchdown, anyway, thanks to another big play from Bridgewater.
*48 seconds remaining, 4th and 2, Giants 49. It surprised me that Fangio went for it because the risk was great. If the Broncos didn't convert, the Giants would have been a decent completion away from field goal range. But instead of going into halftime down 10-3, Fangio was up 10-7 thanks to Bridgewater, who delivered a fourth down, 14-yard completion to Courtland Sutton, who went down to get it, then took a blast from safety Logan Ryan. It was Sutton's only catch of the game, but it was huge.
The Broncos went on to successfully finish the drive when Bridgewater rolled left and slipped a 2-yard TD to Patrick, who was just inside the goal line, with 8 seconds left. A 10-point swing by converting the 4th down.
Follow along here on the Broncos' first series of the second half, when Bridgewater made clutch play after clutch play after clutch play.
*14:20 remaining, 3rd and 5 at Broncos' 30. First possession of second half. This was Bridgewater's most impressive play. He had to step out of two sacks, using a stiff-arm and strong balanced legs to thwart edge rusher Azeez Olujari, then fired across field a tad to KJ Hamler, who made a nice, reaching snag in traffic for 10-yard gain and first down. Didn't know Bridgewater had this kind of athleticism in him.
*12:40 remaining, 3rd and 6 at Broncos' 44. Same drive. Bridgewater on second down badly underthrew tight end Noah Fant, who was wide open on a wheel route. The next play, third down, Bridgewater off a straight shotgun drop hit a tightly covered tight end Albert Okwuegbunam on a sideline pattern for 6 yards. Not 7 yards. Didn't need 7. Got the six. First down at the 50.
*11:59 remaining, 1st and 10 at 50. Same drive. Bridgewater off play action heaved it down the middle to an open KJ Hamler. After turning toward the ball, Hamler moved to make a hands catch at his chest. He dropped it. Devastating, right? Bridgewater carried on. He simply converted two more third downs and a fourth down on the drive to wind up with a touchdown pass, anyway.
*11:09 remaining, 3rd and 4, at Giants 44. Same drive. Bridgewater completes an 8-yard crossing route to Fant, who beat safety Jabrill Peppers, left to right. First down at the Giants' 36. Peppers was beat most of the day on crossers by Broncos tight ends, who combined for 10 catches (Fant 6, Okwuegbunam 3, Eric Saubert 1) for 85 yards (Fant 62, Albert O 16, Saubert 7) and a touchdown (Albert O).
*8:50 remaining, 3rd and 7 at Giants 37. Same drive. Bridgewater had just been just sacked on second down. On third and long, Bridgewater made a bit of a sidearm throw across his body as he was getting crunched in the midsection by Leonard Williams and hit Jeudy on an out pattern for 20 yards. This set up first down at the 13. This was the play Jeudy suffered a significant high ankle sprain as his right leg got caught on the unforgiving turf beneath a James Bradberry tackle. Jeudy let go of the ball in pain after he was down, and initially the ruling was a fumble, recovered by the Giants.
Replay overturned it and the series continued. While Tim Patrick is no slouch as a replacement, losing Jeudy is a significant blow to the Broncos – perhaps as big as the team losing Sutton for all but one half last season. Sutton was the No. 1 receiver then; Jeudy is the No. 1 receiver now.
Sutton, Patrick and Hamler will all have to step up.
RELATED: Ronald Darby joins Jerry Jeudy on Broncos' injured reserve list
*6:58 remaining, 4th and 1 at Giants 4. Yes, this same drive is continuing. This was the final play of the same drive. Again, Bridgewater was under duress but he managed to juke and stiff-arm his way away from blitzing corner Xavier McKinney. Retreating, Bridgewater fired a pass to Albert O, who caught it at the 8-yard line – 4 yards behind the line of scrimmage. But with the pass rush upfield, Okwuegbunam was in the clear except for linebacker Blake Martinez, who was closing in from the 5-yard line. Martinez is arguably the best tackling linebacker in the NFL, but he came up empty and flailing on the ground after Albert O shook off contact. Okwuegbunam then dove to beat cornerback James Bradberry to the pylon. He got it for the touchdown.
Whew. The drive took 16 plays and 8 minutes, 12 seconds. Bridgewater picked up four, 3rd downs at distances of 5, 6, 4 and 7 yards. He picked up a fourth down. And he had a touchdown pass dropped. The last time the Giants had the ball, they were up 7-3. By the time they got the ball back, they were down 17-7 with only 6:48 left in the third quarter.
*2:03 remaining, 3rd and 8 at Broncos 15. Second drive of the second half, fifth of the game for the Broncos. Saubert had just dropped a short pass on second down that would have set up and 3rd and manageable. Bridgewater dropped back to his 5-yard line and was hit at his feet by cornerback Adoree' Jackson, who came on a delayed blitz. But Bridgewater saw a busted coverage and quickly found a wide open Hamler near the sideline for 22 yards. Like after Albert O's fumble, Bridgewater went back to the guy who dropped the touchdown pass. The drive finished with a 36-yard McManus field goal a couple minutes into the fourth quarter, putting Denver up 20-7.
*4:54 remaining, 3rd and 4 at Broncos 12. Bridgewater dropped back, got clobbered just after he flipped a short pass in the flat to running back Melvin Gordon for 3 yards. A yard shot? Bridgewater knew the hit he took from linebacker Azeez Olujari was to both sides of his loose-fitting helmet. Roughing the passer. First down at the 30. Incredibly, Bridgewater's helmet stayed on. The Giants simply couldn't get off the field on third or fourth downs.
They did leave the field after the next play, which was Gordon bursting through a hole, cutting left, and sprinting past the Giants secondary for a 70-yard, game-clinching touchdown run. The Broncos were up 27-7.
Teddy and the Broncos' offense's work was done.
RELATED: Teddy Bridgewater lifts Broncos past Giants 27-13
Soto's 454-foot homer helps Nationals beat Rockies 3-0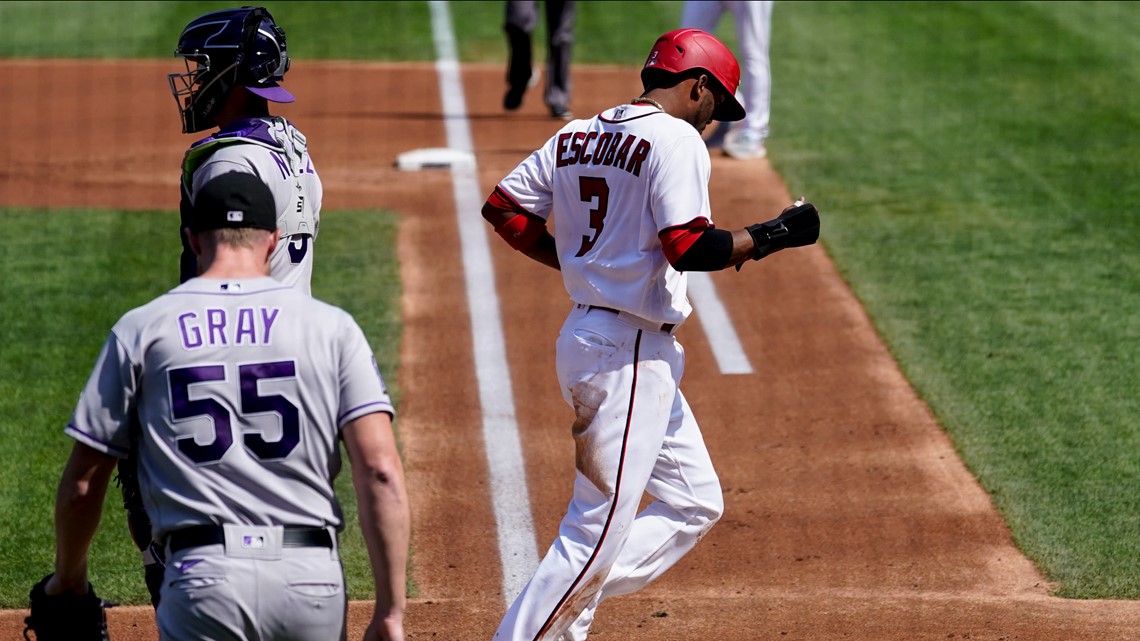 The Rockies went 7-2 on their first winning road trip this season and are 25-52 on the road and 45-27 at Coors Field.
WASHINGTON — Juan Soto homered to back Paolo Espino, and the Washington Nationals beat Colorado 3-0 on Sunday afternoon to end the Rockies' rare five-game road winning streak. 
Soto hit a 454-foot drive in the third inning off Jon Gray (8-11), Soto's 26th home run this season. 
Soto is hitting .362 with a 1.178 OPS since the All-Star break. 
Colorado had matched its longest winning streak this season. 
The Rockies went 7-2 on their first winning road trip this season and are 25-52 on the road and 45-27 at Coors Field.
Colorado is off Monday before returning Tuesday at home against the Dodgers. They will play their final nine-game homestand of the year. 
>>Video above: Locked on Rockies: Larry the legend heads to Cooperstown 
RELATED: Rockies easily handle Nationals to keep rolling on road trip
RELATED: Rockies score 2 in 9th, beat Nats 9-8 for 4th straight win
RELATED: Braves, Rockies face schedule headache after postponement
> Top stories curated daily just for you! Sign up for the 9NEWSLETTER to get can't-miss stories, Next and Denver Broncos content, weather and more delivered right to your inbox.
MORE WAYS TO GET 9NEWS
HOW TO ADD THE 9NEWS APP TO YOUR STREAMING DEVICE
ROKU: add the channel from the ROKU store or by searching for KUSA.
For both Apple TV and Fire TV, search for KUSA "9news" to find the free app to add to your account. Another option for Fire TV is to have the app delivered directly to your Fire TV through Amazon.
Bridgewater stays calm, guides Broncos to 10-7 halftime lead on Jaguars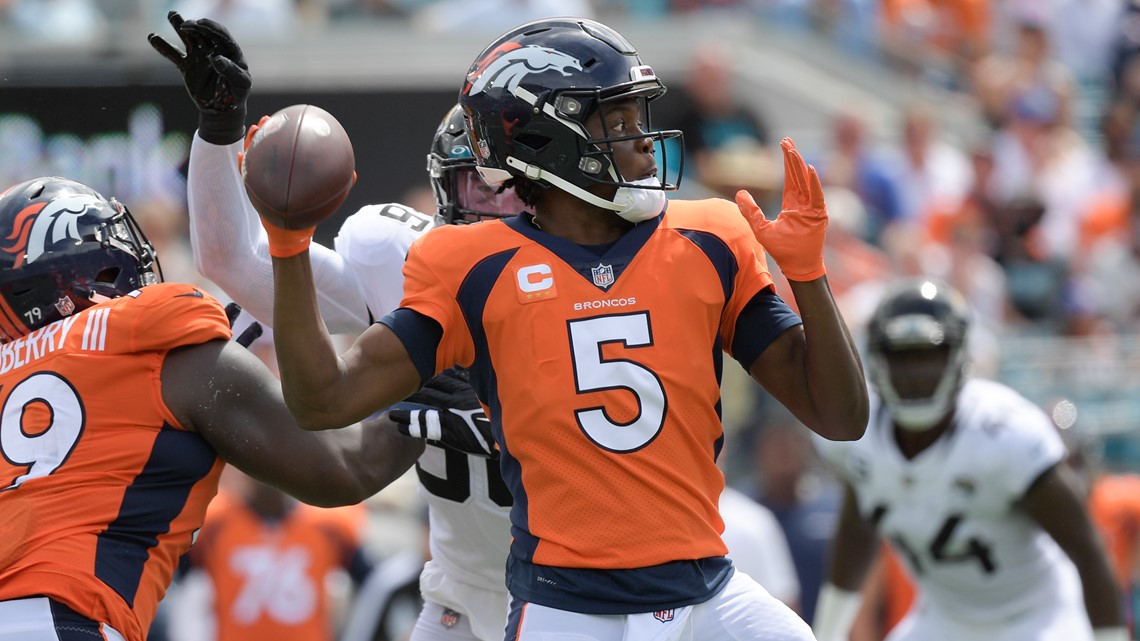 After a poor opening series, Denver D adjusted well to Jaguars' rookie QB Trevor Lawrence. Bridgewater has thrown for 184 yards and TD by halftime.
JACKSONVILLE, Fla. — To help acclimate for the early start time and long flight, Broncos head coach Vic Fangio flew his team here Friday evening, a night earlier than usual.
About halfway through the second quarter, there was reason to wonder if Fangio should have brought the team down Thursday.
The Jaguars gave the Denver D an immediate wakeup call at muggy, rainy TIAA Bank Field by efficiently marching 83 yards to score a touchdown on the opening drive. Rookie quarterback and No. 1 overall pick Trevor Lawrence had plenty of protection and receivers running free as he completed 5 passes for 73 yards, including a beautiful 25-yard touchdown to Marvin Jones Jr., who beat cornerback Kyle Fuller on a sideline-and-go pattern.
The Broncos were down quickly, 7-0.
Luckily for the two-night visitors, quarterback Teddy Bridgewater has all the panic of a man in a deep slumber. The man has zero anxiety.
Bridgewater calmly answered the Jaguars' opening statement by leading the Broncos on two sustain drives to put Denver up 10-7 at halftime. He had completed 15 of 21 for 184 yards at the break, including a 12-yard touchdown pass to Tim Patrick on the first play after the 2-minute warning.
Courtland Sutton was the Broncos' leading receiver with 4 catches for 68 yards.
After Lawrence connected with Jones to put the Broncos on alert, Denver got a break on the ensuing drive when cornerback Shaquill Griffin was called for holding on third-and-long while he was covering tight end Albert Okwuegbunam well away from where Bridgewater threw an incompletion. The first down by penalty, and accurate Bridgewater passing, moved the Broncos to first and goal at the 10. At which point Bridgewater, who had stepped out of a sack for a completion earlier in the drive, couldn't shake the pursuing edge rusher Josh Allen, who dropped the Broncos' quarterback for a 16-yard loss.
Still, the Broncos broke Jags' momentum with an 8 minute, 55 second drive that finished with a Brandon McManus 33-yard field goal.
The first quarter ended with Jacksonville up, 7-3, but the Denver D came through a three-and-out on its second series to settle things down.
It stayed that way until about 5 minutes left in the half. After rookie running back Javonte Williams was tackled behind the line of scrimmage, the Broncos' drive was facing second and 16 at its own 14. At which point Bridgewater went to work. His best play was a 33-yard, touch pass completion to Sutton that moved the ball from the Broncos' 40 to the Jaguars' 27.
It occurred as Bridgewater was under pressure, then stepped up in the pocket to a clearing. He calmly saw Sutton scramble his route towards the end zone and Bridgewater hit him perfectly.
Bridgewater then completed a 15-yard pass to Kendall Hinton – his first NFL game as a receiver after breaking in memorably as an emergency quarterback last season – and, after the 2-minute warning, connected with an open Patrick on a drag route for the touchdown.
Jacksonville could have been leading but kicker Josh Lambo missed field goals from 52 and 48 yards. But the Denver D made the necessary adjustments on Lawrence, who was just 5 of 16 for 20 yards after his first drive.
RELATED: Familar coach helps Saubert settle in as Broncos' No. 3 tight end
RELATED: Von Miller resumes his climb up all-time sack chart
Sunday morning Prep Rally (9/19/21)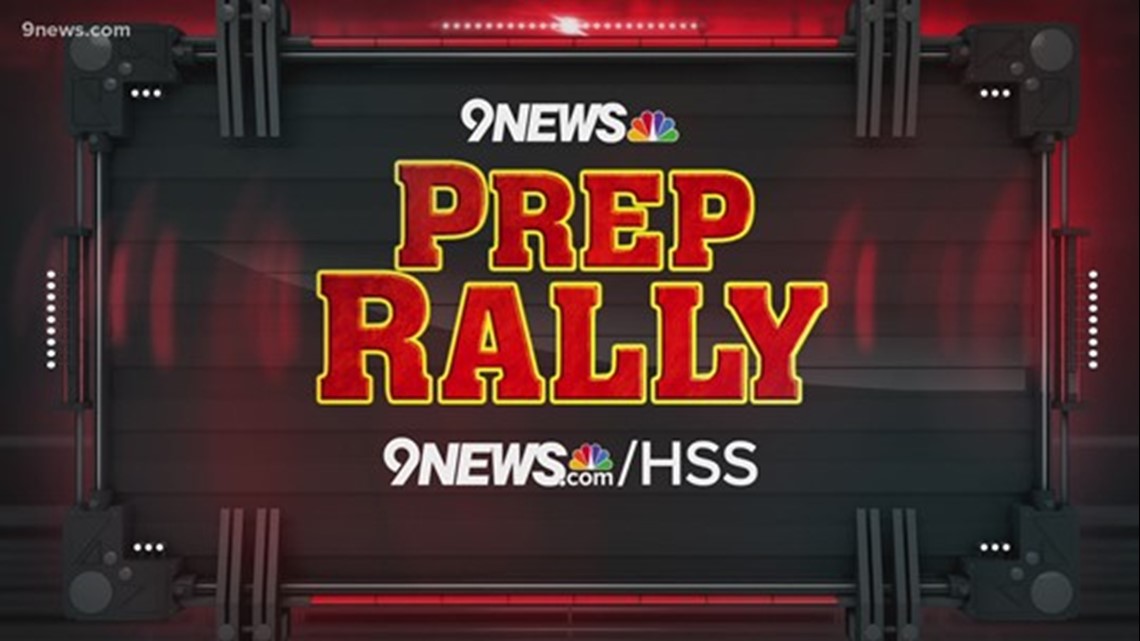 Catch up on the latest high school sports news with the Sunday morning Prep Rally!
DENVER — The Sunday morning Prep Rally is loaded with highlights from all different types of fall sports!
Preps reporter Scotty Gange has football, softball, golf, volleyball and soccer covered as regular seasons roll on and playoffs creep closer. 
We also caught up with an Olympian who was honored at her homecoming parade after returning to Colorado. 
Included in the Sunday (September 19) morning Prep Rally:
Ralston Valley vs. Grandview football
Lakewood vs. Chaparral football
Pomona vs. Legacy football
Feature: Olympian and Niwot High School graduate Elise Cranny honored in the school's homecoming parade 
Cherry Creek softball grand slam
Lakewood softball grand slam
Smoky Hill softball home run record 
Mountain View golf hole-in-one
Windsor vs. Erie volleyball 
Faith Christian vs. Prospect Ridge soccer 
Dakota Ridge's Dante Capolungo wins Athlete of the Week 
>>Be sure to check back for more high school sports coverage every weekend on the Prep Rally!
> Top stories are curated daily just for you! Sign up for the 9NEWSLETTER to get can't-miss stories, Next and Denver Broncos content, weather and more delivered right to your inbox.
MORE WAYS TO GET 9NEWS
HOW TO ADD THE 9NEWS APP TO YOUR STREAMING DEVICE
ROKU: add the channel from the ROKU store or by searching for KUSA.
For both Apple TV and Fire TV, search for KUSA "9news" to find the free app to add it to your account. Another option for Fire TV is to have the app delivered directly to your Fire TV through Amazon.