Fairleigh Dickinson shocks No. 1 seeded Purdue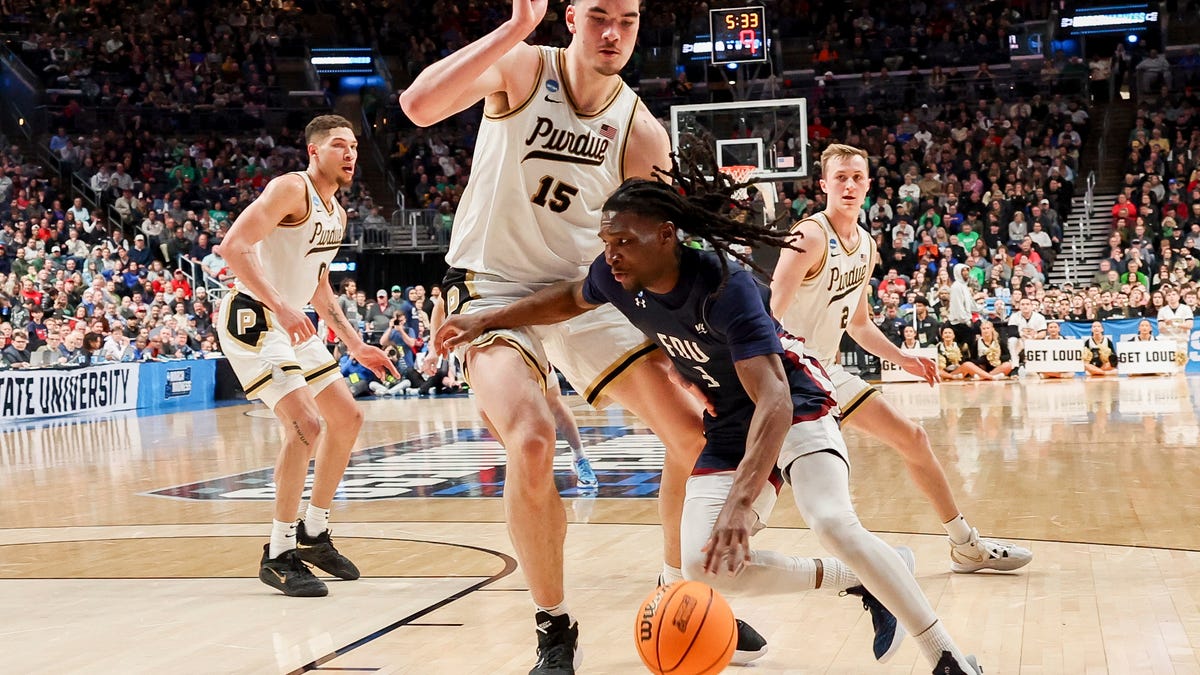 I have a question for both college and NBA basketball fans: When was the last time a team won anything with a low-post big man as their No. 1 option? Purdue's Zach Edey is going to take home a treasure trove of hardware, and lucky for him, he'll be at his place of residence to make sure no one poaches any trophies off his doorstep. The Boilermakers became the second No. 1 seed to lose to a 16 seed in the NCAA tournament, and congrats to Fairleigh Dickinson.
If you thought the upstarts couldn't get more eccentric, let me introduce you to the Knights from Teaneck, New Jersey. Coach Tobin Anderson called his shot the day before the game, and his center-free rotation swarmed, frustrated, and harassed Purdue all night. You could just tell from the Boilermakers' inability to get separation that the game was going to come down to a clutch play at the end.
Forward Sean Moore delivered said play, cashing a three with just over a minute left to give the Knights a five-point lead. The final 60-plus ticks were agonizing for both fan bases before Fairleigh Dickinson sealed the win with a pair of free throws to end the scoring at 63-58.
This March has been unlike any other as it's the first time a No. 1 and No. 2 seed have both lost in the opening round. Arizona, whose big men also fumbled away post feeds and iso touches, fell to Princeton on Thursday, and if your bracket is still intact, I have a few personal effects I'd like you to bless.
So, congratulations to Fairleigh Dickinson on the win as well as upsetting Gradey Dick as the entity most likely to evoke a dick joke that my editors will cut.
G/O Media may get a commission
Don't believe in the return of the big man until a non-unicorn big wins something
For all the hype Nikola Jokić and Joel Embiid get, neither has been to the NBA finals. You could talk me into Drew Timme's importance to Gonzaga when the Bulldogs played Baylor in the title game in 2021. Yet, the last team to finish atop the heap in March with a true low-post big man as the player of the tourney was North Carolina's Sean May or UConn's Emeka Okafor in 2005 and 2004 respectively. Kentucky won with Anthony Davis in 2012, but he's been pushing back against playing center for his entire pro career.
You have to go back to 2005 or 2006 in the NBA. Tim Duncan was the finals MVP in 2005, and 2006 was the first Heat-Mavericks finals. Dwyane Wade won finals MVP, but Shaquille O'Neal was still such a force that the offense revolved around the threat of him around the hoop.
We've reached the point in basketball as a sport where centers can't be limited to just paint skills. If a big can't space the floor, handle the ball, or play make, he's reduced to blocking shots and catching lobs.
The closest thing to an old-school franchise center in the NBA is Embiid, and the jury is out because it remains to be seen if he can be the focal point of a title run. Jokić is plodding, but the passing is so advanced that labeling him as a center is an insult. Be that as it may, his most consistent postseason success has come with Jamal Murray as a 1A in crunch time.
Pundits have called Giannis Antetokuonmpo a modern-day Shaq, but that's not fair. The Greek Freak is a unicorn in the true sense of the term, which isn't simply a big man with guard skills, but rather a big man who moves like a guard.
Shaq was one of one, but even he moved superbly for a person of his size. That's why I'm not sure O'Neal could get played off the court in any era. Usually, he was the one forcing personnel changes. We haven't seen that kind of gravitational low-post force since Duncan, and I don't think we're going to ever again.
Basketball is not only too skilled of a sport for one-note big men, but relying on another position to feed you the ball is ludicrous. Every entry pass to Edey was met with two to three defenders, and even though he finished with 21 points and 15 rebounds, Purdue's approach was antiquated.
Why am I saying this? I find that I remember things better when I write them down, so the next time I go to make a grand proclamation (or fill out a bracket), I'll think thrice about backing a team whose offense depends on a big man. 
Anthony Joshua says he will retire from boxing if he loses to Jermaine Franklin | 'I'm not here to battle people' | Boxing News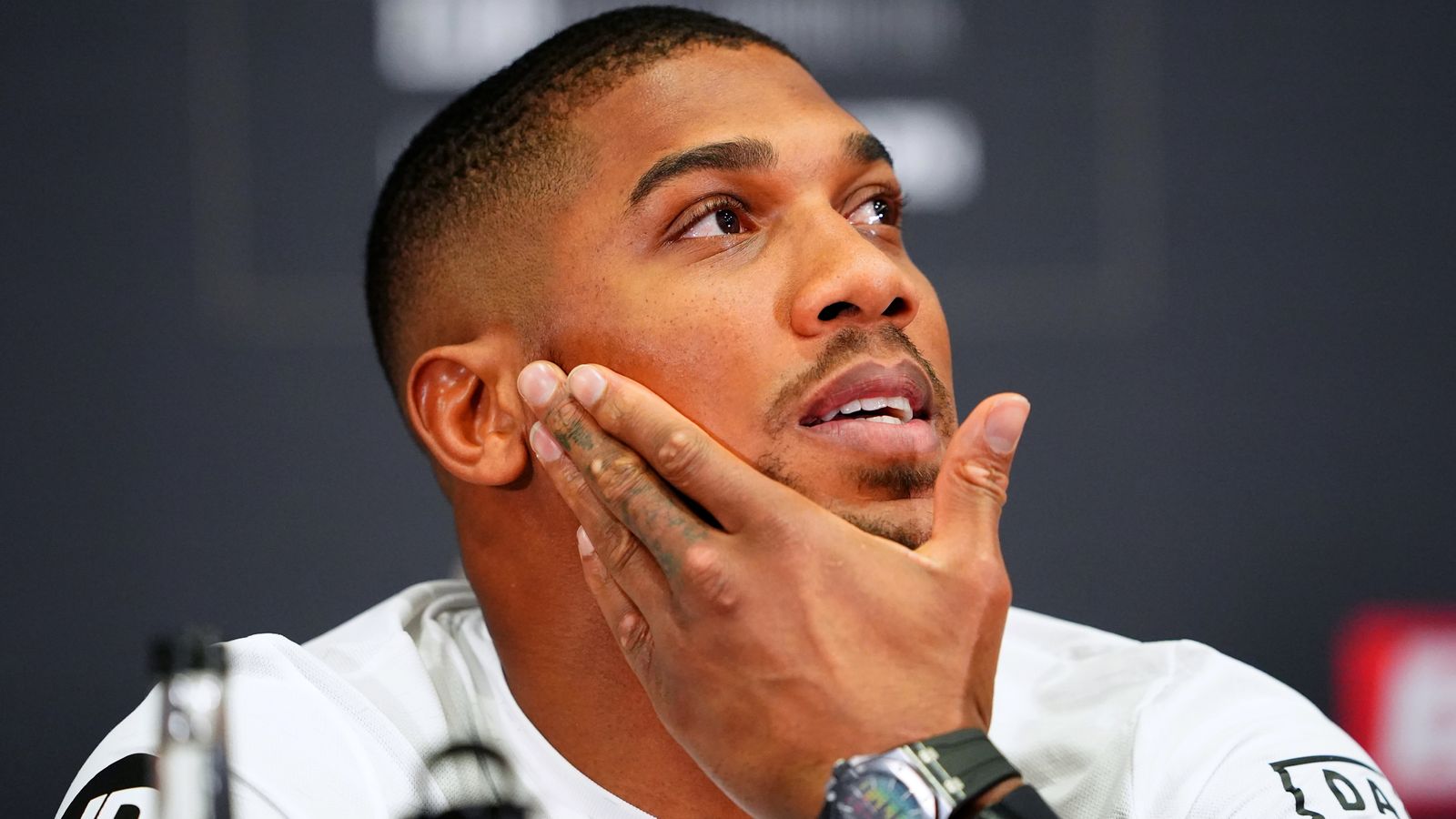 Anthony Joshua says he will retire from boxing if he loses against Jermaine Franklin on Saturday at the O2 Arena.
The two-time world champion is making his return to the ring this weekend to face the American heavyweight after successive defeats to Oleksandr Usyk.
Joshua will be looking to win his first professional fight since December 2020 but has admitted he will step away from boxing if he loses a third successive bout.
"I will. I will retire if I lose. I'm not here to battle people. If people want me to retire I will retire," he told MailOnline.
"I'm not going to fight if people don't want me too. It's not even about the money. It's about the competitor in you. That's what's important.
"It [pressure] comes with the business and it comes with the territory, I know that.
"I know when I am retired, I am gonna be chilling. I'm gonna be thinking f**k everyone. I am done.
"You lot put so much pressure on me so when I am done, the chains are going to be gone. I am going to be laughing and loving life."
Anthony Joshua should retire if he is beaten by Jermaine Franklin, while Tyson Fury 'didn't believe' he could defeat Oleksandr Usyk, says Johnny Nelson

Nelson expects Joshua to 'get it done'
Former WBO cruiserweight champion Johnny Nelson expects Joshua to beat Franklin but thinks the 33-year-old should retire if he loses.
"I'd expect Anthony Joshua to get it done. But Jermaine Franklin is 29 years old, (has had) 22 fights, won 21, stopped 14 of his opponents and in his last fight against Dillian Whyte people say he should have won. But that's questionable," he said.
Anthony Joshua discusses his thoughts on his showdown with Jermaine Franklin and his training regime going into the fight.

"My big question is this: Anthony Joshua, after losing two fights on the bounce, has had to relook at his confidence to think 'who am I, do I belong here, do I want this?'
"For Anthony Joshua that's everything. Because he's had to go through a bit of turmoil, mentally, emotionally and come to terms with the fact that he's no longer the best fighter, officially, in the world.
"He's got to get in the queue again like everybody else. If Anthony Joshua loses, he jacks it in. If he doesn't jack it, he should jack it. Because it's a hard mountain to climb.
"Especially when you've had the success and the heights that he's had. So he can't afford to lose. That's a must. Then from that, it's confidence building."
Hollie Doyle: Star flat jockey set for Friday return ahead of Lincoln meeting at Doncaster | Racing News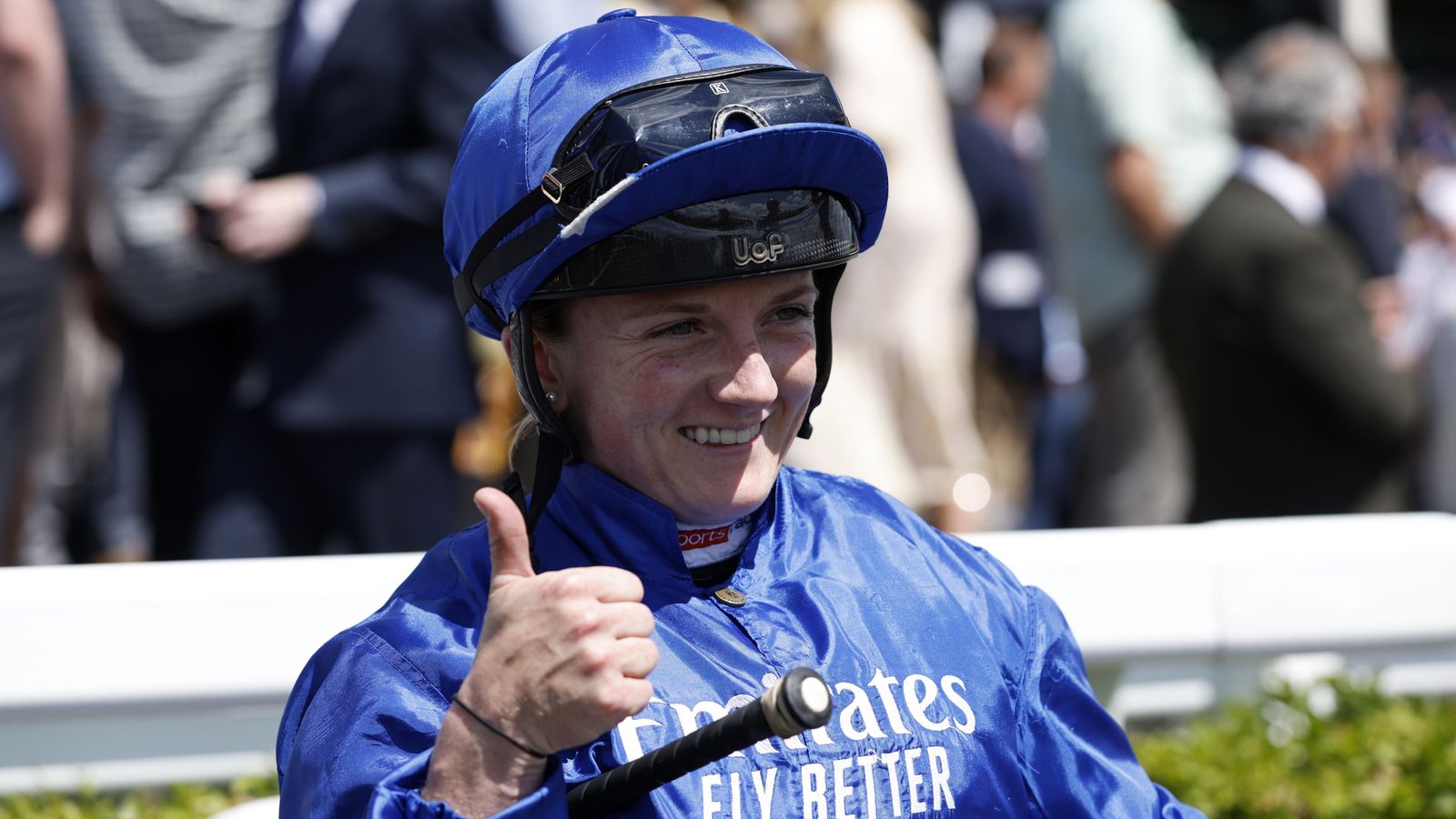 Leading flat jockey Hollie Doyle will make her return to riding on Friday at Newcastle ahead of this weekend's Lincoln meeting at Doncaster, live on Sky Sports Racing.
The Group One-winning rider has been out of the saddle since January following an elbow injury sustained in a fall at Wolverhampton.
Doyle enjoyed another memorable season in 2022 with over 150 winners, partnering Nashwa to a first Classic victory as well as landing another Royal Ascot success on Bradsell and further glory on star stayer Trueshan.
She is set to make her return at Newcastle, taking the ride on Rhythm And Hooves in the 5:50pm race, ahead of Saturday's opening flat turf meeting of the year at Doncaster.
Some of her rides include Richard Spencer's Revich in the lucrative Lincoln Handicap, as well chances on Wilderness Girl in the Cammidge Trophy and the classy Tempus in the Doncaster Mile.
"It's been a frustrating time on the sidelines, but it was great to receive the green light to return," said the Sky Sports Racing ambassador.
"I've been back at Oaksey House this morning, and the team there have been fantastic right the way through my recovery.
"I'll be riding out this week and am looking forward to getting back in the saddle at Newcastle on Friday and on Lincoln day at Doncaster and kicking on from there."
Watch every race from the Lincoln meeting at Doncaster this Saturday, exclusively live on Sky Sports Racing.
England Women: Sarina Wiegman recalls goalkeeper Hannah Hampton and defender Esme Morgan | Football News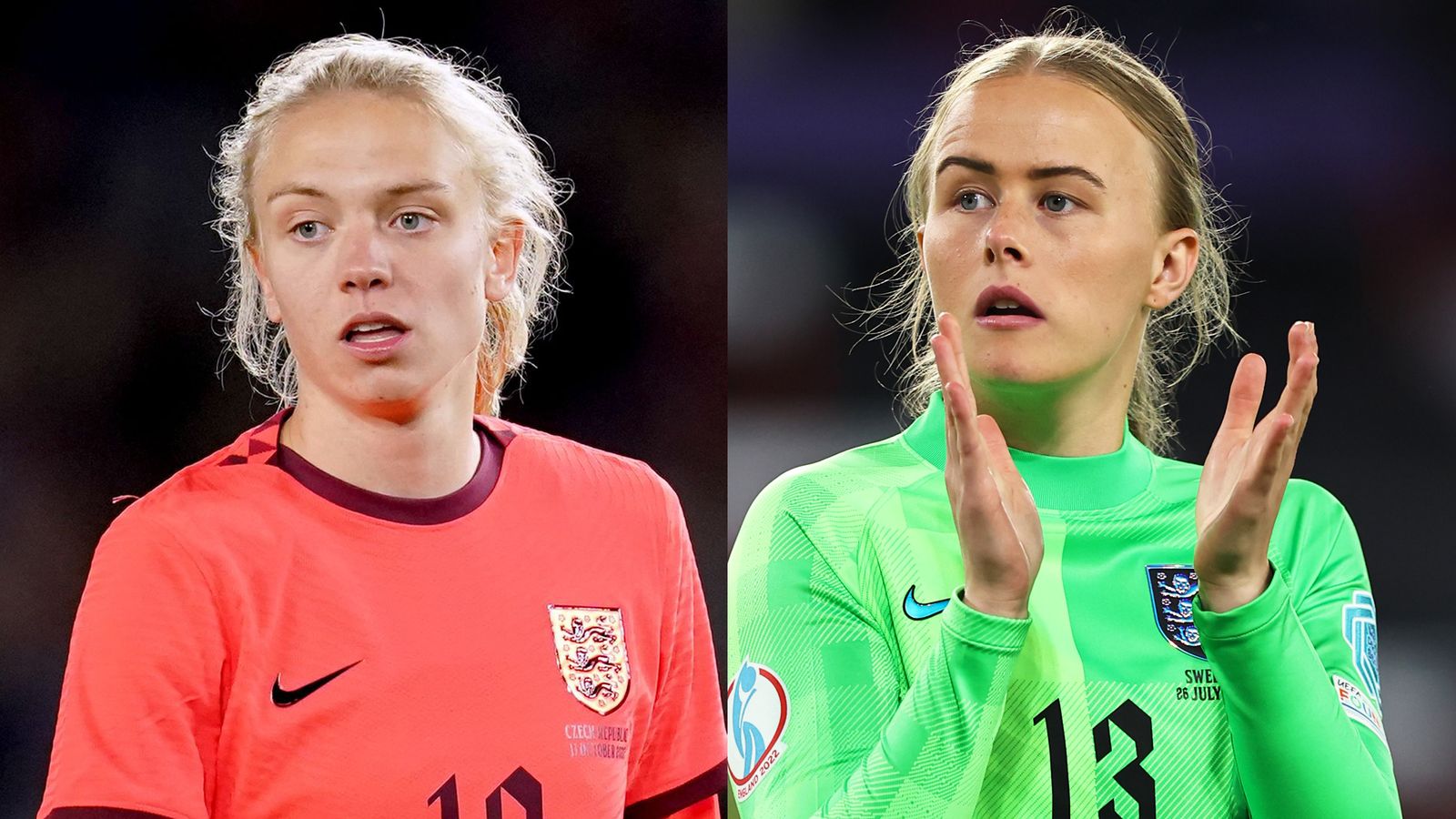 Sarina Wiegman has handed recalls to Hannah Hampton and Esme Morgan while uncapped Lucy Parker also returns to the fold as the Lionesses prepare for back-to-back fixtures against Brazil and World Cup co-hosts Australia in April.
Dropping out from February's squad are the injured Emily Ramsey along with Lotte Wubben-Moy, Katie Zelem and Ebony Salmon.
Chelsea forward Fran Kirby continues to be absent as she recovers from a knee injury, while Bethany England also misses out despite scoring five goals in six appearances for new club Tottenham.
Wiegman said: "We are getting closer to the World Cup and I can't think of two better games to assess our progress. After these games, there will be less than three months until we fly to the tournament and we must make every second on and off the pitch count.
"For us as a technical staff this will be the last chance to see the players within our England environment before we come together for the final preparation phase in June. And these two matches will be two real tests to see where we are at."
The Lionesses have not faced Australia since October 2018 when Kirby scored in a 1-1 draw at Craven Cottage.
The last meeting with Brazil was in October 2019 at the Riverside Stadium when Debinha scored twice for the visitors, before England's late consolation in a 2-1 defeat.
England squad in full
Goalkeepers: Mary Earps, Sandy MacIver, Ellie Roebuck, Hannah Hampton
Defenders: Millie Bright, Lucy Bronze, Jess Carter, Niamh Charles, Alex Greenwood, Maya Le Tissier, Esme Morgan, Lucy Parker, Leah Williamson
Midfielders: Laura Coombs, Jordan Nobbs, Georgia Stanway, Ella Toone, Keira Walsh
Forwards: Rachel Daly, Lauren Hemp, Lauren James, Chloe Kelly, Jess Park, Alessia Russo, Katie Robinson
Upcoming fixtures
April 6: England vs Brazil – kick-off 7.45pm, Women's Finalissima (Wembley Stadium)
April 11: England vs Australia – kick-off 7.45pm, friendly (Gtech Stadium)