Fulham self-destructed against Man Utd with 90 seconds costing them game, says Roy Keane | Football News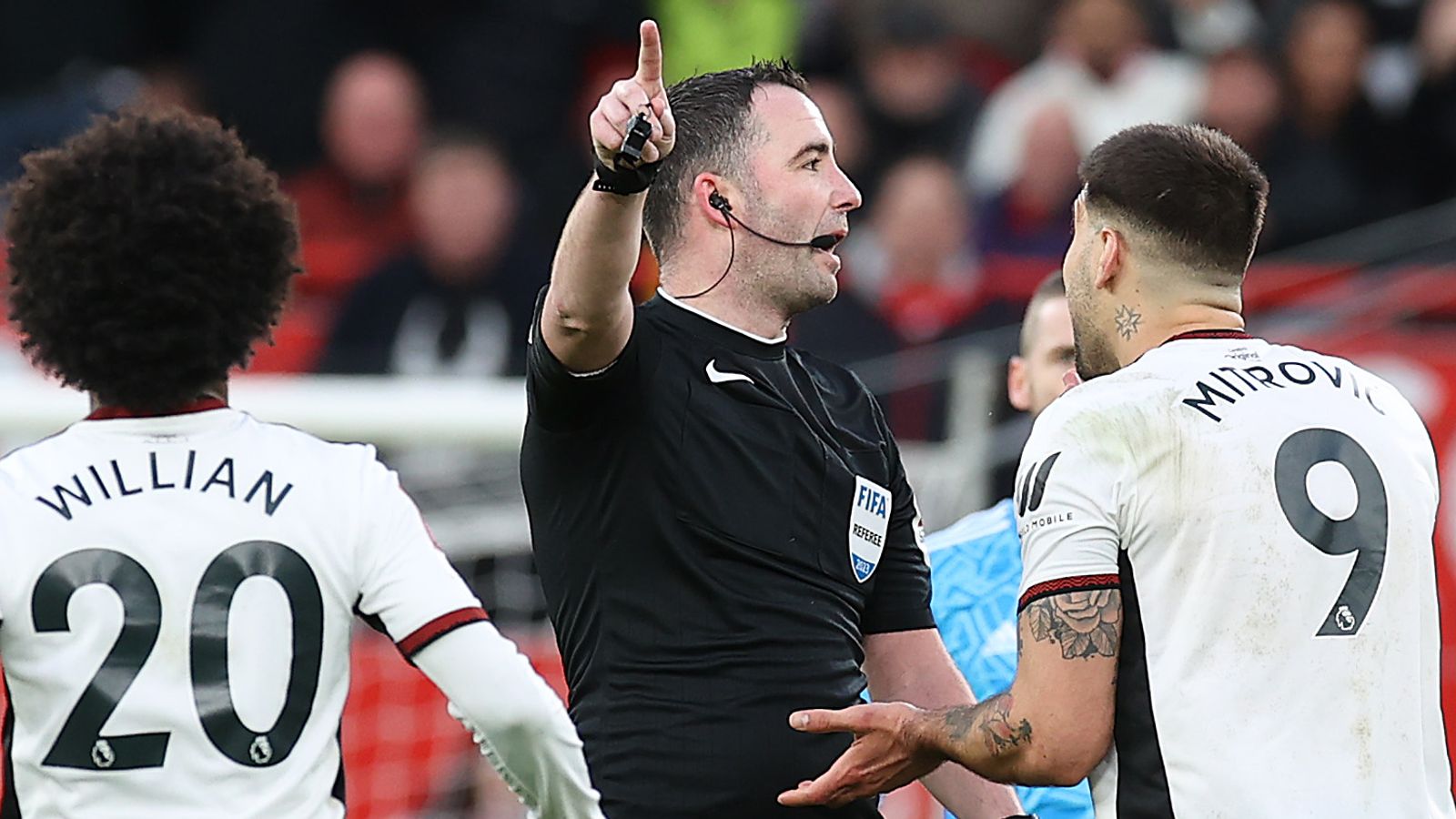 Roy Keane admitted Fulham hit the self-destruct button as hopes of reaching their FA Cup semi-final since 2002 went up in smoke with the red mist descending in defeat to Manchester United at Old Trafford.
Marco Silva's side looked on course for a famous FA Cup win after taking the lead five minutes into the second half at Old Trafford when Issa Diop flicked on Andrea Pereira's corner to allow Aleksandar Mitrovic to fire home from close range.
But the game completely changed just before the 70th minute when Antony broke down the right and squared the ball for Jadon Sancho. He rounded Bernd Leno and then shot towards goal with Willian blocking on the line before replays showed he had blocked the shot with his hand.
The wheels came off as manager Marco Silva, Willian and Mitrovic were all sent off during an astonishing 90-second period which turned the contest on its head.
Keane told ITV Sport: "It was a case of self-destruction from Fulham, particularly with the incident for the penalty – the reaction of the managers and the players.
"Obviously, it's an emotional game and we've all been there. It was a mad 90 seconds that's cost them the game."
Silva was sent off for something he said to referee Chris Kavanagh as he came over to check the monitor. Kavanagh then signalled for a penalty and showed a red card to Willian.
An angry Mitrovic confronted and remonstrated with Kavanagh and got his own marching orders, to leave Fulham down to nine and without a manager.
Mitrovic took some time to leave the field and had to be calmed down by several of his Fulham team-mates before eventually leaving the pitch.
Bruno Fernandes sent Leno the wrong way to level the scores, with Marcel Sabitzer adding a second soon after, before Fernandes added a third deep into stoppage time.
"It wasn't necessarily about Manchester United winning but more a case of Fulham finding a way to lose," added Keane.
"I have no sympathy for them. They will be getting one or two plaudits, but they won't be getting any from me. They had an opportunity and they blew it."
Should Mitrovic get a long ban?
Fulham boss Marco Silva insists he said nothing to Chris Kavanagh to warrant a red card and says he's can't understand some of the referee's decisions this season.

Following his act of violent conduct, Mitrovic will now serve a three-game suspension in the Premier League and will miss games against Bournemouth, West Ham and Everton – but given the nature of the incident, there could be a case for the Serbian striker to be banned for longer.
Silva hopes the FA are lenient when they review the incident and the referee's post-match report.
"I don't think so," the Fulham boss said when asked if he feels Mitrovic could be set for a lengthy suspension.
"I saw the image and have spoken with Mitrovic. It's a moment where he needs to control his emotions. Of course, in that moment he pushes the referee but not in a so, so bad way. I hope that the people who decide do so with fairness.
"As in that moment with the red card, penalty and two moments we had in their box that Mitrovic was involved where no-one checked or cared about that situation. Unfortunately for us we have been really unlucky with Chris Kavanagh this season – many moments already. It's difficult to understand some of his decisions.
"It's difficult for us to accept these decisions because I understand Manchester United are a huge club and it's the quarter-finals but both teams have to have the same conditions to keep in the competition.
"You cannot decide one way because sometimes it's Manchester United or Fulham to decide completely different in some situations. The referee sometimes feels the pressure, like I feel, like Ten Hag can feel, like the players feel, but the people in the office [VAR team at Stockley Park], it's really difficult to accept.
"Our story with Chris Kavanagh this season has been really tough as a football club. We had that West Ham game away from home where we lost the game on two clear handball goals and it was Chris Kavanagh in that match."
Silva: Why did referee not check monitor for penalty?
Speaking to ITV afterwards, Silva said he felt aggrieved that his side were not awarded a penalty of their own.
Early pressure saw David de Gea push Diop's looping header over, while Mitrovic wanted a penalty – and United defenders a yellow for diving – when he tangled with Lisandro Martinez in the box.
"We should talk about all the game and not just one moment. Until the penalty and red card, we were clearly the best team on the pitch. We respect Manchester United but it was clear we was the best team on the pitch."
When asked about the penalty incident involving Willian, Silva said: "It is a decision the VAR can take, what is difficult to understand is why the two moments in their box in the first half, where one of them is a clear penalty on Mitrovic, why did no-one check?"
On his own red card, he added: "In that moment I shouldn't be sent off. I don't want that to happen. It's my place to be there. If you ask me if I did something I'm happy with, of course not. But if you ask me if that it should be a red card, I have big doubts. I would like to know what the referee is going to write about what I said to him."
Fulham's meltdown in pictures
Aleksandar Mitrovic went from hero to zero as one of three red cards for Fulham in 90 seconds of bedlam at Old Trafford.
Keane: Man Utd must improve attitude for semi-final
Manchester United manager Erik ten Hag says his team is where they want to be after a 3-1 win over Fulham sent them into the FA Cup semi-final.

Twelve-time Cup winners United advance to face Brighton at Wembley while Fulham will count the cost of a day that could hurt their push for Europe via the Premier League with suspensions to follow.
It was a dramatic turnaround in a game in which Fulham had been the better team for most of the afternoon.
The absence of the suspended Casemiro and Fred – among the substitutes as Scott McTominay and Sabitzer started – told, as perhaps did United's relentless schedule across four fronts this season as the hosts laboured against a Fulham side showing plenty of bite with Joao Palhinha back from a ban.
And then United were gifted a route to Wembley.
"It's literally impossible then to play with nine men," continued Keane. "Fulham tried to sit back but United just toyed with them the last 10-15 minutes.
"The priority for Manchester United today was to get into the next round but I still think the manager will be hugely disappointed with what he saw.
"Fulham self-destructed but United were so poor it was unbelievable.
"It's better to be lucky than good, sometimes. They've found their way in the previous games and the home draws have really helped them.
"You need luck in Cup competitions and United have had their fair share this season.
"That said, I've lost a bit of confidence watching United now. A month or two ago, I was thinking they're up for it. But the last couple of games I've seen some habits come back.
"It's fine to play in moments every now and again but right now it feels like their DNA. They've slipped into some really bad habits.
"They turned up today expecting to win the match as they have quality players. But if they turn up with that attitude for the semi-final, Brighton will beat them.
"United need a kick up the back side."
Miami, SDSU knock off remaining No. 1 seeds before Elite 8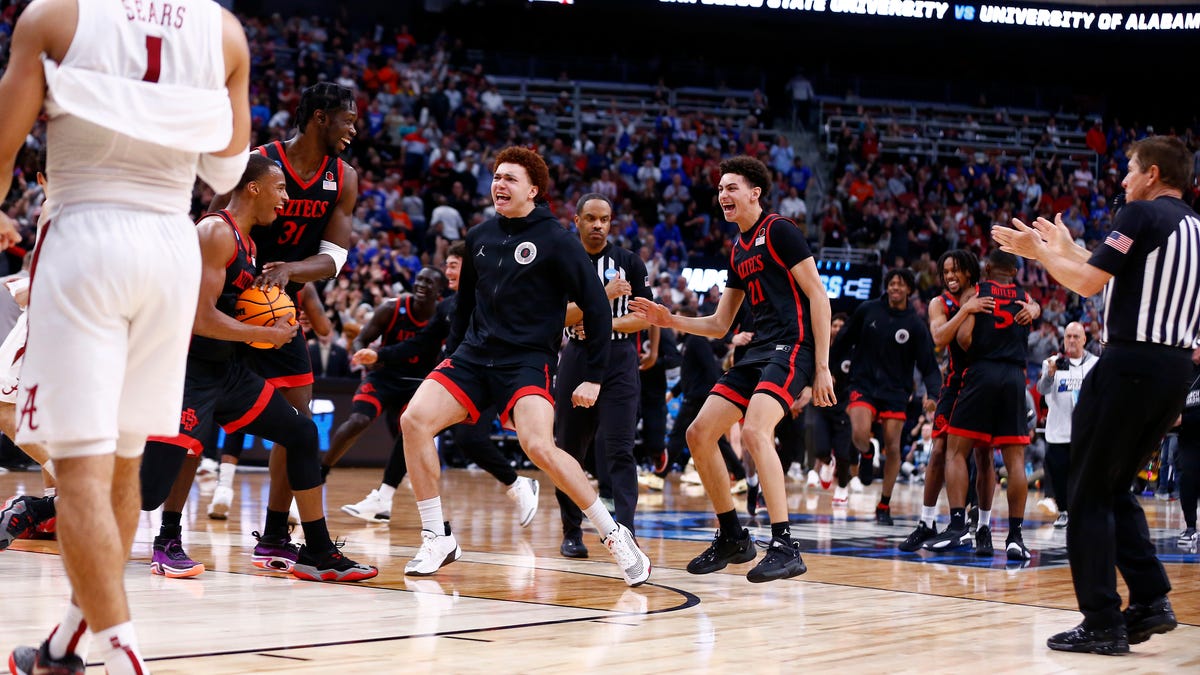 You know that feeling you get when a new team is going to win the title? You look at the finals matchup and say, "Suns-Bucks? Cool." Occasionally, that feeling can happen in the semis, but it's rare. Usually, there's a blueblood like the Patriots, Duke, Alabama, Golden State, the Astros, or some team that you're dreading because we've seen it and want a different fan base to experience euphoria — or just not the same fan base.
Well, we've reached the Elite 8 of the men's NCAA tourney, and there are only two "powerhouses" left in the field, they play each other next round, and one of them (Gonzaga) doesn't have a title. The other program is UConn, and even though the Zags or the Huskies will be in the Final Four, this tourney has that new champion smell.
I could be wrong, and UConn will continue beating opponents by 20 en route to a fifth title since 1999, which would be the most titles in the time period by two titles. Yeah, wild stat, right? If it feels like there are two, three, maybe even four schools that have had a larger impact on college basketball over the past 24 years, it's because you're right. Duke, North Carolina, Kansas, and Villanova come to mind, but what's really on my mind is that we're getting a non-traditional Final Four.
This doesn't feel like an outlier
Here's an even crazier stat (that you've likely already heard which is why I didn't lead with it): This is the first year since seeding began in 1979 that no No. 1 seed has made it to the Elite 8. That could be why 2023 feels so strange. I mean, Alabama and Houston both lost, and neither game was a fluke.
San Diego State led at the break, and although Bama had a nine-point lead midway through the second half, the Aztecs needed a timeout and all of a minute and a half to erase the deficit. Then it was SDSU's turn to build a lead, one they wouldn't surrender, bringing the Brandon Miller era/saga to a merciful end with a 71-64 loss in the Sweet 16.
Houston… well, Houston had an even tougher go of it, getting drubbed by a Miami backcourt that did whatever they wanted. Isaiah Wong and Nijel Pack combined for 46 points, and forced the Cougars to play catch-up most of the game. The U went on a 16-4 run to push their cushion to 17 at the 10:06 mark of the second half, and cruised the rest of the way to an 89-75 W and their second-straight Elite 8.
The four teams joining UConn, Gonzaga, San Diego State, and Miami are FAU, Kansas State, Texas, and Creighton. As far as seedings go, we have a 2, two 3's, a 4, two 5's, a 6, and a 9 remaining. It's not quite Reservoir Dogs level "Really, that's who's left alive?" vibes, but it's close.
It's up to you, UConn and Gonzaga, to maintain order
If you've been following the tourney closely — and who knows if you are because brackets started spontaneously combusting on opening day and haven't stopped — UConn is the only squad in the Elite 8 that's been comfortable in all three wins. Everybody else has had a game decided by single digits, and I don't need to be the 16 millionth writer to tell you the hierarchy of power in the DC Universe is about to change.
Wait, that's The Rock's line.
The hierarchy of power in college basketball has changed, and it's up to you to decide how to feel about it.
My feeling is this: I'm always going to enjoy that new champion smell. It's certainly better than the monotony of college football.
Sure, if the Huskies win, it'll be just another weird UConn year where they caught fire at the perfect time. However, if it's one of the other seven schools, even Gonzaga (but not Creighton; Cornhusker basketball until I die), I'll be satisfied.
March Madness finally, truly fits the bill, and I'm happy lighting a couple of entry fees on fire to watch everything else burn. 
Duncan Ferguson: I wouldn't leave Forest Green for Everton or Real Madrid | Football News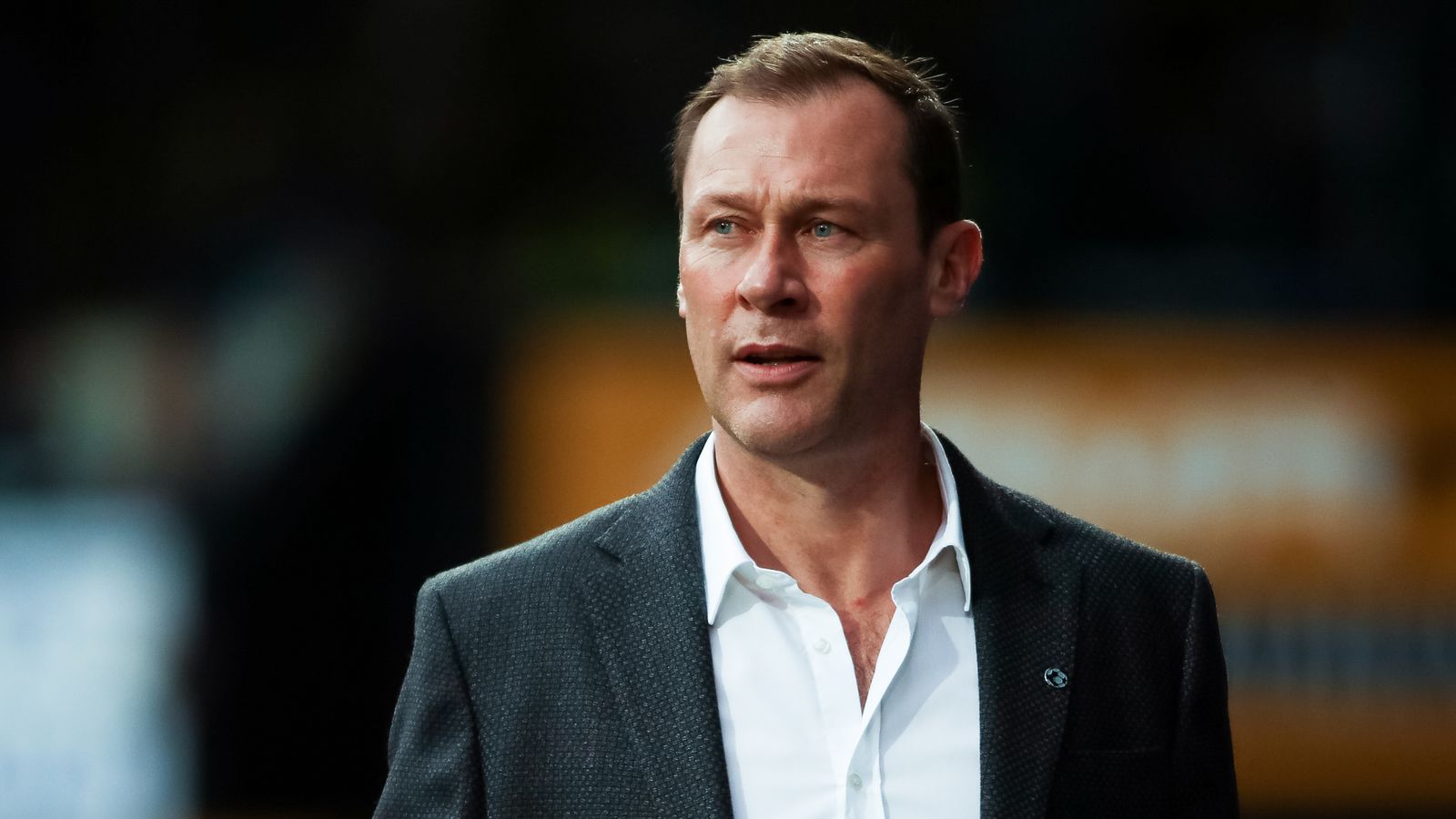 Duncan Ferguson spent years as part of the backroom staff under several managers at Everton.
On two occasions he also took charge of the club on a caretaker basis, but was overlooked for the job permanently last season in favour of Frank Lampard.
Now, at 51, he has struck out on his own, and in January he took on his first permanent managerial role in charge of Forest Green in League One.
It has not been an easy start. There have been just two points collected from his first nine games in charge. Rovers lie bottom of the third tier, and are heading back towards League Two at the first time of asking after winning promotion last season.
But Ferguson was handed a five-and-a-half year contract by owner Dale Vince, and he is committed to building the club in the long-term.
Here, he spoke to Sky Sports pundit and former Everton team-mate Andy Hinchcliffe about not getting the Toffees job, his aims for Forest Green and more…
On his disappointment at not getting the Everton job
"I was considered for it. I went for an interview but I was unsuccessful, unfortunately. That was disappointing because you obviously want to be the manager of the club that you love and I felt like I deserved a chance at that and to take the team through to the end of the season.
"But the club brought in Frank Lampard, a man I have a lot of respect for. And to be fair he steadied the ship and helped the club avoid relegation.
"I was disappointed I wasn't given that chance, but it is what it is. The club made a decision and it was the right one."
On his long-term plans for Forest Green, and trying to attract Messi!
"I'm not sure I needed convincing but [me and the owner] definitely needed to have a chat about where the club was going, and what he saw as the vision of the club. Obviously it's come a long way in the last four or five years.
"When I spoke to him I liked him right away. My first impressions were good and he told me where he wants the club to go. He offered me a long contract, and that showed his confidence in me.
Highlights of the Sky Bet League One match between Plymouth Argyle and Forest Green Rovers

"Obviously things aren't going too well for us right now, and we might have to take a step back, but hopefully we'll come forward again. We want to be in the Championship. That's the aim. It's where we want to be, and where I want to be as coach.
"If you've got strong views on the environment you might want to come here. I wonder if Messi has strong views on the environment! He could come here, couldn't he."
On his commitment to the club
"I love Everton, but I'm at Forest Green. The owner knows I'm a man of my word, and I've told him I won't be going anywhere unless he tells me. And that's it.
"It doesn't matter if Everton come in for me tomorrow, or Real Madrid come in for me next week. I will not be leaving this club. That's an absolute fact.
"He showed faith in bringing me to the club and he gave me a big contract. He showed that loyalty to me, and I'll show that loyalty back to him."
On Everton's relegation battle and Dyche
"I thought Frank was one of the best I've ever worked with. He was absolutely fantastic, and his presentations and the way he spoke to players was the best I've ever seen.
"Obviously I keep an eye on the results and it looks like Sean is pulling it around. I can see why Everton went for him. He's been there and done it.
"He's got that experience. He'll set them up how he thinks is right. He's got a few good results recently and I'm sure Everton will be safe this season."
Jim Crawford: Republic of Ireland U21s boss angered after 'uneducated' trolls racially abuse U15 players | Football News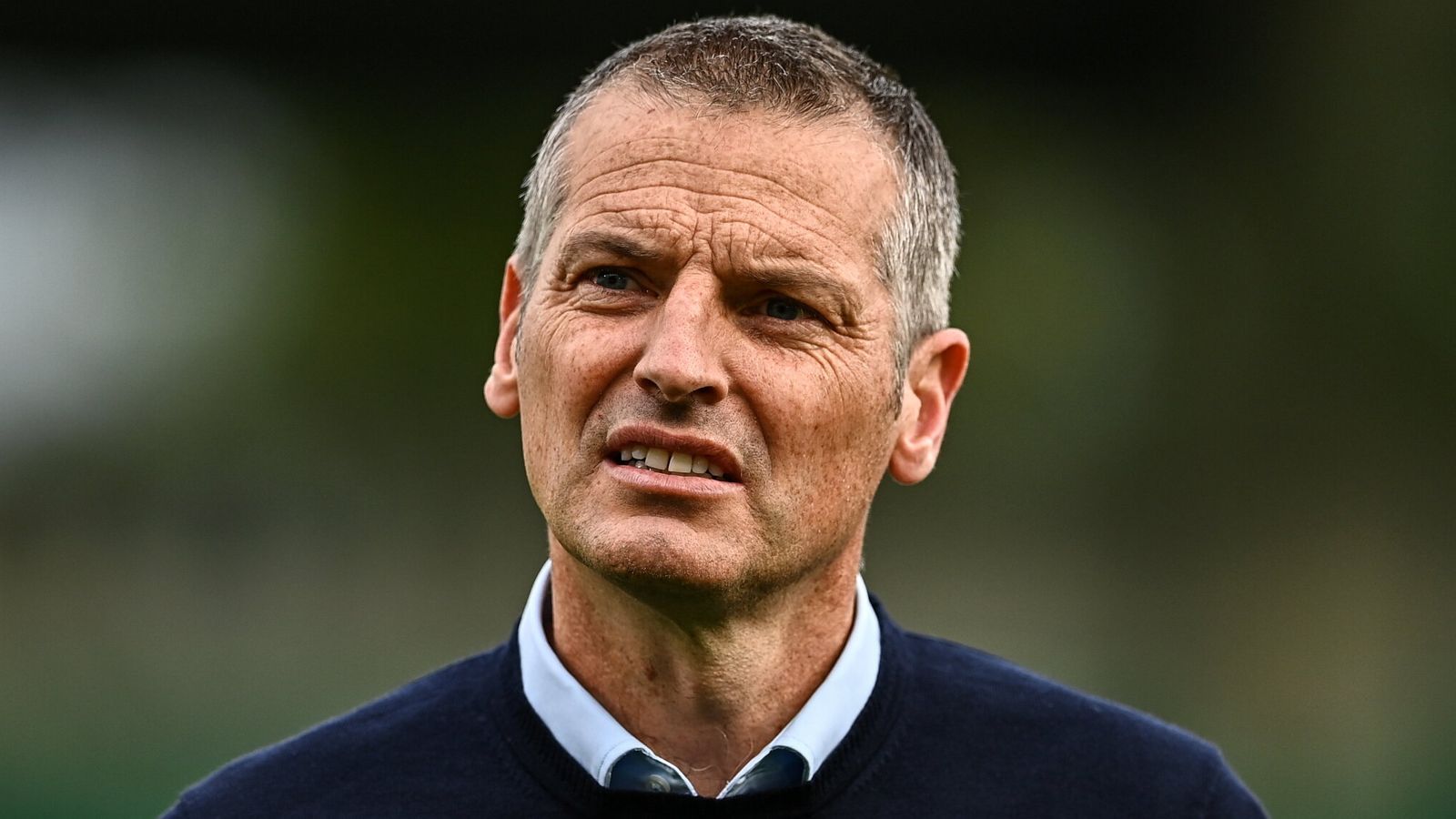 Republic of Ireland U21s boss Jim Crawford has hit out at the "uneducated" trolls who sent "unacceptable" online abuse to members of the country's U15s squad.
The Football Association of Ireland has condemned the attacks on multiple platforms, which came after the U15s boys' team's back-to-back 6-0 victories over Latvia earlier this week, as "vile and horrific" and is working with police and social media companies to identify and deal with those responsible.
Crawford, who was preparing his team for Sunday's friendly against Iceland in Cork when the news broke, could not contain his anger.
He said: "I just want to get it out there that there's certainly no place for racism in sport, in society.
"It comes from a minority, it comes from uneducated people and it comes from social media platforms where people can disguise their names, their identity. The unfortunate thing is that they have a platform.
"To hear that this morning, it just makes you angry. I just think it's time that we all just work together on this and stamp it out because it's unacceptable."
The incident comes at a time when Stephen Kenny's Ireland squad, which will face France in a Euro 2024 qualifier on Monday evening, mirrors the country's diversity, with striker Chiedozie Ogbene, the first African-born player to represent the nation at senior level, Andrew Omobamidele and Adam Idah all of Nigerian heritage.
Crawford added: "These same people will be cheering goals if Chieo scores, Adam Idah scores, do you know what I mean?
"I just don't know. Well, I do know. They're ignorant, they're uneducated, but they have to hide behind these fake accounts.
"It goes for racism, bullying and I do think social media companies have got to do something about this. They've got to do it because certain people think it's a laugh and a joke, but it's not, it's a lot deeper than that."
An emotional Crawford continued: "I've worked in the FAI now a long time and I know the work that development officers do on the ground, getting into schools, putting on Show Racism the Red Card programmes, and I've been involved in that myself.
"It's something that I'm very strong about and every school I've been to, I've got the buy-in. But it's just the minority, you know? It's just a minority.
"I've run so many programmes with black kids loving football, and then I hear this goes on, you know?"
Hate Won't Win
Sky Sports is committed to making skysports.com and our channels on social media platforms a place for comment and debate that is free of abuse, hate and profanity.
For more information, please visit: www.skysports.com/againstonlinehate
If you see a reply to Sky Sports posts and/or content with an expression of hate on the basis of race, sex, colour, gender, nationality, ethnicity, disability, religion, sexuality, age or class, please copy the URL to the hateful post and screengrab it and email us here.