Jason Whitlock offers up misogynistic take on ESPN programming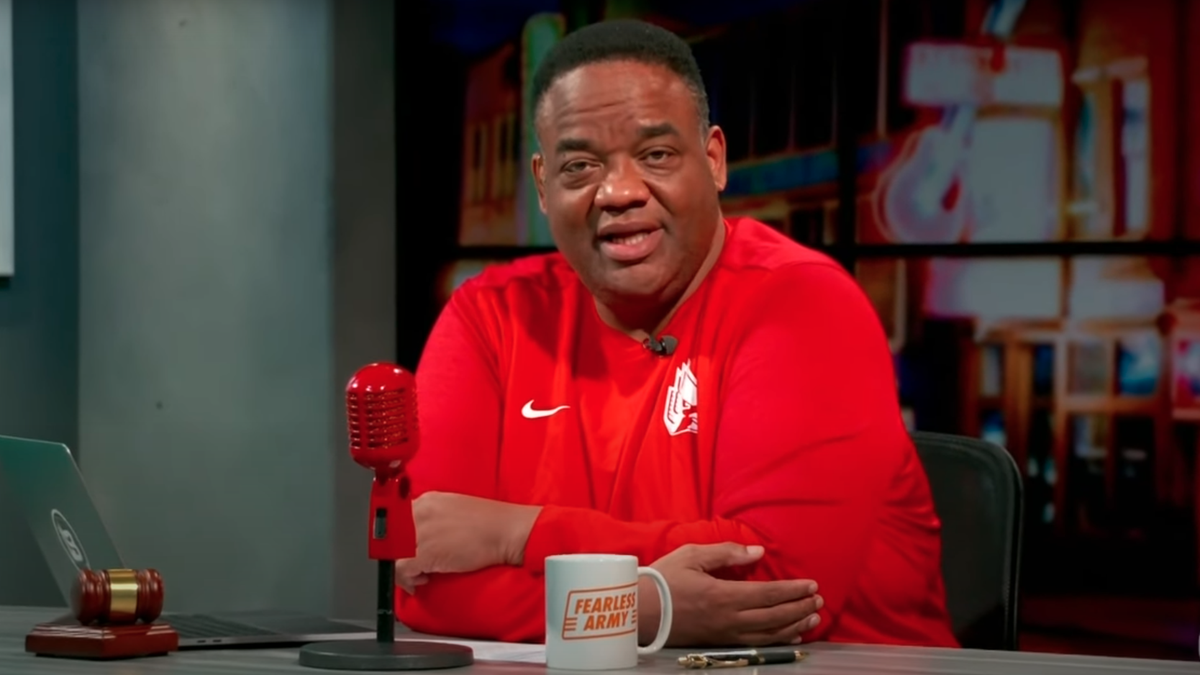 Are you a single-celled organism? Do you feel like too much contemporary sports talk is just a bunch of nerds and women screaming about analytics, or that everyone on the TV talks too fast? Do you miss smoking in hospital wards? Then, Jason Whitlock has dug up some stale, low-hanging fruit disguised as sports takes, just for you.
Two decades ago, Hunter S. Thompson opined in a column that, "the downward spiral of Dumbness in America is about to hit a new low." In 2023, look no further than Whitlock. On Tuesday morning, Whitlock used his platform to whine about the visibility of women's basketball on SportsCenter.
Another bad take
Of all the things to get riled up about, ranting about women's hoops being too front and center is almost cartoonishly misogynistic. When Whitlock's not running around bearing his dark soul, Whitlock is on a trolling spree. Twitter has provided him with a new avenue to test out his bad takes. Whitlock is a dark soul. There's no depth to him besides but an insidious desire to pile on, show solidarity to supremacy movements and see everyone as miserable and grievance-filled as he is.
G/O Media may get a commission
Addiction counseling
Safe Haven Health
Accessible for all
Safe Haven prioritizes your needs with flexible and individuated substance abuse treatment, specifically opioid & alcohol addiction.
For every obnoxious Stephen A. Smith rant, Whitlock is a few levels of hell beneath stirring up the lowest common denominator to remain relevant. At a time when women in sports are facing threats of violence in increasing volume, Whitlock is the rabble-rouser with a platform ginning up anger over their presence on SportsCenter. The responses to his grievance tweet are a series of delusional complaints about how women's sports are receiving more prominent placement than male athletes.
But here's the kicker. For all his complaining, he's still watching SportsCenter. Nobody told him women's basketball comes with the package? Whitlock is the only one kicking up dust about women's basketball leading off SportsCenter's because it's his modus operandi.
Deals in place
His twisted mind conjured up some anti-masculinity, feminist agenda at work within the largely male-operated confines of ESPN because their highlight menu expanded on a Monday night, because he's a simple-minded head-ass. ESPN struck a half-billion dollar deal with the NCAA in 2011 that stipulated the network air highly ranked women's games. Caitlin Clark is the best player in the country and her leading-off highlights during a career night when there's no prominent story to take the lead is common sense to anyone with adequate critical thinking skills.
The Worldwide Leader also has a multi-million dollar deal with the WNBA to air two dozen regular season games a year and Clark is expected to be one of the brightest new faces in the league next season. Watching her and a slew of other women's basketball highlights won't poison minds as much as listening to Whitlock's spiel will.
Variety is the spice of life. ESPN leads off every debate show with the Dallas Cowboys, or a silly segment where Stephen A. Smith mocks "America's Team." Jalen Rose, recently subtweeted on the subject of Stephen A's tired jubilation after every Cowboys loss. There is so much more to mine than the latest out of JerryWorld or the superficial trappings of rearranging the quarterback hierarchy after every matchup. There's also a world outside of men's sports.
Whitlock is the same journalist who championed Kyrie Irving and Kanye West during scandals revolving around their antisemitic comments, screaming about agendas and women's sports isn't surprising. He's got a history of this sort of thing. He's perfect for the fringe audience on right-leaning Blaze TV where his conspiracy theories can thrive in darkness. Whitlock is a bottomfeeder catering to the market where his bread is buttered. If anyone has an agenda, it's him and his obsessive admiration for Ron DeSantis and the extreme right has crept into his work. He'll continue to spew nonsense because Whitlock is a joke without a punchline seeking attention.
The Hundred: Welsh Fire name Mike Hussey head coach of men's team | Cricket News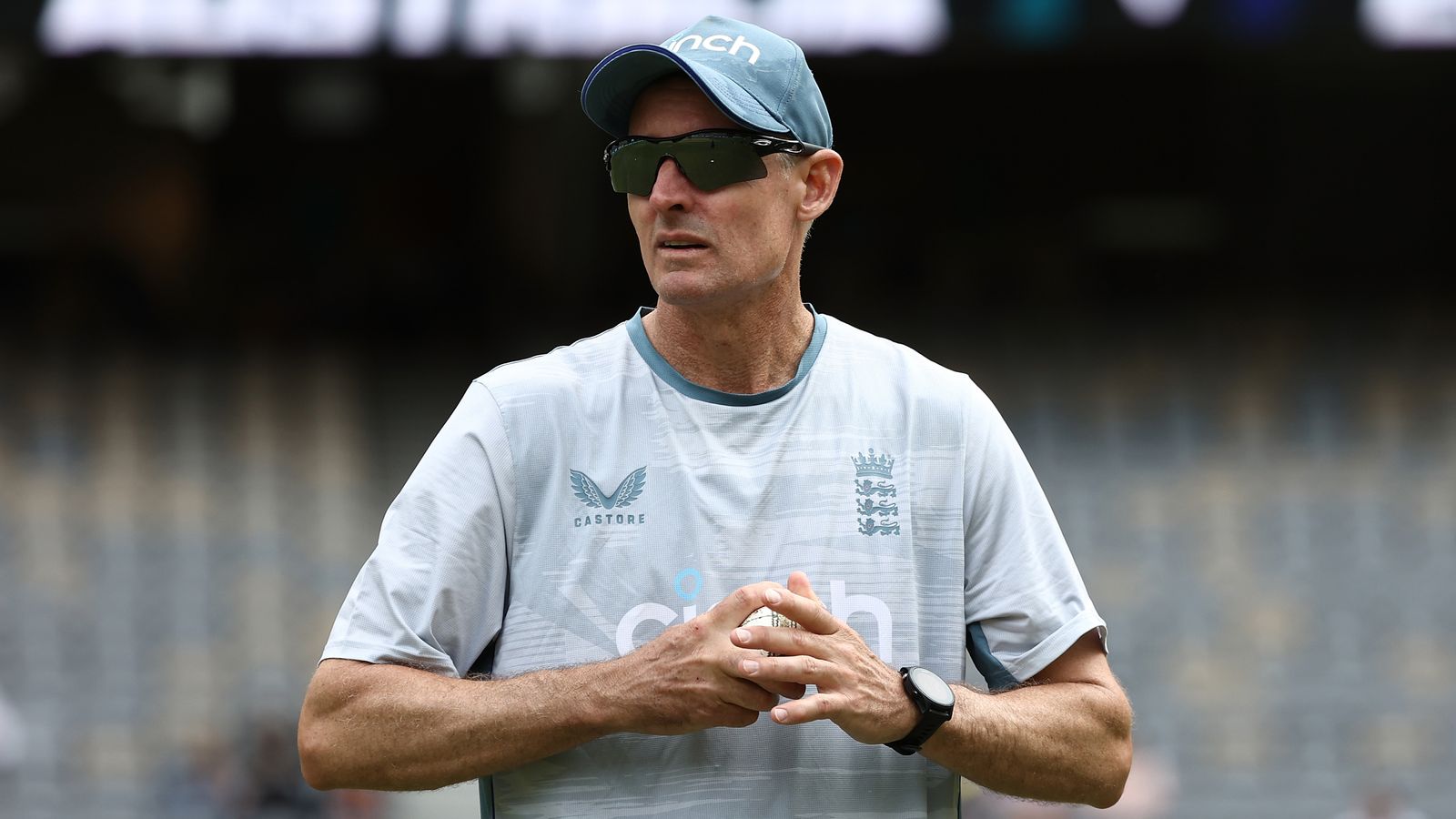 Australian Mike Hussey has been confirmed as the new head coach of the Welsh Fire men's team ahead of the third year of The Hundred.
Hussey played over 300 times for his country, and has extensive experience of white-ball leagues around the globe as both a player and a coach. Most recently, Hussey was part of the England men's team's coaching staff in their successful ICC T20 World Cup campaign.
He arrives into the role ahead of Deadline Day, and The Hundred Draft, in which his team will have first pick.
Hussey, known within the game as 'Mr Cricket', said: "I'm really looking forward to getting started at Welsh Fire and being part of The Hundred.
"From a distance it looks a fantastic competition to be involved in, one that's attracting big crowds and getting lots of kids interested in the game.
"For my part, hopefully I can get help get things moving in the right direction on the pitch in Cardiff and give all of those fans who've been coming to watch something to really get excited about."
Mark Wallace, cricket manager of Welsh Fire, said: "We're thrilled to be able to appoint someone of the calibre of Mike. There are few better people around the world with the relevant expertise and knowledge of white-ball cricket to help take us forward.
"It's really exciting to have him on board, and we look forward to working together to hopefully bring some on-field success to the team and our fans."
NBA alternate jerseys (Lakers, Knicks, Celtics) are an eyesore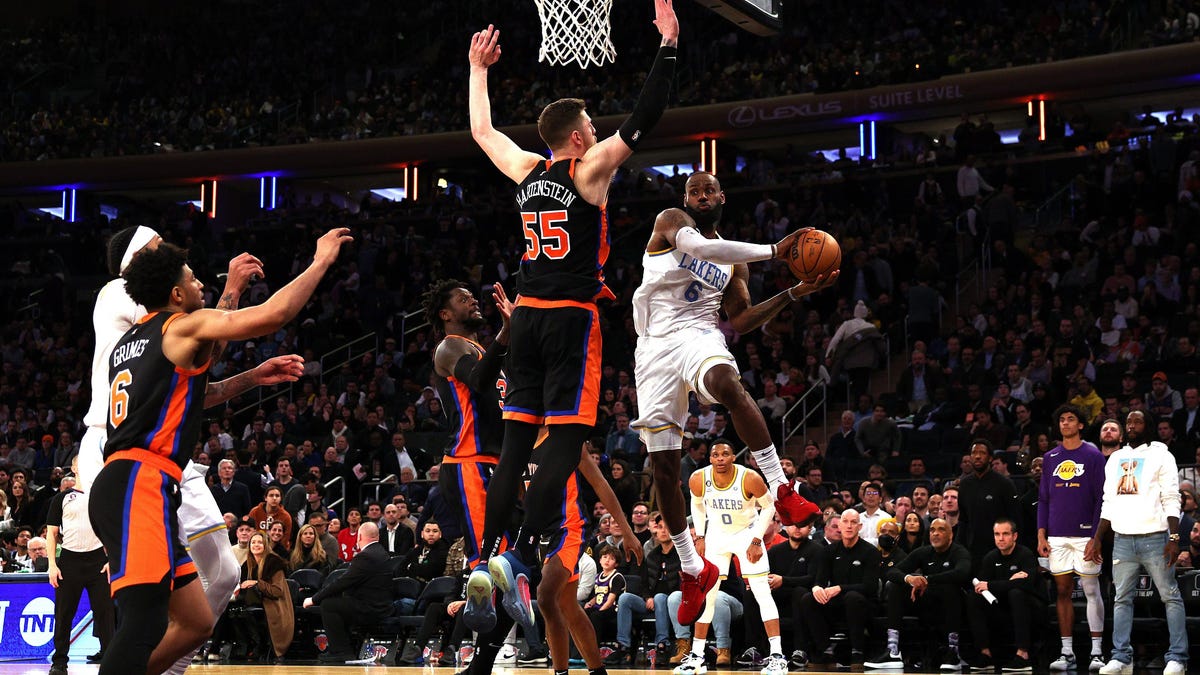 NBA, I'm ready to bargain. I complain regularly about the uniforms because back when the NBA was a proper league, the home team wore white except for the Los Angeles Lakers gold. I can accept that those days are long gone, but Adam Silver please meet me 25 percent of the way. If a classic matchup is taking place — like say the Lakers and New York Knicks — let's show some reverence for history and wear the traditional jerseys.
It happened again
This is the second time in less than a week that the NBA has besmirched a nationally televised matchup between two of the NBA's most historic franchises. On Tuesday, the Knicks broke out those black City Edition jerseys and that ugly black court. The Lakers wore white, and not the snazzy Sunday whites either. They went with a hybrid of their old white and blue jerseys with gold trim.
So the decision for the night was to go with colors that don't exist in either team's logo, one uniform was somewhat of a throwback and the other looked like it belonged to Batman's rec-league team. And to top it all off, the design of the league's most legendary court was changed to the point where it didn't even look like Madison Square Garden on television. The retro style of the Lakers' jerseys wasn't awful but if we're going to do throwbacks, how about the colors both franchises wore when they played against each other three out of four NBA Finals in the 1970s?
Not just at MSG, but also in Boston
And let's not forget about the atrocity that took place at TD Garden on Saturday night. ABC's NBA Saturday night special between the Lakers and the Boston Celtics. The disrespect that was shown to the rivalry that saved the league was appalling.
G/O Media may get a commission
For one, the Lakers wore gold. The Lakers used to never wear their gold on the road, and that most certainly was the case during those heated 1980s NBA Finals clashes. As disrespectful as that choice was to this rivalry, at least it's a style the Lakers did use at that time. The Celtics broke out their new forest-green City Edition uniform. That clash of colors looked like a bunch of boogers jumping around on the court.
I know those jerseys were designed to honor Bill Russell. However, if the NBA really wanted to honor him, how about having the two teams wear the jerseys that they wore when his squad upset Wilt Chamberlain, Elgin Baylor, and Jerry West in 1969? The league makes the decision on which jerseys the players wear for every game, so it should keep this in mind when its most storied teams are playing against each other.
One of the charms about the NBA is that it's a newer league than the NFL, NHL, and MLB, and also very different. With less equipment and no barrier between the fans and the players, the feel is more intimate, and it carries over outside of the arena. You can't walk around school in Air Rickey baseball spikes, but a fresh pair of Air Jordans could make someone the coolest kid in the building.
Dare to be different
The NBA has always been willing to dare to be different to better market the product, but there is a point when it can deviate too far from its roots. I can deal with the coaches in quarter zips. Some think it looks amateurish, but if Bill Belichick can dress the way he does on the sidelines then Doc Rivers shouldn't be forced to sweat for two hours in a suit.
An alternate jersey — perhaps even two — is fine. I loved the cerulean (shout out to you Miranda) Orlando Magic jersey of the early 1990s, and even some of the Christmas Day uniforms. That being said, there is some tradition in the NBA.
I wasn't alive for Magic vs. Larry, but I know the significance of it. Sure the Knicks don't make the playoffs much anymore, but Madison Square Garden is the Mecca of basketball. Michael Jordan, Patrick Ewing, and white Ford Broncos — those are memories attached to that building and the Knicks that I'll never forget.
So feel free NBA to play around with the uniforms in other matchups. When the Lakers play the Dallas Mavericks, or the Memphis Grizzlies on national TV put the teams' City vs. Statement edition uniforms or whatever, but show some reverence to the history of the league.
It may be shorter than the other leagues, but the history that exists means a great deal to those of us who were hypnotized by the NBA a long time ago, and the spell was never broken. When classic matchups — especially the out-of-conference ones — take place, go with a classic atmosphere. Leave Batman and boogers for another day.
Virginia JV basketball coach pretends to be 13-year-old student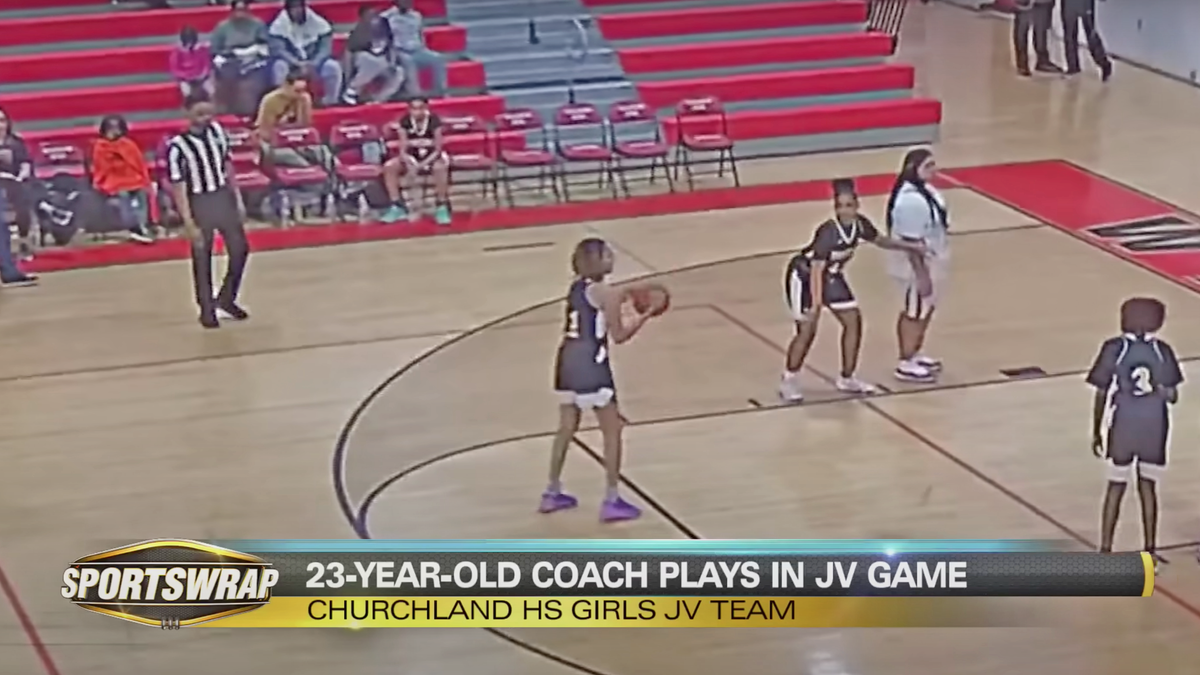 Adult sensibilities don't belong in youth sports. Grown people take sports way too seriously. Countless times overzealous parents, coaches, and spectators have tainted the purity of amateur sports. An assistant coach on the staff of the junior varsity basketball team in Portsmouth, Virginia recently attempted to pull off a dumb 21 Jump Street con. The original 21 Jump Street lasted five seasons. Churchville's version lasted all of one day. Left wondering how to reconfigure the allocation of minutes after a 13-year-old hooper for the Churchland H.S. Truckers junior varsity basketball team skipped a matchup against Nasemond River to attend an out-of-town basketball tournament for her club team, assistant coach Arlisha Boykins saw it as her opportunity to become the first player-coach in high school basketball.
Shenanigans
According to WAVY-TV, Boykins stepped in for the game against girls aged 13-15 by representing herself as the absent teenage girl. However, the girls player who was impersonated was aware of Boykins' stunt and plans to transfer to another school.
Video of the game shows Boykins doggin' out her pre-teen opponents, exhibiting an advanced skill set against whippersnappers, swatting their shots into oblivion, draining stepbacks in their grills, snagging boards, and building her highlight reel. On the George Santos Fabulists Scale, an assistant coach impersonating a JV player just to serve 'em on the floor is about a seven on a scale of one through 10 in terms of bizarreness.
G/O Media may get a commission
morph audio
Morph Earphones
SWAPPABLE FACEPLATES
Each set of Morph Earphones is crafted as a wearable street fashion accessory, as they come with swappable faceplates that you can switch out to change up your look at will. Choose from everything from trippy smileys to sakura blossoms and much, much more.
What was the point?
There's an extensive, sordid history of adults who can't let go of their hoop dreams, returning to high school so they can compete against teenagers, but most of their plots are a little more sophisticated. What was the endgame? Win the JV title she never won as an underclassman?
There was no need to run a sting operation to catch Boykins in the act. Not only was Boykins an assistant coach, but this was the JV team! She couldn't even make varsity in her 20s. Did a 23-year-old woman pretending to be a high school freshman really think parents or employees of the school wouldn't notice or that if her harebrained scheme worked out that players wouldn't gossip? If this were an episode of 21 Jump Street, it would have been over in half an hour.
"Coaches always preach to the kids about integrity and those types of things, so I was just shocked," the father of the 13-year-old said.
This absurd development wouldn't have even been possible without the explicit approval of Churchville's head coach. What other life lessons were these coaches imparting to their young players? How to get away with identity fraud?
The unanswered questions left here are endless. One thing we do know is Churchville quickly cleaned house. The junior varsity coach who approved of Boykins' deception and the varsity head coach who allegedly "encouraged [Boykins'] behavior" were both dismissed by the school. Boykins' bizarre move should be the end of her coaching career before it ever really began, but there are worse figures who've returned from exile. Unfortunately for the girls who were coerced into participating in Boykins' scheme, their season was also canceled posthaste amid the scandal.
In the end, it's the kids who are typically harmed by the sins of the purportedly responsible adults.