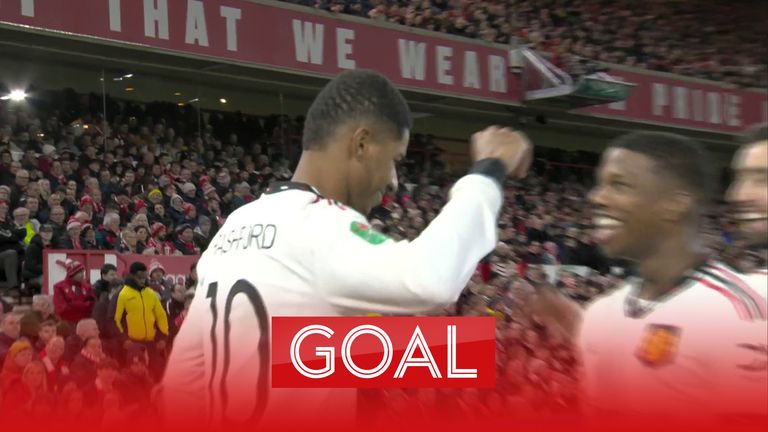 Manchester United took total control of their Carabao Cup semi-final against Nottingham Forest with a 3-0 win in the first leg at The City Ground.
Marcus Rashford's stunning solo goal opened the scoring before Wout Weghorst's first goal in a United shirt followed by Bruno Fernandes' late third put Erik ten Hag's team in a commanding position ahead of the second leg at Old Trafford.
Forest competed throughout on a noisy night by the Trent and thought they had an equaliser in the first half only for Sam Surridge's attempt to be ruled out for offside. But it was the United supporters singing of Wembley and dreaming of ending their six-year wait for a trophy.
Marcus Rashford put Manchester United in front early on after a brilliant solo run

Wout Weghorst put Manchester United 2-0 up against Nottingham Forest

Bruno Fernandes' low drive made it 3-0 to Manchester United in the first leg of the Carabao Cup semi-final against Nottingham Forest

More to follow…
What's next?
Nottingham Forest are already out of the FA Cup so have a free weekend. As a result, their next game is the Carabao Cup semi-final second leg at Manchester United on Wednesday, live on Sky Sports; kick-off 8pm.

Wednesday 1st February 7:00pm


Kick off 8:00pm

Forest then host Leeds in the Premier League on Sunday February 5, live on Sky Sports; kick-off 2pm.

Sunday 5th February 1:00pm


Kick off 2:00pm

Manchester United are next in action on Saturday when they host Reading in the FA Cup; kick-off 8pm.
Erik ten Hag's side then host Forest at Old Trafford on Wednesday, with a place in the Carabao Cup final on the line.
Tom Brady retirement beach sand up for auction on eBay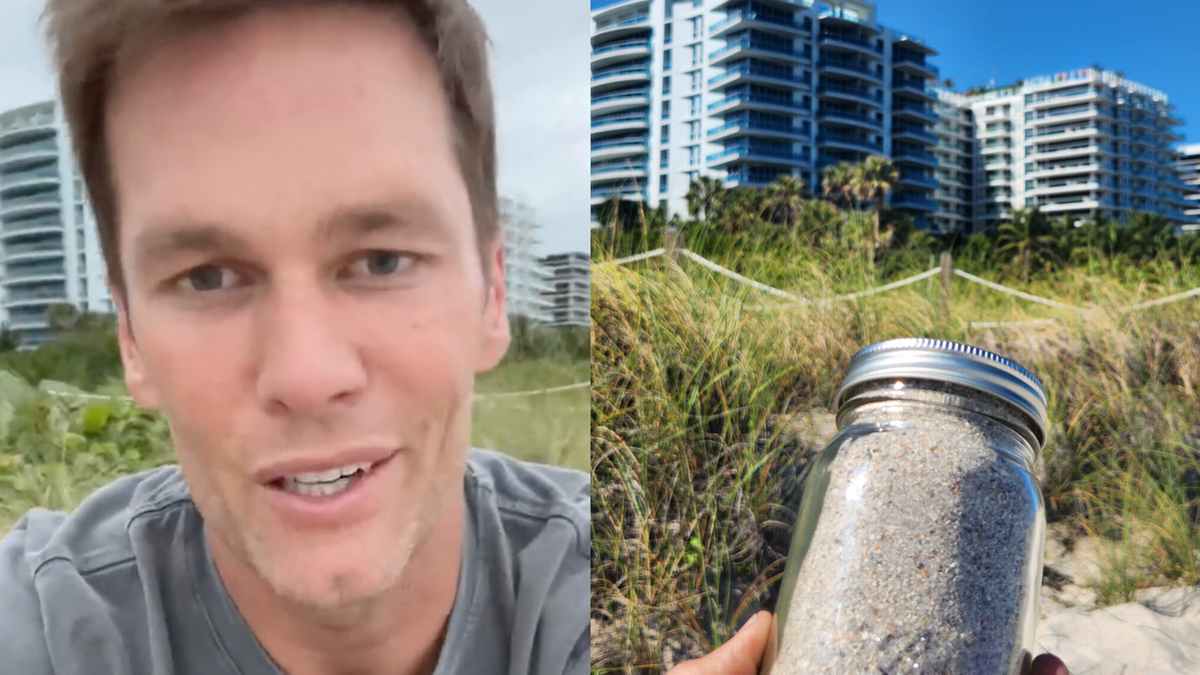 Somebody is willing to pay six figures for a Mason jar filled with sand where Tom Brady supposedly sat while filming his retirement video?
Once upon a time, Jack, a struggling farm boy in the English countryside, was asked to sell his prized family cow so that his household may have enough money to eat for the rest of the week. Instead of selling the cow, he trades the cow for some magic beans. Have you heard this story? Probably. While everyone made fun of Jack for making a trade more one-sided than the DeAndre Hopkins deal back in 2020, Jack proved his intuition correct when the beans sprouted a magical beanstalk that grew to the heavens. Yes, he was a fantastic hero for making such a remarkable trade. Now, imagine the beans never sprouted. How stupid would he look? Probably not as dumb as whoever spends $100,000 — or more — on the sand where Tom Brady announced his retirement.
The 23-year NFL vet, seven-time Super Bowl champ, and three-time MVP recently announced his retirement from a beach in Florida. Quickly, investigators tried to decipher where that beach was. Turns out it was a public beach in Surfside near Miami, where he was once rumored to play. Regardless, this realization led several people to do what they do best, try to make a quick buck, but no one succeeded quite as well as eBay user gadgetgs.
Gadgetgs quickly found the exact spot where Brady filmed his retirement video and filled a jar with as much sand as he could. He posted a picture of the jar as well as a New York Times newspaper from Feb. 1 to prove that the sand was obtained recently. As you can see from the tweet above, people have bid nearly $100,000 on these little pebbles where Brady once stood. That's absolutely ridiculous.
G/O Media may get a commission
It's a camera. For your car.
The Ring Car Cam's dual-facing HD cameras capture activity in and around your car in HD detail.
Will the sand sell for six figures?
Even crazier is that the bid has gone up since. It currently sits at $99,900. Whoever makes the next ridiculous bid will be marching into six-figure territory. That's more than two years' worth of an average American's salary…being spent on sand.
You know what the saddest part about all this is though? Any remnant of Brady's feet being on that sand is likely long gone. It's already come out that Brady filmed that video at least a day before posting it, but probably longer. Sources close to Brady told ESPN and NFL Network that he filmed the video "a while ago." The Boston Globe also reported that Brady had told his parents he would retire more than a week before the video was posted to social media.
With the shifting tides and constant wind on the shore, odds are that any Brady particles that may have crawled into the sand as Brady shuffled his feet along the coarse surface are likely long gone. If whoever buys this jar was hoping to find some of Brady's DNA and clone his own three-time MVP, they're most likely shit out of luck.
Surely, more people are going to try to cash in on this fad. Already, we've seen multiple TikToks about people finding the same spot and grabbing some pebbles of their own to sell on the internet.
What's next though? Grass from the exact spot in Raymond James Stadium where Tom Brady threw his final touchdown? That would be the next logical step, and if that does come to fruition, perhaps being a groundskeeper in Tampa Bay can finally net you a six-figure salary. So, I'm just gonna hop on over to Indeed real quick and see if there are any listings.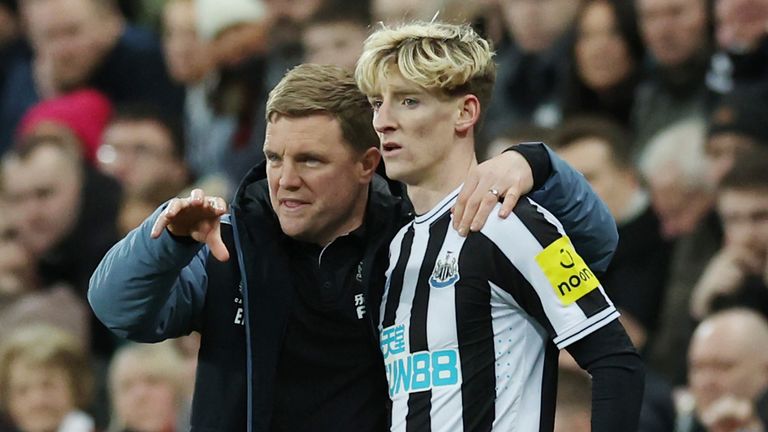 Newcastle were brought back down to earth following their Carabao Cup heroics in midweek as West Ham held them to a deserved 1-1 draw at St James' Park.
The Magpies have made huge strides under Eddie Howe this season – with their Wembley date against Manchester United in the Carabao Cup final at the end of the month clear evidence of their progress – but their form in the Premier League has been patchy of late.
Newcastle did make a stunning start to the contest, with Joe Willock's strike inside the first minute ruled out by VAR, before Callum Wilson successfully opened the scoring just two minutes later.
But West Ham more than matched their hosts and equalised before half-time through Lucas Paqueta, who became the first player to score against Newcastle in the Premier League since November 6 and handed them their fourth draw in their last five games in the competition.
Gordon debut fails to inspire goal-shy Magpies
Newcastle remain in a strong position to return to the Champions League group stage for the first time since 2002/03 – with fifth-placed Tottenham four points behind them – but they have now drawn as many Premier League games as they have won this season (10).
Even more concerning is the number of goals the Magpies are currently scoring in the league – just two in their last five games – and they were unable to find their form in the final third after Paqueta ended their remarkable run of clean sheets.
The match started in incredible fashion, with Willock drilling the ball past Lukasz Fabianski within seconds of kick-off, but VAR ruled the strike out after the ball was shown to have just gone out of play moments earlier.
But Newcastle shook off that blow to score again just 11 seconds after the restart, with Sean Longstaff threading an excellent ball through to Wilson, who was handed far too much space by West Ham's three-man defence before slotting past Fabianski.
But West Ham's goalkeeper was largely untroubled for the remaining 87 minutes, and the visitors hit back when Paqueta latched onto Declan Rice's corner and turned the ball past Nick Pope, who missed the chance to become the first English 'keeper to record seven consecutive Premier League clean sheets.
Team news
Newcastle made just one change, with Saint-Maximin making his first Premier League start since August in place of the suspended Guimaraes
Gordon started on the bench following his £45m move from Everton to Newcastle
West Ham made five changes from their FA Cup win on Monday, with Fabianski, Coufal, Rice, Paqueta and Benrahma coming into the side
Nayef Aguerd missed a great chance to earn West Ham the lead just before half-time, and the home fans – perhaps still coming down from Tuesday's celebrations – were noticeably subdued.
Anthony Gordon's debut from the bench following his £45m move from Everton livened up the Newcastle fans and Allan Saint-Maximin – making his first Premier League start since August – and Wilson went close.
But ultimately West Ham were able to comfortably hold onto a draw that keeps them one point above the relegation zone and extends their unbeaten run to three matches in all competitions.
What's next?
Newcastle are back on Sky Sports when Eddie Howe returns to former side Bournemouth next Saturday; kick-off 5.30pm. They're also live on Sky Sports when Liverpool visit St James' Park on Saturday February 18; kick-off 5.30pm.

Saturday 11th February 5:00pm


Kick off 5:30pm

West Ham face back-to-back London derbies and welcome Chelsea to the London Stadium on Saturday February 11 in the lunchtime game; kick-off 12.30pm. They then visit Tottenham live on Sky Sports on Sunday, February 19; kick-off 4.30pm.
NFL, NBA, NHL, etc. athletes who retired more than once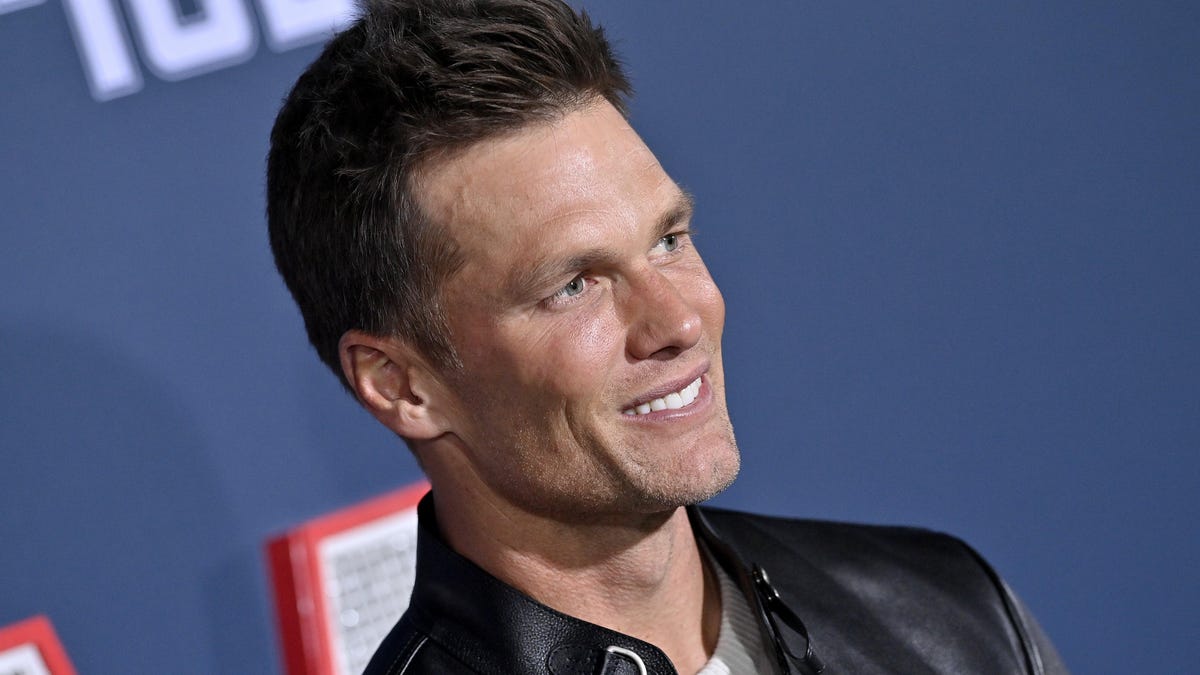 For the second straight Feb. 1, Tom Brady retired from the National Football League. His first retirement lasted all of 40 days, coming back to the Tampa Bay Buccaneers minutes after the NCAA Tournament field was chosen on Selection Sunday. He's now retired "for good" and the entire sports world knows there's no substance behind those pair of words. You'll know Brady is officially done with football when two straight regular seasons take place without him putting on a helmet.
Brady is far from the only athlete to have retired from professional sports on multiple occasions. Something about another large paycheck, or thinking there's enough gas in the tank to hang with your peers, draws big-name athletes from the golf course and their homes and back into our lives. Alongside Brady, here's a list of athletes who said their final goodbyes to spots multiple times.