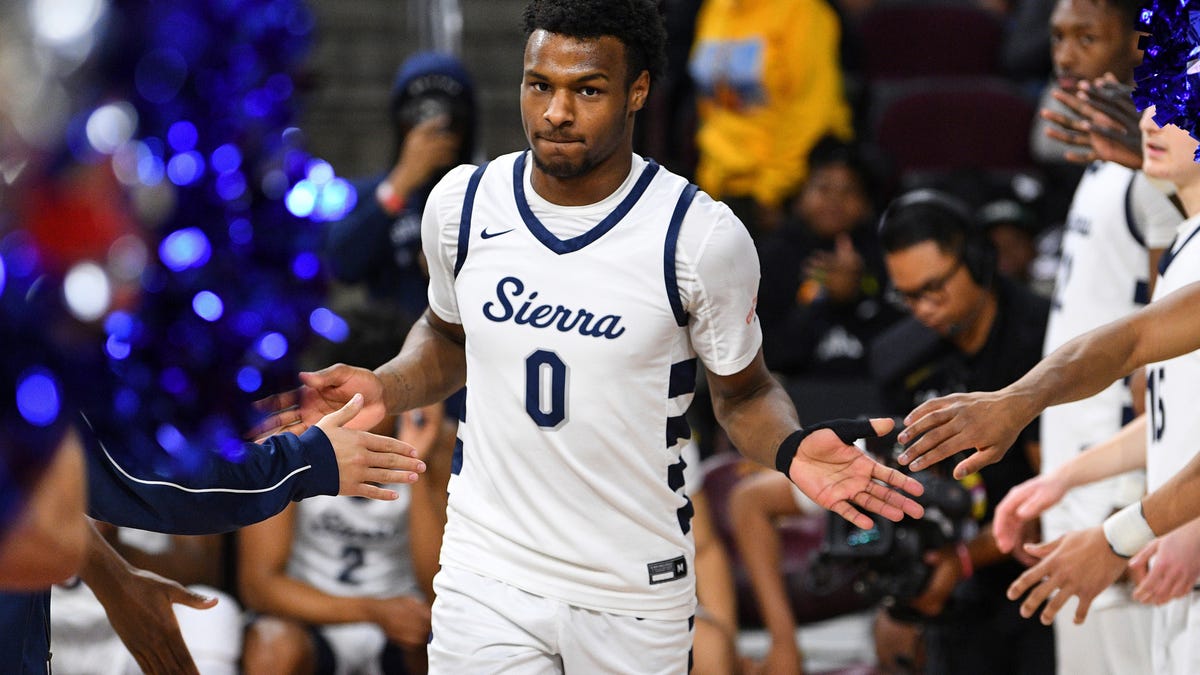 Despite being the only prospect outside of the top 23 that made the McDonald's All-American team, Bronny James is the game's headliner. The 34th-ranked recruit in 2023 is getting a dramatically larger brand bump from his last name than Arch Manning, and I don't know whether to be outraged or sympathetic. It's possible for two things to be true, but diametrically opposed feelings? That's a mind fuck.
The case for outrage
I'd like to think that most rational people think influencers suck. The term, the shameless hocking of products and integrity, an incomprehensible attachment to the internet. Selling out used to be vilified, and now kids can't do it fast enough. I personally blame the fall of the music industry, and acts having to put their music anywhere because there is no revenue from album sales, but I digress.
What does this have to do with Bronny? To call him an influencer moonlighting as an NBA prospect would be harsh, but I assure you, anti-LeBron James people feel that way. Obviously, Bronny is getting a massive boost in notoriety because of who his dad is. The son of the King has been in Nike commercials and Space Jam 2 (not sure if that's a compliment, but let's keep it moving).
Even though logical fans know Bronny isn't the second coming of his father, LeBronites are facing the daunting reality of their favorite player's career nearing its end. Who the hell are they supposed to root for if they spent an entire NBA fanhood rooting for a player and not a team? The opposite is true, as well. LeBron haters will be without an entity to throw memes at every season.
G/O Media may get a commission
Addiction counseling
Safe Haven Health
Accessible for all
Safe Haven prioritizes your needs with flexible and individuated substance abuse treatment, specifically opioid & alcohol addiction.
If LeBron had it his way, he'd hand the torch of the league over to his son when they inevitably play on a team together. (Anthony Davis sure as hell isn't going to take it.) Knowingly or not, LeBron also is passing the hate torch.
It's fair (or completely illogical) to go from rooting for (or against) the father to rooting for (or against) the son, especially if you've got no direction. I'd argue that the people who hate LeBron — even if they're not bothered by nepotism in the real world — will have (already have?) a selective amount of outrage for the favoritism shown to his son. Skip Bayless has already fired the first diatribe.
The internet has enough hate to spread it around, and items included on that list are nepotism, things anointed by the internet, and LeBron. So, good luck to Bronny.
The case for sympathy
For all of those reasons just stated to dislike Bronny, he's still just an 18-year-old kid. The pressure he faces because of his name is unfair. LeBron has even acknowledged that he regrets giving his son his name. The bar is set unreasonably high, yet it's no fault of Bronny's.
He grew up on the internet, literally, and has been in the public eye for going on two decades. He seems to have a good head on his shoulders, and that's something his dad worked hard to instill. So what if he has a large following on Instagram and Tik Tok? Seriously, who the fuck cares?
He's a young, Black kid living like royalty and taking full advantage of the opportunities afforded to him by his father. America generally loves a succession story, so why should this be any different? There are innumerable Hollywood stars who got into acting because of a famous parent, and we don't hold it against them even if they're not as great as their predecessor. Who doesn't like Rashida Jones or Scott Caan? (And who didn't like Paul Giamatti before those Verizon commercials?)
In any case, Bronny is going to learn real quick about just how difficult the path to NBA relevance really is. Giannis Antetokuonmpo's brothers are anywhere from four to seven inches taller than him, and they still can't crack a rotation. There's no doubt that young James will be on an NBA roster in a couple of years, because LeBron can still hoop and said he wants to play with his son. Teams will be lining up if all it takes to get a year out of LeBron is a second-round pick, or picking up an undrafted free agent.
If that's the case, the thought of Bronny's career high point being an exchange of alley-oops with his dad is… sad. It'd be great for basketball if this was a Griffey-type situation, but Ken Griffey Jr. was the No. 1 overall prospect out of high school. The Mariners selected him first overall. Bronny has improved his ranking, but if he could jump straight from high school to the NBA, he'd go undrafted if he went by any other name. He's a combo guard, so the best-case scenario is, what, a more athletic Seth Curry without the hereditary jump shot?
This is a long way of saying, Bronny can evoke anger or sympathy, and I don't know whether to mock or defend him. It'll probably be a bit of both, so feel free to call me a hypocrite.
Thomas Partey: Arsenal midfielder to have MRI scan after FA Cup fourth-round defeat at Manchester City | Football News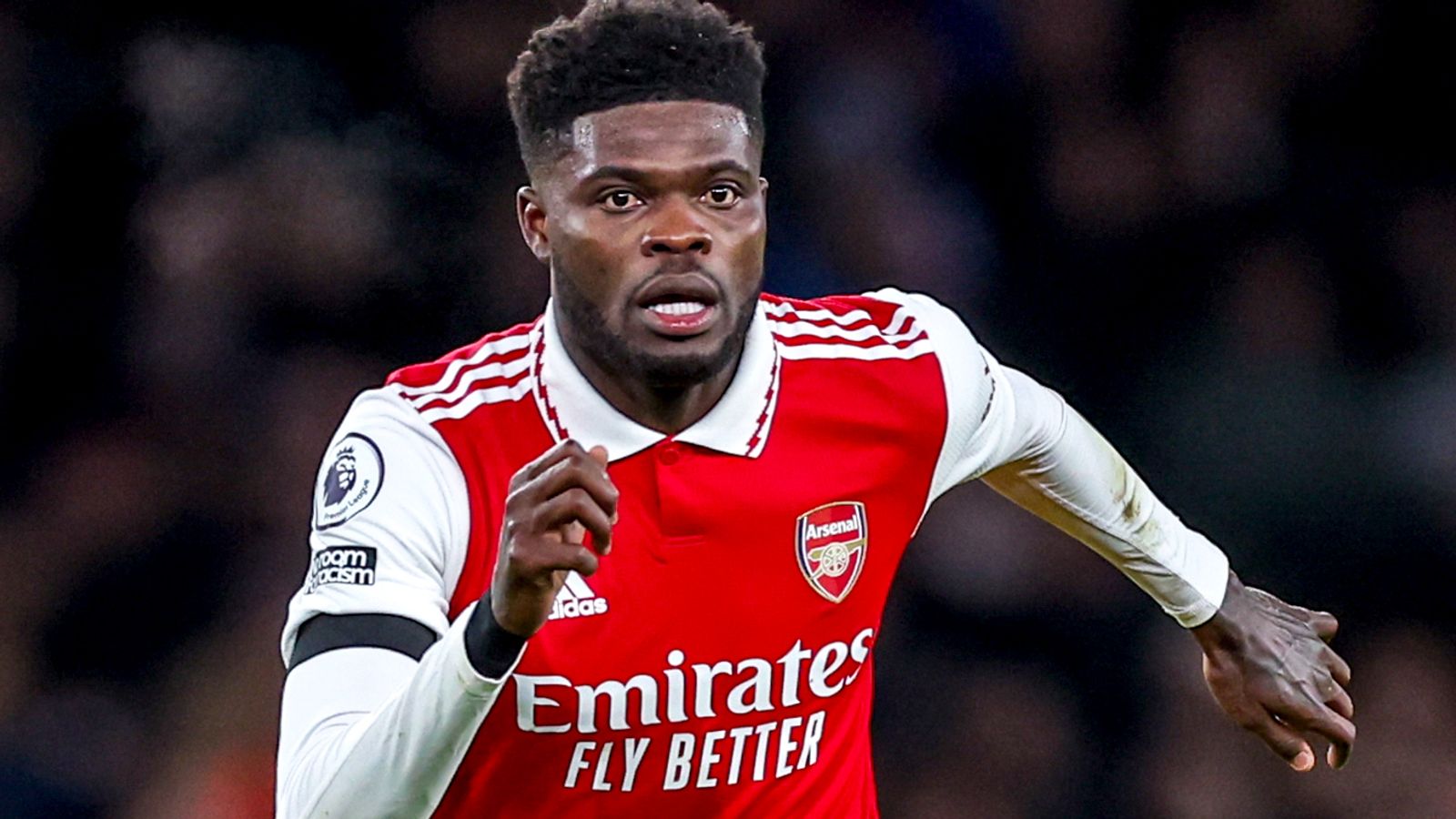 Arsenal midfielder Thomas Partey will have an MRI scan this weekend after coming off injured in the FA Cup fourth-round defeat at Manchester City.
Partey was substituted at half-time in Friday night's loss as he was replaced by Albert Sambi Lokonga.
Arsenal boss Mikel Arteta confirmed the Ghanaian, who has been an influential part of their season, was in "some discomfort".
The Independent's Miguel Delaney and the Press Association's Simon Peach discuss Arsenal fan's reaction to the Gunner's 1-0 defeat to Manchester City in the FA Cup

Arteta said: "He had some discomfort and it was getting worse and worse.
"He was uncomfortable to continue. (Saturday) or the day after he will have an MRI scan and see what he has.
"We have at the moment the injury of Mo (Elneny). It is not possible to get him fit. (Albert) Sambi has come in and has done well.
"It is true Thomas is a big influence and a big personality and in the second half we didn't have him."
The Gunners are on the lookout for a new midfielder before the transfer window closes and any serious injury to the 29-year-old could accelerate those plans ahead of Tuesday's deadline, with Mohamed Elneny currently out injured.
Sky Sports reporter Michael Bridge provides details of Arsenal's £60m bid for Brighton midfielder Moises Caicedo

Arsenal had a £60m bid for Brighton midfielder Moises Caicedo rejected on Friday.
The south-coast club insist Caicedo is not for sale in this January transfer window, but Arsenal remain interested and are deciding whether to go back in with an improved offer.
Late on Friday night, the Ecuador international released a social media post asking Brighton to take up a 'magnificent opportunity' following Arsenal's £60m bid.
Roberto De Zerbi says he's spoken to Moises Caicedo like a father, rather than a coach and is hoping he will stay with Brighton till the end of the season

Asked about a move for the 21-year-old following the defeat at City, Arteta responded: "You know that I am not going to comment on any players until anything is done, and I will continue like that."
Asked if Arsenal hope to be busy in the coming days, the Spaniard replied: "We have been pretty active in the market.
"We have some necessities and if something else is available, the club is willing to try to do it when it is reasonable and hopefully it's a player that can improve our squad."
Keane: I expected more from Arsenal at City
Roy Keane says he "expected more" from Arsenal in their 1-0 FA Cup defeat at City and labelled their performance "disappointing".
The north London side sit top of the Premier League, five points ahead of City but they were beaten by Nathan Ake's second-half winner in the first meeting between the two sides this season.
Arteta, however, did make six changes from last weekend's Premier League win over Manchester United, while City made just two as they included the likes of Erling Haaland and Kevin de Bruyne in their starting XI.
Former Manchester United midfielder Keane told ITV: "It was hard to gauge Arsenal tonight because of the team they put out.
"Looking at the starting line-up you could sense that this was not their priority. They want to get that Premier League title.
"But I know the players are going to be down for the next few days as they don't want to get beat.
"They'll recover and if they go on to win the league, they'll say they had to sacrifice this game, but when you make so many changes particularly defensively, you send the message that you're not that bothered – which is not a good message to send.
"I expected more from Arsenal tonight but they were disappointing."
Pep: Arsenal will switch things up in title race
Pep Guardiola has dismissed suggestions City's 1-0 win will have any impact on the Premier League title race.
The Spaniard admitted the tactics employed by his former assistant Mikel Arteta surprised him as Arsenal's man-to-man marking interrupted City's flow.
"It was a tight game, a difficult opponent," Guardiola said. "The second half was better apart from 10 minutes after the goal.
"I didn't expect this approach, the man-to-man. It made the process difficult. In the second half we had to contact more than usual with Erling (Haaland), it is what we had to do. But it is a victory, the next round, we will see what we have to do."
City head to the Emirates on February 15 in the Premier League but Guardiola said he did not think this result will have any bearing.
He said: "I am pretty sure both teams are going to adjust something.
"I have the feeling now they are going to do something differently."
Keane: It'll take a lot to stop City
Guardiola's side have now won their last three games after suffering back-to-back defeats earlier this month.
Keane told ITV: "Pep Guardiola criticised his players a couple of weeks ago but they've reacted well.
"These boys are naturally winners over the past few years so they're used to it. It'll take a lot to stop them.
"What we saw tonight was the experience Manchester City have shown over the last few years, knowing how to win games.
"There was one real lapse from Arsenal and they got punished for it.
"It's good to win matches when you're not at your very best and there's a lot more to come from City. They weren't at their very best tonight but in the FA Cup it's about getting the job done."
FA Cup Hits and Misses: Man City and Arsenal take lessons from Etihad tie, Leandro Trossard catches eye, John Stones suffers injury | Football News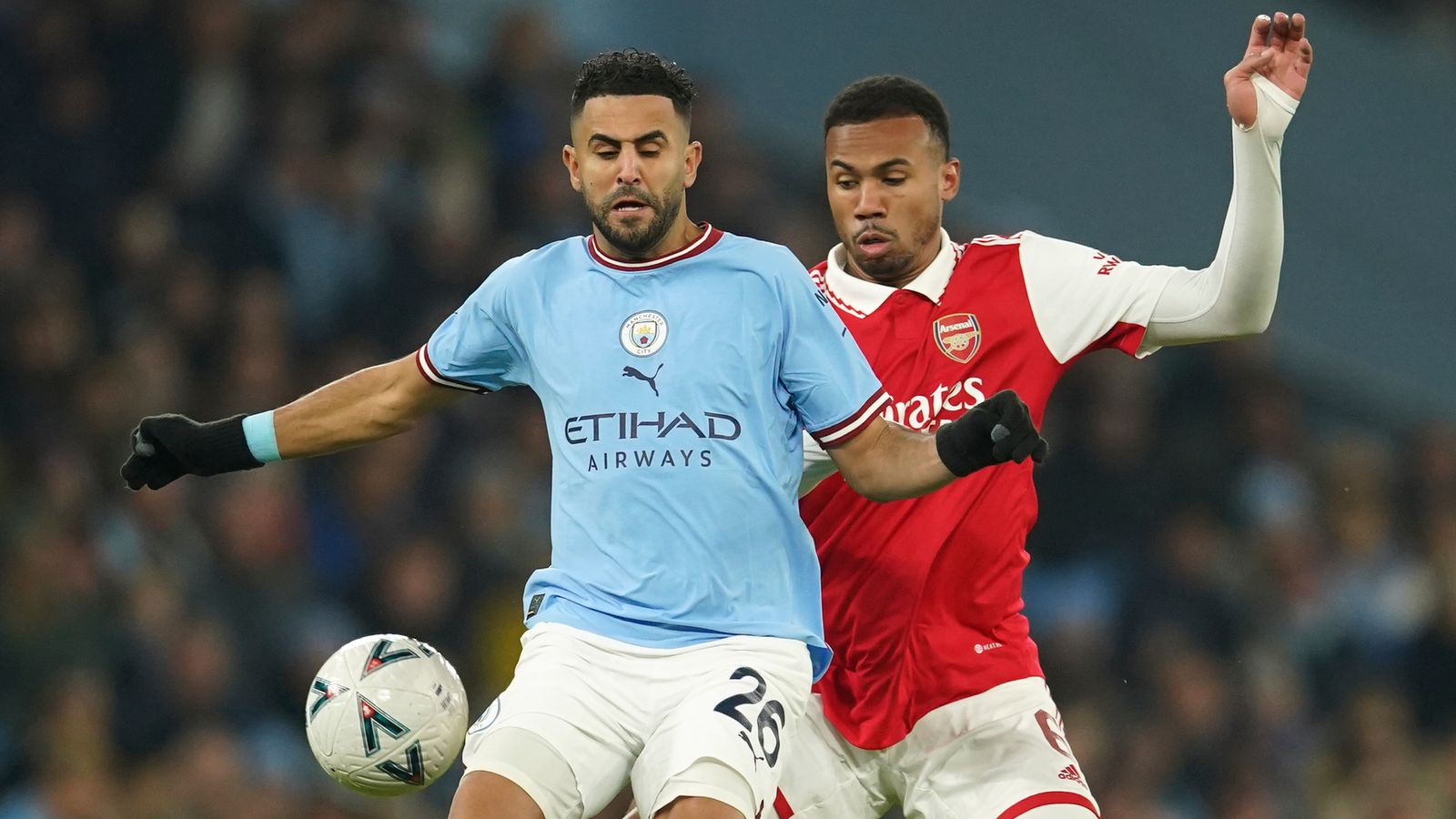 What lessons will top two take from their cup clash?
Pre-match it felt like Mikel Arteta's team selection could open the door for a damaging defeat for Arsenal. But in the end his side equipped themselves well and although the FA Cup defeat will frustrate and hurt his players, perhaps the Arsenal head coach escaped the Etihad without his priority – the Premier League challenge – substantially hit by the loss to rivals Manchester City.
The more optimistic Arsenal supporters may even suggest the game offers encouragement, with Arteta likely to field a far stronger starting XI when the sides finally meet in the league at the Emirates on February 15.
But really there was little given away by either side in regards to how that game could play out in a couple of weeks. City looked more effective with Julian Alvarez playing off Erling Haaland, so that could be an option, while Pep Guardiola noted how Arsenal's man-to-man marking set-up limited his team's options. Expect him to be already mulling over possible solutions.
He will certainly need to decide on his best defensive options, with Stones looking set to be a doubt, and the two Premier League games both sides have to play before their next showdown could shift the storyline too. Anyway, Arsenal might have Moises Caicedo in their midfield by then.
This was a tie far removed from the all-action thriller that was Arsenal vs Manchester United last weekend but it serves as an intriguing appetiser for the bigger contests to come between the Premier League's top two so far this season…
Trossard looks like he could become a key asset for Arsenal
He's only been at the club for just over a week but already Leandro Trossard has seamlessly slotted into this Arsenal team – and appears to be a real asset too.
After an encouraging cameo in the final stages of the win over Manchester United on Sunday, Trossard was handed his first start for the Gunners at the Etihad and immediately caught the eye.
Driving down the left flank into the space left unoccupied by Rico Lewis drifting infield, Trossard caused City real problems early on. He teed up Takehiro Tomiyasu for a thunderbolt and another cross was prodded just wide of the post by Eddie Nketiah. In between he hit the target himself, drawing a good stop from Stefan Ortega in the City goal.
He was subbed off after 65 minutes but finished the match as Arsenal's joint-top chance creator (two), joint-top crosser (two) and also their joint-top tackler. Indeed, his chasing back will have pleased Mikel Arteta, with Riyad Mahrez hardly getting into the game behind him.
Perhaps the one problem for Arsenal was that all this output came from just 21 touches – the fewest of any starter from either side. If Arsenal can find a way to get him even more involved in the coming weeks, new boy Trossard could play a key role in the run-in.
How big a loss will Stones prove in title race?
Pep Guardiola's face said it all.
John Stones winced and tucked his legs into his chase, to reduce the pain that had shot through his right hamstring in freezing conditions in Manchester.
Trossard had left the England centre-back's thighs burning for most of the opening half, slightly exposed by Rico Lewis' exuberance to get forward down the right channel.
Another twist, another turn and Stones felt the ping and his likely period on the sidelines will put Manchester City's clear depth in this area to the test.
At the start of the month, Guardiola highlighted Stones' form, telling Sky Sports: "John he played extraordinary in the World Cup and he can adapt perfectly with three or out wide.
"He is playing at the best level, maybe for the first time in seven years since we arrived together. When he is playing like this it's so good."
Such was the significance of Stones' injury, Aymeric Laporte was in no way ready to replace him. Sheepishly, he stripped off as his side temporarily had to play with 10 men.
It was hardly the sharpest of responses from Laporte, who would go on to make a crucial interception shortly after Nathan Ake's decisive opener.
With fixtures coming thick and fast in February – including the second instalment of this epic trilogy with Arsenal – greater emphasis will be placed on Laporte and Ruben Dias, who was an unused substitute on Friday. It could be a tense wait for Guardiola as Stones is assessed.
Arteta's harsh Holding lesson learned
Haaland won five of his seven duels in the first half, predominantly up against Rob Holding. The Arsenal centre-back was booked on the stroke of half-time and it had been coming. It left Mikel Arteta with a conundrum to solve.
Would he be trusted to be careful during the second period against one of the world's most prolific strikers?
Holding didn't know whether to stick or twist, and mismatch brought back nasty memories of when he was sent off before half-time in the North London derby at Tottenham towards the end of last season as Arsenal's season unravelled.
Holding was also in the Arsenal side that were beaten in the third-round stage last season by Nottingham Forest, which led to Arteta apologising for his side's display.
With a face like thunder, Arteta ripped into the performance of the players while criticising the low standards that came with it.
"I accept losing guys, I accept losing. I don't accept these standards, I'm telling you. I don't accept them, I don't accept them, these standards," he said while furiously wagging his finger around.
"When I lose a duel, I am upset," Arteta ended as he stormed out of the dressing-room.
It is a scene that has been revisited more recently as a marker for how far Arsenal have come in the past 12 months, but on Friday night Arteta showed he had learned from harsh previous lessons.
Against the most ruthless finisher in England, the Spaniard took no chances as William Saliba replaced Holding at the interval.
Incidentally, Arteta defended Holding when he was sent off against Spurs last May, telling Sky Sports: "If I say what I think, then I am suspended for six months. I don't like lying. I prefer not to say what I think. I cannot say what I think. I am so proud of my players. A beautiful game was destroyed."
But here, Arteta was wise not to make the same mistake twice, for Holding's own good and for the wider good of his team.
Real Madrid rule out summer move for West Ham's Declan Rice – Paper Talk | Transfer Centre News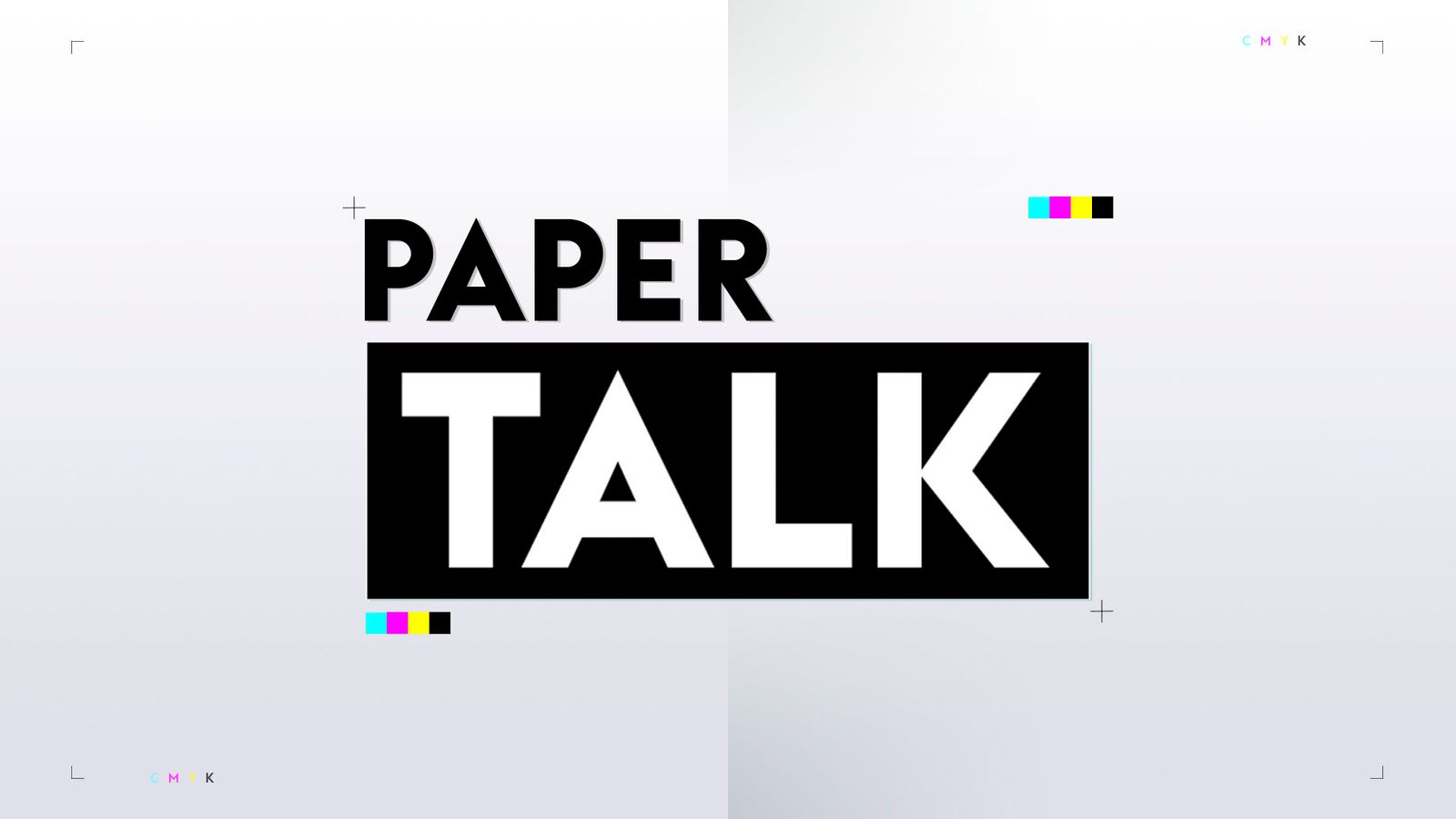 All the top stories and transfer rumours from Saturday's newspapers…
DAILY MAIL
Moises Caicedo is considering handing in a transfer request to force a late move to Arsenal or Chelsea
The ECB have offered Azeem Rafiq three days with their legal team to prepare him for the Yorkshire racism hearing next month in a move that will raise questions about the governing body's role in the process.
Roma attacker Nicolo Zaniolo has reportedly rejected a move to Bournemouth having told his agent that he has no interest in continuing negotiations with the Premier League club.
Dani Alves has been 'signing autographs for fellow inmates in prison' but has since been moved to another jail for 'security reasons' after being remanded without bail over an alleged sexual assault.
The Saudi Pro League is set to adjust its rules in a bid to lure Lionel Messi over to the Middle East to join long-term rival Cristiano Ronaldo, according to reports.
Real Madrid have reportedly ruled out a summer move for West Ham midfielder Declan Rice.
DAILY EXPRESS
James Maddison could still join Newcastle United ahead of next week's January transfer deadline in spite of Leicester City having already rejected at least one concrete bid for the 26-year-old's signature, according to reports.
Chelsea have three goalkeepers on their transfer shortlist to put the futures of both Edouard Mendy and Kepa Arrizabalaga at risk, according to reports.
Chelsea are ready to launch a fresh swoop for Enzo Fernandez and are even willing to offer Benfica 'a few players' in return for the Argentina midfielder, according to reports in Portugal.
THE SUN
Football chiefs are to rip up the rule book on penalties to clamp down on gamesmanship after Emi Martinez's World Cup antics.
Leicester City are set to complete the signing of Brazilian winger Tete from Lyon until the end of the season.
N'Gola Kante is reportedly set to return from injury for Chelsea's Champions League last-16 clash with Borussia Dortmund.
Dele Alli finally appears to have won over the Besiktas fanbase after a goalscoring return to the starting line-up.
THE ATHLETIC
Gabriel Martinelli has agreed a new contract with Arsenal until the summer of 2027.
THE TIMES
The bitter rift between Uefa and the former Juventus president, Andrea Agnelli, could leave one of the architects of the European Super League liable to legal action from the governing body.
DAILY MIRROR
Nottingham Forest are willing to offload summer signings Lewis O'Brien and Harry Toffolo this month.
The Transfer Show's Dharmesh Sheth and Kaveh Solhekol round up the latest transfer news from all 20 Premier League clubs.

DAILY RECORD
Rangers have tabled an improved £2m package to land Morgan Whittaker.
THE SCOTTISH SUN
Rangers have teamed up with AC/DC to launch a new clothing range ahead of the rock band's upcoming 2023 tour and new book which will be released this year.