Will Alexander Isak fire Newcastle into the Champions League? – Premier League hits and misses | Football News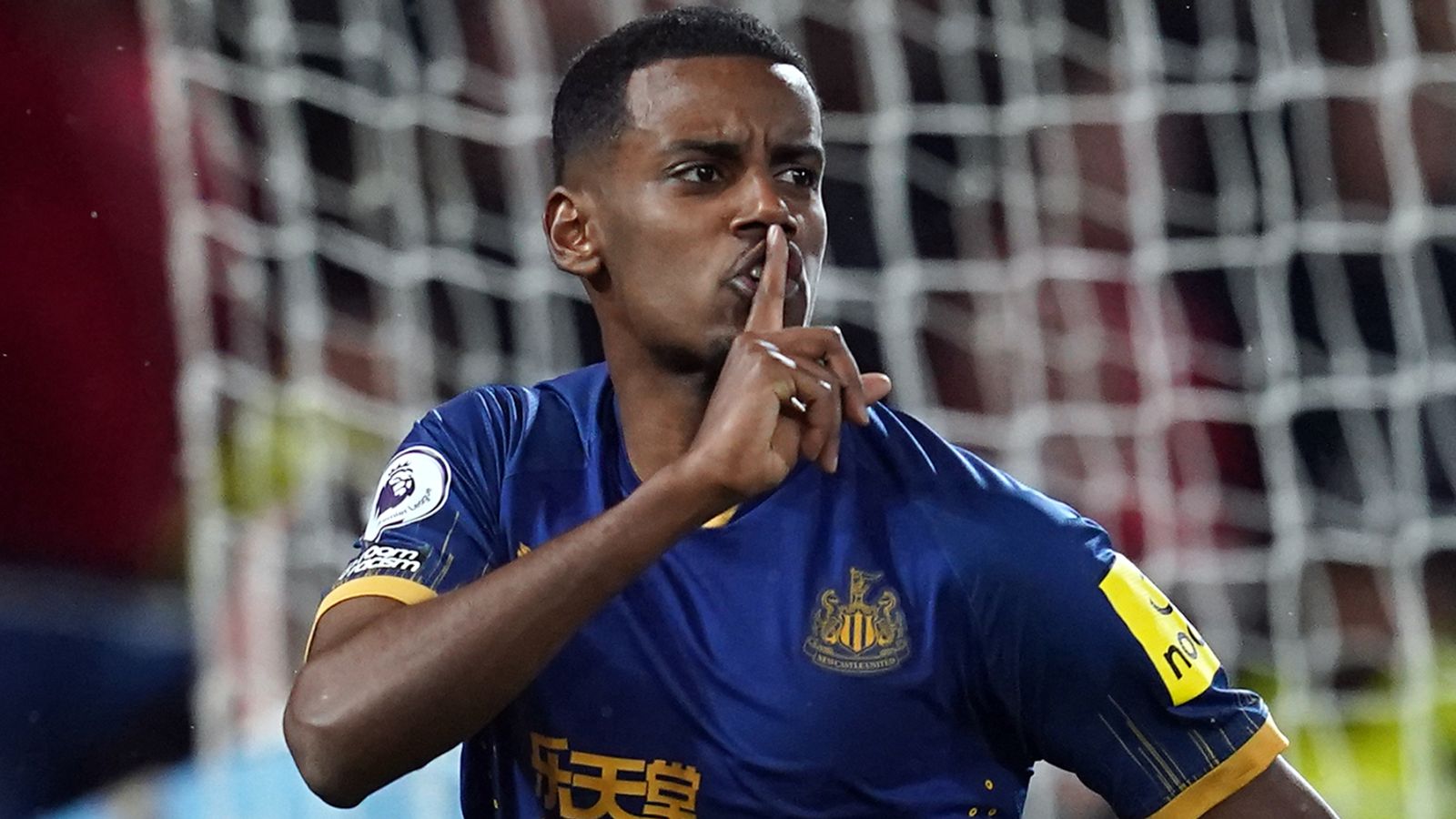 Will returning Isak fire Newcastle to the Champions League?
FREE TO WATCH: Highlights of Nottingham Forest against Newcastle in the Premier League

One wonders how much higher up the table Newcastle United would be right now had Alexander Isak been fit for the whole season?
The Sweden striker, bought for £63m from Real Sociedad last summer, scored on his debut at Liverpool in August, only to then suffer a serious hamstring tear just as he was settling in at St James' Park.
That injury sidelined Isak for the rest of 2022, with the forward missing 16 games in total, before he finally returned in January.
However, since regaining full fitness, the 23-year-old has begun to show the type of form we were seeing from him before his layoff, and after Friday's night double at the City Ground, he has four goals in his last two matches for the club.
His manager Eddie Howe now seems to have decided to go with Isak ahead of trusted frontman Callum Wilson for the run-in, and you can see why given his impressive scoring rate for the Magpies.
Isak has now scored six Premier League goals in just 10 appearances for the club this season at an impressive rate of a goal every 115 minutes.
Richard Morgan
Leicester show their quality in second-half turnaround
FREE TO WATCH: Highlights from the 1-1 draw between Brentford and Leicester

The writing seemed to be on the wall for the visitors in west London. Leicester's first-half performance had exhibited their recent issues: a lack of cutting edge in attack and uncertainty at the back.
But a wonderful team goal for the equaliser early in the second half was a reminder of the quality in this squad. Kiernan Dewsbury-Hall was brilliant in midfield, holding off challenges, James Maddison did what he does best in the pocket, feeding a through pass into the box, and Harvey Barnes was dynamic and then deadly with his finish.
Brendan Rodgers threw both arms up into the sky in delight and in relief. It was the kind of move he relishes.
The goal breathed confidence back into his team and, while there was no winner, which would have substantially boosted their standing in the relegation fight, they denied Brentford a shot on target in the second half to secure the result. This will go down as a positive step for a side surely too good to go down.
Peter Smith
Brentford have raised expectations
Brentford have gone unbeaten in 10 Premier League home games in a row. They are level on points with seventh-placed Brighton in the race for Europe. Yet the feeling at full-time in their draw with Leicester was one of frustration. That's a mark of how Thomas Frank has raised the standards for this side.
Brentford have not won a game they have had more possession in this season and again on Saturday they were unable to turn their extra time on the ball into victory. Frank admitted afterwards his forward players had failed to fire and perhaps that leads onto questions about the creativity behind them.
But in the first half they caused chaos in the Leicester box with their direct play and perhaps the second-half drop-off can be attributed in part to the exertions in midweek.
Frank looked tired in his post-match press conference and maybe the international break has come at a good time for Brentford, providing the chance to refresh their minds and bodies for the final 11-game push, where they will hope to at least consolidate their high league position.
"Yes and no, because I know what this group of players are capable of," said Frank when asked if his team were exceeding expectations. He and his team are ambitions but in the bigger perspective, Brentford's tremendous season needs to be appreciated.
Peter Smith
Bournemouth's soft underbelly exposed
FREE TO WATCH: Highlights of Aston Villa against Bournemouth

Confidence would have been high among the Bournemouth squad after impressive performances against Arsenal and Liverpool. They are still very much in with a chance of surviving relegation – but defeat at Aston Villa will be bruising.
They were undone by a slow start to the game – Douglas Luiz scoring inside seven minutes – and a lack of concentration in the final quarter of an hour as Jacob Ramsey and Emi Buendia wrapped things up for Villa.
But for the bits in between, Bournemouth often matched an Aston Villa side looking up rather than down. The home defence needed to be sharp and made some crucial interceptions, while Emi Martinez's superb save from Philip Billing's free-kick served a timely reminder of his World Cup-winning pedigree.
Aston Villa simply looked like a high quality, slicker team and they punished Bournemouth for their errors. The Cherries' defending from set-pieces in particularly certainly left a lot to be desired at times.
While the big results and wins are crucial – as well as core memories for fans – it is the weekly grind of trips to teams like Aston Villa or Brentford, for example, that can make or break a season. You have to perform in each of them to have any chance of survival.
While Bournemouth's soft underbelly was certainly exposed at Villa Park, they showed they do have the quality to stay up. They must now put those positives to good use.
Charlotte Marsh
Gnonto back in the team and having an impact
FREE TO WATCH: Highlights of Leeds's win against Wolves

Wilfried Gnonto was dropped to the bench for the games against Chelsea and Brighton but having been restored to the starting line-up he was a difference maker for Leeds in their 4-2 win against Wolves. It was Gnonto who set up the opening goal for Jack Harrison.
His cross made Harrison's task fairly straightforward and it was the third time that the winger had troubled Wolves despite the goal coming in only the sixth minute of the match. Allowed to isolate his marker, the Italy international is a real weapon for Leeds.
That freedom has not always been there for Gnonto. It had become so obvious that the team were reliant on him to create that he was receiving a lot of attention. Perhaps those two games out of the team helped because Wolves were not ready to deal with him.
Adam Bate
Wolves must focus on their own mistakes
Julen Lopetegui pointed to the decision not to award Wolves a penalty for a foul by Junio Firpo on Nelson Semedo that even injured the right-back and was left just as baffled that the referee did not overturn Leeds' fourth goal despite being asked to go to the monitor.
The shirt tug on Adama Traore was clear and with this frustration coming so soon after the non-award of a penalty for Nick Pope's foul on Raul Jimenez at Newcastle, Lopetegui probably has a fair claim when he says that the margins are going against his side.
However, it is their own failings rather than those of the officials that should be a bigger concern for the Spaniard. Wolves had enough openings against Leeds to get something from this game despite conceding four at the other end but still lack a cutting edge.
They scored two, a 41-yard lob and a deflected shot, but it was the misses that will linger – Raul Jimenez failing to find the net from inside the six-yard box, Pablo Sarabia passing wide with the goal gaping. It has been going on too long now to expect it to turn.
Such wastefulness means Wolves must be solid defensively to win matches – the majority of their wins this season have been 1-0. But once Craig Dawson was substituted, organisation at the back was lacking. Bad in both boxes. It is a combination that risks relegation.
Adam Bate
Rangers vs Celtic: Police investigating alleged Craig McPherson headbutt towards Fran Alonso in SWPL match | Football News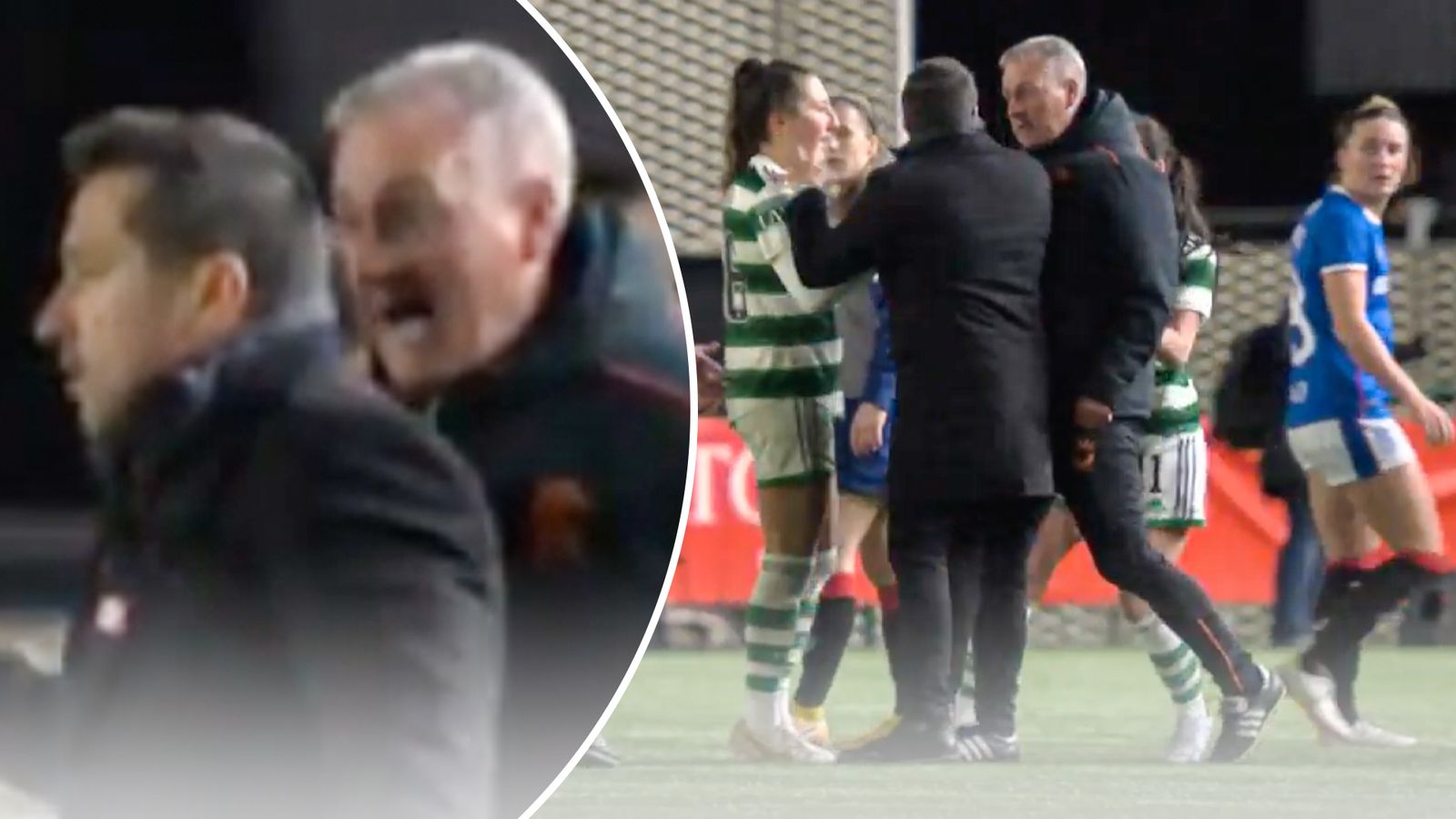 Rangers coach Craig McPherson is being investigated by police over an alleged headbutt on Celtic Women boss Fran Alonso.
The incident took place after Monday's Old Firm match, live on Sky Sports, as McPherson approached Alonso on the pitch at Broadwood Stadium.
Rangers are also investigating the incident, while the Scottish FA's compliance officer is set to look into the matter too.
A Celtic spokesperson added: "Clearly this is a hugely concerning incident, falling well below any acceptable standard.
"We understand the matter is now being investigated and it will be up to all relevant authorities to take any appropriate action."
Police Scotland's spokesperson said: "We have received a report regarding an incident at Broadwood Stadium on the evening of Monday, March 27, 2023. Enquiries to establish any criminality are at an early stage."
'I was called a little rat'
Highlights of Rangers against Celtic from the Scottish Women's Premier League

Rangers looked set to secure a vital victory at Broadwood until Caitlin Hayes' 99th minute equaliser ensured the rivals would share the points.
Alonso, who has previously worked under Ronald Koeman and Mauricio Pochettino at Everton and Southampton respectively, told Sky Sports he was called a "little rat" as the footage was shown to him after the match.
The 46-year-old Spaniard said: "I don't know. You can see there, somebody pushed me from behind. I never talked to (McPherson) the whole game.
"It's obviously disappointing to concede a goal in the last minute, I totally get it. But I don't know.
"I was called a 'little rat', I don't know why."
Rangers forward Brogan Hay scored after miscommunication between Celtic pair Kelly Clark and Pamela Tajonar

When asked about the incident after the match, Rangers head coach Malky Thomson told Sky Sports: "Without me seeing it at all, I don't know that I can comment on it.
"If that's the case, then there will be an investigation and we'll obviously look at it."
Former Morton and Falkirk midfielder McPherson, 52, had spells as assistant manager at Morton and Dumbarton before joining up with Thompson in the summer of 2021.
Caitlin Hayes scored in the 99th minute with the last kick of the game to equalise against Rangers in the SWPL

The 1-1 draw – in the first SWPL league game televised live by Sky Sports – ensured Celtic and Rangers remained second and third, respectively.
Glasgow City are top of the table, eight points clear of Alonso's side, with nine matches to play this season.
Anthony Joshua says he will retire from boxing if he loses to Jermaine Franklin | 'I'm not here to battle people' | Boxing News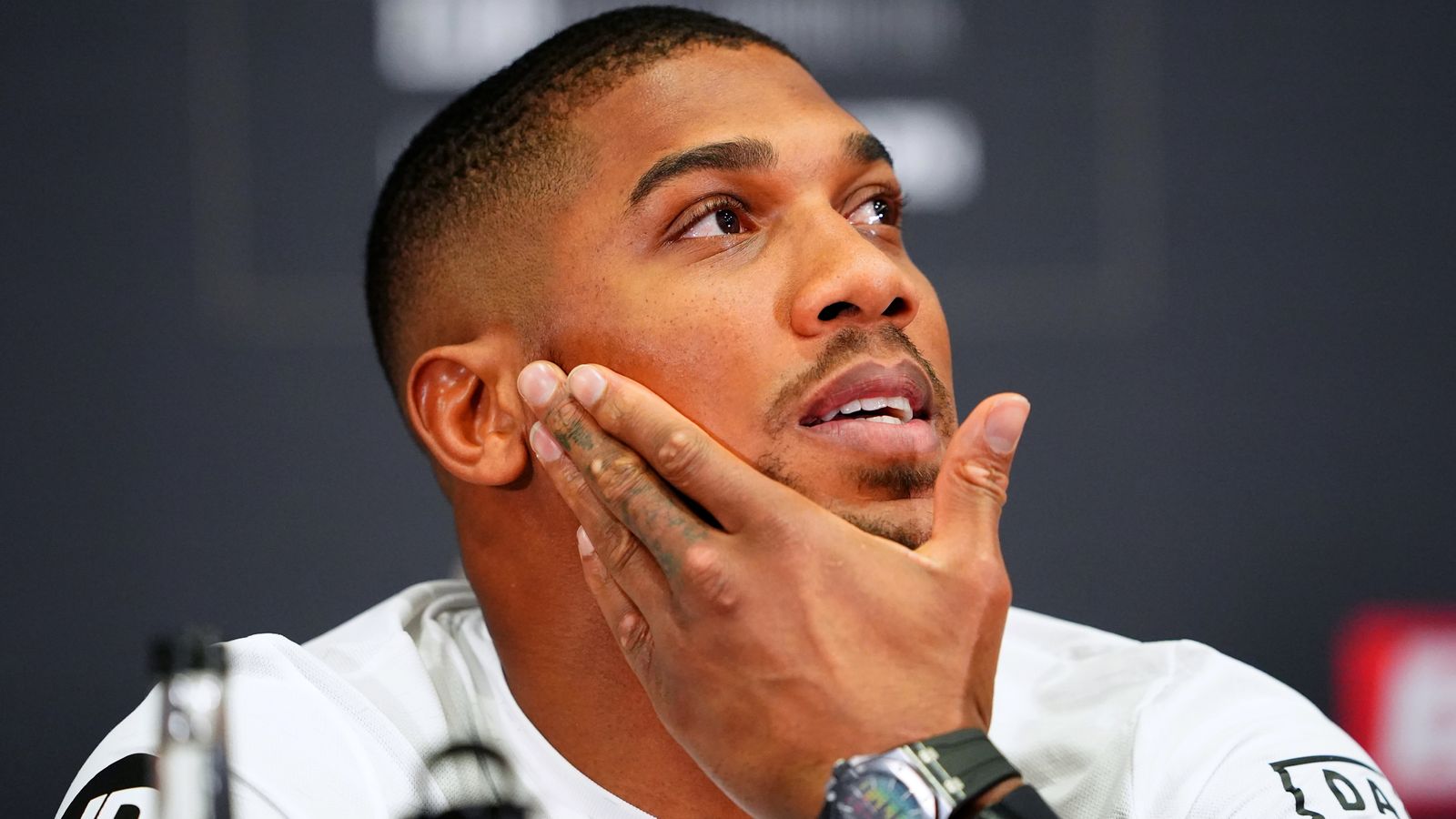 Anthony Joshua says he will retire from boxing if he loses against Jermaine Franklin on Saturday at the O2 Arena.
The two-time world champion is making his return to the ring this weekend to face the American heavyweight after successive defeats to Oleksandr Usyk.
Joshua will be looking to win his first professional fight since December 2020 but has admitted he will step away from boxing if he loses a third successive bout.
"I will. I will retire if I lose. I'm not here to battle people. If people want me to retire I will retire," he told MailOnline.
"I'm not going to fight if people don't want me too. It's not even about the money. It's about the competitor in you. That's what's important.
"It [pressure] comes with the business and it comes with the territory, I know that.
"I know when I am retired, I am gonna be chilling. I'm gonna be thinking f**k everyone. I am done.
"You lot put so much pressure on me so when I am done, the chains are going to be gone. I am going to be laughing and loving life."
Anthony Joshua should retire if he is beaten by Jermaine Franklin, while Tyson Fury 'didn't believe' he could defeat Oleksandr Usyk, says Johnny Nelson

Nelson expects Joshua to 'get it done'
Former WBO cruiserweight champion Johnny Nelson expects Joshua to beat Franklin but thinks the 33-year-old should retire if he loses.
"I'd expect Anthony Joshua to get it done. But Jermaine Franklin is 29 years old, (has had) 22 fights, won 21, stopped 14 of his opponents and in his last fight against Dillian Whyte people say he should have won. But that's questionable," he said.
Anthony Joshua discusses his thoughts on his showdown with Jermaine Franklin and his training regime going into the fight.

"My big question is this: Anthony Joshua, after losing two fights on the bounce, has had to relook at his confidence to think 'who am I, do I belong here, do I want this?'
"For Anthony Joshua that's everything. Because he's had to go through a bit of turmoil, mentally, emotionally and come to terms with the fact that he's no longer the best fighter, officially, in the world.
"He's got to get in the queue again like everybody else. If Anthony Joshua loses, he jacks it in. If he doesn't jack it, he should jack it. Because it's a hard mountain to climb.
"Especially when you've had the success and the heights that he's had. So he can't afford to lose. That's a must. Then from that, it's confidence building."
Hollie Doyle: Star flat jockey set for Friday return ahead of Lincoln meeting at Doncaster | Racing News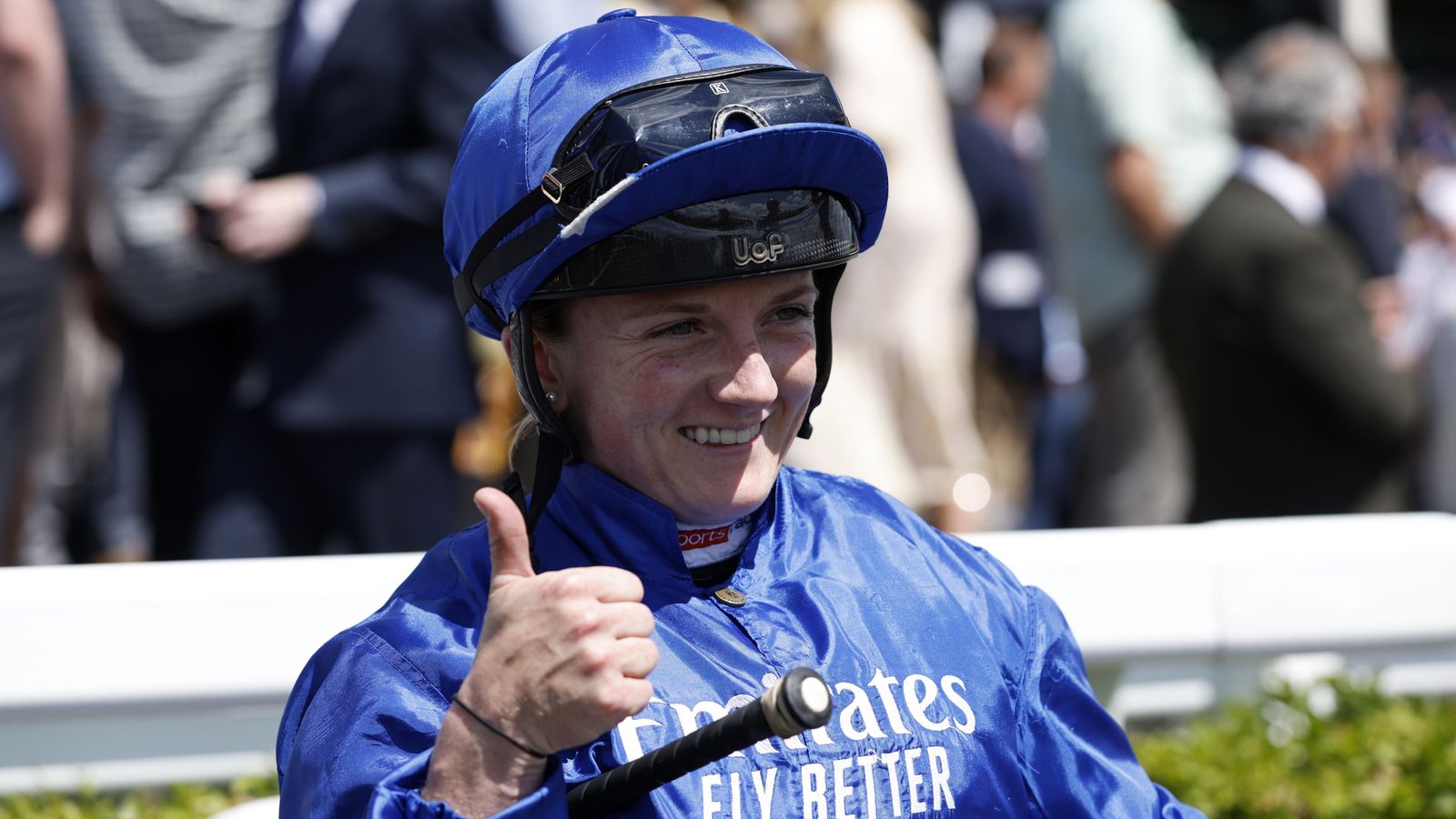 Leading flat jockey Hollie Doyle will make her return to riding on Friday at Newcastle ahead of this weekend's Lincoln meeting at Doncaster, live on Sky Sports Racing.
The Group One-winning rider has been out of the saddle since January following an elbow injury sustained in a fall at Wolverhampton.
Doyle enjoyed another memorable season in 2022 with over 150 winners, partnering Nashwa to a first Classic victory as well as landing another Royal Ascot success on Bradsell and further glory on star stayer Trueshan.
She is set to make her return at Newcastle, taking the ride on Rhythm And Hooves in the 5:50pm race, ahead of Saturday's opening flat turf meeting of the year at Doncaster.
Some of her rides include Richard Spencer's Revich in the lucrative Lincoln Handicap, as well chances on Wilderness Girl in the Cammidge Trophy and the classy Tempus in the Doncaster Mile.
"It's been a frustrating time on the sidelines, but it was great to receive the green light to return," said the Sky Sports Racing ambassador.
"I've been back at Oaksey House this morning, and the team there have been fantastic right the way through my recovery.
"I'll be riding out this week and am looking forward to getting back in the saddle at Newcastle on Friday and on Lincoln day at Doncaster and kicking on from there."
Watch every race from the Lincoln meeting at Doncaster this Saturday, exclusively live on Sky Sports Racing.