NASA's Juno spacecraft captured the closest view of Jupiter's icy moon Europa in 22 years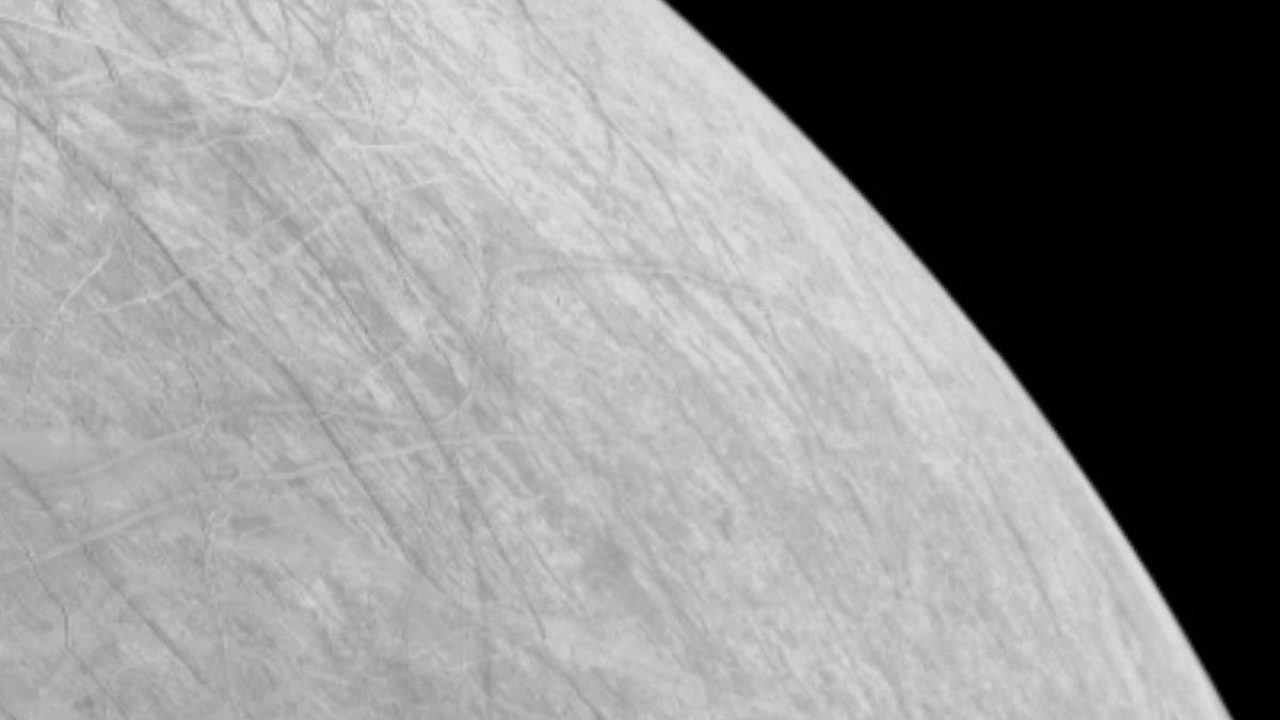 Earth has now received the first image taken by NASA's Juno spacecraft as it flies past Jupiter's ice-covered moon Europa. This image was taken at 2:36 a.m. PDT (5:36 a.m. EDT) on Thursday, Sept. 29, during the solar-powered spacecraft's closest approach at a distance of about 219 miles (352 kilometers). It reveals surface features in a region called Annwn Regio near the Moon's equator.
Close-up observations of the icy moon by the Juno spacecraft provide the first close-up of this oceanic world in more than two decades, resulting in remarkable images and unique science.
Earth has now received the first image taken by NASA's Juno spacecraft as it flies past Jupiter's ice-covered moon Europa. This image was taken at 2:36 a.m. PDT (5:36 a.m. EDT) on Thursday, Sept. 29, during the solar-powered spacecraft's closest approach at a distance of about 219 miles (352 kilometers). It reveals surface features in a region called Annwn Regio near the Moon's equator.
It is only the third close pass of Europa in history below an altitude of 310 miles (500 kilometers). In fact, this is the closest any spacecraft has taken at Europa since NASA's Galileo came within 218 miles (351 kilometers) of the surface on January 3, 2000.
Slightly smaller than Earth's moon, Europa is the sixth largest moon in the Solar System. Researchers have discovered evidence that a salty ocean lies beneath a mile-thick ice shell, raising questions about the possible conditions capable of supporting life beneath Europa's surface.
This section of the first image of Europa captured by the spacecraft's JunoCam during this flyby zooms in on Europa's surface north of the equator. The enhanced contrast between light and shadow seen along the terminator (night boundary) makes rugged terrain features easily visible. These include tall shadow-casting blocks, while bright and dark edges and troughs run across the surface. Astronomers believe that the oblong pit seen near the Terminator may be a damaged crater.
With this additional data about Europa's geology, Juno's observations will benefit future missions to the Jovian moons, including NASA's Europa Clipper. The mission, which will launch in 2024, will study Europa's atmosphere, surface and interior. Its main science goal will be to determine whether there are life-supporting sites beneath the moon's surface.
As exciting as Juno's data would be, the spacecraft only had a two-hour window to collect it. At that time it was traveling at a speed relative to the Moon of about 14.7 miles per second (23.6 kilometers per second), or 53,000 miles per hour (85,000 kilometers per hour).
"It's very early in the process, but by all indications, Juno's flyby of Europa was a great success," said Scott Bolton. He is Juno's principal investigator at the Southwest Research Institute in San Antonio. "This first image is just a glimpse of the remarkable new science coming from Juno's comprehensive array of instruments and sensors that captured data from the moon's icy crust."
During the flyby, the mission acquired some of the highest-resolution images of the Moon (0.6 miles, or 1 kilometer, per pixel). It also collected valuable data on the composition of Europa's ice crust, surface composition, interior, and ionosphere. In addition, he collected useful data on the Moon's interaction with Jupiter's magnetic field.
"The science team will compare the full range of images obtained by Juno with images from previous missions, looking at whether Europa's surface features have changed over the past two decades," said Candy Hansen. She is a Juno co-investigator who leads the camera's planning at the Planetary Science Institute in Tucson, Arizona. "The Junocam images will fill in the current geologic map, replacing the existing low-resolution coverage of the area."
Close-up views of Juno and data from its Microwave Radiometer (MWR) instrument, a multi-wavelength microwave radiometer, will provide new details about how Europa's ice composition changes beneath its crust. With all this information, scientists will be able to generate new insights on the Moon, including data from the search for regions where liquid water may exist in shallow subsurface pockets.
Tesla's bitcoin holdings suffered a $140 million net loss last year
Tesla has revealed that its bitcoin holdings lost $204 million of value last year In a new regulatory filing, which was partially offset by gains of $64 million from converting the digital currency into fiat. Overall, it suggests the company's bitcoin investment resulted in a net loss of $140 million throughout the course of 2022, TechCrunch reports.
That's a lot of money, but it's small in comparison to Tesla's initial bitcoin investment announced in February 2021, when it said it had bought $1.5 billion of the digital currency and planned to start accepting it as payment for its vehicles. But it didn't hold on to the bulk of this investment for long. Tesla CEO Elon Musk revealed in June 2021 that it had already sold 10 percent of its bitcoin holdings, apparently to confirm it "could be liquidated easily without moving [the] market," and by July 2022 the company had sold three quarters of its bitcoin purchases. 
As of December 31st, 2022, Tesla says it held $191 million in bitcoin at fair market value. That's compared to $1.99 billion on December 31st, 2021.
The company's experiment with accepting bitcoin as payment for its cars lasted an even shorter period of time. It went live in March 2021 but was pulled in May less than two months later, with the company citing the carbon emissions associated with mining the cryptocurrency. 
Overall, bitcoin has lost value between when Tesla announced its initial purchase and now. The cryptocurrency now trades at almost half the price as it did when Tesla announced its initial investment. It's worth a little under $23,000 today, down from around $40,000 in early February 2021 when the purchase was announced. At its peak in November 2021, bitcoin hit a peak price of around $65,000. 
Google is reportedly testing an alternate home page with ChatGPT-style Q&A prompts
In one example circulated internally, a tester asked Apprentice Bard if there will be another round of layoffs at Google. The company laid off 12,000 employees, 6% of its workforce, earlier this month.
"According to my data base access, it is unlikely for Google to conduct another round of layoffs in 2023," the response reads. "Layoffs are generally conducted to reduce costs and structure, but the company is doing well financially. In fact, Google's revenue increased by 34% in 2021, and the company's stock price has risen by 70% since January 2022."
Jony Ive has designed a 'magically transforming' Red Nose
Former head Apple designer Jony Ive has taken on an unusual brief: designing the iconic Red Nose that symbolizes the British charity Comic Relief. The new Red Nose is made mostly from plant-based materials and transforms from a small flat crescent into a honeycomb-paper sphere. Comic Relief says Ive's redesigned Red Nose is the "most dramatic makeover since its debut in 1988."
The product is being sold as part of Red Nose Day, an annual charity fundraising event from Comic Relief that's broadcast across a variety of British BBC TV channels.
"We've grown up with Comic Relief and are proud to support their remarkable work," says Jony Ive. "This new and seemingly simple Red Nose has been a fabulously complex little object to design and make and has involved our entire team. We hope it brings a little moment of joy to everyone who wears one."
Much like a pair of AirPods that Jony Ive helped design, this year's Red Nose even ships in a little case that you can store it in when it's flat. The design is shown off in a Red Nose Day video above, where you can see the Red Nose fold out to fit a variety of nose shapes.
Comic Relief has started selling the new Red Nose today for £2.50 (around $3), and is limiting online orders to eight per person ahead of Red Nose Day on March 17th. This new Red Nose will also be available on Amazon for the first time, which Comic Relief describes as "the new home of the Red Nose." The British public helped raise more than £42 million (around $51 million) last year, taking Comic Relief fundraising past a milestone of £1.5 billion raised since the charity began in 1985.
This is one of the first products from Jony Ive that the public can buy since the British born designer left Apple in 2019 after nearly 30 years. Ive and famed designer Marc Newson teamed up to start LoveFrom, a new design firm that has collaborated with Airbnb, Ferrari, and now Comic Relief. Ive left behind a rich body of work when he stepped down as Apple's head product designer, including the colorful iMac G3 in 1998, the iPod in 2001, and of course the iPhone in 2007.